Modified the seat of my Royal Enfield Meteor bike for more comfort
As per suggestions from a fellow BHPian friend, i tried various options from changing my riding gear to sitting position during rides and religious stops.
BHPian silverstreakcbe recently shared this with other enthusiasts.
Hello All, Its been a while since catching up with the forum due to office routine and trips. Just wanted to update on the seat modification that i had contemplated in my previous travelogue.
As per suggestions from a fellow BHPian friend, i tried various options from changing my riding gear to sitting position during rides and religious stops. But, nothing worked out for the butt ache. Still could not bear with the Hard touring seats. I did couple of rides to Bangalore with all the suggestions above, but could not feel any better. So, i decided to modify the seat with more additional cushioning.
There were lot of videos on Youtube suggesting various vendors and predominantly in Chennai. Since i commute to Bangalore often, i wanted some options in Bangalore. The costs that were mentioned on these videos were somewhere between 5K to 7.5K. I was not much keen on prices, but wanted to solve this issue for more peaceful riding.
Last week, been to Bangalore for working from office (Hybrid). Spent some time in looking for best seat modification works. Narrowed down to Rao Seat Covers in Shivaji Nagar. Went through most of the review, but all were most of Classic 350. I found only one review for Meteor along with a Photo. Most of them were Positive. I decided to give it a go and modify the Seats there.
Some photos before the mod: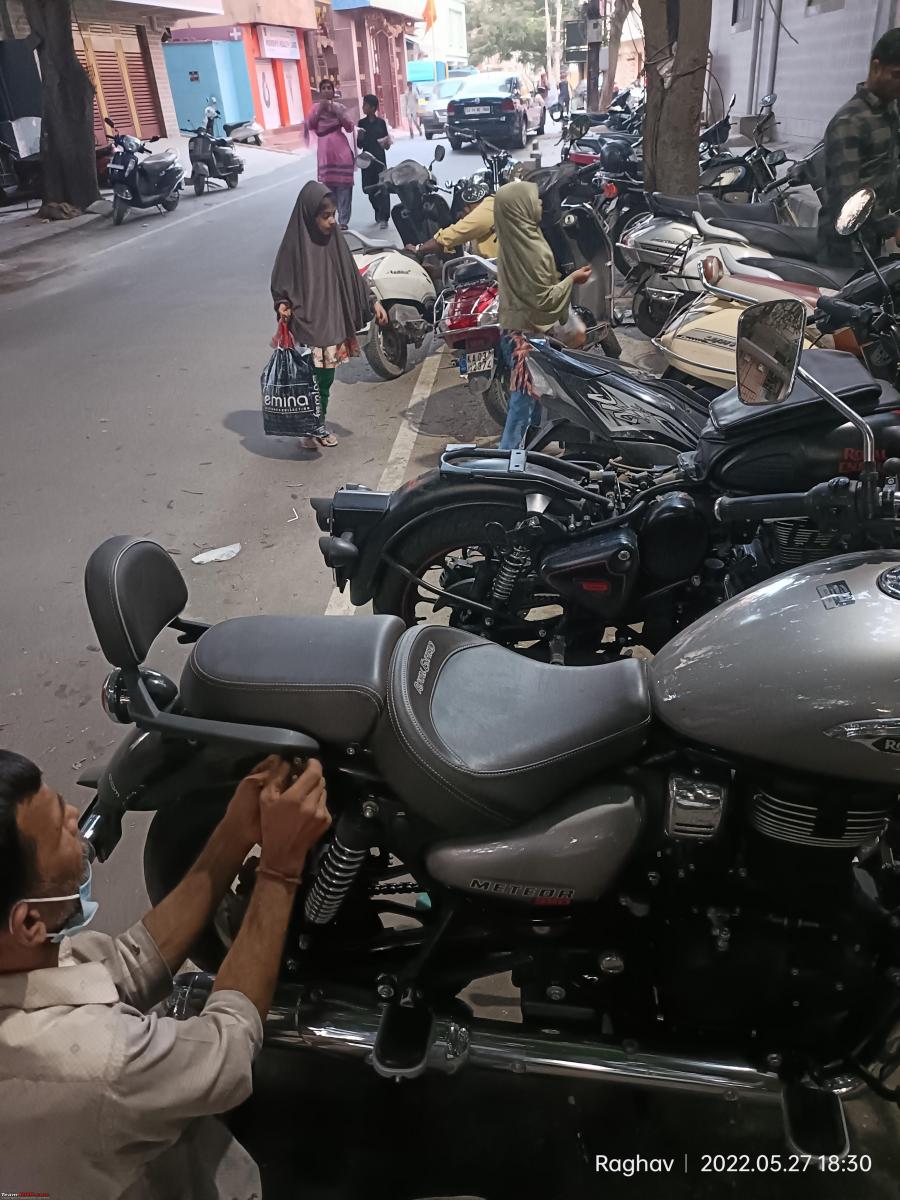 After removing the seats: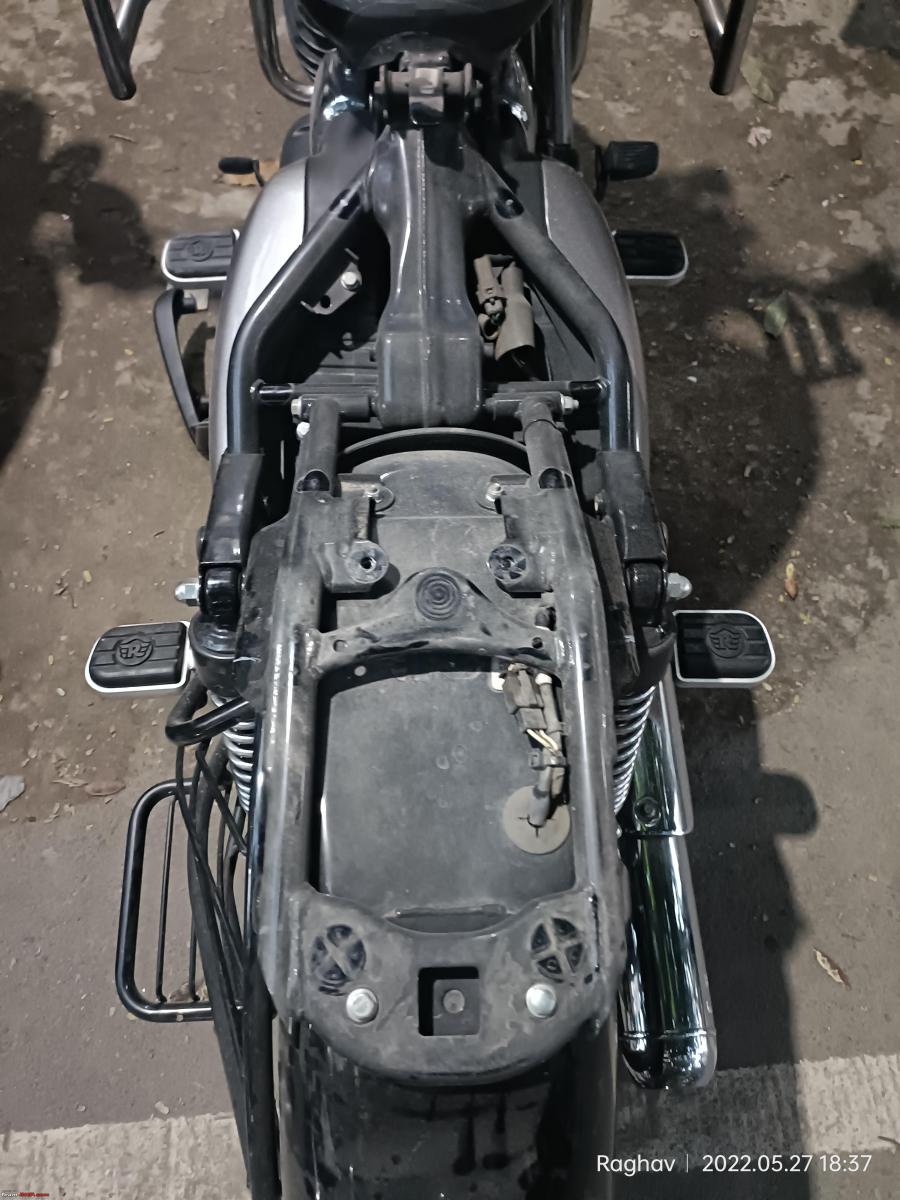 Seats getting worked upon by the team: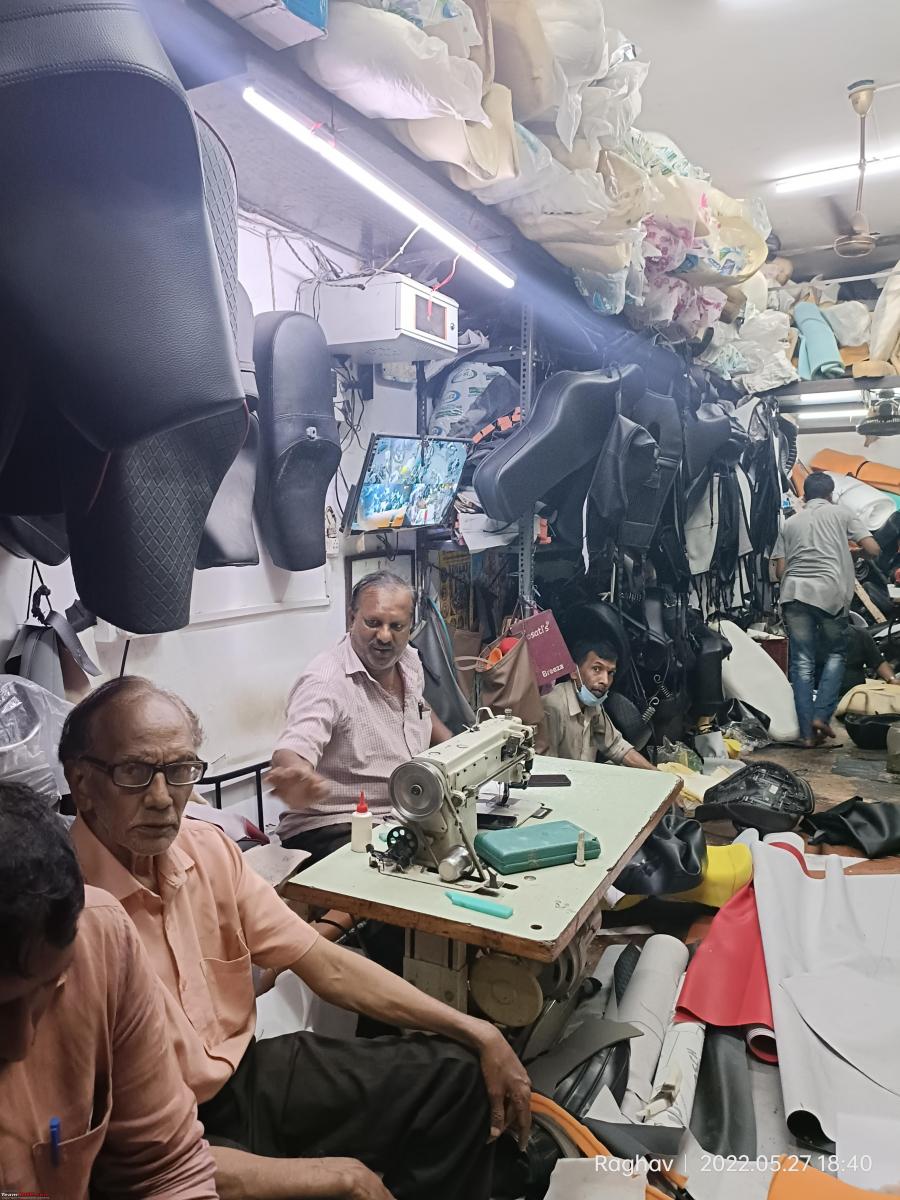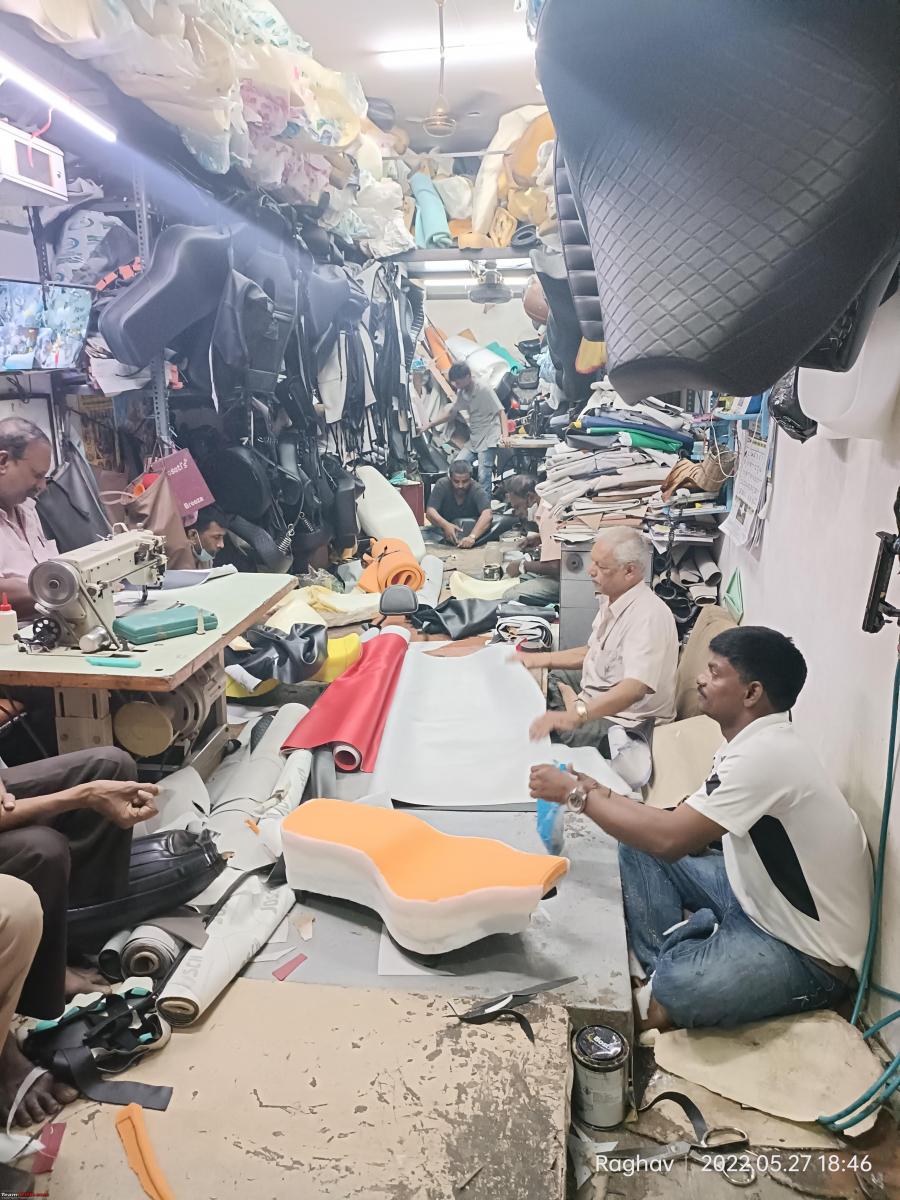 The whole process goes like this:
Upon bike arrival, the earliest free mod-expert ( i will prefer to call them this way) will attend to your bike. Will enquire and get to know what is your preference.
Once you are ok with his suggestions, in another 10 mins your seats will be dismantled and taken in. The Owner (On the machine) will provide you with the options (Cushioning, fabric options and finishing). He also gives you the fabric sample to be put on top of the seat. Once all is finalized, he gives you the final quote.
In my case, existing touring set covers were done away with. I wanted both Rider and Pillion to be modified. The suggestion given for me was to add 1 inch cushion on top with new seat cover fabric for rider seat. And for the Pillion, in addition to the 1 inch cusion on top, the sides were also beefed up to give more seating area for pillion rider.
They are so professionals in their work that they carry out with clock precision. While one person is working on the rider seat, another works on pillion and then again, while one person is taking the measurement and cutting the fabric, another prepared with the cushion adhesive works. The owner does the stitching part. The sync between the team is fantastic. My seats were modified within 1 hour.
Going by their reputation, they are specialists in RE bikes. They do have a lots of seating options (New and Modifications). In that one hour, i could count around 4 RE bikes getting done simultaneously apart from other bikes and scooters.
Coming to the post modification experience. The immediate ride to my home from Shivajinagar was like sitting on air. I could not feel that there were any hard thing below my butt. Next day, I rode back from Bangalore to Coimbatore. The seats were very comfy as expected. The outside of thighs had good support and could not feel any fatigue.
During all my rides to Bangalore and back, i took minimum 4 stops out of which 2 were definitely due to butt ache. Post modification, i took 2 stops in the entire ride and i could continue with my work after coming back. I am hoping that this modification gives me more peace of mind on butt worries and can continue long rides.
Coming to after modification: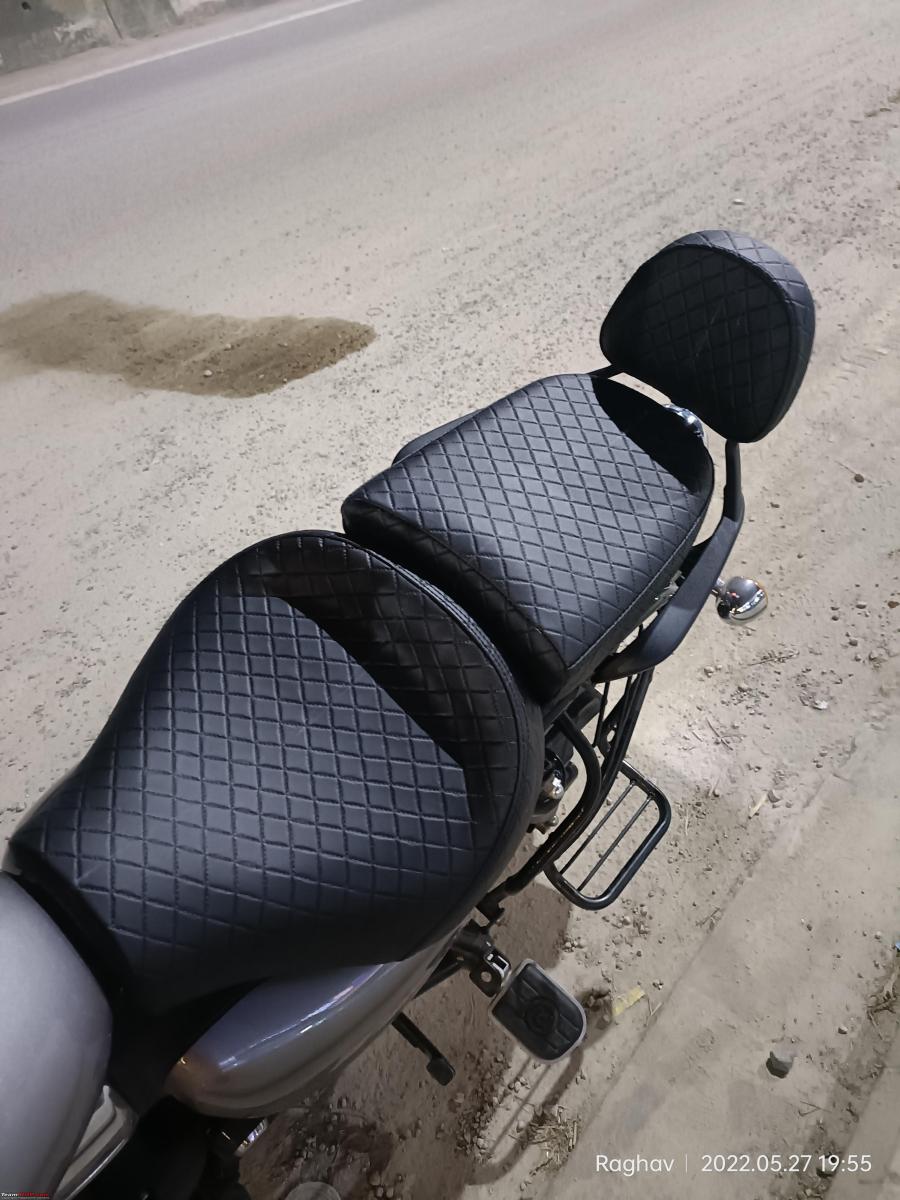 Shop location: 12°59'06.7″N 77°35'59.9″E
Cheers!
Raaghav K S.
Check out BHPian comments for more insights and information.
Source: Read Full Article