Maruti Swift Dzire to a pre-owned Audi A6: Initial impressions
I feel it is the perfect sedan. For me the main thing is the sheer comfort and luxury it offers while travelling distances and how it easily accommodates people and luggage.
BHPian autobahnjpr recently shared this with other enthusiasts.
I recently bought a used Audi A6 35 TDI 2018 model.
Here is the link to the thread on buying dilemma.
Exteriors
A6 is a beautiful car to look at. The front grill has chrome surrounding and the doors are also lined with chrome. Audi logo sits right in the middle at both front and back. At the back, you have the A6 and 35 TDI batching on the boot door. This is the MATRIX (so named because of matrix headlamps) edition which was launched in the year 2016, I guess, and it came in only one trim (S-line) with only one engine option, a 2 liter diesel. It produces 190 HP of power and 400 NM of torque. For a person like me, who does not set tarmac on fire or scorches the race track, it is more than sufficient. White color looks more elegant than other colors in my view.
Let the pictures do the talking now.
There are parking sensors both at the front and at the back. In the back, you have a wide angle rear view camera with dynamic turn lines and is a boon while reversing this car. In the front you have the headlamp washers on both the sides.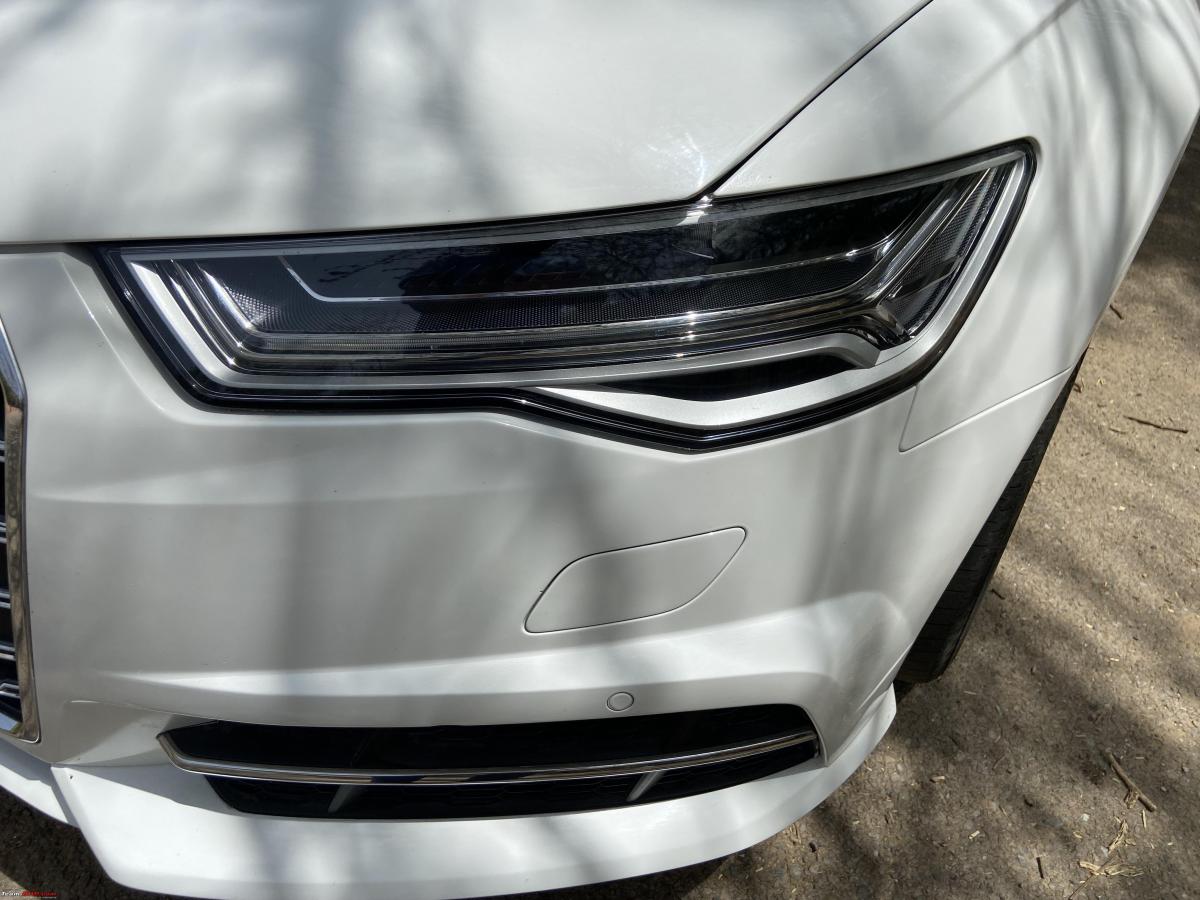 S-line badging on both the sides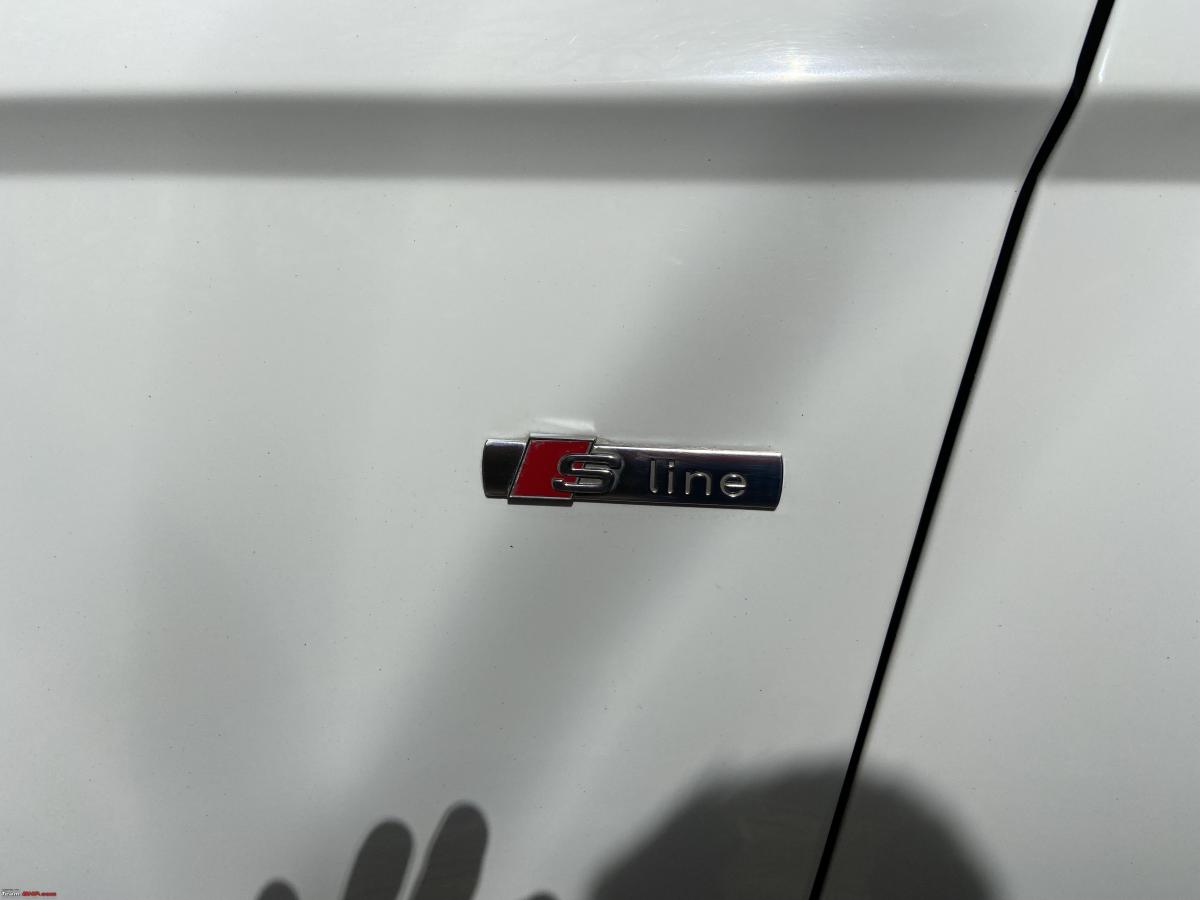 The Sun roof is normal and not panoramic
Side mirrors have turn indicators, are heated and are wide enough to provide a nice view of the traffic behind.
Wheels are alloy wheels with all 4 disc brakes.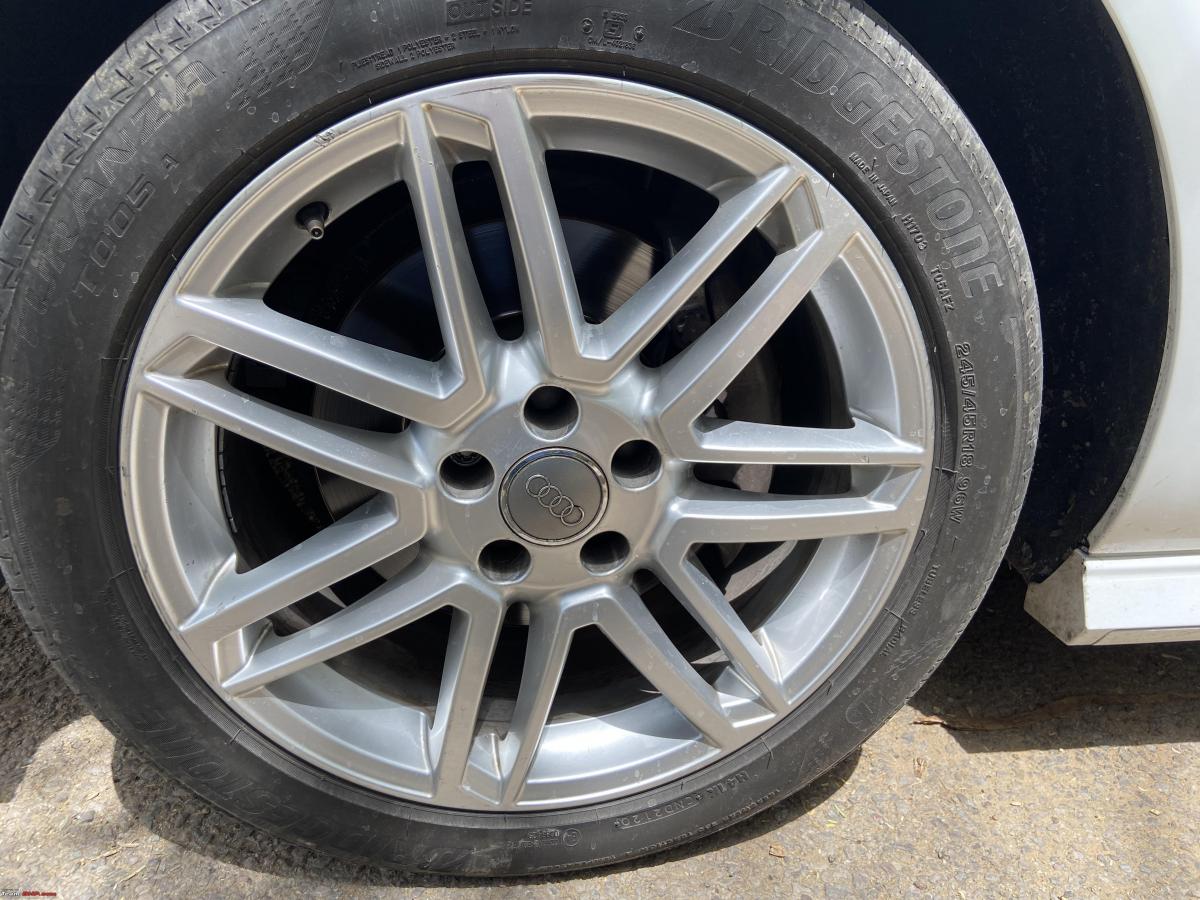 The boot is large enough with about 530 liter capacity. It is more deep than shallow maybe to accommodate long items like golf kits. The loading lip is not high. The back seats can be also folded in 60:40 ratio or fully to increase the boot size. The entire boot floor and space is carpeted. However one speaker juts out and eats up some space. The two loose straps you see can be pulled down to produce hooks which can be used to hang loose items in the boot. Also the net with hooks is provided to prevent items from moving around in the boot. It is recommended only for small weight items however.
To aid matrix headlamp technology there is a camera mounted in front of the rear view mirror.
Interiors
The car screams luxury as soon as you step inside. Everything is top class. There are no hard plastic or sore elements inside. Everything is soft touch, wood finish or in leather.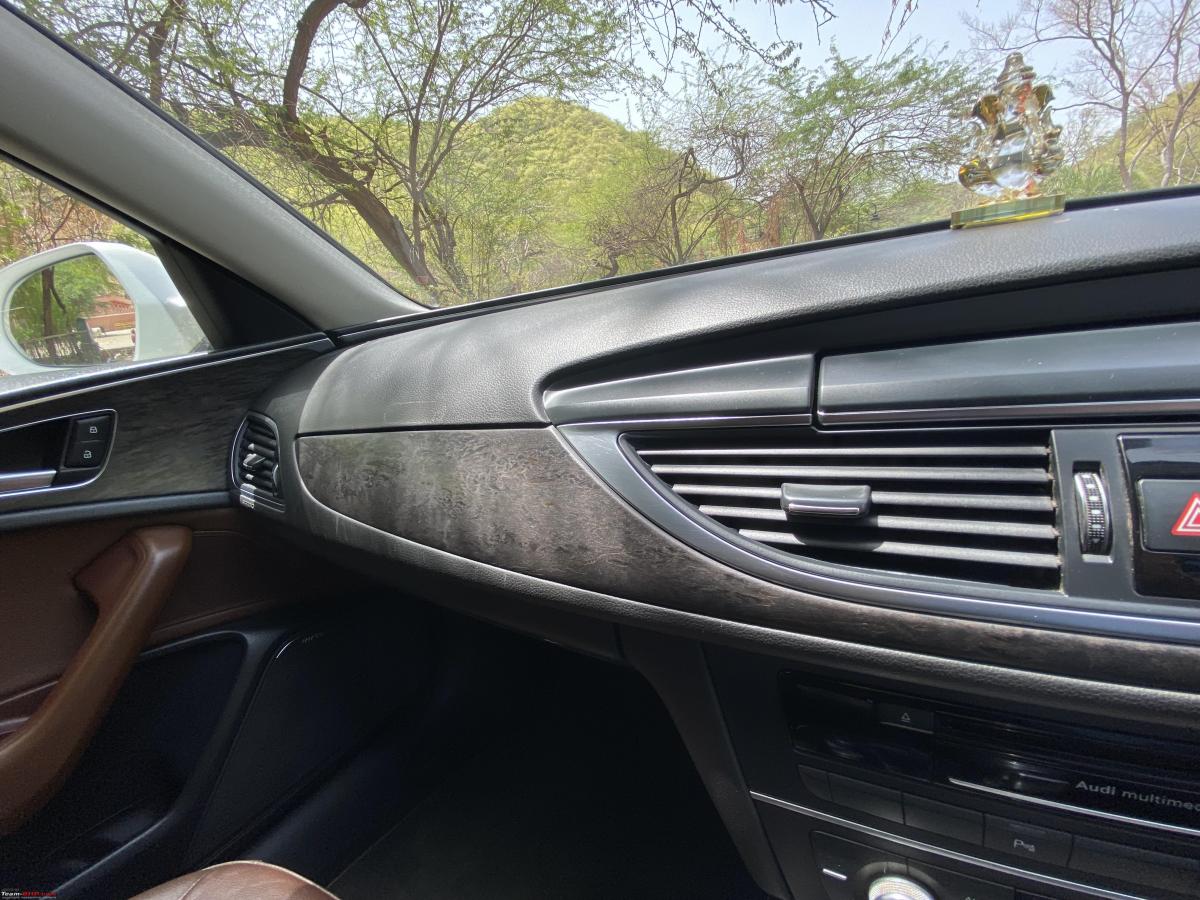 The leather wrapped steering wheel is four-spoked and the horn pad has the Audi logo in the center. The horn does not extend till the steering (unlike Maruti) so it take some time to get used to blowing horn.
The car reminds you to press the brake pedal for shifting gears from parking.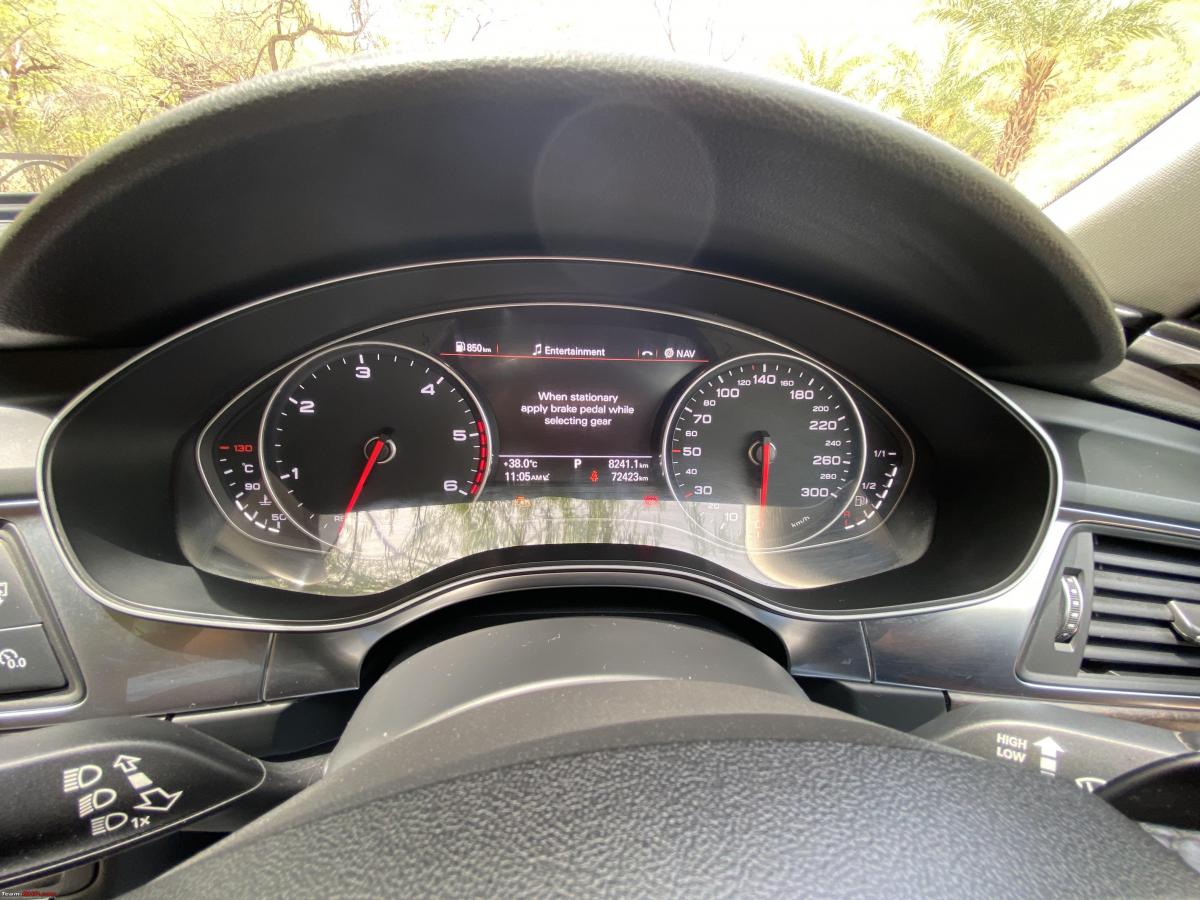 The car has four zone climate control with two zones each at front and back.
Knobs are nice to hold and operate. The passenger airbag switch off button is dummy and the one to its right is to operate the rear sun curtain. There is an ashtray with cigarette lighter in the covered area below.
Both the front seats are electronically adjustable. Driver seat gets a memory function with two settings. I use it quite often. The memory function not only stores the seat position, steering position but also the side view mirror position. All four windows have one touch up/down function and the child lock are given in the driver door.
The rear doors have manual sun blinds, an arm rest and an ashtray plus the window up/down button.
Two climate control zones are back for the rear passengers. Below the vents is a USB port and a 12V socket.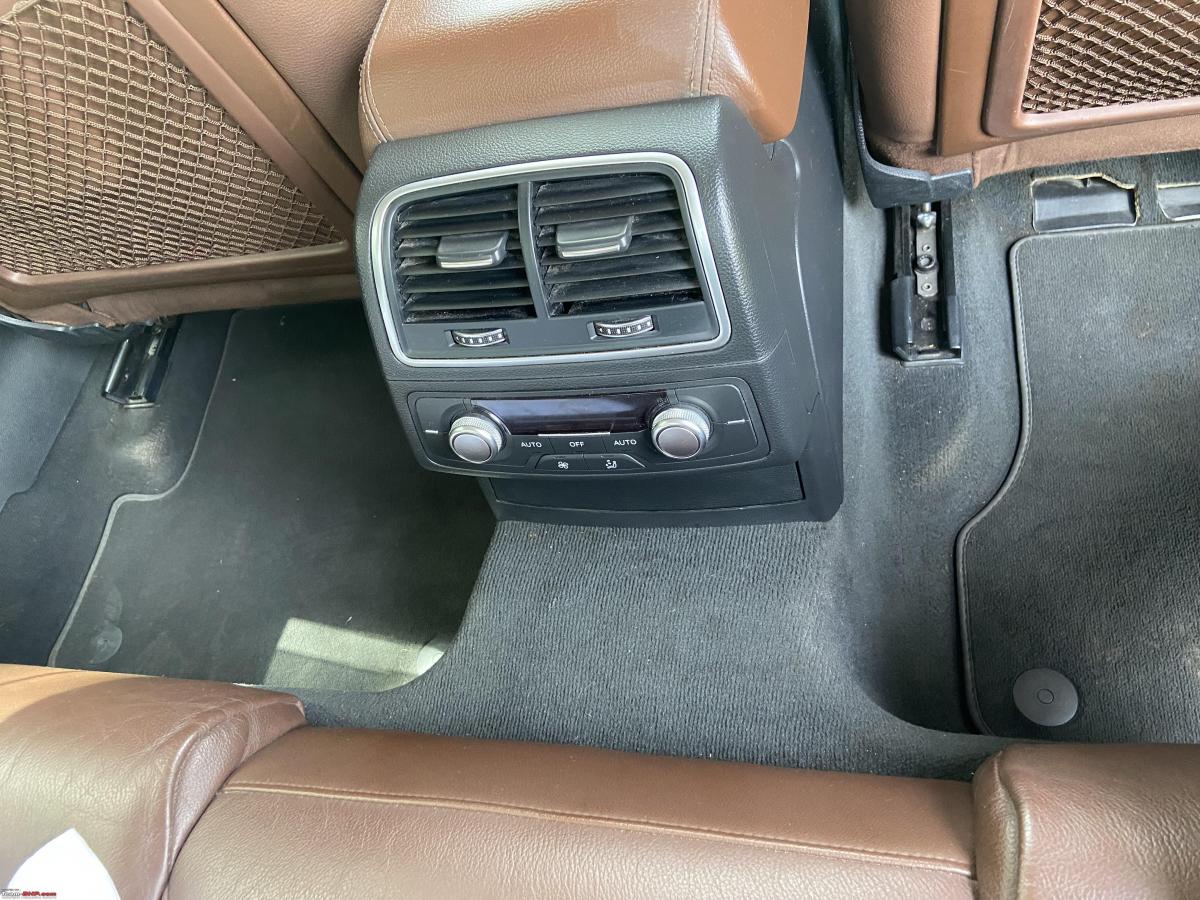 Audi MMI is a vast topic in itself and I will restrict myself to cover just some basics. It is basically an interface for setting and configuring car parameters including entertainment, telephone, driving modes, maps etc. Apple car play and Android auto is supported but it is not wireless and wire has to be connected for it to work. You can buy after market accessory to make it wireless. The screen is the interface and the rotary knob is for browsing and selecting. Car parameters can only be set through the central knob but telephone, music, maps and display can be controlled from steering wheel controls.
It support both Apple Car Play and Android Auto
Conclusion
Frankly speaking, I am pretty happy with the purchase. The brand value of the car is something which needs to be experienced. I have gone a notch higher in my neighbors eyes.
I feel it is the perfect sedan. For me the main thing is the sheer comfort and luxury it offers while travelling distances and how it easily accommodates people and luggage. That is what is most satisfying. The ride quality is excellent even at high speeds and the cabin is silent. I have driven long distances in single trip and everyone is quite relaxed and energized after the trip. The car has 600W 14 speaker BOSE system and plethora of options to keep you entertained during the journey. Rear Passenger have their own climate control, sun blinds at sides and rear, handrest with cupholders and remote to operate the MMI.
8 airbags and plethora of active and passive safety features makes the drive safe for you and your loved ones. You can travel full load with people and luggage and it will happily take you in comfort and luxury. I get a fuel average of 16-17 kmpl on highway and 13-14 km in the city and thus long trips are not heavy on wallet. For an average driver like me, it offers decent power and driving pleasure.
I can use SIRI/GOOGLE to play music or ask for directions. Use the car controls to attend office and personal calls (MS teams calls also), not get tired during long journeys and always get attention or preferential treatment which parking etc.
The steering is very light. In fact steering of my honda city feels heavy now. However, in dynamic mode, at high speeds, it weighs up considerably. Light steering helps in easy parking but due to the length of the car, it takes effort to park it properly. The rear camera is a boon and even in dark, the light next to the camera lightens up the area brightly. In spite of being a long car, it drives like a small car and sometimes I get a feeling of driving my old zen.
On twisty roads and curving flyovers, the cars corners well. I am yet to drive on hairpin bends and very sharp turns but it rides well on twisty roads. However you can feel the turn if you do it at high speed. Sometimes, I put the gear shift in manual and use paddle shifters for better control, specially on hilly roads.
The car cocoons you from outside world and noise and you can just imagine yourself sitting in your drawing room. Therefore, you have to be extra alert specially in city traffic when you have two wheelers trying to squeeze past every inch with helmets dangling from their forearms.
If the MMI screen is folded down, the minute you engage reverse gear, it automatically comes up and shows the rear camera view. The camera view stays on for some time even while moving forward upto some speed till the car senses that you have done reversing and then switches view to normal MMI view.There is a parking button also given in case you want to manually view the parking view. The car does not have 360 degree camera but I find the rear view side mirrors and the rear camera combination to the sufficient. The bonnet is large and thus needs some time to getting used to.
Cruise control works like a charm and I have used to extensively on WPE. Once set, it gets disengaged when you press the brake pedal. But just pull the cruise control stalk towards you and it resumes with the earlier set speed. That time the acceleration is brutal till the set speed. It just rockets. Therefore it is recommended to use this only when the road ahead is clear.
I have read that the transmission is programmed such that when the car is idle, it cuts off and thus I do not put the car in neutral gear while waiting at traffic signal, a practice while I follow with my automatic honda city.
Auto sensing wipers work well. They are very helpful in rainy conditions. I have not got a chance to use them in heavy rains but in light rain, i have found that they work well. Windshield spray is even and forceful and wipes do a nice job of cleaning the windshield.
In spite of my initial fears regarding ground clearance etc. the car has not scraped anywhere so far. My honda city front mud flap would have scrapped at least few times on the same roads.
I wish it had ventilated seats and an inbuilt dashcam because already there is a 10 GB hard disk which could be used for recording. In today's times, I feel that dashcam is must.
Read BHPian comments for more insights and information.
Source: Read Full Article