Living with a 2022 Force Gurkha: Modifications & mileage after 4,000 km
Measured tank full to tank full has between 8-9 km/l, not much highway driving, mostly driven in 3rd & 4th gear.
BHPian PhantomLord recently shared this with other enthusiasts.
12K Update: It was joy driving Gurkha in rain everyday, no meddling only driving since past 7K, have not even washed Gurkha since June except for glass
Daily Drive:
Gurkha rain drive video
Suspension: At least 12km of daily 32km drive was on poor roads, can be compared to pothole testing tracks. Gurkha suspension has been brilliant.
4 Wheel Hardware: Have been using Gurkha regularly in 4 wheel drive mode with diff locks, performed flawlessly.
Tyres: Have been running RT+ at 34 PSI due to poor roads, tyre is good on dry and fully wet roads, braking is adequate, has poor grip on drillzed road though. With RT+ and Gurkha's suspension you won't feel a thing on bad roads. Tyre depth when new was ~12.4mm, when I rotated the tire after 5350km it measured 9.6mm, I feel it should last 25K max with 5 tyre rotation. Usage is mostly 60% good road, 30% poor road, 10% off-road.
Mileage: Measured tank full to tank full has between 8-9 km/l, not much highway driving, mostly driven in 3rd & 4th.
Night drive with D2 dually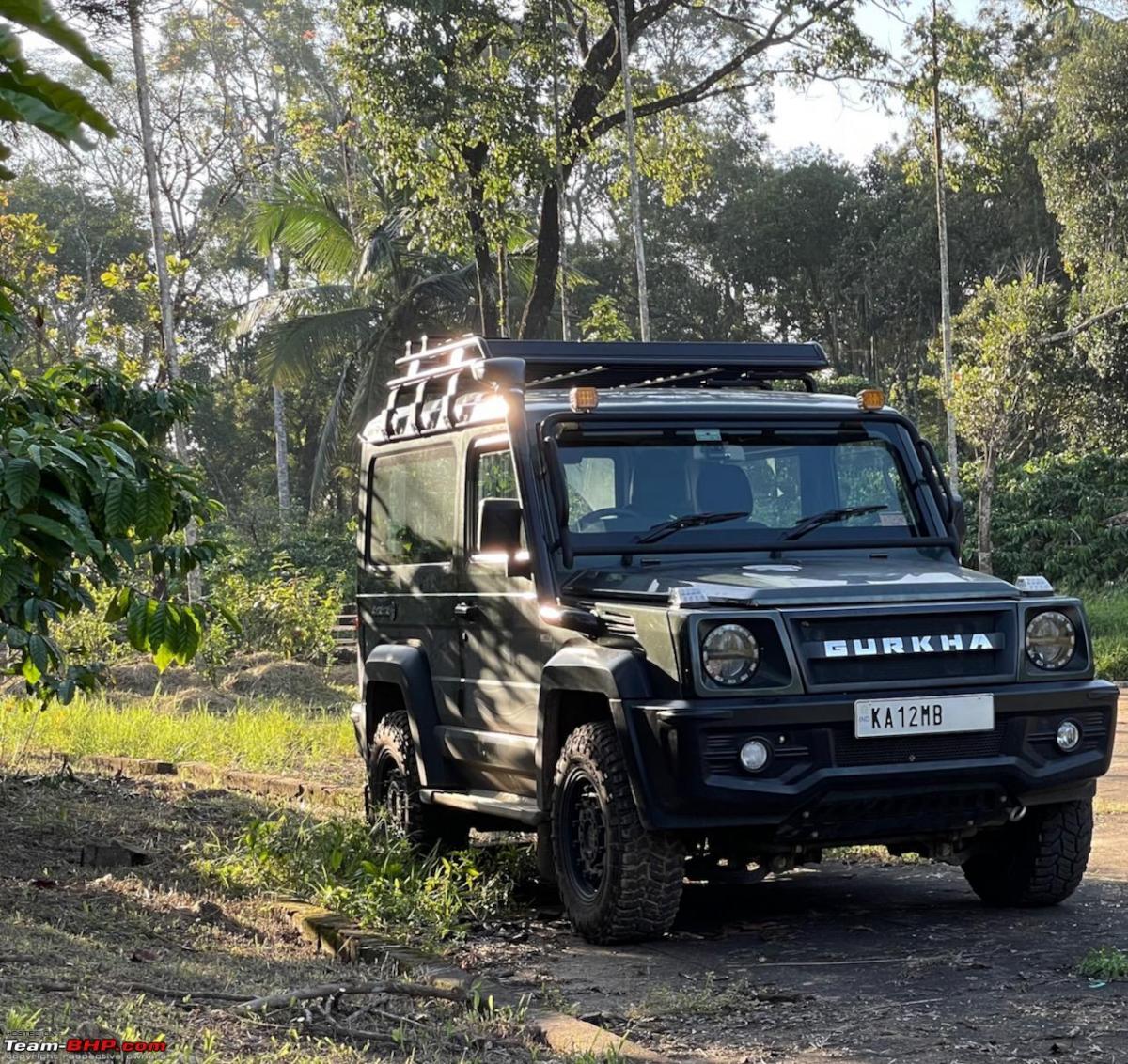 Windscreen Bar: Bar is well made, mounting could have been better. Major issue is bar creates huge blind spot for right handed turn (you could miss a bus) when driving in narrow winding roads, tall mirror adds to blocking the view. I think bar could be re-designed to eliminate right edge bar so that snorkel takes its place.
Roof Rack: Well made, jerrycan holder looks after thought, plan to remove it. I had roof bars earlier, much easier to clean, rack doubles the effort needed to wash Gurkha properly (like maintaining long hair).
Rear Ladder: Well made, has limited utility, recommend you use Anti-Scratch tapes like https://www.amazon.in/gp/product/B08MY35KJT on rear door opening bottom and bumper, else in no time stepping on these or loading luggage will remove paint.
All above accessories have paint holes for painting internals but parts are painted only on outside, every-time you wash or drive in heavy rain you will have rusty water dripping on body leaving stains, ideally this should be addressed before fitting the accessory.
Rear Child Seat: Installed the rear child seats, with rear seats upright adults under 5.5′ can travel for shorter distances. Main utility in my case was it compartmentalizes storage behind rear seats. You can tuck in tools and small stuffs under it, which would otherwise be projectiles. Seat needs some modification if you want rear seats to recline fully.
TPMS: Stock TPMS unit was not accurate and erratic, replaced it with Dhunikart D280, its been running fine since April. You can short green wire to ground in stock wiring harness to remove dash TPMS warning.
Moved it to center console to keep dash clean of wires.
External Sensor, BR bolt caps keep wheel bolts clean.New So Far So Good logo ?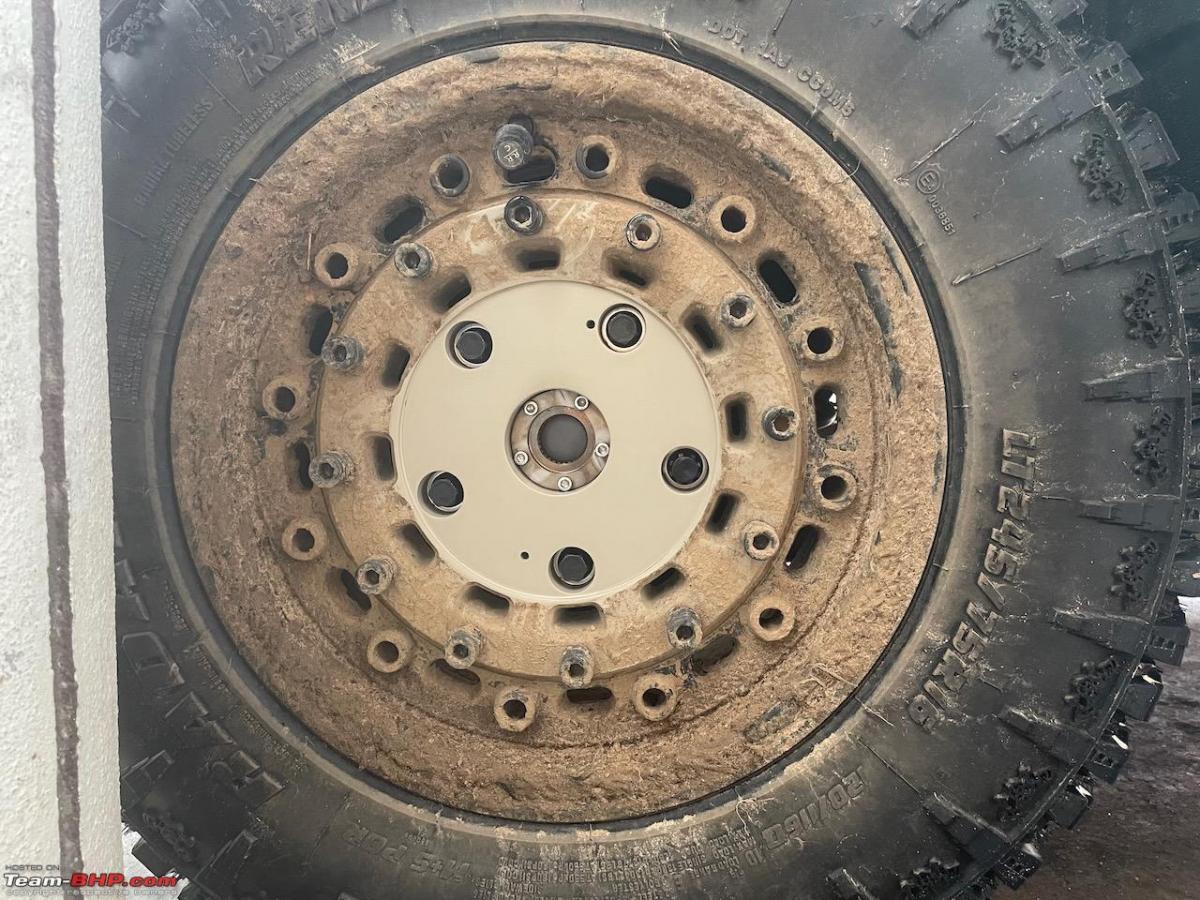 Read BHPian comments for more insights and information.
Source: Read Full Article