Left my Aspire at Ford for yearly service & had a harrowing experience
There has been no official stand from Ford yet. I wish to keep the car for a few more years but I'm not convinced that the company wants me to.
BHPian frankmehta recently shared this with other enthusiasts.
Hi everyone!
I think this will be my first negative post on Team-BHP in years! I was in a dilemma about whether to post this thread or wait for someone from Bhavna Ford, Kalina or even Ford Customer Care to come around.
I know how difficult it is to build a business, and how easily poor publicity can ruin years of hard work, especially for the Ford service centres that are battling multiple issues that other dealerships aren't, for obvious reasons.
I am forced to post here, maybe not for the desired results, but to apprise people of the perils of giving the car for service to a Ford Authorised Service Centre, in today's times.
My Ford Aspire TDCI Titanium+ is turning 4 this year and has clocked 35.9k km (personally driven, single-handed use, we don't have a chauffeur) since December 2018. The car has seen a lot of love and care and has ONLY been serviced at Ford Authorised Service Centres. (Even the battery and windshield have been changed there, so we had a trust thing going on with both Rudra Ford, Mira Road and Bhavna Ford, Kalina)
The only time I actually let someone outside of Ford do anything out of routine was when at 34k km, I felt the oil levels on the dipstick to be a little low, so being a true petrolhead so as to not mix Ford's oil with an aftermarket oil, I had all the oil drained, and used Motul 8100 fully synthetic oil and a brand new original Ford filter at my mechanic. This is the level of attention I have given to the car.
This time, the car was slated to go in for its yearly service (10000km intervals but we had done only 8k this year owing to the new EV in our family) and I decided to hand over the car in the usual style to Bhavna Ford, Kalina.
This was the list of things I wanted to be done:
Rubbing noise from the car on vertical motion (source unidentifiable by me)
Physical Headlight levelling (not what the levelling motor does) (I switched back to my stock headlights but I was not sure if they were levelled correctly, so I wanted to be doubly sure they're not throwing light anywhere other than intended to)
Full service (which at the mandatory 40k service would actually involve an oil change, air filter change, cabin filter change and a wash!) I had changed the oil and oil filter, and I am running a conical performance filter so I only opted for the cabin filter change.
2018-19 Figos of a particular production batch had one or two characteristic areas of rust around the door handles, which has been addressed by Ford for many on the Figo groups out of goodwill warranty (MUCH like our DSGs, which VW tries to offer goodwill warranty, because they know there's a defect) Check the photo for details. Hence I requested my service advisor, Mr. Ashwin Tiwary to help me proceed on how to take the next step.
Everything seems normal till now, but here is what followed, in a chronological manner!
30th of September 2022, Friday
I walked into the service centre with my car by 1030 am, hoping that they would be able to do the regular service and return the car for me, and apply for the warranty at least, so I can bring the car back to the workshop once they get approvals for the same.
Ashwin told me the 'warranty guy' has not come, and I offered to wait. He said ok. I waited 1.5 hours for the same, without any intimation from Ashwin. No response. At 12 pm, I walked up to him and asked, and he said he hasn't come today. I left upset, and in a huff, because I knew I wouldn't get my car back that day.
4 calls that day by me to Ashwin, with no concrete reply except SIR WARRANTY CLAIM REJECTED. I was wondering how the claim was rejected without the warranty guy there.
Anyway, the next day.
1st of October, 2022, Saturday
NO CALLS from him. I called him once, and he said, "sir the sound is due to external accessories." I asked him to double-check his claim, as nothing new was fitted, and the 'so-called accessories" were installed for a good 3 years.
At this point, I gave up on following up and thought the service centre must be unusually busy.
2nd of October 2022, Sunday
Holiday, so I didn't expect a call that day, and rightly so, it's unreasonable to expect anyone to work on a holiday.
3rd of October 2022, Monday
NO CALLS from them! I was wondering whether they found the cause of the sound. NO COMMUNICATION whatsoever! I called Ashwin at 3 PM, and he shocked me by saying, "Sir, the car is ready, it has gone for a wash!" I asked him if the sound was resolved. He said NO! We can't find the cause for the sound! It's the accessories. I was livid!
I was sure it was to do with the suspension bump stop rubber bush, but I am a Dentist by profession and my diagnosis is by and largely correct, only when it comes to the Oral Cavity, so I decided to trust them. He asked me to make payments online because their 'credit card' link generation has been discontinued (cost-saving, perhaps) and I did within an hour of him sending me the QR code. It was 630 PM and he told me the car would leave by 7-730 pm.
I was upset but happy that the car was coming back at least!
I waited. 7 PM. 8 PM. 9 PM. 930 PM. I called up Ashwin. He didn't pick up my calls. But he had the GALL to send me a message to say "I didn't send it today. It will reach you by tomorrow, 7 AM." I was OUTRAGED! WHICH WORKSHOP issues a gate pass at 7 am? I suspected that the car was with the pickup and drop boys and they took it home (my suspicion, and hence I demanded my car reach me that day itself, even if it reaches by 11 PM.)
A few (15 back-to-back missed calls by me ) to Ashwin, and he said he was in traffic, for which I asked him if it's ok to text in traffic and not park on the side and take my calls when I am desperate. He said, "sir, the car wasn't ready so I couldn't send it. I called you many times…" (not even one missed call at his aforementioned timing, except for 2 missed calls to follow up on prompt payment, so he can 'release the car on time!')
A few moments later, I called up another mechanic (who I don't wish to name here and taint because he's been very fair and nice to me) who I had given the car to, the last time and had a very good relationship with him. His answer shocked me! He said, "Sir, I recognized your car and took a drive at 4 pm, and also made my mechanic take a drive, and he said the noise definitely exists! So we decided to keep the car back with us!"
NOW, this was the breaking point for me. I wanted my car back. I didn't trust these guys anymore! I waited for days and this was the outcome!
Next day
I waited for the next day and managed to get the number of the Service Head there, Mr. Syed. His response shocked me! He had no idea what was going on with the car and gave me canned apologetic responses without assuring me about the status of my car.
Which is when the aforementioned mechanic came into play and sent me pics of my car hurriedly placed on a lift with the front suspension taken apart.) A hurried diagnosis within half an hour by their 'expert' was that the ENTIRE front suspension will have to be changed! (for a rubbing sound!) (a usual Service centre response when they can't diagnose a niggle is to replace, but I expected better from Ford, especially after keeping a car for 4 days)
I was given a quote of Rs. 16904, which I was totally OK with, but I didn't trust this service centre, and decided that if I am spending the same amount, I will give it to my favourite (Rudra Ford, Mira Road. It is 38km from my house, which is why I always choose Kalina, but now I had lost Kalina, so Rudra would do it for me) I asked for my car back. In my last call from them, I mentioned that the car doesn't look washed at all, in the pics, and to make sure it is washed.
Here are the pics he sent: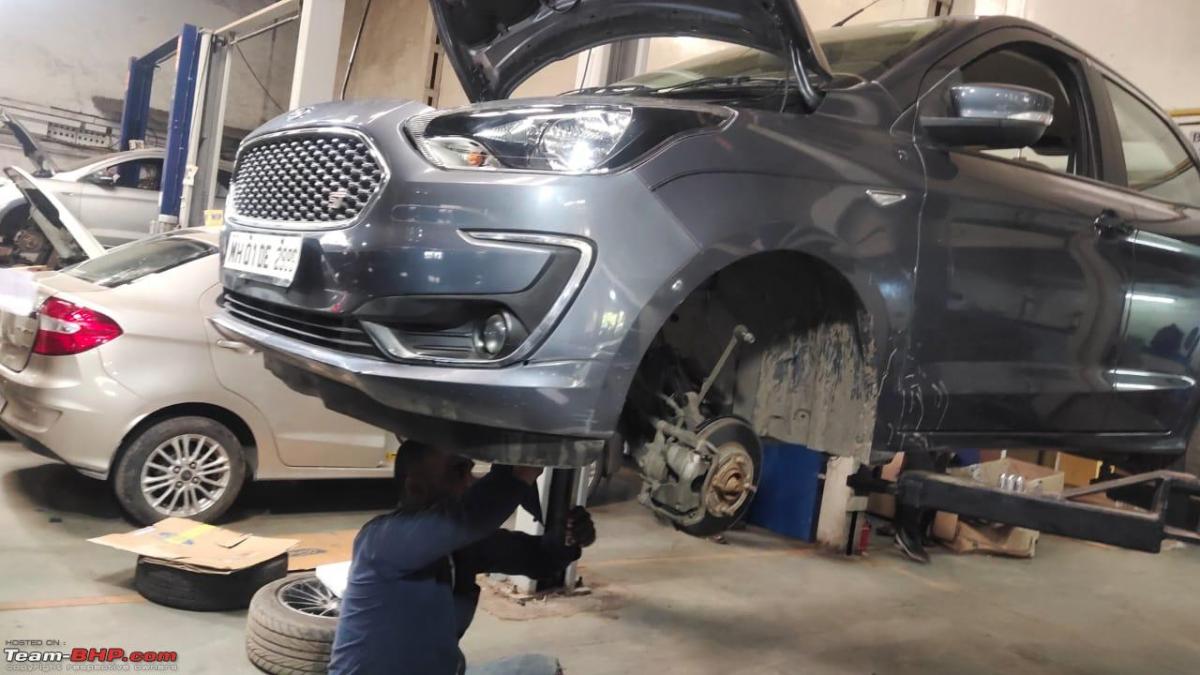 The car arrived. WHAT A SIGHT SHE WAS! Here are the immediate pictures for all of you to behold.
Video disclaimer: This video is not recommended for true petrolheads. Can lead to heart problems if you love your cars as much as I do.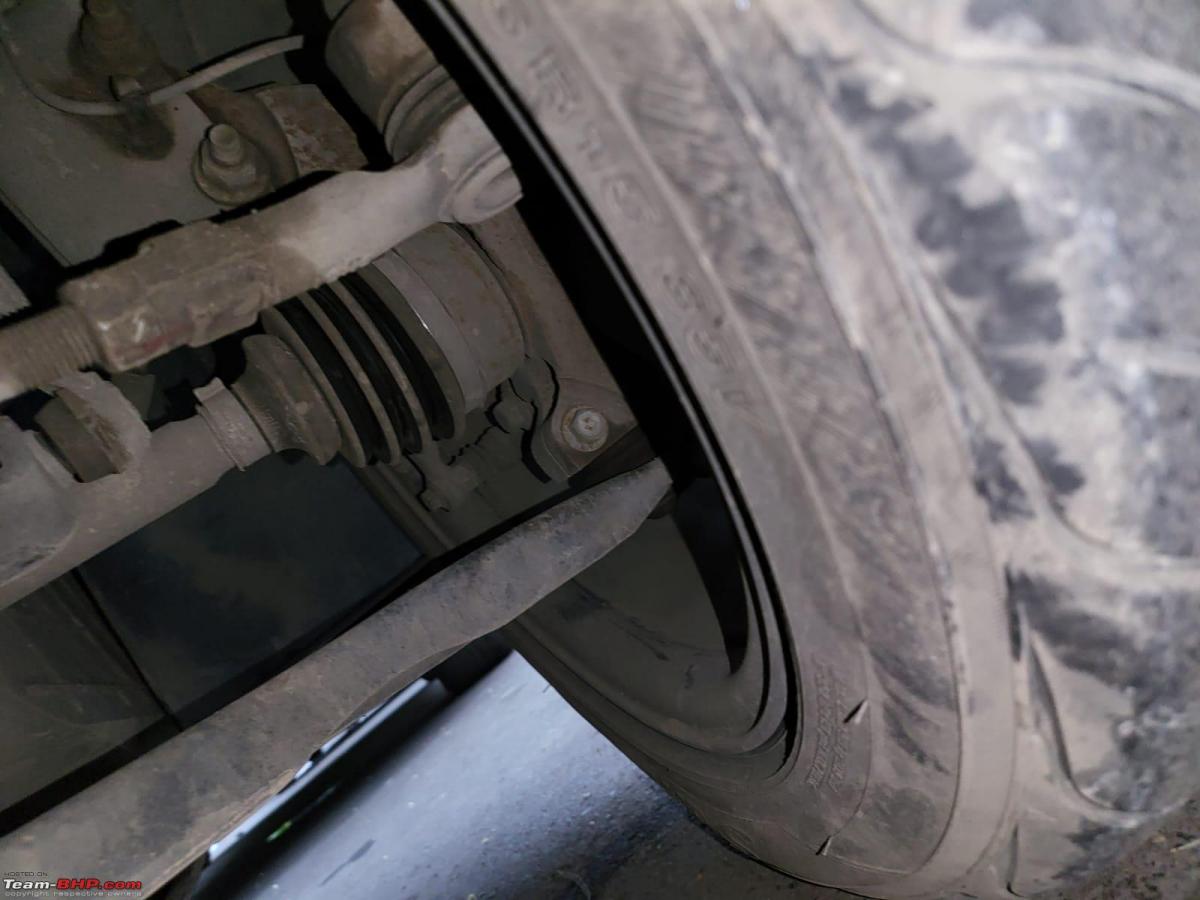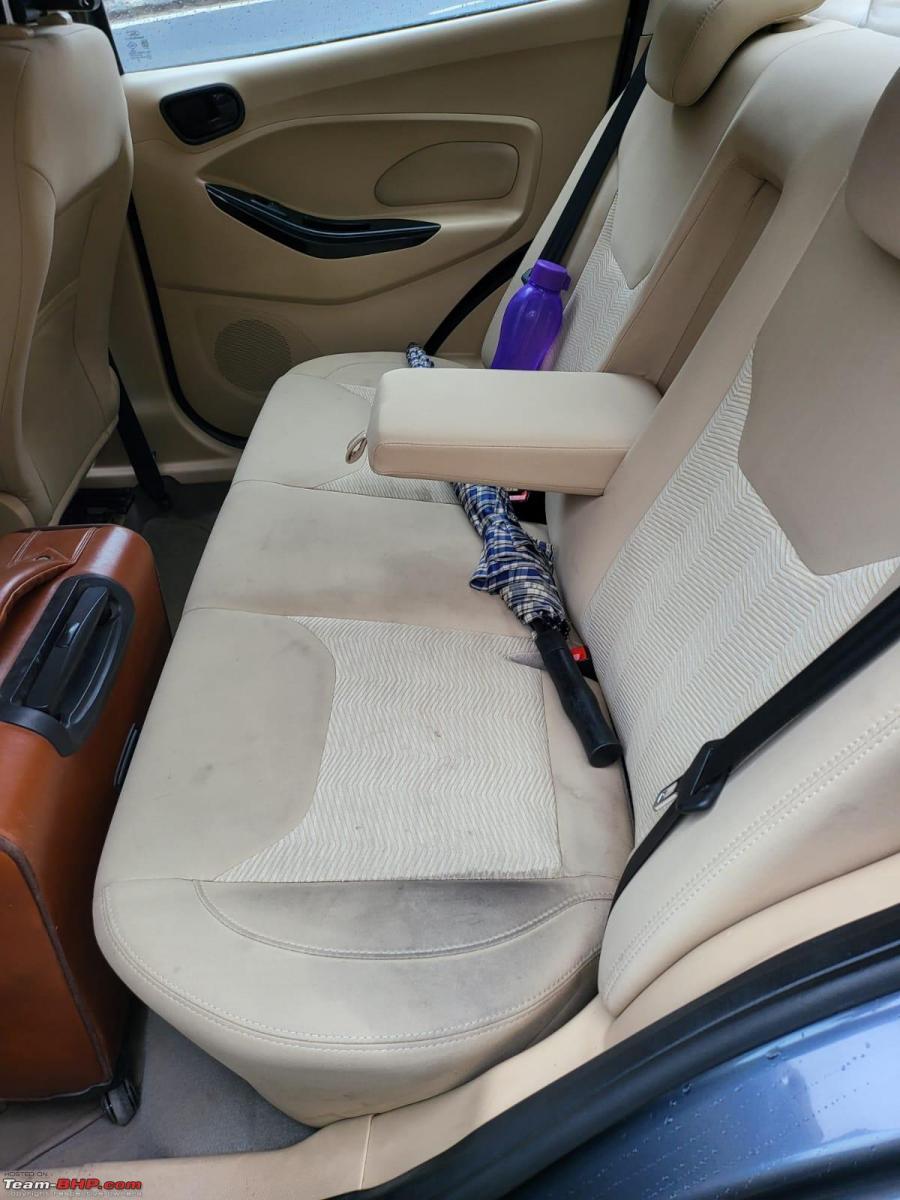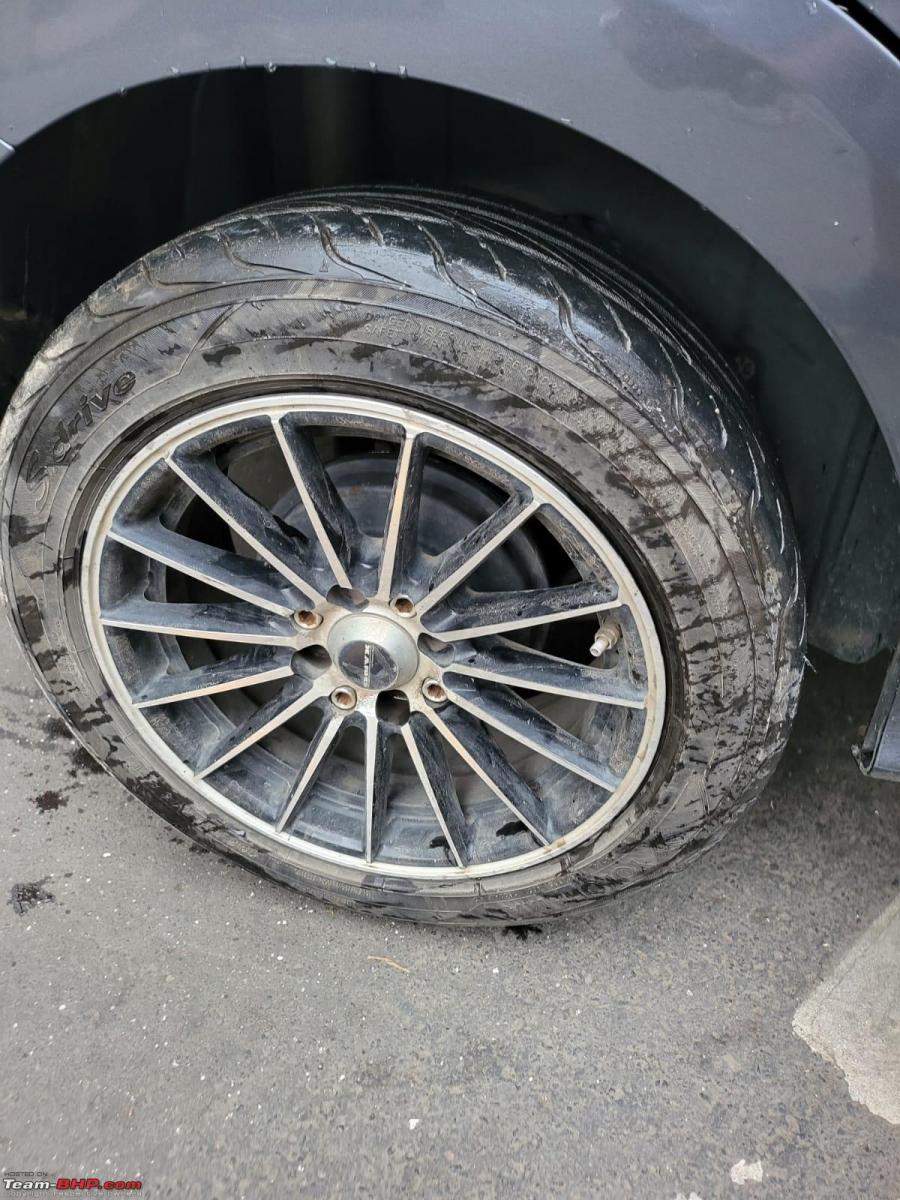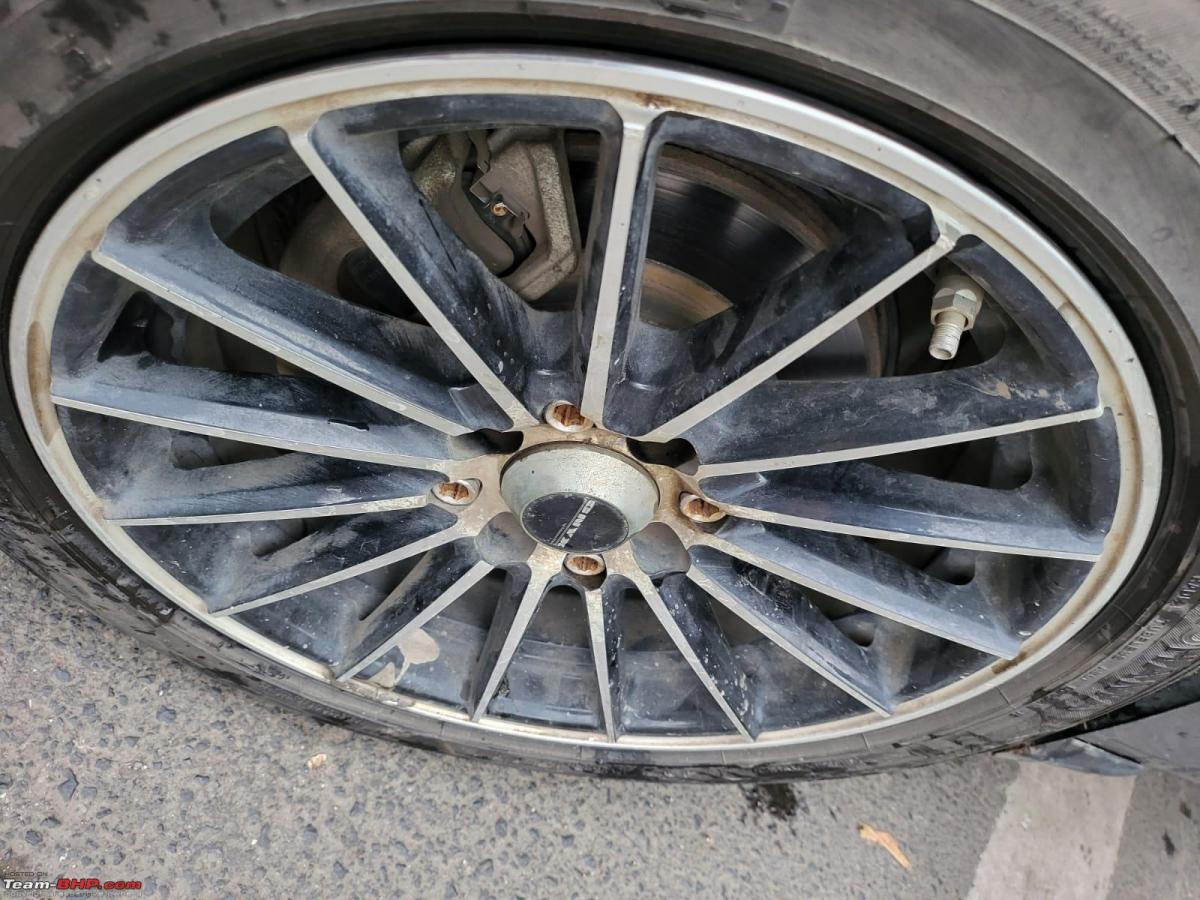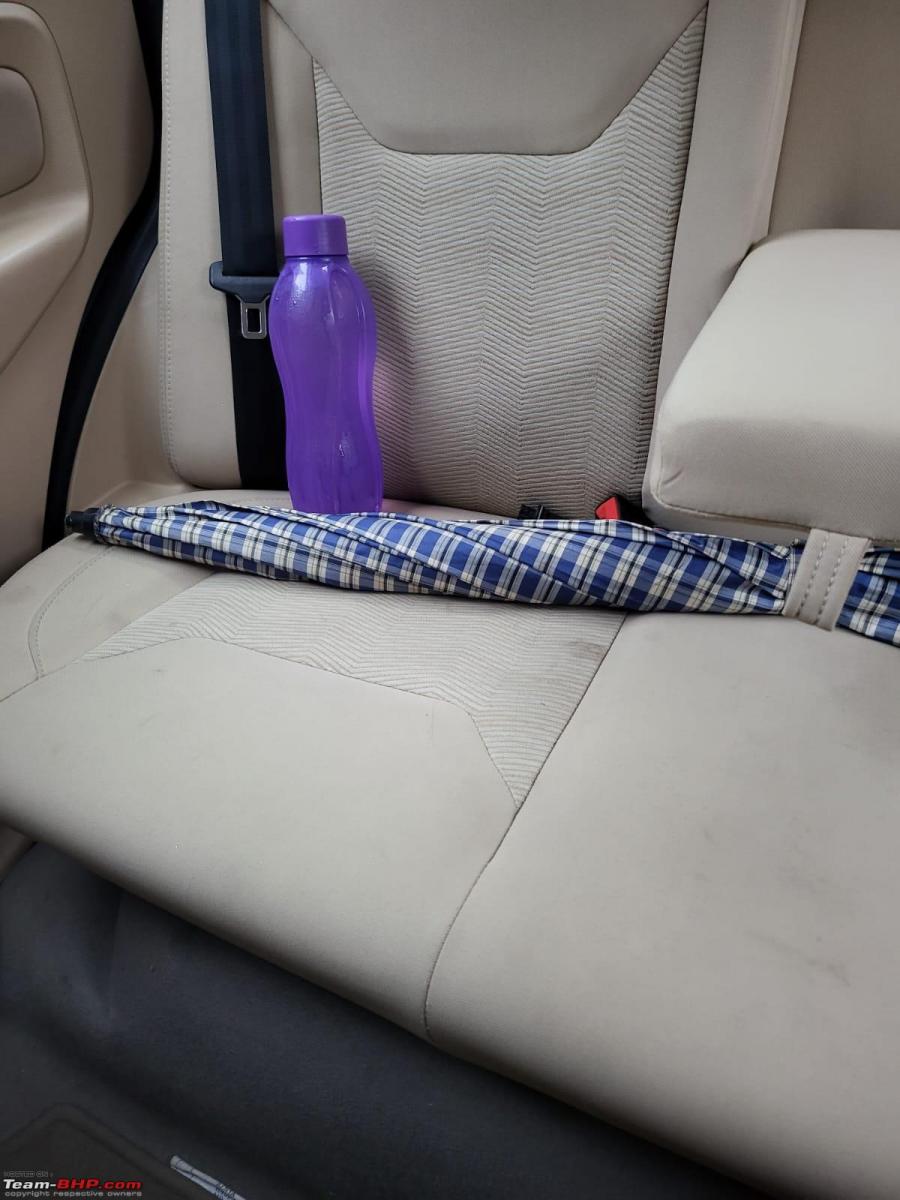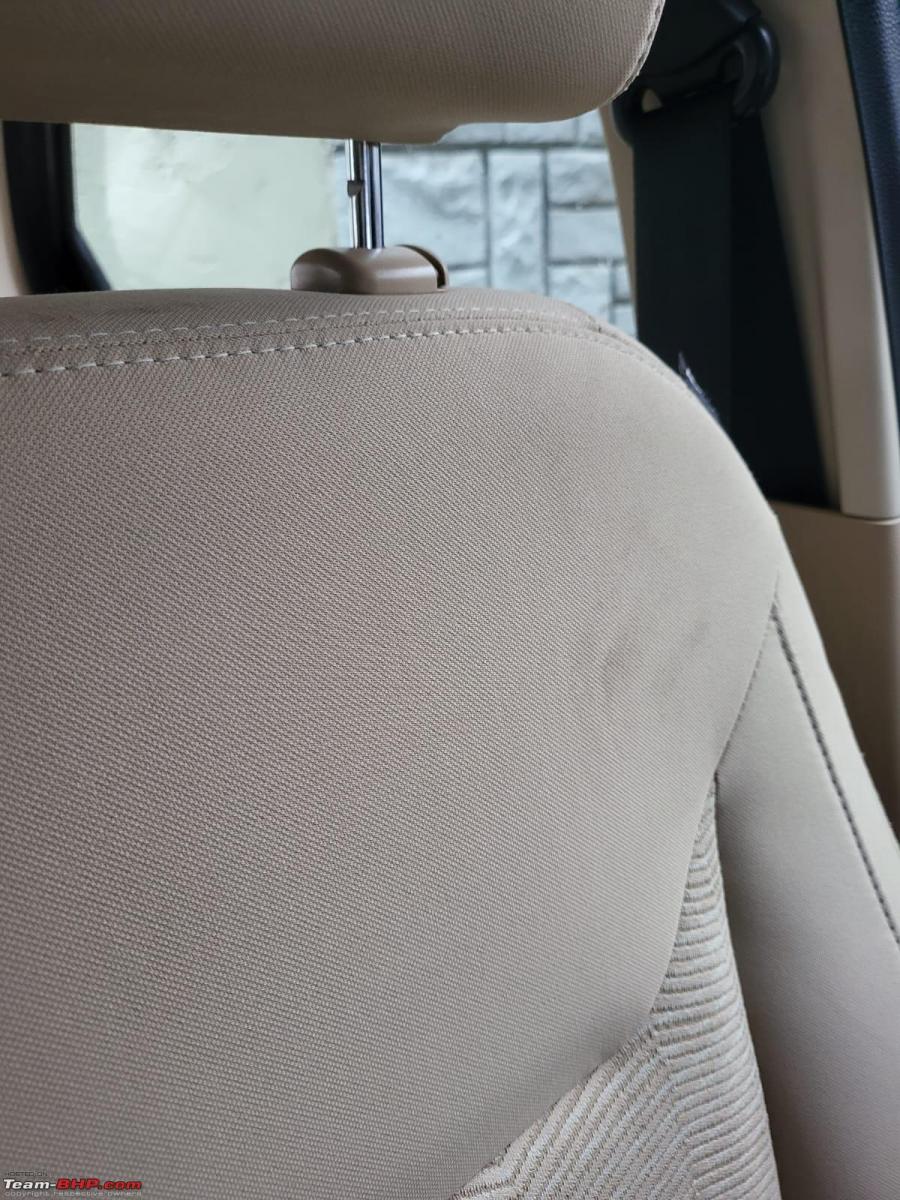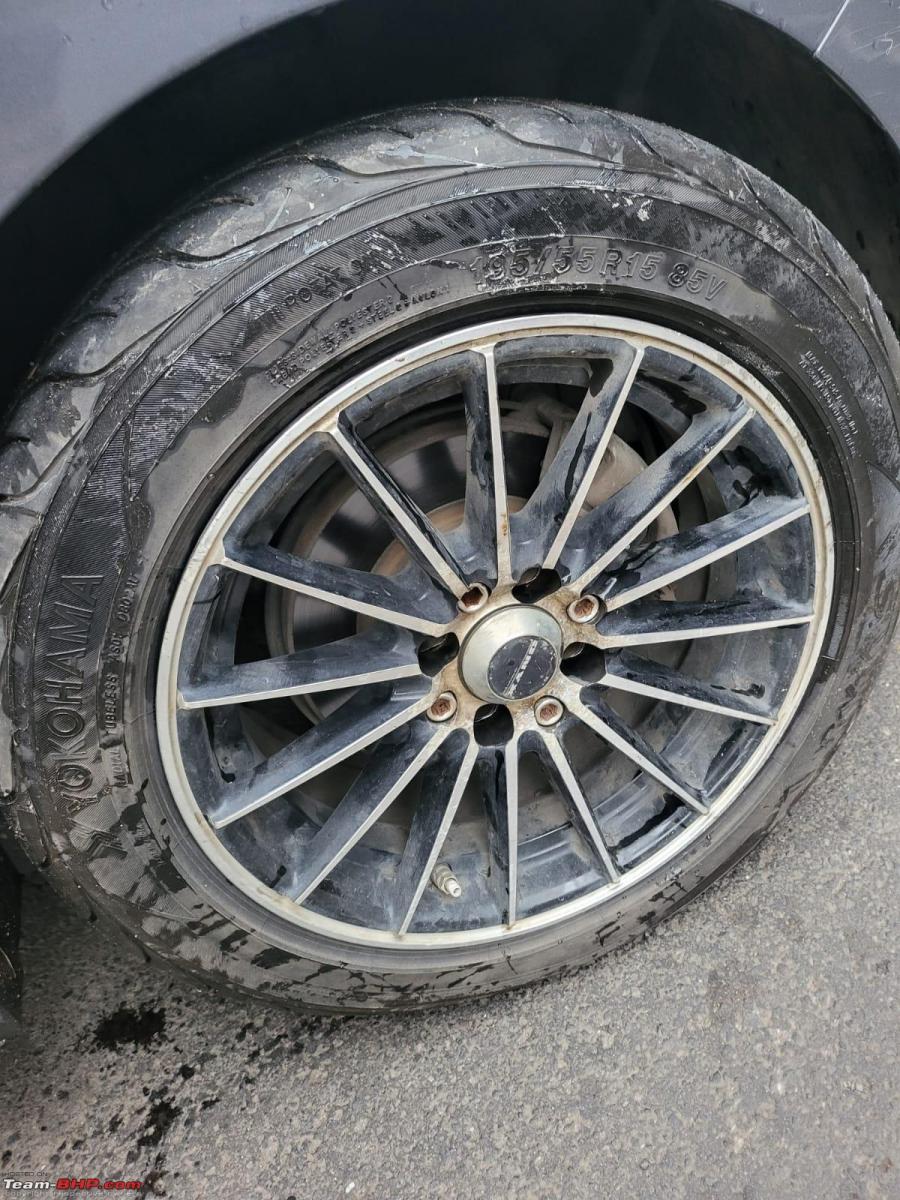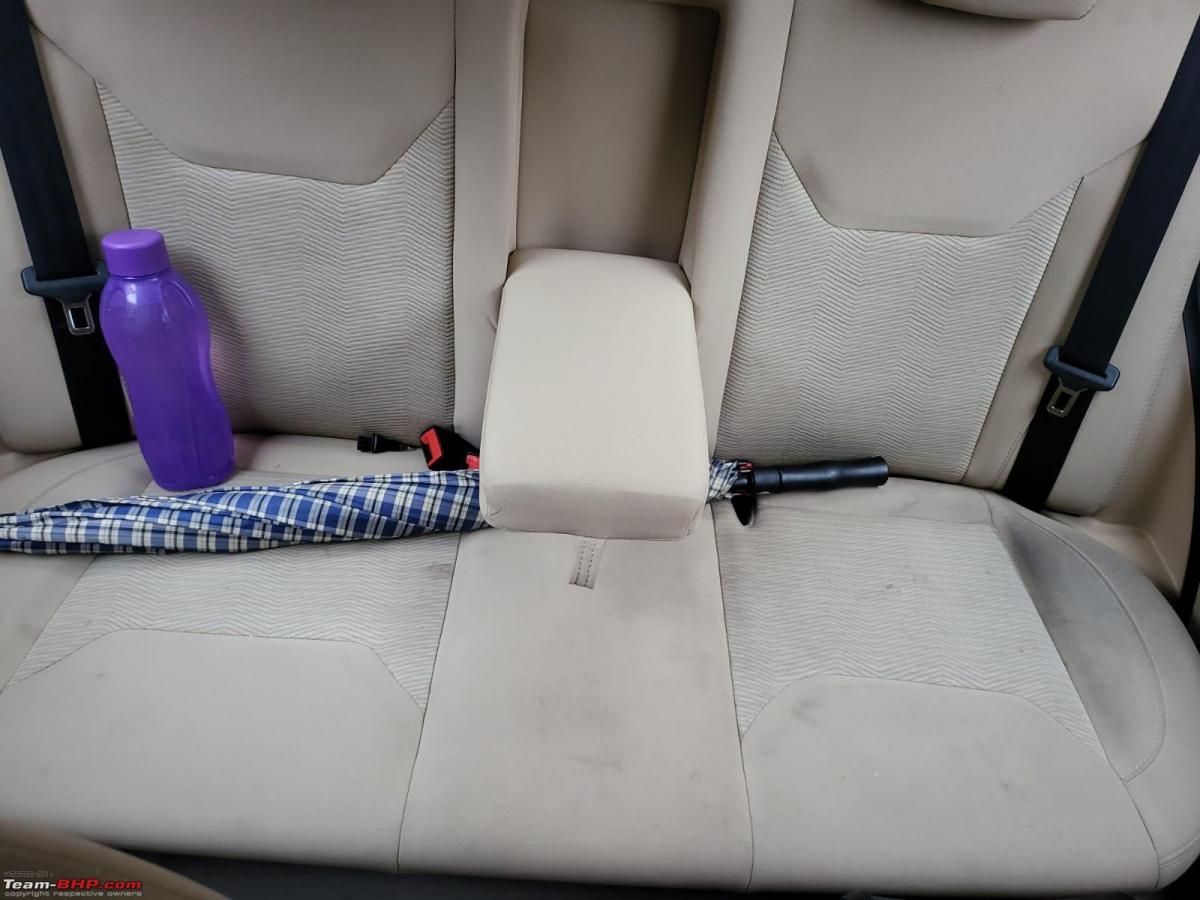 Have a look at the job sheet. NO HEADLIGHT levelling, not even mentioned in the work to be done. I paid 3000 rupees (not a large amount, but I am wondering what I paid for, actually) for this harrowing experience.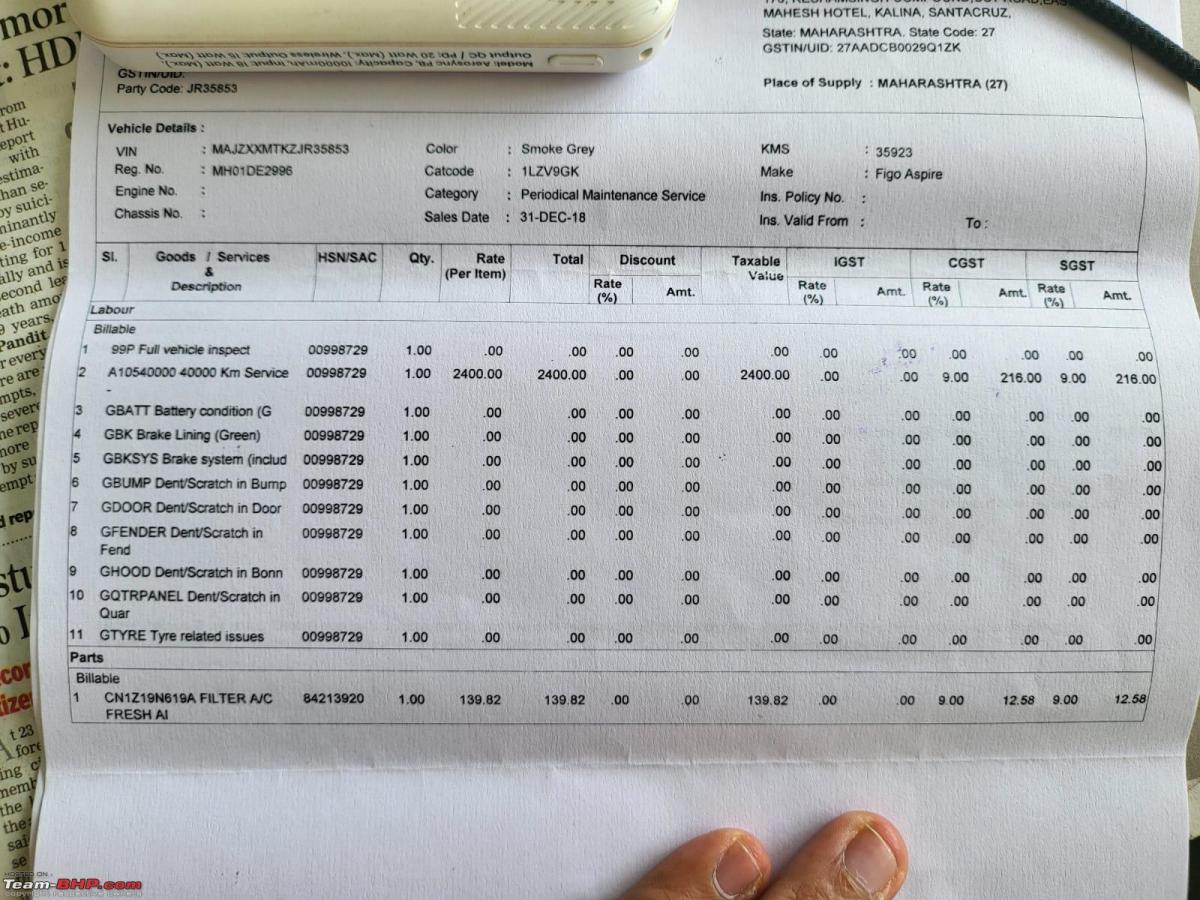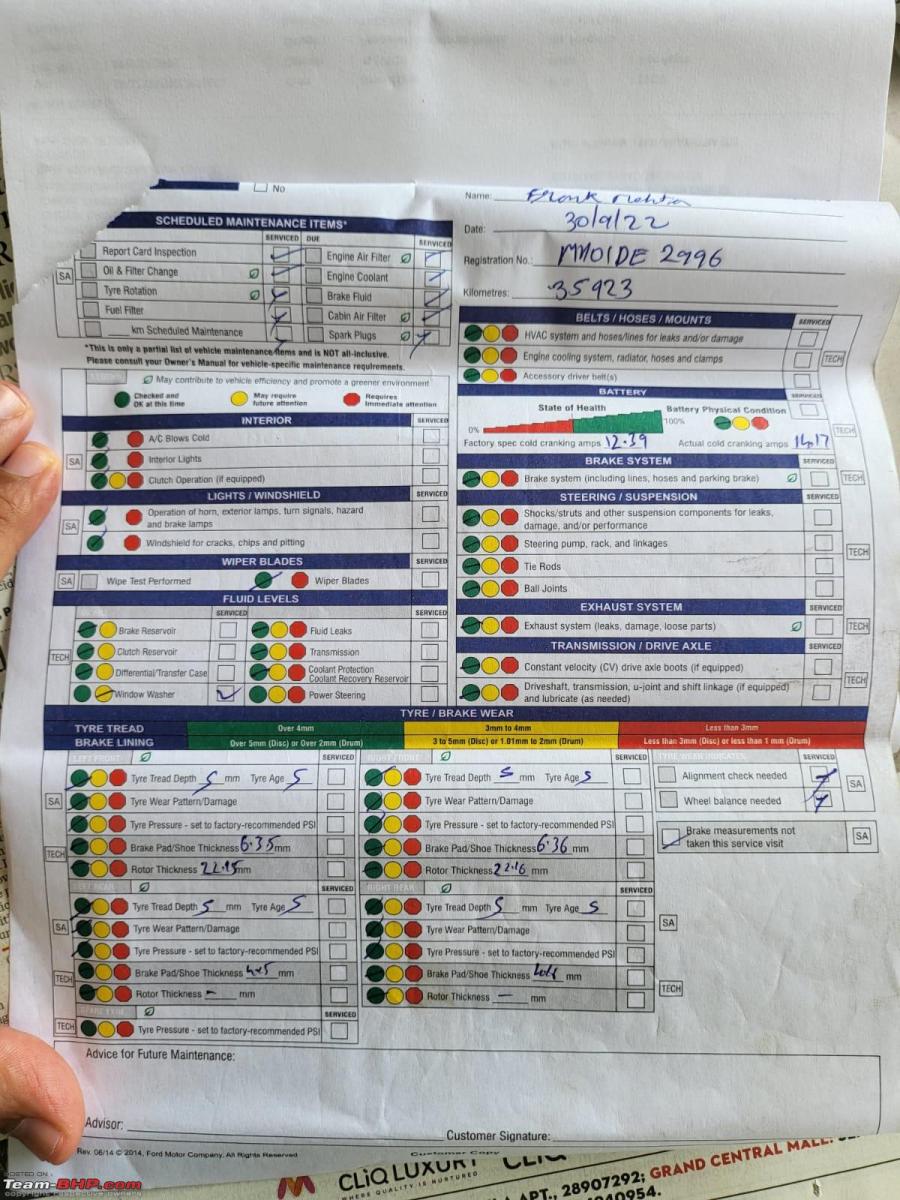 The issues
Rubbing Noise: NOT RESOLVED
Headlight Levelling (what do you think? Of course, not done. Not touched at all, with the beam being as erroneous as it was when it went, and no mention of it on the job sheet)
Service: Cabin filter changed. WASH? You see the results and tell me.
Rust Issue: REJECTED, SAAR!
The ride quality has gone to the dogs, and I was suspecting something amiss. I first thought that they had changed some parts with old parts (ANYTHING can happen now, seeing what they did to me), but I found the culprit in the boot. They disassembled one side RogerAb suspension buffer from one side and left the other one in the suspension. Leaving the car totally imbalanced and tilted to one side. Of course, the suspension geometry has gone to the dogs which none of their experts identified in their apparent numerous test drives. The Mangled Culprit in the boot, for which they had no courtesy to put back, or even inform me.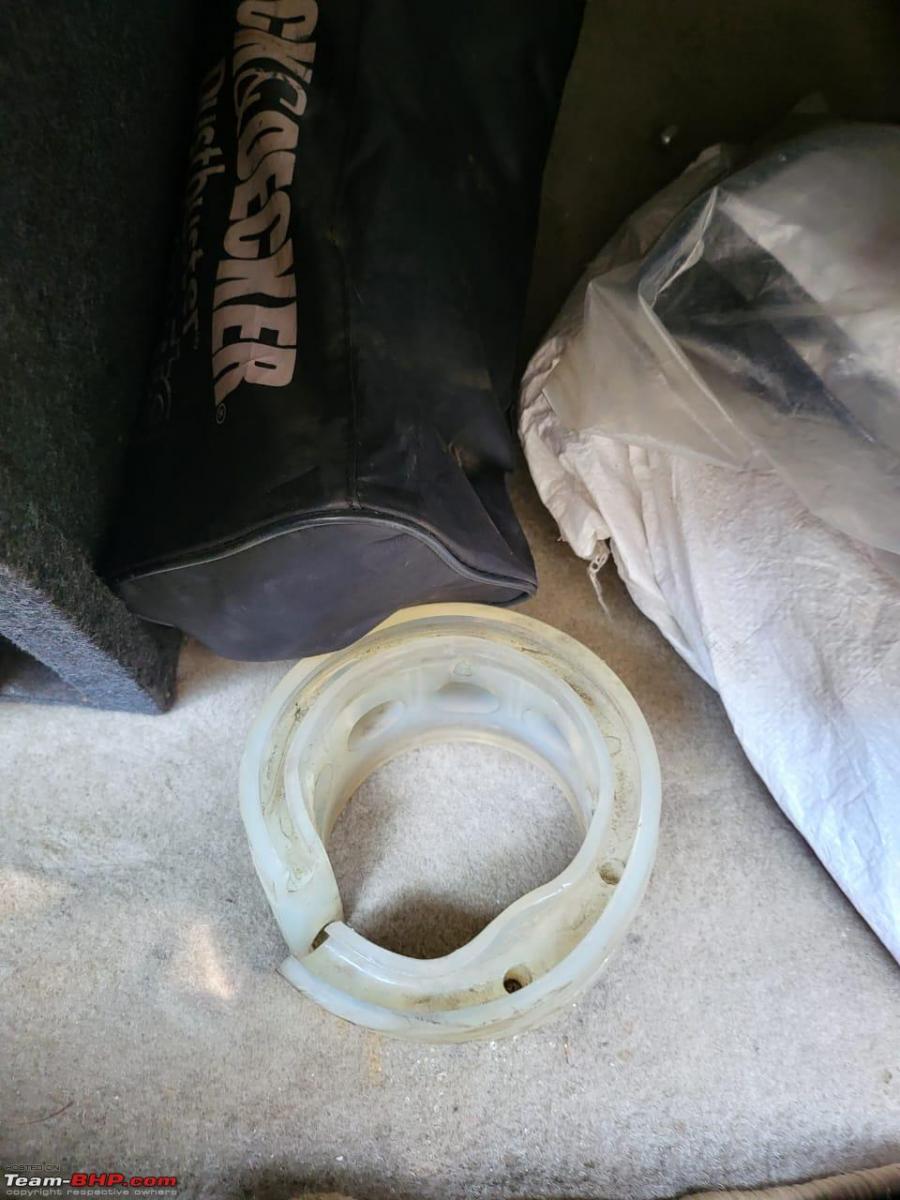 Adding insult to injury
I have a pressure horn fitment in the car. This is how they dismounted it to check if it was the source of the sound and then left the compressor in the car, disassembled and suspended mid-air, waiting for a larger catastrophe to happen.
I have no words. I have mailed Ford. I have put it on Social Media.
I get a call from Ford, DAILY at 430 pm for a week from someone called Mr. Lokesh. Sir, give us a day more. The dealership is delaying.
Yesterday, the same guy called and said SAAAR, you have given the wrong VIN no. So for 5 days, you are running a wild goose chase with the wrong VIN? I fail to believe this! I will update this as it develops.
I wish to keep the car for a few more years, but I am not convinced that the company wants me to.
No official stand from Ford as of 11/10/22, 11 days after the car has come back and is lying in a corner of my building, as I don't intend to drive her around with this distorted suspension geometry and do further damage.
Check out BHPian comments for more insights and information.
Source: Read Full Article