Kushaq owner buys a Toyota Hyryder without even taking a test drive
Forget a test drive, I didn't even check it out at a showroom. In fact, the 1st time I saw/experienced the car was on the delivery day.
BHPian karan561 recently shared this with other enthusiasts.
My Toyota Hyryder Delivery
Join me in this video to experience the Collection Day excitement of my Toyota Urban Cruiser Hyryder "V" Hybrid in Monotone Cafe White shade.
The video captures, Collection Day Excitement.
Quick walkaround
Some Cinematic Scenes
And early driving impressions
Buying Decision
This car was booked on day 1 when the booking started back in July. Since then I haven't checked one out in the showroom nor Test Driven one. In fact, the first time I saw/experienced the Hyryder was on delivery day last week. Special thanks & credit goes to TEAM-BHP's Official Review which helped me go ahead with this choice without having the need to go check her out physically or requiring a Test Drive post-booking.
Dealership Experience
The Dealership selected was Rathod Toyota, Vapi. This is the same dealership where I picked up my last Toyota Fortuner from back in 2016. Rathod Toyota personnel and SA were in touch with me since booking & giving constant updates (whenever they had information) on the status of my booking as well as the production updates. I thank them for their professionalism & overall approach right from my booking to delivery which happened during Diwali Holidays (26/10/22).
I picked the extended warranty as well as insurance from the dealership. Among the freebies, I got a set of OE 3D mats & Mudflaps installed at the dealership.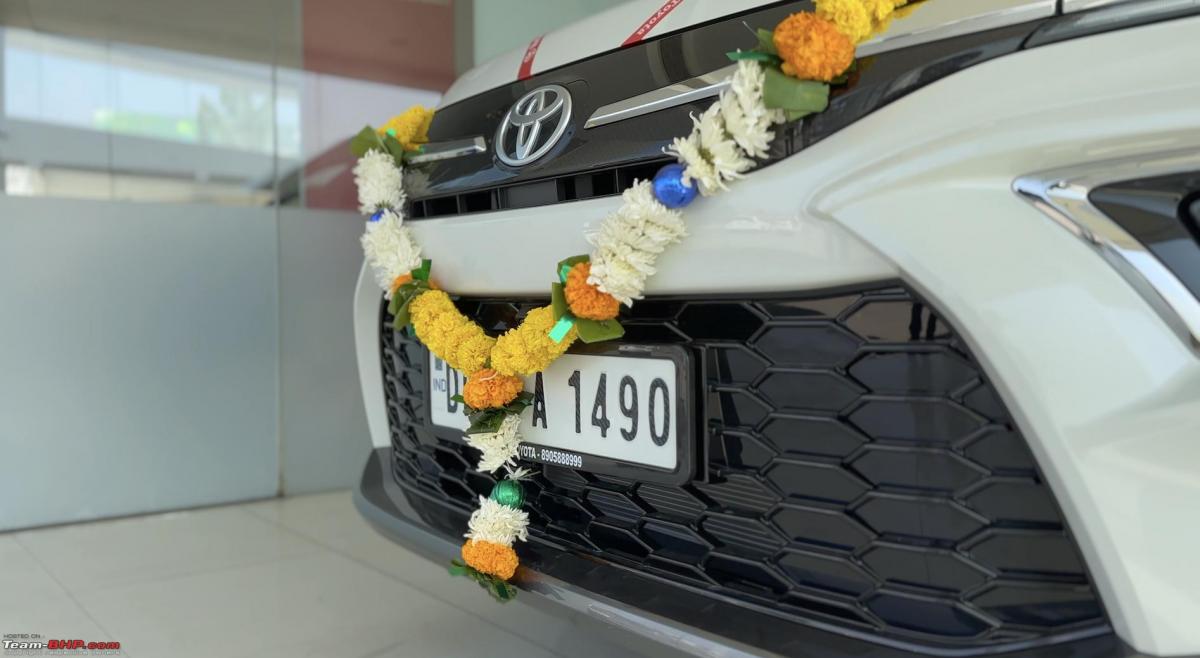 Registration no. picked was 1490 on 2 fronts:
My Ford Figo (which this car replaces) also had the same no. i.e. 1490 hence there's a sort of continuity.
The 1.5L Toyota engine for the Hybrid models has an exact displacement of 1490 cc.
Hence it all fell into place.
Hybrid Driving Experience
Having not test driven the Hyryder before I was really excited to drive back home. The car starts in EV mode and if a light throttle is maintained it continues to remain an EV. The transition is seamless when driving and is not felt at all, very impressive indeed. However, when idling for long (With A/C on) the engine fires back on in a couple of minutes and that transition is felt.
The Power delivery in combined form is enough for the city and also highways for cruising at good speeds. Refinement levels are good enough for a 3-cyl, the battery / motor whine is audible if you hear carefully in EV mode, the engine sound is also pretty much there in a good way when you're in a rush, sort of helps because there's no tachometer. Fuel economy achieved after about 160 odd kms of driving on day 1 was 23.7 km/l.
Some may argue this can be achieved on an efficient Diesel or a Petrol N/A variant / version of the Hyryder/GV too with careful efficient driving, late braking techniques etc. however let me say that to achieve 23+ km/l I did not really make much of an effort to be efficient & that's where the Hybrid tech excels. The e-CVT is also very smooth and feels very soothing to drive. The relaxed manner of this engine – gearbox combo is definitely a USP for the car.
Handling / Ride Quality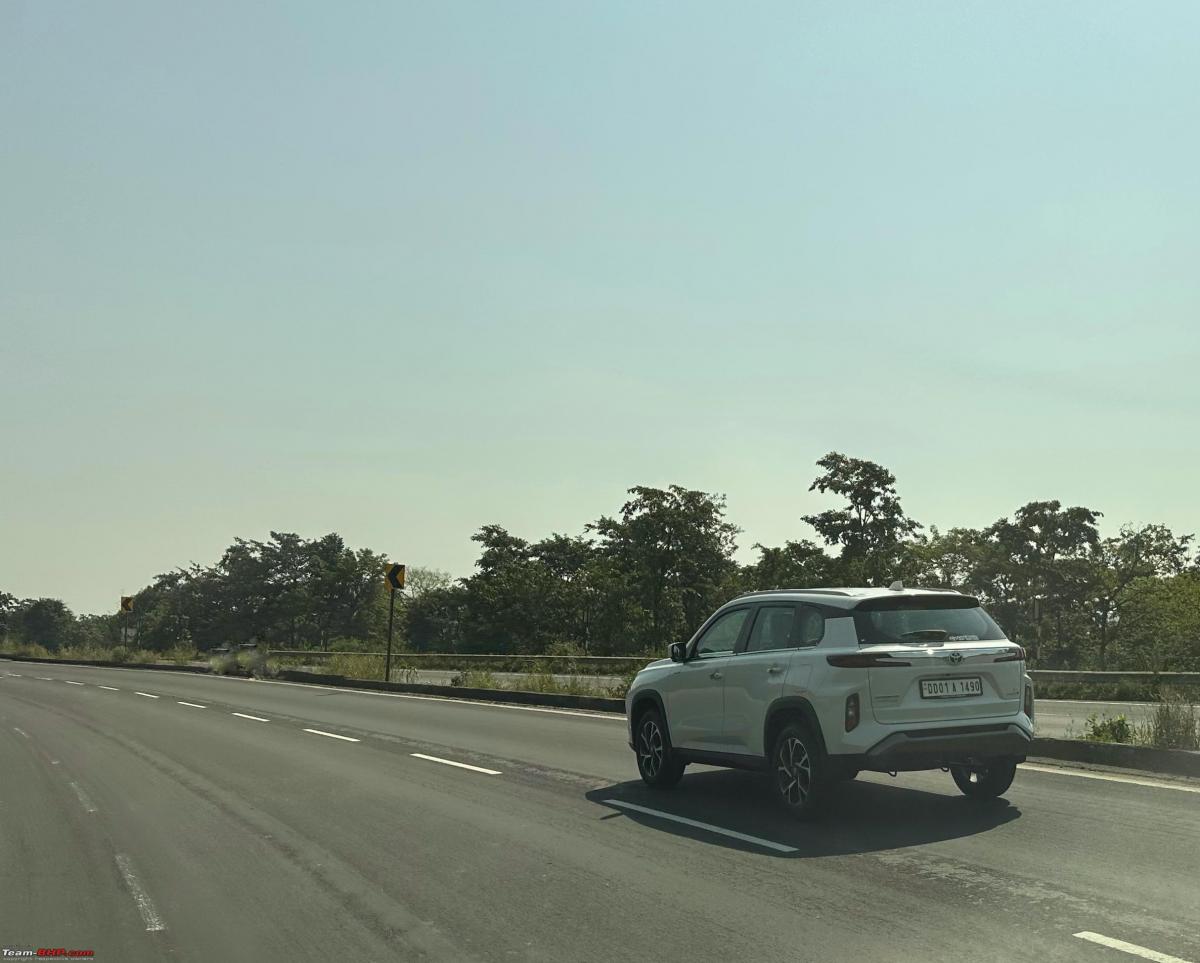 During the PDI the dealership was smart enough to reduce the tyre pressure to normal levels (@ 33psi v/s 40+ psi kept during transit / logistics). Ride quality felt good (better than the Seltos & Kushaq I own from the same segment) & build too when driving over bad roads / undulations felt robust. The handling is a pleasant surprise as it's fairly engaging and enjoyable. The Steering wheel in my opinion is a bit too thin for my hands but feels good to operate in all conditions.
Debadging
The next day got the car debadged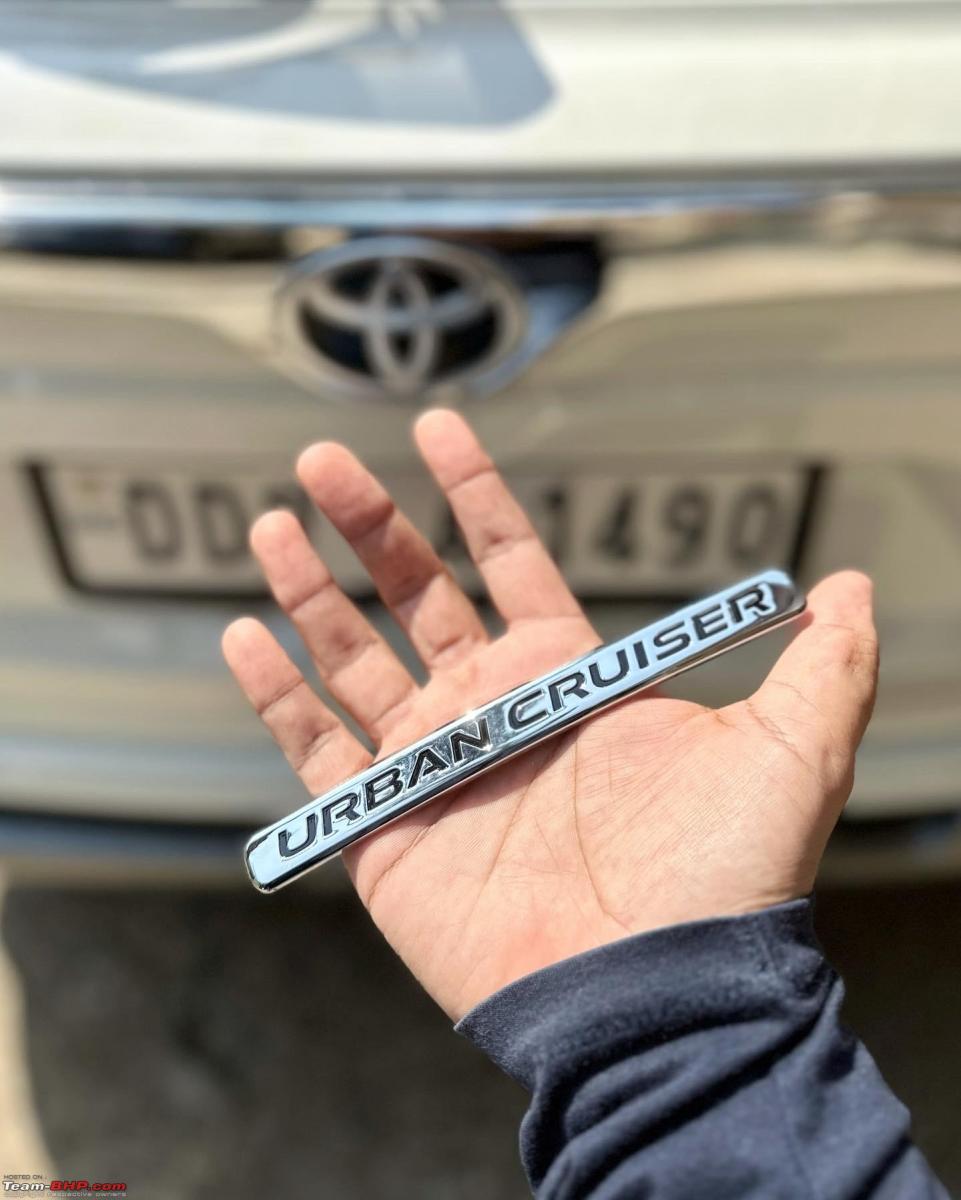 Bye bye Urban Cruiser
Hello Hyryder
A mod recommended for all future Hyryder owners.
Miscellaneous Observations
HUD provides a lot of information. Have read a lot of negative impressions about the HUD. Being using an HUD since 2012 in one of my BMWs, I really don't mind having this tech now being available at this price point, good effort.
I picked the Monotone over the dual tone as it makes the Hyryder look taller and more SUV-ish and at the same time highlights the fact that it has a Pano-Sunroof very well.
Cafe White Paint shade is somewhere between the typical Toyota Super & Pearl White shades, I like it.
TPMS is showing in KPa, still haven't been able to figure out how to switch to Psi.
Infotainment & touch screen is very smooth & feels modern enough.
Car Keys are really sleek, modern and good-looking.
Lock / Unlock beep sound is a bit early 2000'ish.
A/C Controls are fun to toggle.
Robust Build in most areas.
Camera Quality is average.
Powered Seats are missed.
Check out BHPian comments for more insights and information.
Source: Read Full Article