Kushaq: 3-month ownership experience with 10 likes by ex-Polo owner
I also shortlisted the VW Taigun & Kia Seltos. But the decision of getting the Kushaq was driven more from the heart than the mind.
BHPian pravs3012 recently shared this with other enthusiasts.
Vehicle: Kushaq MT 1.5 – Style
Booking and delivery: August 2022
Distance covered till date: 1500 km
Likes
Not so likes
Booking experience
Our first car was Polo Highline Petrol which I drove since 2014. An absolute beauty in looks and driving, it was perfect for a family of 3 and occasional 5-member drives. I actually learned driving in that. Barring initial scratches / dents – maintained it very close to heart. Followed all the service routines and ensured insurance is used perfectly to clear off any hatred signs.
We drove 67k km and it was a very tough decision to let it go. The primary reasons being rear seat spacing and my legs starting to complain of the seating position – age catching up perhaps? I can go on and write more but I would summarize by one line – the moment it was driven away I kept looking at it till I could and that took me back to 2014 when I had to let my kid enter the daycare gate and I would watch him till I could.
Not to drown you in emotional well, let me jump to the second part.
Criteria of change
Safety (the fact it got 5 stars only helped me feel better about the decision).
Driving pleasure with seating comfort for a family of 3/4. We have an automated Kwid for city commutes. It does its job quite well.
Ground clearance.
Budget not exceeding 20 L.
Engine capacity – wanted more than what Polo offered.
Next steps: Test drives and booking
I shortlisted 4 cars in the preference order – Jeep, Taigun, Kushaq and Seltos.
The first one remained etched in my heart, but I cancelled the test drive simply because I did not want my heart to decide the budget. Loved both Taigun and Kushaq in the driving sense. Found Kushaq better in looks but Taigun in its interiors. Seltos was fun to drive, had amazing features, and the cabin was nothing short of a gadget gallery. The sales team was very smart and responsive. Why I decided against it – not very sure as it was a tough decision but somewhere deep in my heart VW's experience played its role.
The story then on is a perfect example of a sales team helping you make a decision and Skoda SA just latched on to the opportunity while Taigun guys simply did not care at all. This should not mean anything in general and might be simply an individual experience.
I had decided to exchange Polo via a dealer and here again, the Skoda guys were very aggressive while the VW team was as laid back. I felt as if destiny is moving us toward Kushaq and on the same day we were driven to PPS motors, Jakkur- Bangalore.
My decision to go for 1.5 MT was clear from day one though it was challenged multiple times mainly to go for DSG by my wife and dealer. I had heard about improvements but wanted to still skip the potential DSG issues in future. I wanted honey orange, but my wife and son clearly zeroed in on the Red (Tornado) and I was vetoed. As I would be driving the car, color had to be as per family.
Booking process was straightforward. The delivery time was 2 weeks. The SA kept me in the loop all the time. He was fine for a PDI and shared details if I would like to go for it. Given the experience with him all this while and his sharing every detail and answering all the queries about the vehicle like OVRM, VIN, tires, I decided to skip that and trust my instincts.
And finally, the date arrived – took a gift for SA and completed the remaining formalities. There was a slight confusion regarding the payment of SMP. I was under the (wrong) impression that by removing it from the cost breakup, the dealer is paying but it meant I would pay at the time of delivery if I wanted it. Special shout out to Vaibhav from PPS Jakkur. He was very courteous and prompt throughout the process. He deserves a lot of credit for me going with Kushaq when comparing with Taigun.
The details are (booked in August 2022)
Ex-showroom: 17,19,000
Road Tax: 3,27,038
Loyalty bonus for Polo (-20k)
Insurance: Drive Assure: 55k (went with dealer)
Final Price = almost 21 lakhs including 25k for 4 years maintenance package and 30 for 5th and 6th-year warranty.
Just to mention, we also used HDFC Regalia to get a 25k discount.
I did not go for any PPF or any other accessory. Hindsight tells me I should have gone with different tires but that is left for the future now as the budget seemed stretched by that time.
Experience so far
Happiness is the word I would associate with the experience so far. I am not a knowledgeable person who can pinpoint the technicality and this decision was driven more by the heart than the mind.
Future will tell from an after-sales perspective. With belief in God and fingers crossed, I hope to cover a lot of miles in this lovely vehicle.
Some pics to share and best wishes to all.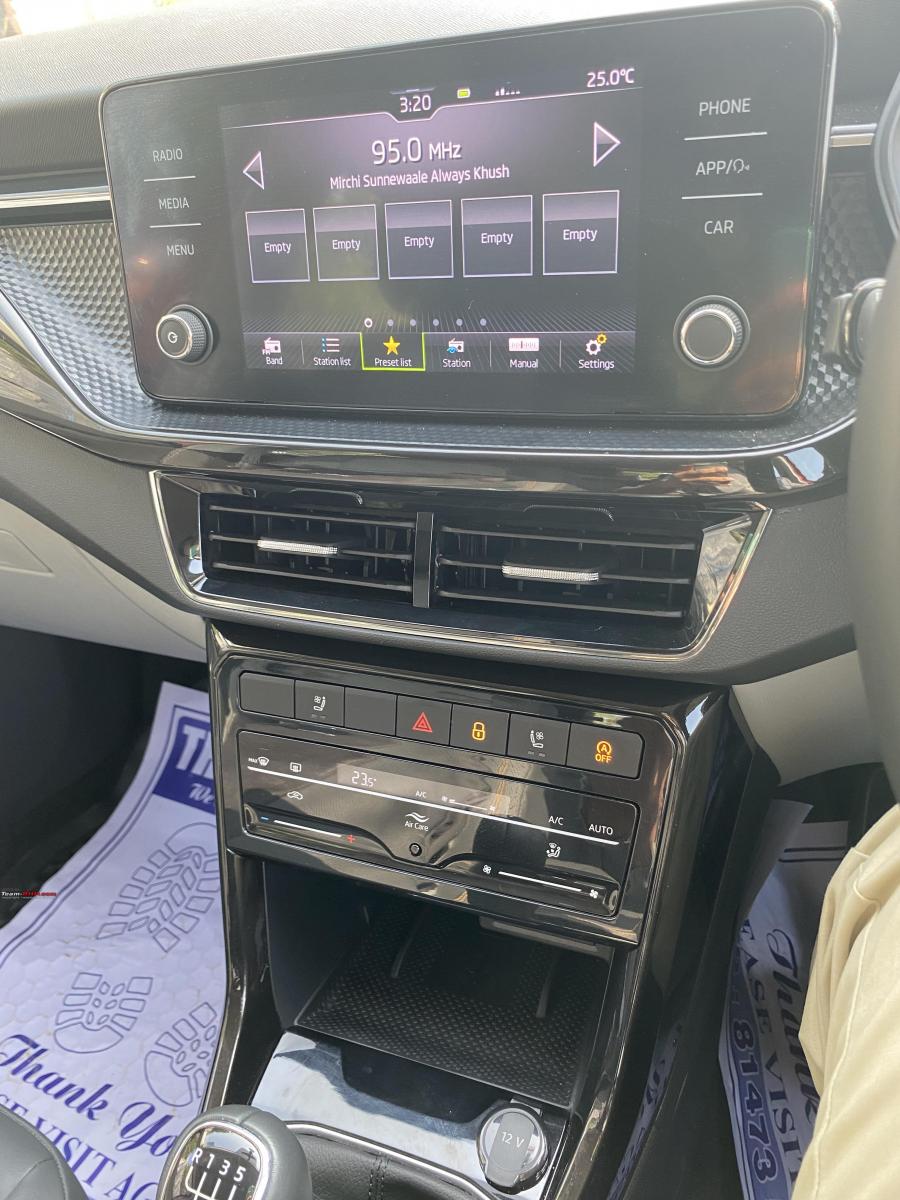 Check out BHPian comments for more insights and information.
Source: Read Full Article