Kia Sonet GTX+ diesel MT at 1000 kms: Observations & fuel efficiency
I can't stop talking about the engine refinement. Its absolutely calm and superb to drive on the highways. Even in city, the engine doesn't disappoint at all.
BHPian muglikar recent;y shared this with other enthusiasts.
Update after driving the Sonet GTX+ diesel manual:
I got the delivery of my Sonet on 22nd June 2022 and within the first week itself I was able to cover a 1000 kms and even sent the vehicle for its 1st servicing. These 1000 kms were 60% highway and remaining 30% light city traffic and 10% bumper to bumper traffic.
Initial feedback:
On the highways, the vehicle is a brezze. The 1.5L diesel engine is fun to drive and works wonders at higher gears/speeds and especially when the engine heats up a bit. I use the Fuelio app to maintain logs and get overall average details.
First fuel up ever for the vehicle was for 41.95 Litres and 2nd one was for 39.59 litres (auto cut both the times) and with a mix of 60:30:10 I was able to get a FE of: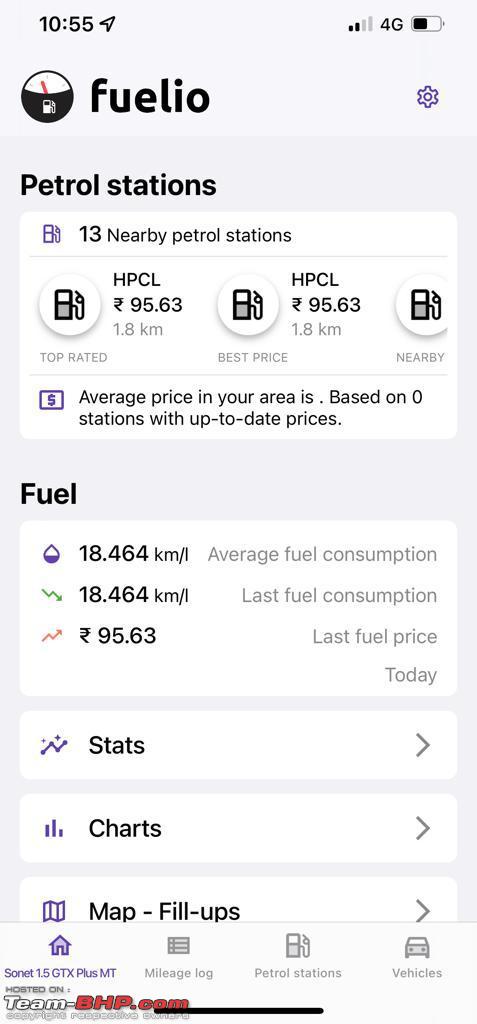 18.46 kmpl. Here is a screenshot from the app.
Few quick observations:
In city drive, if you don't use the correct lower gear (keeping it on 3rd gear even if the speed is say 20kmph) and trying to pick up from there, the vehicle manages to climb up the speed but the FE goes down. I was a bit lazy and tired during a routine return journey from office to home and I got an FE of 13 kmpl.
Then the next day I drove with correct gear shifting and I was able to get about 18 and 20 kmpl.
Bumper to bumper traffic completely affects the FE, and I was not able to get anywhere above 14kmpl.
This was for the FE conscious folks.
Performance wise, the vehicle gives great feedback while driving. I was confidently making turns on the Pune Mumbai expressway at allowed speed of 95-100 kmph with zero feeling that the vehicle "wont" manage this. I hope you understand what I mean here.
While driving, the best things are as follows:
Wide touchscreen, UVO, useful ventilated seats, seven-speaker Bose audio, cooled wireless charging, multiple active Bluetooth connections. I can't tell you how these features are a boon. I mean there are 50 other features to list but these ones are really the ones I have used the most.
I had a spare smart phone at home, so I bought a Jio SIM and kept this phone permanently in the car. The entire music system, wi-fi etc is run from this SIM and suddenly my "already" connected UVO car is an "internet car". My personal phone battery does not drain at all. At the same time, my personal phone can get connected to the system as well so I get to attend work calls etc too. Isn't that great? Don't have to press a single button to manage any of this. Just setup once and you are good to go.
I can't stop talking about the engine refinement. Its absolutely calm and superb to drive on the highways. Even in city, the engine doesn't disappoint at all. You get torque even at about 4000 rpm, but most of the times its between 1800-2000 at 95kmph and I guess that's what gives the 26 kmpl efficiency that I got from Bavdhan Pune to Bandra Mumbai. Here is the screenshot for your reference:
I will be doing a road trip soon and will keep you all updated. Cheers and stay safe, drive safe.
Check out BHPian comments for more insights and information.
Source: Read Full Article