Jeep Meridian vs Toyota Fortuner vs Skoda Kodiaq
If running isn't too high, the Kodiaq 2.0 TSI Petrol. An SUV that easily matches many 60-lakh ones on competence.
BHPian Aditya recently shared this with other enthusiasts.
Jeep Meridian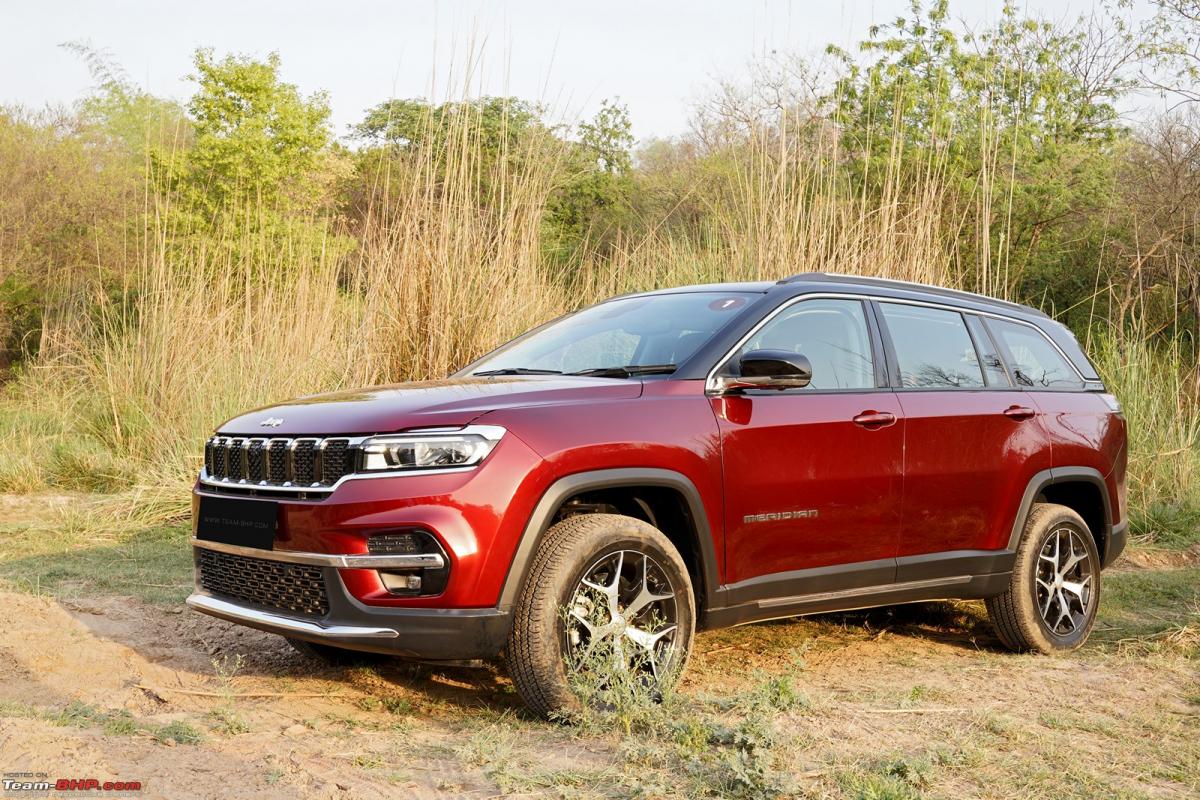 What you'll like:
Handsome unmistakably-Jeep styling & loads of character
Robust build quality. Feels very solid, just as a Jeep should
Classy cabin now boasts a versatile 5+2 seating configuration and better accommodation when compared to the Compass
Competent 2.0L diesel. Good driveability in the city, quick on the open road
Mature suspension setup, nicely-tuned EPS & rock-solid stability
Capable AWD available, with 214 mm of ground clearance
Feature packed: electric front seats (driver memory), panoramic sunroof, 360-degree camera, powered tailgate, LED projector headlights…
Topnotch safety kit: Strong all-disc brakes, a plethora of electronic aids & 6 airbags
Diesel AT is now available without the AWD as well, thereby making it more accessible for urban dwellers (Compass Diesel AT only available with AWD, 5-lakhs more OTR)
What you won't:
Cabin has limited width, and can feel snug for larger passengers. 5th passenger (in the 2nd row) will feel unwelcome
3rd row is strictly for children and small adults
Should've had more power for the price. Same 2.0L diesel available in SUVs from a segment below
No petrol engine in a market that is moving to patrols in a big way. Delhiites will be disappointed
9-speed Automatic gearbox is competent, but not brilliant
We'd have liked to see front parking sensors, paddle shifters, gearbox 'sport' mode, a sliding middle row, and more connected tech features (it's very basic currently)
At low speeds, the firm ride quality always keeps you aware of the road quality you're driving on
Jeep India's dealer & service network coverage is still limited
Just the higher Limited & Limited (O) variants at launch. Not sure when lesser variants will follow
Review Link
Toyota Fortuner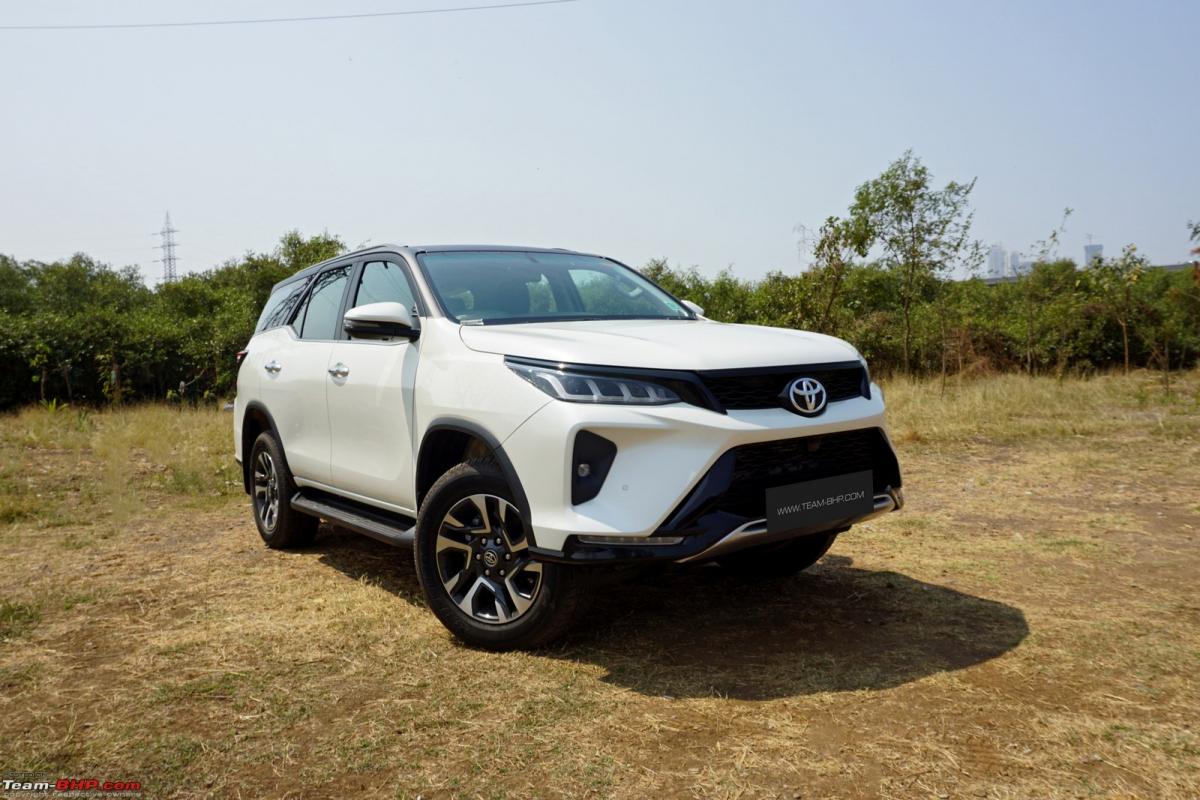 What you'll like:
Fantastic 2.8L diesel engine has gotten even better. More power, more responsive!
Smooth and competent 6-speed automatic gearbox
Contemporary styling & imposing street presence
Tough build. Toyota body-on-frame UVs are known to have very long lives (400,000+ km is realistic)
Smooth petrol is also available, if you want more refinement and/or are from Delhi-NCR
Features such as Quad-LED headlamps, powered tailgate, wireless smartphone charging, ventilated seats & more
Impressive offroad capability (by big SUV standards) is superior to its direct competitors
Top-notch safety kit. 7 airbags, ESP, TC, hill assist, ISOFIX & 3-point seatbelts for all
Outstanding long term reliability. And you get great resale value as well
Toyota's excellent after-sales quality, fuss-free ownership experiences, low service costs & up to 7 years of extended warranty coverage
What you won't:
The already-expensive Fortuner has gotten even more expensive! Top variant costs over 57-lakhs OTR
Legender & GR-S variants have many limitations (no petrol, no colour options, no MT)
Firm & bumpy ride quality. Bad roads in the city are prominently felt inside
Heavy steering at low speeds will bother you
Lots of body roll. Go easy on the curves
Missing sunroof, lumbar adjustment, auto-wipers, TPMS, adaptive parking guidelines etc.
6-speaker sound system is terrible for a 40-lakh rupee car!
Cost-cutting is evident in a couple of areas; some interior plastics, ICE audio quality, camera display…
Fortuner's petrol variant is a guzzler. We've seen merely 6 – 7 km/l on the AT
No longer a full-time 4×4 like the 1st-gen car. Also, 4×4 carries a hefty OTR premium
Review Link
Review Link – The 2021 Legender & Facelift
Skoda Kodiaq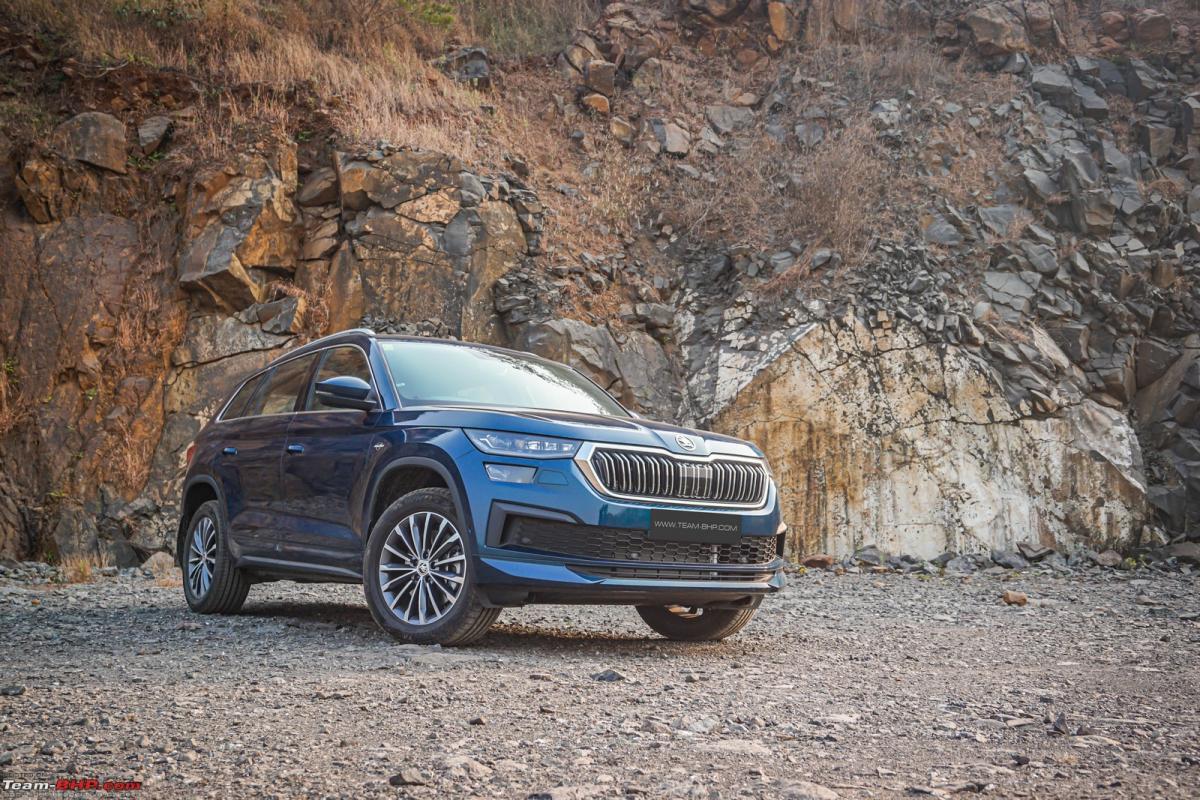 What you'll like:
The ultimate "value luxury" SUV! Classy styling, solid build & superb quality
Cabin offers space, practicality and lots of intelligent features
Impressive 2.0L turbo-petrol is mated to a quick 7-speed DSG automatic
Cushy ride quality in "Comfort" mode (L&K variant)
Sorted handling & road manners in "Sport" mode. Adjustable suspension is a USP of the L&K
3rd-row of seats is an advantage over some 5-seater competitors
Massive boot with 3rd seat row down. The boot is useable even with the 3rd seat row up
Impressive kit (12-speaker Canton ICE, panoramic sunroof, 360-degree camera, auto parking…)
AWD is available to get you out of tricky situations. Tourers will love it
5-star safety rating & equipment (9 airbags + a host of electronic aids)
What you won't:
Workhorse 2.0L turbo-diesel is no longer available. Heavy users will miss its low running costs
Single-digit fuel economy of the turbo-petrol AT in the city. Drops drastically if you drive aggressively
Its sibling, the VW Tiguan, is priced a couple of lakhs cheaper
Expensive! Worse still, Skoda increased the Kodiaq's pricing within days of the launch
Cramped 3rd row of seats is strictly for small children. A 5+2 SUV, not a 7-seater
Styling does look Estate-ish from some angles. Doesn't have that much street cred or presence
We feel that the "Sportline" variant should've been offered with the DCC & other L&K features
Skoda's ill-famed dealership network & after-sales horror stories
Skoda's patchy long-term reliability track record (including, but not limited to, the DSG)
Silly feature deletions from older Kodiaq (rear door sills, 1 umbrella, 1 blanket, chrome tip on power window switches, removable torch in the boot, red warning lights on the front doors…)
Review Link
Volkswagen Tiguan
Review Link
Review Link – The 2021 Facelift
MG Gloster
What you'll like:
Huge & imposing size! Bigger than even the likes of the Fortuner
Splendid long-distance mile muncher. The Gloster is built for expressway cruising. Just set the adaptive cruise control and let the Gloster waft along
ADAS safety features such as autonomous emergency braking, blind-spot monitor and lane change assist are cool & work well
Suspension is tuned for comfort. Gloster owners will enjoy its ride quality
Spacious cabin with captain seats at the back and a usable third row too!
Interior ambience is nicer vs the competitors which are utilitarian in comparison
Loaded with features – panoramic sunroof, 12.3″ touchscreen ICE, driver seat with massage function, 360-degree camera, three-zone climate control, PM 2.5 air filter etc.
343-litre boot even with the 3rd-row seat being used
What you won't:
Engine and gearbox tuning are shockingly terrible inside the town. Turbo lag and the gearbox's reluctance to downshift make things awful in city traffic
Massive size can be a handicap in urban India. Quite cumbersome in tight areas
While the interior looks premium, you know it is not as well-built as a Toyota or Ford
Top-end Savvy variant is optimistically priced at par with the well-established Fortuner
4,000 rpm redline is too early. The engine has a very narrow powerband
Urban fuel economy is mediocre due to the power & fat kerb weight
Twin-turbo diesel, 8-speed AT & gizmos bring a lot of complexity. Long-term reliability is unknown (unlike the Fortuner)
Review Link
Kia Carnival
What you'll like:
A truly luxurious MPV that's also high on practicality
Top quality, spacious & comfortable interiors. 3rd-row is usable for adults too
Fantastic engine & gearbox combination! 2.2L diesel & 8-speed AT impress
Comfy ride quality & neutral road manners
Available in 7, 8 and 9-seater configurations
540L boot space with all three rows up and 1,624L with the third row down
Impressive kit (2 sunroofs, premium Harman Kardon sound system, electric rear doors & more)
5-star safety rating. Kit includes 6 airbags, ESP, HSA, CBC etc.
What you won't:
Massive size can make it cumbersome in the city, while parking & in narrow lanes
Ordinary urban fuel economy due to the 2.2-ton weight, 197 BHP engine & AT gearbox
Underbody does scrape on bad roads & large speed bumps, especially with a full load
Top two variants aren't sold as 8-seaters & their 3rd-row access is difficult
Steering is a level too firm at parking speeds & a level too light at 120 km/h
Some misses such as paddle shifters, a skinny spare tyre, no auto-wipers or front camera…
Model is now 7 years old in the international market; next-gen Carnival is being tested
Stylish 4×4 SUVs like the Fortuner / Kodiaq can be had at the same price
Review Link
Jeep Compass
What you'll like:
Handsome Cherokee-inspired styling & loads of character
Solid build. Feels very robust, just as a Jeep should
Powerful 2.0L diesel. Good driveability in the city, fast on the open road
1.4L turbo-petrol makes 161 BHP! Offers fast performance.
Mature suspension setup, nicely-tuned EPS & rock-solid stability
Capable AWD available (unlike some competitors)
City-friendly: Compact size, higher seating, smooth gearshift, soft clutch & low NVH
Topnotch safety: Strong all-disc brakes, a plethora of electronic aids & 6 airbags
We think Compass is well-priced for what it offers. The driving experience & overall package feel premium
What you won't:
Small size for the price! A sentiment echoed by most people who saw it in person
Suitable for 4 adults, not 5. The boot is small too
Tiny dealership network. Plus, after-sales quality & long-term reliability are unknown factors
AWD's premium is over 2 lakh rupees on-the-road
Turning radius of 5.65m is wide. Also, the 17º approach angle is too low
Missing goodies (blanks on the steering, lumbar adjustment, reclinable rear seats)
Review Link
Review Link – Petrol AT
Link to Report – The Trailhawk
Link to Report – The 2022 Diesel AT
Mahindra Alturas G4
Link to Short Review
Here's what GTO had to say on the matter:
Some cool options in this space now, but all are quite unique in their own special way. My choices:

If running isn't too high, the Kodiaq 2.0 TSI Petrol. An SUV that easily matches many 60-lakh ones on competence. In fact, I'd buy the Kodiaq over the likes of the GLC and gang. Fast engine, brilliant AT, versatile cabin, a suspension offering comfort + sport modes, nice equipment list…it's a proper luxury crossover.

If running is high, then the Carnival. Insane levels of luxury, excellent gearbox + engine marriage, comfort all around, family will go nuts on road trips. It is surprisingly neat to drive. But I would check with Kia on the timelines and probably wait for the next-gen Carnival which has already been launched overseas. Whoever experienced our Carnival media car fell head over heels in love with it.

If I didn't need space or a 3rd-row of seats, then the Compass Diesel AT is for me.Despite the Fortuner's incredible popularity, it isn't for me. The ride is too bumpy & busy, with the car overall being very "heavy" to drive. I'd buy the Compass over the Meridian, the Tiguan is too bland + bumpy for my tastes and while the Gloster is an amazing mile muncher on the expressway (my Mum loved it), the engine & gearbox tuning would drive me mad in the city.
Here's what BHPian GreasyCarb55 had to say on the matter:
Jeep Meridian: This is one is a good looking SUV but the terrible 3rd-row comfort and better options in the price range make it not desirable.

Toyota Fortuner: A great car but overpriced, the other 7/8 seater cars here cost anywhere between 40.2 and 48 lakh (OTR Bangalore) for their top variants while the Fortuner tops out at 61 lakh for the GR-S model. Now to be fair to the Fortuner the 2 variants that I and most customers would probably buy (the 4X2 AT 2.8 Diesel and the 4X4 AT 2.8 Diesel non-Legender) are 45.80 and 50.1 lakh respectively which is similar to competition but then the ride quality sneaks in and robs it of victory. I suppose you could add aftermarket suspension to maybe remedy the problem but that only adds to the cost.

Skoda Kodiaq: Don't want to deal with VW/Skoda niggles but the thing that puts the final nail in the coffin is the lack of a diesel option paired with the fact that we use our current 7-seater (2011 Innova Diesel) a lot.

VW Tiguan and Jeep Compass: Not 7/8 seaters so these are out of contention immediately, if I'm buying an SUV between 30 lakh – 1 crore it better have 7/8 seats or have X3 or GLA 35 AMG written on back.

My choice would be the KIA Carnival Limousine. Why?

Spacious cabin.
The limousine variant is cheap compared to others on this list (41.3 Lakh OTR Bangalore)
200hp 2.2L Diesel engine that rivals the Toyota 2.8 Diesel.
Comfy and neutral ride.
Massive boot, 540L with all 3 rows up is bigger than a Honda City (506L) which extends to over 1600L with the 3rd row down.
5-star safety rating. The safety kit includes 6 airbags, ESP, HSA, CBC etc
Harman Kardon sound system.

The only fault with the KIA Carnival is that:

It's not the newer gen model sold abroad.
3rd-row access is a bit cumbersome

The top 2 variants (Limousine and Limousine Plus) aren't sold in an 8 seat configuration with 2nd-row bench seats.
Here's what BHPian Axe77 had to say on the matter:
This is a tricky segment now with each offering coming with its own unique strengths as well as weaknesses. Choosing a car within this groupset is a bit of what compromise one is willing to live with in order to get some other more important priority.

Compass: If the Jeep Compass (diesel 4×4 A/T), had been just a little bit roomier on every front, it would have been one of the top picks for me. Sadly it isn't and the room inside is just deal breakingly cramped for me.

Fortuner: It's an incredible machine, it's just not for me. It's a heavy full-fat BOF with a massive footprint and it's just not the kind of "car" I fancy myself driving or being driven in.

Kodiaq: Personally, I think this is THE top pick in this segment. It feels a segment above in its sophistication and plushness factor to almost every other vehicle in that list (with the exception of the Carnival) and is probably the best in that segment to drive. The key negatives are perhaps the FE factor for heavy mileage runners, the questionable reliability and corresponding ability to take abuse, and looks significantly better than even its own stablemate – the Tiguan. Even if one wanted to look over some of these issues, the fact is an L&K is simply not being sold now till at least next year so it's become a bit of an academic option for the moment.

Carnival: Simply too big for my liking. If only one could get a Carnival like product in a Crysta like size, like the MPVs available in other Asian countries. Besides, an all-new generation is anyway on its way.

Meridian: For me personally, it ticks many of the boxes I'd look for in a 4 / 5 seater. A two-row vehicle with flexible large size boot. Great to drive as well as be driven in, in the city. I had a 45 km test drive earlier this morning and came out "satisfied" with the engine performance within city limits. Its biggest letdown honestly is going to be the engine, especially out on highway drives. It's not going to be a "performer" and while it will cruise satisfactorily at 100 – 130 km/h range, it's not going to bring the kind of smile to your face that a Kodiaq would bring on the same journey. However, I find the back seat under-thigh support excellent, was not impacted by the non-sliding rows for my height (although sliding would have been better); the back seat recline and related comfort were very good (better than the Skoda back seat IMO). All in all, it's a great abuse friendly workhorse which will do city duties brilliantly and be reasonably compliant on the highway as well. The interiors too are a nice place to be in, with plenty of nice premium feeling material albeit marred by unusually hard scratchy plastic in some places.

If I wanted to plonk my money down today, it would be on the Meridian. I'd pick the 4×4 automatic if I did, because – well – why not. What's the point of owning a 4×2 Jeep.
Here's what BHPian CEF_Beasts had to say on the matter:
Lots of cars left this segment, many came in as well.

All have their positives and negatives, considering there is a mix of BoFs and monocoque in the poll.

Have said it in many polls where there is this mix and will say it again, a prospective Monocoque SUV buyer will not look at a BoF SUV and vice-versa.

So I'll state my choice from Monocoque SUVs and one from the BoF SUVs.

Monocoque SUV: Škoda Kodiaq (it's one car that simply pushes above its weight, making them premium SUVs feel less premium, specifically looking at you GLC! )

BoF SUV: There are not many choices left other than the de-facto Fortuner. Competitors enter this segment with aplomb, face the mighty Toyota, get scared to the core and leave the market in no time at all. (Eg: Chevrolet Captiva, Hyundai Santa-Fe, Mitsubishi Pajero Sport, Honda CR-V and Ford Endeavour, the Endeavour was still a very successful SUV compared to the others)

For our family, reliability is of utmost priority; we want no gearbox failures, no EPC errors, engine not starting the next morning for whatever reason and a well established after-sales network. This is where the Fortuner clinches the title from the Kodiaq, for me.

Also, now the Fortuner has one of the best powertrains in the segment (torque-to-weight ratio of 229Nm/ton from the 500Nm 4X4 AT version, the 500Nm 4X2 AT is even better), the tough 2.8L mill. A well spread-out variant line-up with Petrol MT/AT or Diesel 4X2/4X4 MT/AT. So basically there is a Fortuner for everyone.

Unfortunately, this can't be said for the other rivals:

Kodiaq: Only Petrol
Tiguan: Only Petrol
Meridian: Only Diesel
Gloster: Only Diesel
Alturas G4: Only Diesel

With the market moving towards Petrol SUVs as well, only an option of a petrol engine can do wonders for a manufacturer, case in point I know quite a few people who are buying Petrol AT Fortuners in Delhi-NCR.

And if I don't want any of the monocoque/BoF SUVs, a 2.8L Pre-owned Innova Crysta will be my first choice, otherwise, the newer 2.4L AT also makes a strong case for itself.
Check out BHPian comments for more insights and information.
Source: Read Full Article