Hyundai Exter AT 500 km review: 15 points explaining the good & the bad
The SUV-like design and high seating position were two of the main reasons why we chose this car over the Maruti Suzuki Fronx.
BHPian itsnotdeva recently shared this with other enthusiasts.
Hello, fellow BHPians!
Writing a review about my new car, the Hyundai Exter SX(O) DT AT after 500 kms of using it.
My father and fellow BHPian gadadhar have already posted a few pics of the car on the thread.
I've been the one using it every day since taking delivery, and I felt a 500 km review would be the right thing to get me back and active on the platform.
I've been daily driving a 2009 1.1 i10 Era for the last three years, which was given to me after my mother used it for 11 years, and I must say, it has been quite a change for me (in a great way).
The good:
Looks
The looks of this car really do get a lot of attention. The 'H' shaped DRLs in the front and the boxy styling cues all over are something I really like, and it does get a fair bit of attention on the road, but that might also have something to do with it being a new car that Hyundai is advertising literally everywhere.
Tall-boy design
The SUV-like design and high seating position were two of the main reasons why we chose this car over the Maruti Suzuki Fronx.
After using an SUV as our primary car for the last 10 years or so, my dad simply could not fathom the idea of getting a new car that was low-riding and low-seating.
We were really impressed with the Fronx and its driving experience, but the low seating and high pricing for the 1.0L AT were both deal breakers for us.
Loaded with tons of tech
The infotainment system and the gauge cluster are shared across Hyundai cars in the range, and it really does feel nice getting such a nice feeling in the cabin, in this price bracket.
Also, yes, it does have a sunroof, which seems to be something that everyone wants nowadays. It was never something that I was adamant about having in my car, but I'm not complaining and it does add to the airy feel of the already spacious cabin.
Connected car features
Hyundai offering their BlueLink features in this price bracket, with remote lock/unlock, vehicle tracking, valet mode and the option to monitor vehicle status from anywhere in the world is really nice. In our 2021 Fortuner, Toyota offers something similar with the Carot app, but the execution with Hyundai is FAR BETTER. This app actually looks and feels like something you'd want to use, unlike what Toyota offers, which, as my dad likes to say, reminds him of DOS prompt.
Spacious cabin
I was pleasantly surprised by the space on offer in the cabin, especially in the back seat, for a car that is small in size. Family and friends have all praised this, and even had one person tell me that it felt more spacious in the back than his 2016 Creta (not sure if that's true).
Refinement levels
This might also be because I've been using an old i10 every day for a while now, but the refinement in this is fantastic. NVH levels are low, and I can feel the difference mainly while driving it on the highway, doing speeds of 80-90 kmph.
Engine
Nothing to rave about, but a very sorted engine-gearbox combo. The 1.2 is a smooth unit, with good punch in the mid-range.
Ride quality
The suspension on this is tuned nicely for Indian road conditions. It deals with our pothole-infested roads well, ironing out bumps and undulations with ease. It is slightly on the stiffer side, but not to the extent that it makes the ride uncomfortable.
Paddle shifters
The gearbox is something I've written about more below, but the paddles definitely need mentioning. They are a boon in this car. It really helps add to the whole driving experience, and every now and then when the gearbox doesn't respond the way I want it to, gear changes are just a click away. The paddles are quick to respond (quicker than our Fortuner) and do really change the way I use the car.
Safety features
Hyundai seems to offer the whole nine yards of safety, on paper at least. With 6 airbags as standard, 3-point seatbelts everywhere, ABS, EBD, TCS and all other 3-letter acronyms that you could possibly ever want, the safety suite on offer seems great. Will definitely have to wait till the Bharat NCAP tests for this model are done and the ratings come out though.
Boot space
A surprisingly large boot, which is also rather useful. The load lip is on the higher side, but the space in the boot can be utilized really well. Also, the car does come with a full-size spare tire, which is something not seen too often in new cars nowadays, I guess.
The meh
Gearbox
The gearbox is something that I do want to talk about. I was always sceptical about buying a car with an AMT, but after seeing reviews praising the transmission in this car, we went ahead and booked it, without having a test drive (because we couldn't actually, but that's a whole different story).
The 5-speed AMT in this is good, but nothing great. Previously, I've only driven and gotten used to torque converters and DCTs, which never had much of a learning curve in figuring out how to get the car to respond the way I want it to, but with this, I have had to alter my style of driving.
Sometimes, it is a little dim-witted, taking time to upshift and downshift, not being able to read my throttle inputs correctly, but that's also probably just me expecting it to pull the way our beast of a Fortuner does, with its 500Nm of torque and the 6-speed AT.
Every day I spend with the car, I understand the characteristics of the gearbox better, but it is still something that needs mentioning.
Auto Hill Hold
Hyundai claims to offer this as a feature in the AMT Exter, but in my opinion, what they offer is not hill hold. From what I understand, hill hold is not supposed to let your car roll back EVEN A LITTLE BIT when you stop on a slope and let go of the brake, which is how it works on our Fortuner, but in the Exter, it is a bit of a faff.
The car tends to roll back slightly, which is scary when you have someone right behind you in traffic.
The workaround we have to use now, since there is no clutch, is to slot it into D with the handbrake on, let go of the brake, allow the revs to climb a little and then release the handbrake. Still causes the car to jerk and move forward, but it's better than having the car roll back and scare the driver behind.
Scratchy plastics
The interior has scratchy plastics everywhere, but I'm not expecting much else in this price bracket. Everything does feel solid, and will have to see how the interior plastics age over time.
I've been happy with Hyundai so far, because my 14-year-old i10 still doesn't creak or squeak like you'd expect a 14-year-old car to. *touchwood*
Speakers
The infotainment system given is a really nice unit, which responds quickly and has a lot of features and customizations baked into it, but the speakers are a bit of a letdown. Just okay in the front seats, and borderline bad in the back. The system in the Fronx was a much better unit.
Now moving on to how the car has been to use in general.
City usage
Using this car in the city has been fun. Stop-and-go traffic is a breeze with the AMT, and the sound insulation really helps you stay cut off from the outside world.
Gearbox takes a second to shift from 1st to 2nd in slow-moving traffic, and you can feel that shift taking place, but every other shift from there is butter smooth.
Being an AMT, it doesn't have the 'creep' feature that regular ATs do, but when you let go of the brake, the car does move forward in traffic the way a manual car would if you were to release the clutch slowly, which is exactly what it feels like.
I've been getting between 13-15 kmpl in the city, with a relatively light right foot and proper stop-and-go traffic.
Highway usage
Highway usage has been nice in this car. Being a new engine, I haven't tried pushing the car, but the power feels adequate. My daily commute to work gets me on NICE Road and the Bangalore-Mysore Expressway, and the car feels comfortable to drive at highway speeds. I generally turn on cruise control, set it to 85-90 kmph and let the car do its thing. NVH levels being low make sure that you're fresh and fine even after a long drive.
I don't think this is a car I'd recommend for enthusiastic driving, owing to its skinny tyres, tall-boy design and just adequate engine. If a sporty drive is what you're in the market for, the 1.0 Fronx or the other 1.0 Turbo cars that Hyundai offer should be more to your liking.
On highways, I've been getting between 16-20 kmpl, depending on the traffic and how long I can use the cruise control.
Pictures:
Haven't had the opportunity to really take pictures of the car, but here are the few that I have taken so far:
Here's my mom and I taking delivery of our cute Exter
The Exter parked along with my trusty 2009 i10 Era 1.1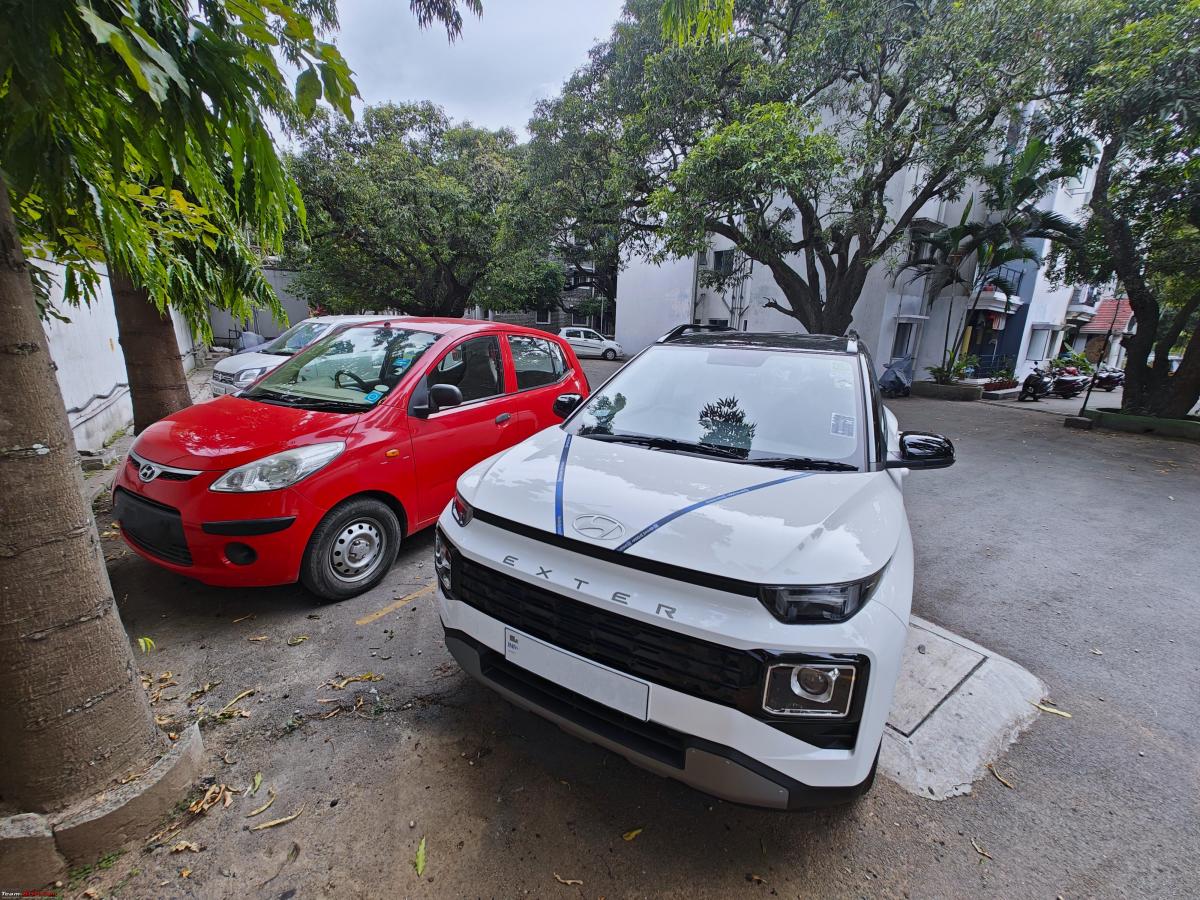 A few more pics from day 1 with the car
A few photos I took on an evening where the sky looked like a paid actor
The 'H' shaped DRLs really do help the car stand out with its looks. This particular shot is now my wallpaper simply because of how good it ended up looking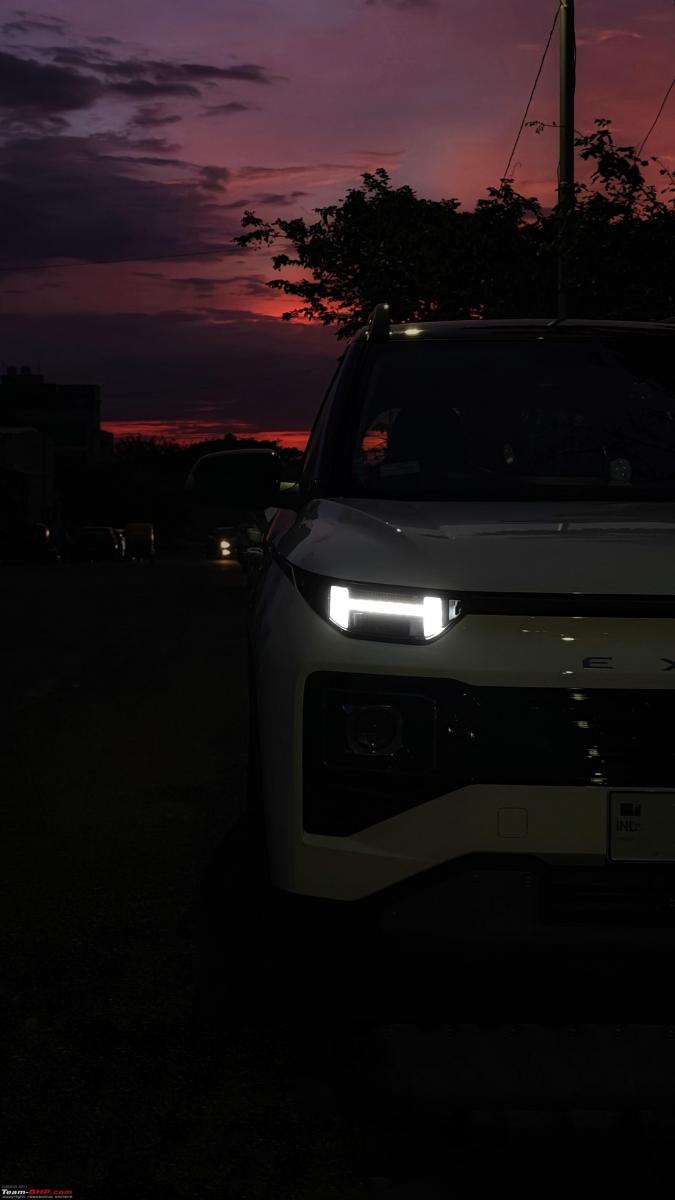 A shot of the interior and the MID showing the mileage I've managed to get on my highway runs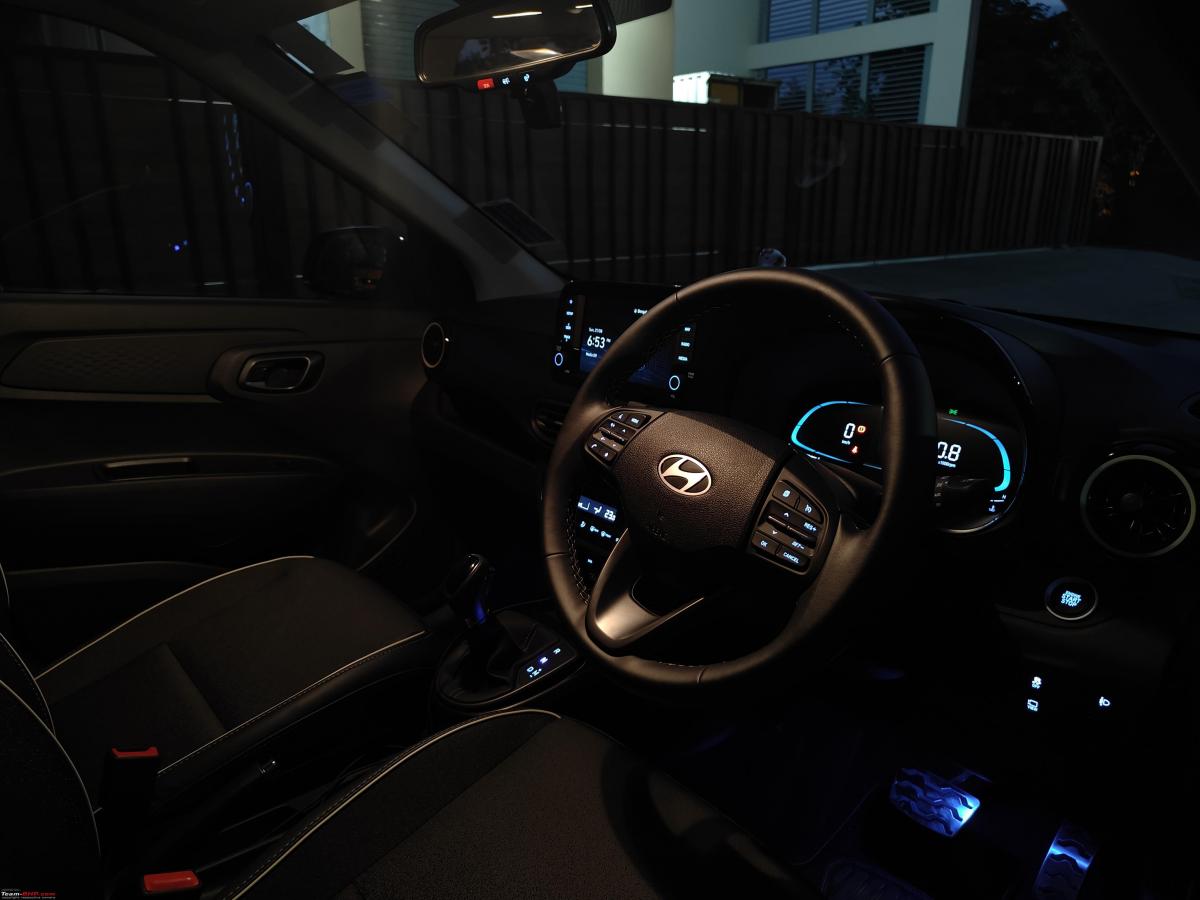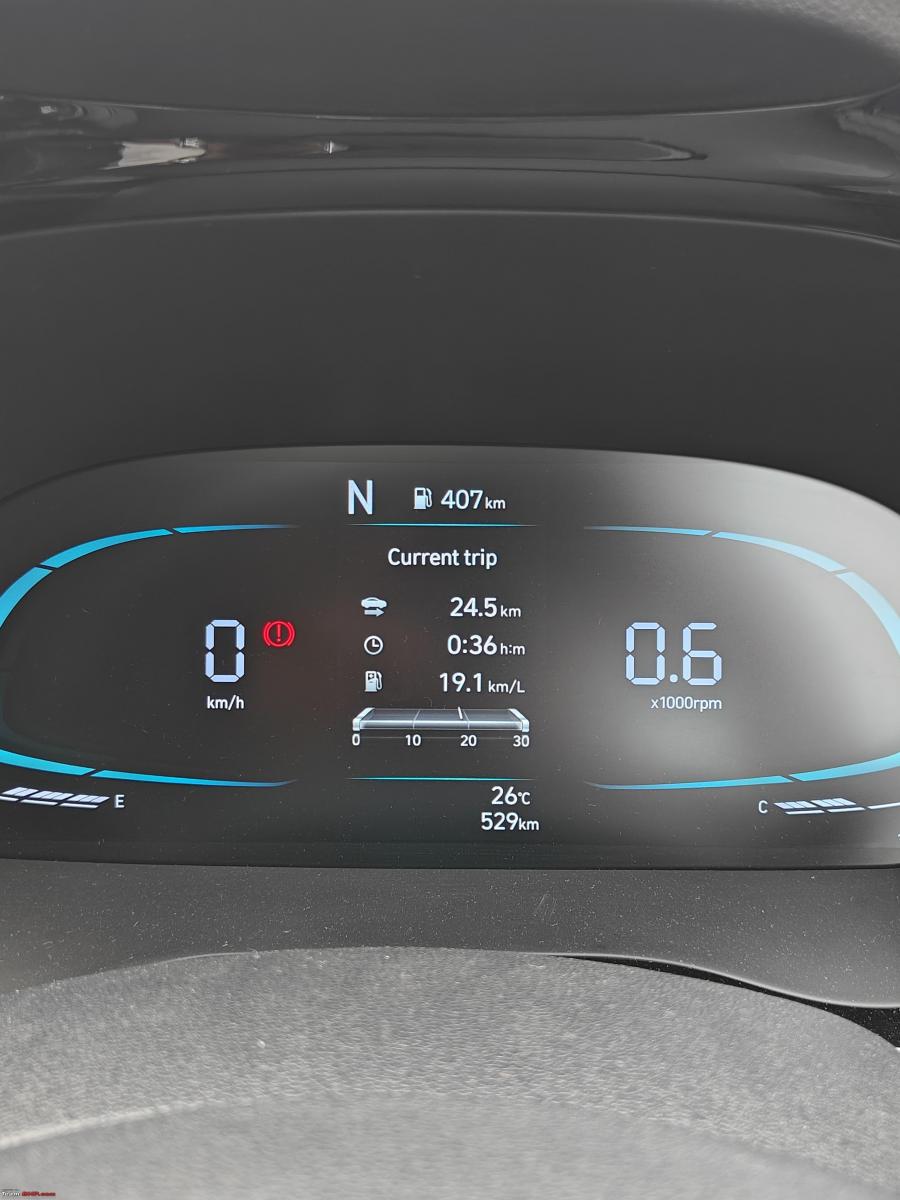 With a relative's new Fronx 1.0 AT
Special thanks to Advaith Hyundai, Residency Road, Bangalore for ensuring that our entire delivery process was butter smooth, right from the booking to the day we collected the car.
All in all, we're extremely happy with the purchase and I will definitely keep all of you here posted about the car and how everything goes during the first service and after.
Please feel free to ask me anything more about the car! Cheers!
Check out BHPian comments for more insights and information.
Source: Read Full Article