How much money each Indian car company makes
Mahindra and Kia also had a good year and came close in terms of revenue, considering that Kia is over three years old and Mahindra is over three decades old.
BHPian pqr recently shared this with other enthusiasts.
2022 Indian passenger vehicle market scan: Average car sales price & Revenue
Average car sales price (mass-market segment)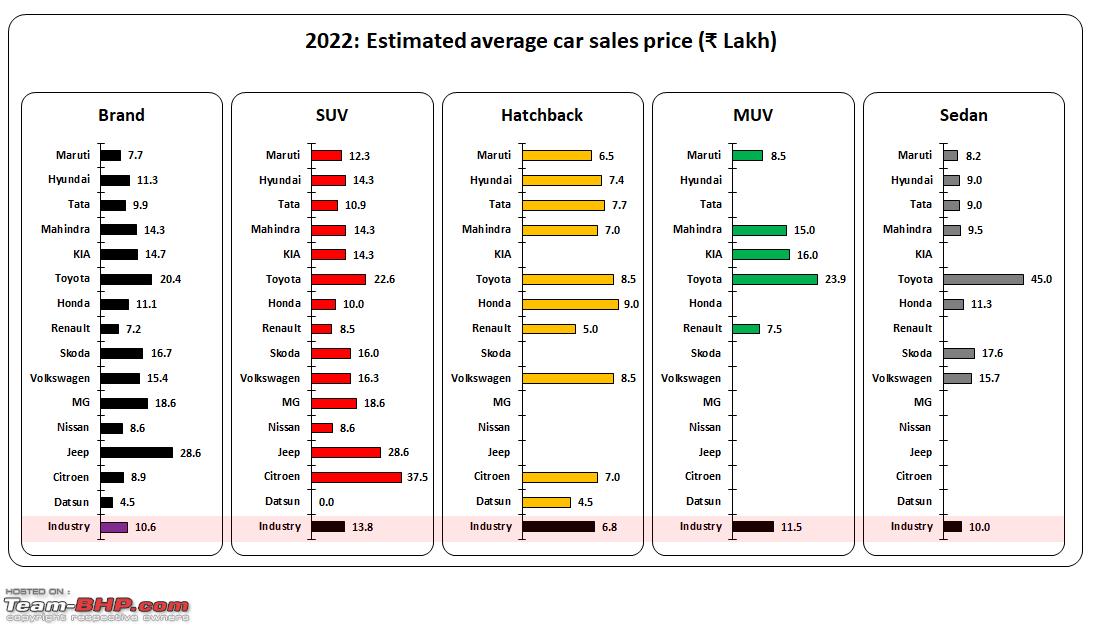 The average mass-market passenger car sales price in 2022 is estimated to be ₹ 10.6 lakh, based on the product's fuel and variant mix.
Brand
Jeep had the highest average car sales price in India, at ₹ 28.6 lakh, thanks to the premium range of SUVs sold in the country.
Toyota was second at ₹ 20.4 lakh, with higher-priced Innova, Camry, Vellfire, and Fortuner being dragged down by rebadged Maruti's hatchback (Glanza – 21%) and SUV (Urban Cruiser – 19% & Hyryder – 7%).
Despite being phased out in 2022, Datsun had the lowest average car sales price of ₹ 4.5 lakh, with Renault coming in second at ₹ 7.2 lakh, due to their budget product portfolio.
Body style
SUVs have the highest average car sales price of ₹ 13.8 lakh, followed by MUVs at ₹ 11.5 lakh.
The average sales price for sedans and hatchbacks is below the industry average, at ₹ 10 lakh and ₹ 6.8 lakh, respectively.
Revenue per car sales (mass-market segment)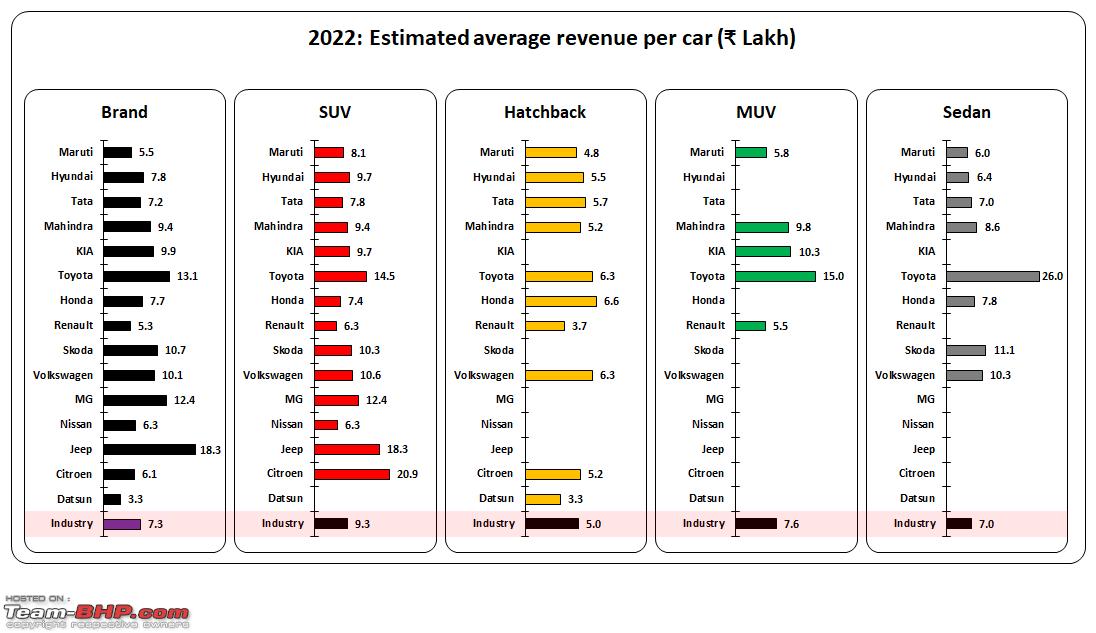 The amount brands are left with after removing GST (29% to 50%) and customs duty (CKD, SKD, and CBU), which go directly to governments (centre and state), and dealer margin from the average car sale price, is the revenue recognised from new car sales.
Based on the fuel and variant mix of products, the average passenger car revenue in 2022 is estimated to be ₹ 7.3 lakh.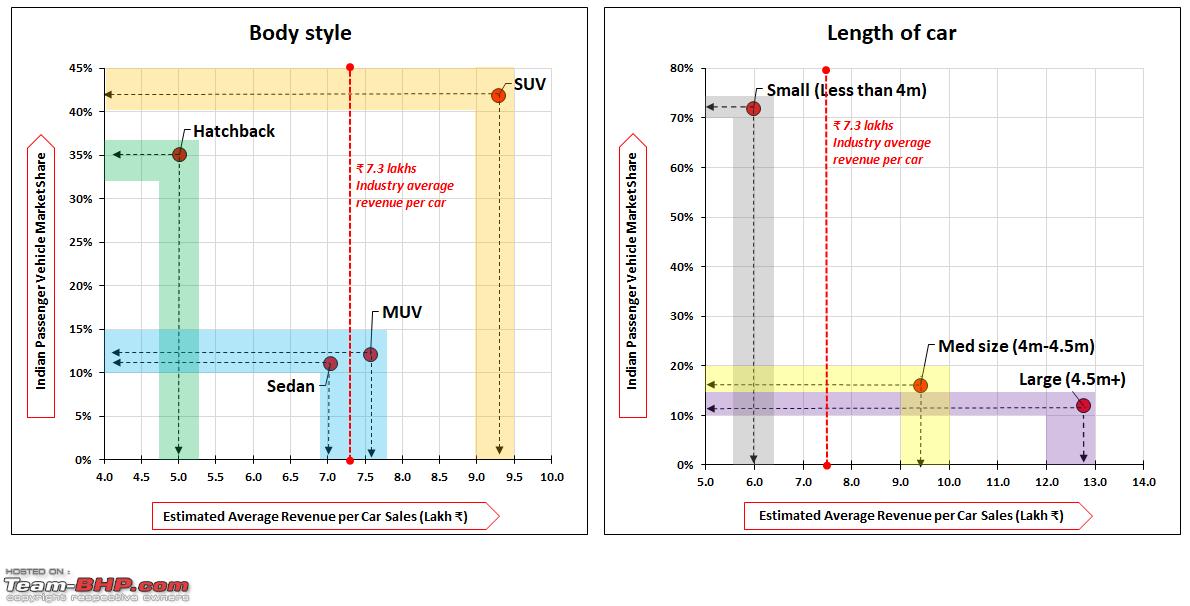 Body style
SUVs had the highest market share of 42% in 2022, as well as the highest revenue per car sale of ₹ 9.3 lakh.
The market share of hatchback products fell to 35%, with an average revenue per car sale of ₹ 5 lakh.
MUVs and sedans were close in terms of market share; however, the average revenue per car sale was higher for MUVs.
Length of car
Cars under 4 metres in length account for 71% of the Indian car market; however, revenue is also low at ₹ 6 lakhs.
As vehicle sizes increase, so does the revenue earned per vehicle sold.
Brand wise (mass-market segment) – Market share – Revenue – matrix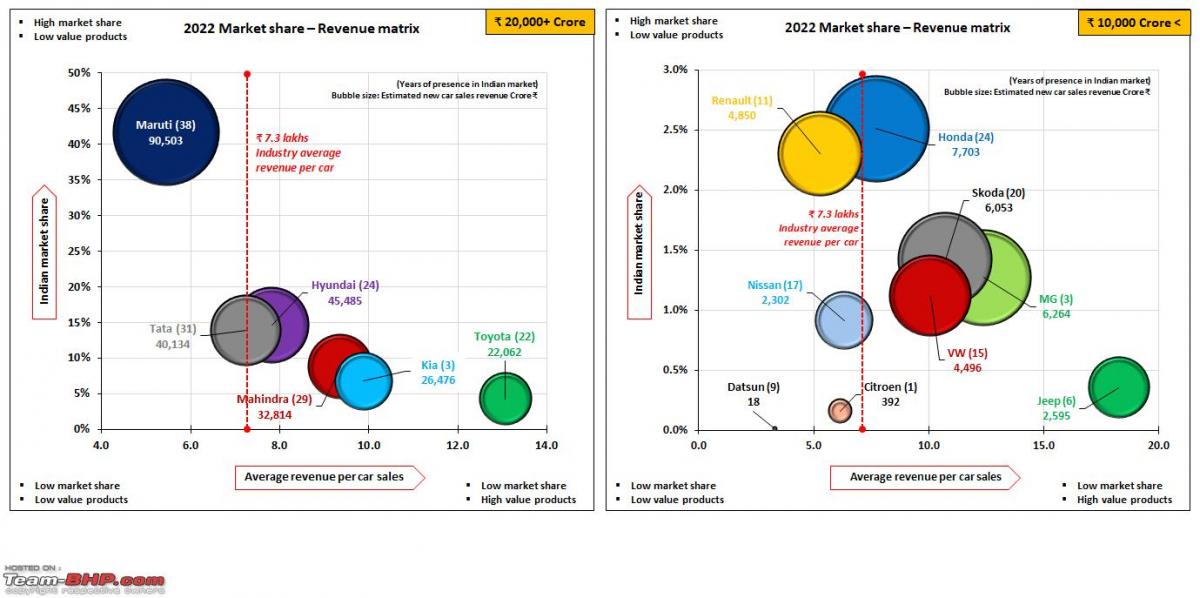 Actual revenue from the overall operation will be higher than the above-captured value – as brands have additional revenue streams based on their business models, e.g., after-sales, spare parts, accessories, insurance sales, used car business, export business at arm's length pricing, etc.
Revenue-wise, there are two distinct categories of brands in 2022.
Category I
In the Indian market, Maruti has the largest market share and thus the highest revenue. However, Maruti's average revenue per car is low, as its volume is dominated by hatchbacks and sedans in the low price range. Tata and Hyundai were neck and neck in 2022 in terms of market share and revenue earned per car sale; however, the total revenue difference was ₹ 5,000 crore, as the Hyundai Creta was sold in good numbers. Mahindra and Kia also had a good year and came close in terms of revenue. It is interesting to note that Kia is over three years old in the Indian market, and Mahindra is over three decades old. Toyota is last in this group; however, the average revenue per car sales is highest in this group.
Category II
Honda has slipped into this category, as its earlier plan for SUV product portfolio expansion has gone wrong. Renault and Nissan make less money per vehicle than the industry average. MG is still quite well placed in this category when other foreign brands are struggling badly even after decades of presence in India. Skoda has higher revenue than Volkswagen, as it is selling more cars and also has more premium products in its portfolio in a higher price range. Jeep and Citroen, belonging to the same Stellantis group, are placed on the opposite side of the spectrum and are struggling to gain a meaningful share in the Indian market.
Brand-wise revenue (mass-market segment)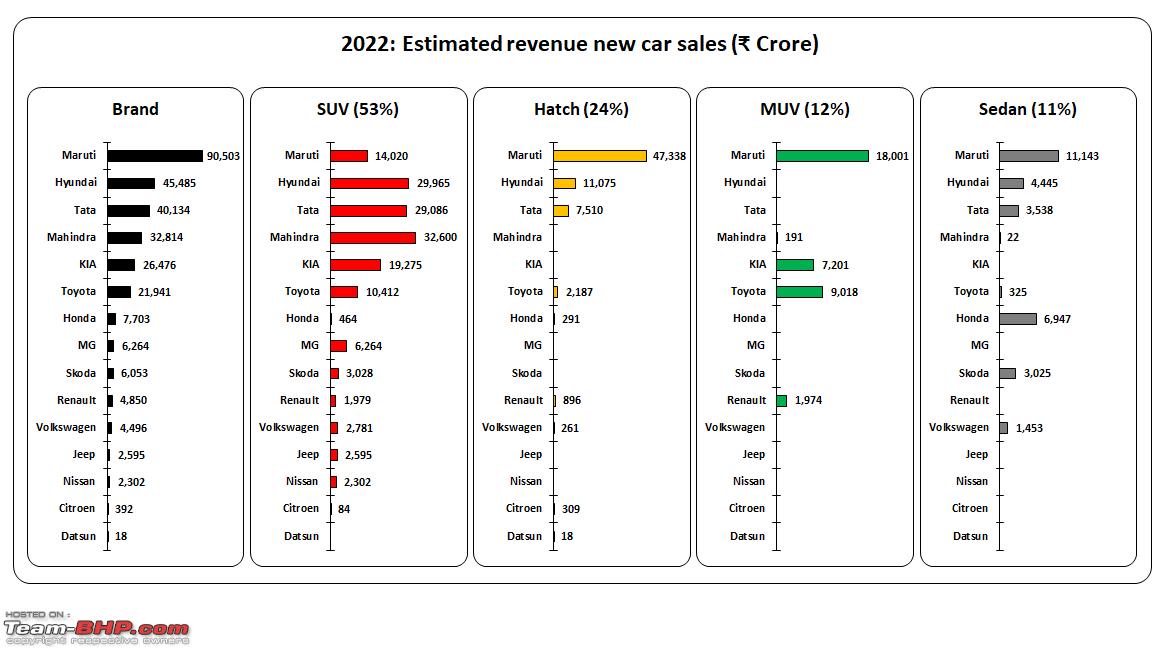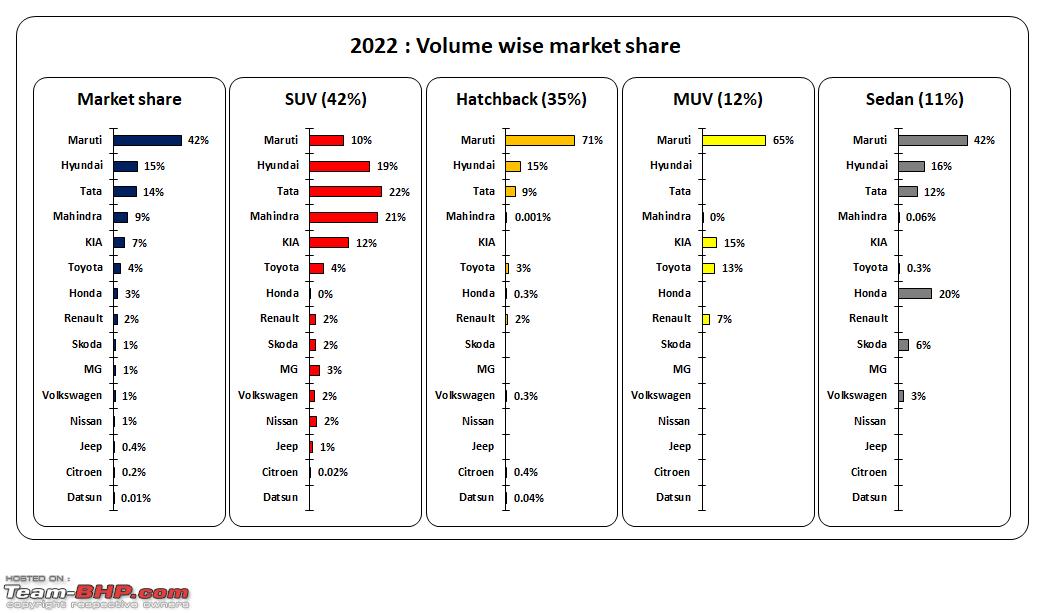 SUVs generated 53% of revenue, although their volume market share was limited to 42%.
The hatchback segment generated 24% of revenue, despite having a 35% volume market share.
The volume and revenue shares of the Sedan and MUV segments are comparable.
Mahindra generated the highest revenue in the SUV category, closely followed by Hyundai and Tata.
Maruti dominates the hatchback and MUV segments, both in terms of revenue and volume.
Product-wise revenue (mass-market segment)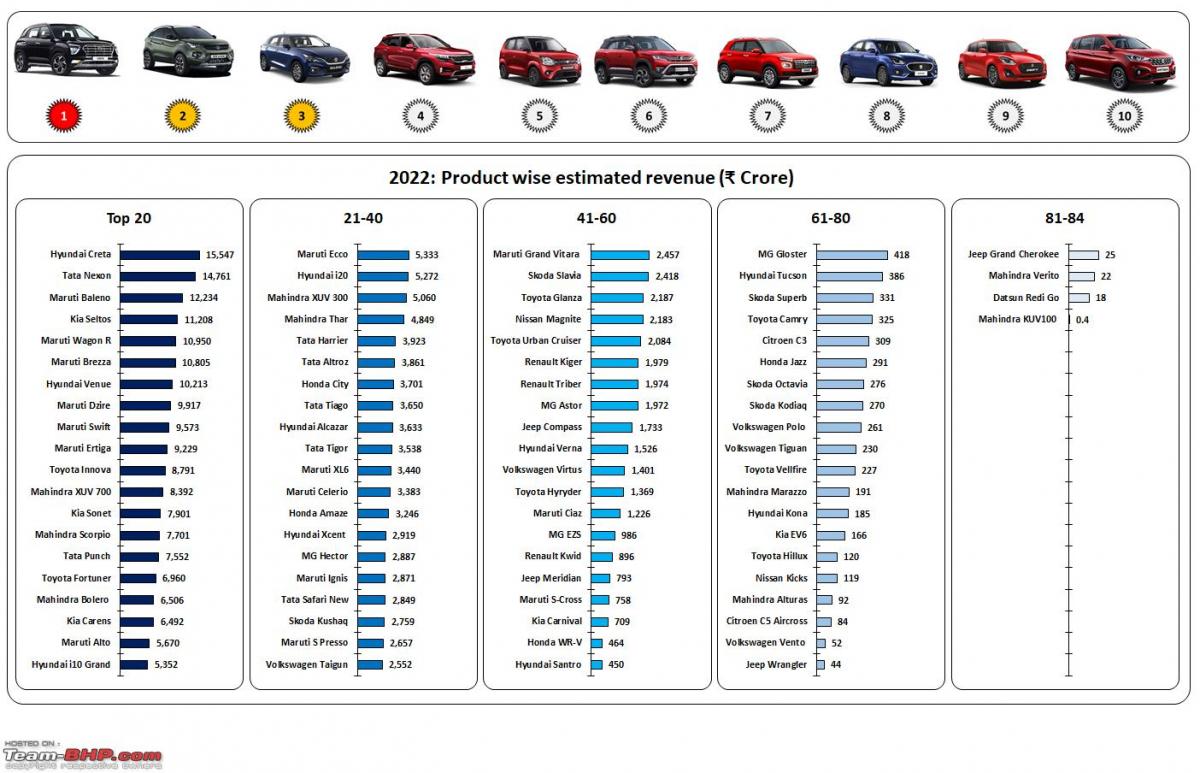 Hyundai Creta is the highest revenue-earning product in 2022.
To put things in perspective, Creta's total revenue is higher than the revenue earned by Honda, Renault, and Jeep combined from new car sales in India.
Tata Nexon is the second-highest revenue-earning product, as it sold in very good numbers in 2022.
Despite selling in large numbers, Maruti products come next, as the average price is on the lower side and some products lost volume in the generation transition, like the Brezza and Baleno.
Without a panoramic sunroof option, Kia Seltos is ranked #4 on the list.
Toyota Innova and Mahindra XUV 700 also made a lot of money in 2022 due to higher prices and high demand.
It's worth noting that Toyota makes more money selling the Fortuner than Maruti does selling the cheapest car, the Alto, in large numbers!
Here's what GTO had to say on the matter:
Love your threads & analysis, pqr! All of us learn so very much from them.

Big step up from 10 – 12 years ago, when hatchbacks ruled, crossovers were rare & the average transaction price was 6 lakhs. Many first-time buyers too are straight jumping to the 10-lakh & above segments.

Also the top 6 car brands by sales volume.

Honda & VW-Skoda are the real disappointments here. Honda was the no.1 car brand in each segment it competed in, in the 2000s with the City, Civic, Accord & CR-V. Honda India today is a shadow of its former self.

VW-Skoda has so much potential as the only "German" car brand in the mainstream segments, but their marketing departments roll out one blunder after another. The Kushaq-Taigun were so poorly handled.
Here's what BHPian shortbread had to say on the matter:
Great analysis pqr, Thanks for that. Using these stats, the market share % by revenue is quite revealing.

Hyundai group earns 80% of Maruti's revenue, despite selling just half the number of cars. It also shows how precarious Honda is, VW brings in better revenue than Honda while the Renault-Nissan alliance is hot at its heels.
Here's what BHPian RaghuVis had to say on the matter:
As always, amazing analysis pqr. Such a pleasure reading and analyzing all this. Indians love stats and nothing else can top such threads.

We all are pretty amazed at the TATA turnaround story but one look at this analysis and we can see that TATA has hit it really out of the park with not just their turnaround but a healthy turnaround. They are very close to the Industry average price per car as a brand, close in each segment as a brand (wish Punch was not considered an SUV) and have a revenue per car as much as the industry average. If only they can sort out their battery parts for the EV side, they can give a tough fight to Hyundai for the second spot.
Check out BHPian comments for more insights and information.
Source: Read Full Article