Here's how a Royal Enfield fan brought home two KTM 390 Adventures
I could not see myself on any other bike after riding this absolute gem of the bike. My brother on the other hand had also fallen in love with the machine.
BHPian sedanguy recently shared this with other enthusiasts.
Hey everyone, I wanted to share our tale of how we ended up buying our KTM 390 Adventure, the shortlisting process, and the final buying experience.
As many of the mid-life crisis posts on TBHP, My (twin) brother and I were going through a similar experience. Both of us avid enthusiasts started out on humble motorcycles from a young age. In 2005 our automotive journey started on a loaned Kinetic honda which our cousin had gracefully given to us for our 12th standard tuition rides. The kinetic honda was such a peppy thing and we loved it to bits. But we were a bunch of teenagers who knew nothing. We rode that kinetic for over 6 months without the 2T oil and one fine day the kinetic honda sadly died on side of the road. We eventually rebuilt the engine and sold it off.
That's when we got our first new bike which was the Bajaj CT 100. Although as boring as it sounds, we had some of the best memories on this bike. This bike served us well over 5 years. One thing though with the CT100, it never stopped, even with a single drop of petrol it would chug along till the nearest petrol pump for sure.
Once we finished our education and started earning, we wanted to finally get something that we had our sights on for ages and that was the Yamaha Rx135 (4 speed). One of my classmates was selling his and we immediately sold off the CT100 and bought that without a thought. Our RX was perfect, with the catalytic converter silencer and maroon colour, it was exactly the spec we were looking for. It was well sorted, and we loved it. We also did a frame off restoration off the bike and made it look bone stock. It was an amazing piece of machinery. I have used that bike in Bangalore and Mumbai, it never had any issues until it did. Finding spares had become an issue with Rx and our growing body sizes meant that the Rx would spend most of its time in the parking lot. I remember one specific time when we had to hunt down clutch plates for the RX. It was quite a task. In 2017 we finally sold it at a massive markup.
By this time, I had already bought an RE 350 classic (2013) for office commutes. RE was another dream bike for both of us and I nearly emptied my bank balance to procure this one. Now remember back in 2013, RE350 had at least a year long waiting period. I somehow managed to get one rather quickly. They say never meet your heroes. The 350 classic was a stunning in terms of looks but the engine was pathetic. The kind of noises it made was horrendous. From the hydraulic tappets to starter motor, everything had issues on regular basis. I had given up on the service centers and they couldn't do anything about it. Even my local mechanic was fed up with this bike. He even advised me to sell it and he would help me procure a cast iron block RE which is according to him way more refined. By 2017, I had enough of the RE. The service costs and fuel costs did not justify at all. I finally called it quits and shifted to driving my car full time.
Alternately my brother had procured an avenger from his contacts which had just 1500 kms on the clock. A stunning red cruiser which helped him commute to his work. He spent 2.5-3 years on the bike and never really enjoyed the bike as much. Although much more refined than the RE it lacked the stability on highways. With a growing family and a demanding job, he too said goodbye to bike and had an old Yamaha ray z that helped him traverse local commutes.
Although both of us quit riding somewhere between 2017-18, we never really stopped window shopping. One of the first trigger points were the launch of RE twins. We both ended up watching every single YouTube review and were in love with those bikes. During the pandemic we both started to have an itch to get a bike to explore and tour. I even offered him to go dutch on an interceptor and share the ownership. He refused. Post pandemic in 2022, my brother had changed jobs and had to travel to work occasionally. Driving through Bangalore's outer ring on your car during weekdays is quite a task. It was 30 kms drive which would take him anywhere between 1.5 to 2 hours. He finally started saying that I might want to buy one bike just to commute on these odd office days. He also had his son starting school and started making excuses saying the bike will help him drop off his son to school. Typical middle-class enthusiasts who try to justify their big purchases. His sudden decision to start hunting for bikes really triggered me to start hunting one as well. So began the planning process.
Here's our list of bikes we started looking into:
RE Meteor: We were immediately taken back by the refinement of the J platform engines. Being a former RE owner, I could not believe how far the 350 had come. One test ride and my brother was sold. He wanted to put cash down and buy it. I had to drag him out of there.
RE Himalayan: Fantastic riding dynamics and the pros end there. The engine was a dud, it had no top end and the even the low-end torque was missing which was RE's strong point. I wish RE had brought in the 450 LC engine, it would have made this decision easier.
CB350: Another fantastic retro. The sound and the refinement of the engine was spectacular. The light clutch and overall riding triangle as well were strong points to consider. This immediately sparked off Meteor vs CB350 debate. My brother was so confused by this point.
Impulse 200 4v: Although we didn't get the test ride vehicle, we had quite a few recommendations for this bike and we really liked the overall design language. Though I am not a hero guy and didn't consider it.
Suzuki Vstorm 250: Quite a peppy little thing. I really like the refinement of the engine and had earlier ridden the Gixxer 250 as well. The looks are bit polarizing but I like the design language. They kept it honest to the vstorm design language.
My brother's search is quite nicely documented in this thread.
Since we liked the RE so much, we decided to rent the bikes and spend a day touring with them. We hired an RE interceptor and Meteor and headed out to the Hassan highway. My interceptor had a break failure the night prior to the ride and they replaced it with the Classic reborn 350. We rode about 250 kms the following day and one thing was clear. We didn't want the 350 J platform. Don't get me wrong, the engine is really refined and barely has any vibration until 80 kmph. Post that the bike is really pushing hard to reach 100. I think I hit 100 once or twice during the entire 250 kms stretch as it was a task to bring it up to speed. One thing was clear form the long ride, we want to be back on the saddle desperately. The joy of riding out on the open road and being lost was just an amazing feeling.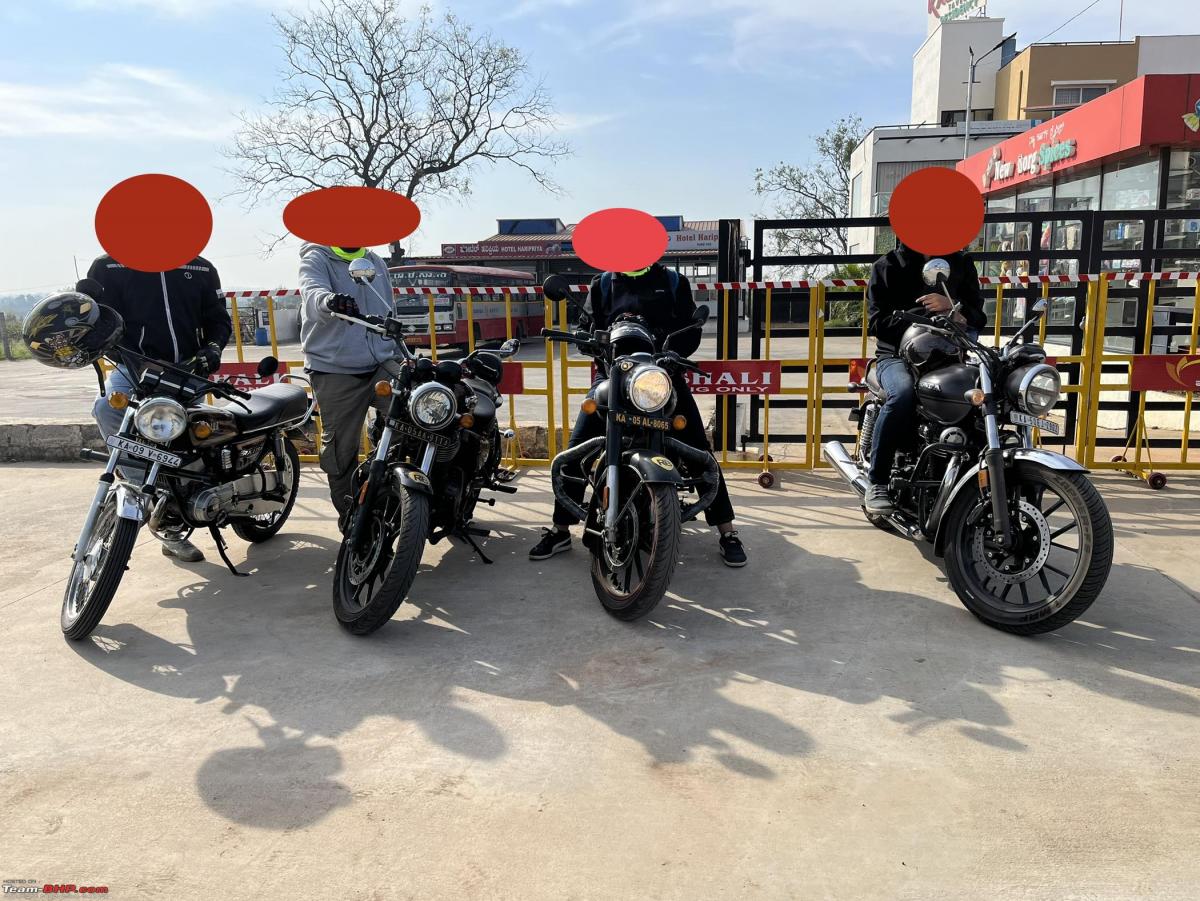 That's it, we were so confused and even more frustrated at the price points. We were spending close to 3 lakhs and nothing seemed interesting enough to jump on to. So back to the drawing board we went. We start listing down reason for us to buy a bike:
Touring – Strong yes, Leh Ladakh has been on our bucket list forever.
Family riding – Not really, both of us have capable cars to ferry our families.
Office commutes – Yes for my brother and no for me as I stay next to my office.
In all of this, we realised our ownership of the bike will largely be around weekend breakfast rides with fellow biker friends and occasional long trips (Bike week & rider mania). This is when we realised that if we stretch our budget by 1-1.5 lakhs we can really see our options open up and we want to keep the bike for 5-10 years.
So another set of options:
Interceptor 650: Based on reviews and youtuber videos, I was pretty much sold on this bike. I had strong feelings for this bike. I had already made a list of things to do in order to make it comfortable (better seats, handlebar risers, windshield, etc.) But with the small commute I had with rented interceptor and couple of longish test rides on the airport road, I could not convince myself to buy this bike. It was front heavy and I could definitely feel that city riding is not going to be enjoyable on it. I did not dismiss it immediately, but I didn't jump on it immediately as well.
KTM Adv (390/250): For some strange reason KTM 390 adv has a small YouTube community. There aren't many good quality long term reviews as well. It's very hard to judge henceforth. However, I took test rides from 2 different showrooms, one in the city and the other on the airport road. This was by far the best option I had tried. There was an instant connection with the bike. The riding posture was perfect, ride height is somewhat of an issue but being 5'10, it doesn't bother me that much. Between the 250 and 390 there was no real competition. For less than a lakh you could switch over to 390 and it was an easy choice.
KTM 390 Adv had won the race. I could not see myself on any other bike after riding this absolute gem of the bike. My brother on the other hand had also fallen in love with the machine. We started figuring out the best place to book the bike. So here follows the buying experience.
First, we visited the KTM showroom in Chandra layout (Amba KTM). The staff clearly ignored us from the start, when they realized we are serious buyers and looking to book 2 KTMs they started responding to us. We asked the manager to give us a good deal as we were buying 2 bikes. He flatly refused and asked us to book the bikes and then only will he negotiate on the price. I was confused by the whole thing. I even asked him if someone else offers a better price will he refund my money and he said no. It was a bizarre experience. Their initial quote was also higher by Rs1000 compared to KTM Yelahanka. I was not willing to spend my money at a place that does not value me and walked away from that place.
Next, we visited KTM Yelahanka which is run by the Kalyani group. The folks at this place were really receptive and answered all of our question patiently. They offered test rides of both 390 and 250 adv. They offered a measly discount of about 3k or so per bike and we had realized that no one would offer more (One of my friends had enquired at another showroom as well). So, we decided to book the bike and the process took around 3-4 hours. If we had gone in the morning, we could have taken delivery by evening. Both of us paid 50% down payment and rest was on loan. The loan was processed and transferred to KTM's account with in 2-3 hours. Friday evening, we booked our bikes and took deliver on Monday.
Although I noticed some shady stuff post-delivery. They gave us an invoice of only the ex-showroom price. There was no receipt of the registration fees. Based on the 18% registration fees, the amount should be close to Rs. 68,000 but KTM Yelahanka charged us Rs. 75,000. When I pressed them, they said its handling charges. I was furious but didn't want to ruin the delivery experience.
Delivery day was nothing out of the blue, they offered to do the instagram reveal style for the camera but we refused  here are the pics from delivery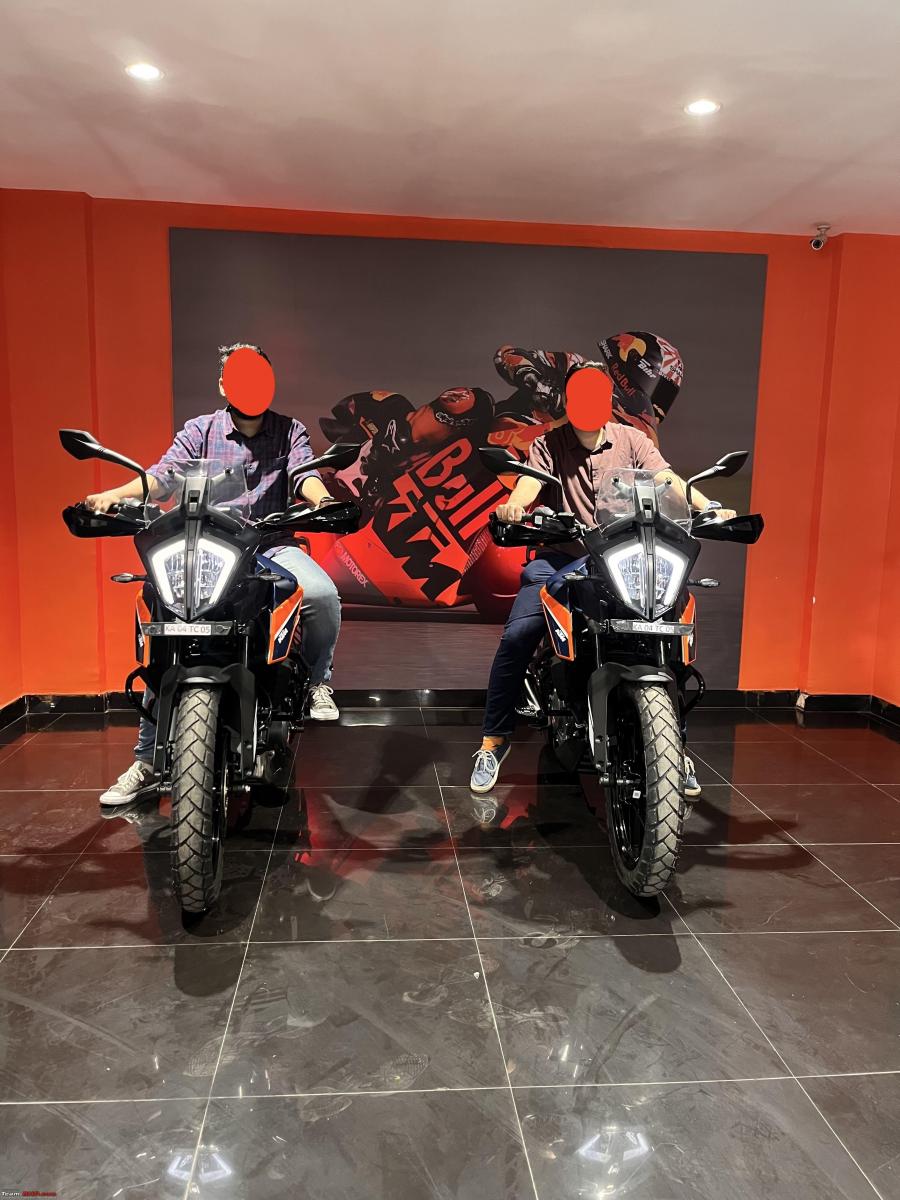 Here's what we like about our new bikes:
Great presence and colors: The KTM 390 in the blue and orange livery is quite a stunning looking bike. The black one is very stealth looking but this one is loud, and I like that about it.
Tech: Although I don't know if I will use all of it, but the spec sheet is out of the superbike category. Riding modes, switchable ABS, quick shifter and many more, it comes with an amazing array of tech. The TFT display is incredible and has great connectivity features as well.
Riding postures: Great riding posture, it can be bit of reach if you are too tall but nothing that handlebar risers can't fix. The seat is wide which lets you switch positions when you start to go sore. Lot of people online complain about the stiffness of seat, but I think they work better for me. I have been cycling for a long time now and the stiff cycle seats work great for endurance, and I have done small 150-200 km rides now and had no issues.
Top end performance: If you have listened to the Motor Inc podcasts, Shumi talks about how touring bikes need to be set up in the adv podcast. The bike needs to have 150-160 kmph top so that 100-120 cruising happens at a very relaxed engine state, that's exactly how KTM is designed to ride. The bike has great top end performance, and you can barely notice it going into triple digits.
Accessories: Standard accessories are amazing. You get handlebar protectors, engine guard, crash guard and adjustable levers from the factory. You don't really need a whole to get going from day 1.
What we don't like so much:
City riding: The bike lacks low end grunt and as a result I have stalled the bike multiple times now. It forces you to be in the right gear which I guess can be a good thing. The tall seat certainly makes it a challenge in stop go traffic.
Mirrors: These fancy mirrors are useless. I am looking for after market options. You literally cant see the vehicle behind in the lane next you.
Windshield: Although adjustable, the windshield is not much use. There is a lot of buffeting, one might want to upgrade it.
Bouncy Ride: The bike feels bouncy at high speeds, it's something that I need to get used to. Also need to adjust the rear shocks to a softer setting, this might help.
Stiff suspension: The suspension is pretty much nonexistent on the infamous Bangalore's roads. On the highway it's nice to have the stiffer ride but if you do city riding, your back is taking quite a hit.
Just a side note, my brother has done some customization from bikenbiker:
Zana crash gaurds for safety
Zana handlebar risers for a more comfortable seating position
Grip puppies for a better city ride experience
Ending this post with a quote "If you want to be happy for a lifetime, ride a motorcycle" – I don't know about a lifetime but certainly these bikes have managed to bring back joy on those gloomy Sundays when we start thinking about Monday morning blues.
If you have come this far, thank you for taking out the time to read through this long post. This definitely has been my longest post and for a change a happy one. Signing off with photos from my latest ride. Ride saf
Read BHPian comments for more insights and information.
Source: Read Full Article