Have body-coloured bumpers on cars become a norm now?
Back in the day, I remember when the Maruti Zen was launched, it came with black FRP bumpers and it looked like a car from the future.
BHPian sharanvenu recently shared this with other enthusiasts.
As I was driving away from a fender bender today with nothing to do, I gave this serious thought about the necessity of having body-colored bumpers. I was stationary at an intersection waiting for sufficient clearance to make a crossing, the Auto driver behind me was impatient and tried to squeeze through my right to show me how to cross an intersection and scratched my car's right rear corner in the process.
I stepped outside to check and saw 2 underaged boys sitting in the front seat of the auto loaded with drinking water cans. I felt like screaming and shouting and perhaps entering into an altercation but I just told them I am calling the police and asked them to wait. Clearly underaged and terrified despite the fact that I was not speaking the local language, I let them go after 5 min, just thinking that it was a waste of time.
I remember the early days when I was a small child and my Dad used to drive his Premier Padmini, we never visited a denting/painting shop for fixing a bumper. Then we had this Maruti 800 which had unpainted FRP bumpers which was this model:
Then we had this 1st gen WagonR which came with body-colored bumpers and after that, we started getting close to the people in body shops in both Authorised Service Stations as well as detailing shops in our town.
Back in the day, I remember when the Zen was launched and it came with black FRP bumpers, it looked like a car from the future.
Then came Ford Escort, Daewoo Cielo, Opel Astra (My Favorite), Ford Icon, Opel Corsa etc. I remember seeing every one of them with black bumpers at least for some time. Back then, I believe lower-end versions used to come with Black FRP bumpers and the higher-end models come with body-colored bumpers.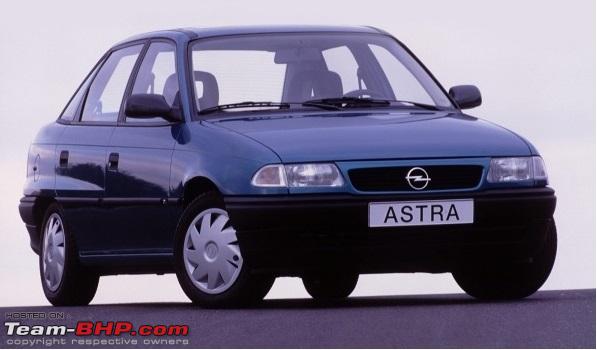 And then in some years, the unpainted FRP bumpers vanished from the market. I hate to admit, I seriously don't know how my car's bumper looks like without paint. And the only parts I have touched up in the last 15 years on various cars are the corners of the bumpers. Touch Wood! I have had very few instances where I had to do denting on any metal surface! And they constantly take up anywhere from 2,500-10,000 Rs every year. Driving in the city incidents happen and despite being the most defensive driver in my friends circle, I spend so much. I can imagine others spending a lot more than this.
I seriously wish the old times came back when there were a lot of fewer touch ups required and having unpainted FRP bumpers were normal!
It is worth remembering that I spend the said amount every year to maintain the aesthetics of the car above the amount I spend for the annual service and I have definitely seen years where the repainting costs towered over service costs. 2-3 fender benders every year and this happens in our beater car easily – a 2011 Alto K10.
Today I was on my 2012 Duster 110 and I have to vouch for the quality of the plastics. I have had so many small incidents in the city and It has never had even a broken locking clip. Still going strong after 10 years with zero rattles in the car. So it has been mostly only touch-ups on this car, unlike the Alto.
So my point is, I am starting to believe that body-colored bumpers are more about economics than aesthetics. The ASS body shops will be making more money than the service workshop when it comes to revenue. So, is it likely that we have been gradually made to believe that body-colored bumpers are associated with high-end models and that it is the norm? What do you guys think about this?
Here's what BHPian Bhodrolok had to say about the matter:
I can say I would never buy a vehicle with a generic black bumper, the aesthetics of the vehicle matter and this is a very basic component. Heck, even buses and autos have body colored bumpers now.
Here's what BHPian DicKy had to say about the matter:
Are body-coloured bumpers a fad? I believe it has become more of a norm now. Not to say, today bumpers are designed in such a way that black-coloured bumpers stand out awkwardly. Especially the rear end where bumpers have raised upwards and make almost 1/3rd of the whole rear end.

I remember when the body-coloured bumpers started to become the stylish new thing. Most cars sold in Riyadh in the 80s had huge rubber bumpers, like the US-style 5mph bumpers. So people got used to slight bumps and hit at parking speeds as the bumper did the job of a bumper. Heck, I even remember our '81 Cressida getting stuck in a flood, when a young Saudi in his Y60 Patrol helped us by pushing our car to a higher ground. No damages. Try that stunt in a new car.

And then with the arrival of the MX80 Cressida, the Grande variant had body coloured bumpers. A white Cressida with body coloured bumpers and brush steel finish alloys was the one that made everyone take notice. Of course, people were used to the bumps and hits at parking speeds, and it wasn't a long time before the body coloured bumpers started to get black mosaic designs, ruining the whole look.

Back in India, our Omni had black steel bumpers, so light hits were not a bother. But Ambassador Mark 4 and Nova had chrome bumpers which were thick but would get damaged easily in a fender bender, harder to repair too.

But then modern cars, especially from the late 90s started to be designed not just with body coloured bumpers, but flush-fitting bumpers from the concept itself. Great for aesthetics, bad for bumper duties. Even proper SUVs nowadays come with body coloured flush fitting bumpers. Of course, with new crash safety and pedestrian safety norms, huge black bumpers are a thing of the past. Or are they?

Most of the raised on stilts hatchbacks and stationwagons masquerading as SUVs today have black coloured claddings and lower part of the bumpers. So they kinda take slight bumper/fender hits in a good way.

Then again, the bumper that we see today is no longer a bumper, but technically a bumper cover. The real bumper is inside, to protect the metal body. Just see what word the official service centres use in their repair bills. They mention it as bumper cover, instead of bumper. Of course, not in cheaper Marutis, but check them in Fiat/Ford service centres. Can see those thick black bumpers. Though there are a few miserly people who go around without painting their new bumpers after replacing them in an accident, I do see a small trend of youngsters deliberately putting black bumpers in their riced-up Zens and Altos.
Here's what BHPian Bluengel180 had to say about the matter:
If a practice has been prevalent for 25+ years it is not a FAD.

Current bumpers are different from the legacy bumpers. They are made to protect pedestrians. So irrespective of whether they are coloured or not they will require similar maintenance when they are damaged. Repainting them is a choice and not mandatory.

Also, aesthetics matter. Most modern cars will look ugly as bumpers are a larger part of their design.
Here's what BHPian Samba had to say about the matter:
I don't think it's a fad.

This will solely depend on the type of vehicle.

If I buy a stylish sedan, a fancy crossover or a premium hatch, I will definitely go for body colored bumpers. When I drive these cars, I drive them more carefully. A sedan, crossover or a hatchback with black bumpers will look very odd.

But if I want a car with peace of mind, I will choose something rugged, like the Thar, Jimny or Gurkha with body cladding. It will be hard to damage these cars with a slight nudge in the traffic.

These cars not only offer peace of mind in traffic, but they can also be driven without worry on bad roads and water-logged streets too.

Even when we go for offroad drives, these cars are safe from the scratches caused by bushes or tree branches.

But again you gain some, you lose some! For this peace of mind, you will lose the comfort, handling and premium feel of the sedans, hatchbacks & the crossovers!
Here's what BHPian Jeroen had to say about the matter:
I don't think so. It is certainly not high end. These days just about every brand/model car here in Europe has body coloured bumpers.

Back in the olden days, we had of course chrome bumpers. My Mercedes W123 still has those. Manufacturers moved to different types of bumpers because of various safety regulations. It also meant the bumpers could be more integrated into the body style of the car, which has the added bonus of potentially reducing drag. So these days bumpers are far more integrated into the overall design (and production) of a car. On many cars, leaving the bumper untainted would be downright very ugly.

So it's a combination of regulatory, aerodynamics/technical and aesthetics and of course cost consideration that drives these changes I believe. And not just high end cars. Our Ford Fiesta has body coloured bumpers too. We own the cheapest Fiesta available!
Check out BHPian comments for more insights and information.
Source: Read Full Article