Grand i10 NIOS: 2 years, 30K km ownership experience with pros & cons
During the first 10,000 km, the car was very thirsty but the fuel efficiency improved a bit after the 20,000 km service.
BHPian TejasV recently shared this with other enthusiasts.
I purchased the Hyundai Grand i10 NIOS Asta Petrol AMT in teal colour just before the pandemic in February 2020. I was on the lookout for an easy-to-use automatic, coming from a Thar CRDe, that was hard to manage in the city (Hyderabad), especially with my parents paying me a visit often and my mom having to carry a stool around to get in and out of the jeep (it had oversized offroad tyres).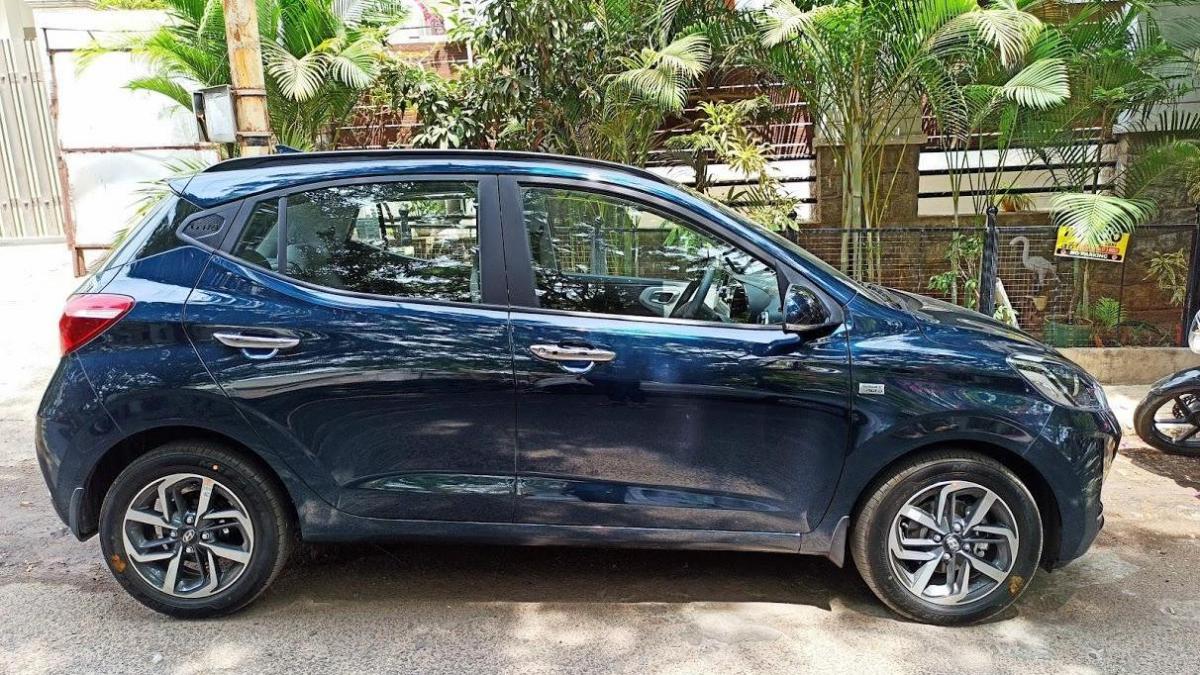 I regret selling it, but at that point in time, it made sense as I had limited parking space and did not have the budget to have two cars at once. The Thar was hence sold and my search for a practical car began.
Considered the following
Jazz – not available as there was the BS6 rule at play and they did not have new cars in stock yet.
Swift – was peppy, but felt claustrophobic inside. Also, it was slightly more expensive (the ZXi Option pack) than the top-end i10 Asta.
Baleno – was very lethargic and the interiors felt very old in terms of design.
Amaze – drove well but a Csedan always felt as if something is a miss, like a chopped-off, half job. Did not like it from the rear.
Finally, The Nios was what made the most sense and also was available readily. I did not get any discounts and paid just about 9 lakhs with the 5 years extended warranty for the car.
Overall impression
The car has better build quality than others in the segment. It is also feature-packed to a good extent though there is cost-cutting at places (no keyless entry on the passenger side which the old i10 had, no split rear seats etc). It is spacious at the front and rear too (better than the Venue actually). It also drives well without any jerks associated with AMTs. It has more or less been free from any troubles.
Usage pattern
My office is very close to my house so it was rarely used for daily commutes. It has mostly been the airport drops, drives to the malls in the city and I would say that would be 50% of the usage. However, whenever it is taken out in the city, it has always been in chock-a-block traffic and the car is made for it.
The other 50% has been long-distance trips ranging from 200-700 kilometres on holidays with 2 – 3 people on board. The car has performed adequately well on both occasions, as long as you don't gun it. If you do though – nothing really happens. This AMT is designed for laid-by driving and it excels at it, whether in stop-go traffic or on the open road.
Performance
This is a small car with a small NA engine. It really does what it does best – point A to B travel without the hassle of shifting gears. It does feel a little enjoyable if you keep it above 2500 RPM on the highways but still, it's made for the light-footed folks. However, it doesn't fret if there's a little bit of a load to carry or those steep mall exits to get out of, it does the job and it doesn't scare you or move back – as there is no hill hold/stop like on normal automatics.
Mileage
The first 10k kms while the car was running in, it has been a little thirsty giving about 11 in the city and 14-15 on the highway. After the 20k service is when it improved by a bit giving about 12-13.5 in the city (always in traffic) and almost 17 on the highway (tank full to tank full method).
Pros in the last 30k / 2 years of ownership
Extremely easy to drive
Spacious
Very smooth
Compact – to drive & park
Wireless charging, big screen, back camera
Planted ride – one of the better Hyundais in this aspect
Fuss-free AMT
Cons in the last 30k / 2 years of ownership
Hard ride
Lack of low-end grunt
AMT felt unreliable – only twice but scary (explained below in detail)
Back door unlocked on its own (thrice on its own – CS Advisor couldn't find a problem)
Service centre (KUN Hyun Gachibowli – car came back with a new scratch or unsolved problem every time)
Gear showed as D & didn't let me start the car for a while even when it was actually in N (happened twice in 30km, CS couldn't find the problem)
Grey cloth interiors get dirty very often. MyTVS has home cleaning services and I avail them often to keep the interiors clean at just Rs.1000 per visit vs Rs.2000 at Hyundai for the shoddy job they do
Service costs
On average, the service cost has come to about Rs.06 per km. The first service cost about 2k, the second about 5k and the third was close to 10k with synthetic oils, brake pads filters et all replaced. I also get the alignment, balancing and car wash done outside as Hyundai charges Rs.1500 for alignment balancing and 750 for washing, both of which cost about Rs.1000 outside.
Scary parts of the ownership
The scariest part was the rear left door opening for which the service guys couldn't find a solution and rather crude in saying that it shuts well now, whenever I visit the service centre.
The second has been the gear slotting but not reflecting on the dash and not letting me start the car. This happened twice but on one occasion I was in the middle of nowhere about 1000km away from home and that left me with lesser confidence in the machine.
The third problem, a more recent one that happened around 29k km just before the 30k service, is the airbags light turning on. The car had an accident, not like the front end hit hard to anything. The service centre checked and said it was a coil sprint failure (which shouldn't happen) and placed an order for replacement. When they changed it after a few days the diagnostic tool now showed it as the airbag module which is below the wireless charger (in front of the gear rod) has failed. And under warranty, they replaced that too and guess what? Now it shows that the coil sprint has failed and they placed an order for it.
I'm not sure if this has ever happened to anybody but seems like an issue that shouldn't happen. Also, the service centres lack concern in saying come back we will replace when we get the part thrice over and also saying that the airbags light on isn't much of an issue. I am worried to take it on long drives till the issue is sorted and feel the Hyundai service guys have become very lax, but funnily the company's feedback loop is overactive and keeps calling you for days together after a visit till you give them a satisfactory rating.
I have heard that Hyundai's service is great or on par with Maruti but haven't seen that in action, whether through the buying experience where they put stickers all over the car after not doing that being my only request all through to the service advisors being really poor in handling the car, the seat covers and addressing the issues. If any, the service feedback loop is the worst and absolutely useless. They should address concerns that putting up a show and calling to ask if all's well than actually listening to complaints.
Closing statement
The car has been a workhorse, doing what it's meant to do. With decent creature comforts like 4 speakers, reverse cam, wireless charging, good space in the cabin and the boot. There is nothing that is this close to being a good non-Maruti, less than 10 lakhs city car in the market today. if you are looking out for one, this car is a good option.
Check out BHPian comments for more insights and information.
Source: Read Full Article