Got a used Alfa Romeo Giulia Quadrifoglio: Impressions after 600 miles
Switch to Race mode and all hell breaks loose. There is no traction control & all the power is unleashed unlike in other modes.
BHPian thecarguy recently shared this with other enthusiasts.
I will try my best to do this car some justice in words but, my photography and writing skills are a work in progress.
Likes
Looks exotic.
Exquisite steering response and handling.
Rev happy engine delivers intoxicating power, especially at the top end.
Superb exhaust note.
Decent ride quality.
Dislikes
Lots of quirks. Doug DeMouro would have a field day with this.
Turbo lag and torque limitation in all modes except Race.
Lacks refinement at highway speeds.
Weird brake feel.
Average interior quality and feature set.
Reliability can be a hit or a miss.
The search
As a petrolhead, I wanted my first car to be special. I started my car search without many constraints in mind (except $), mainly it had to be a powerful sedan or coupe.
Having watched a lot of Top Gear during my childhood, Jeremy Clarkson's brilliant review of the E60 M5 was stuck in my head even 10-12 years later. I wanted to follow in the footsteps of Bhpian rohittunga and get a V10 M5/M6. After some preliminary research, I realized that I wouldn't be able to find one with any kind of warranty anymore, so I dropped the idea of going in that direction.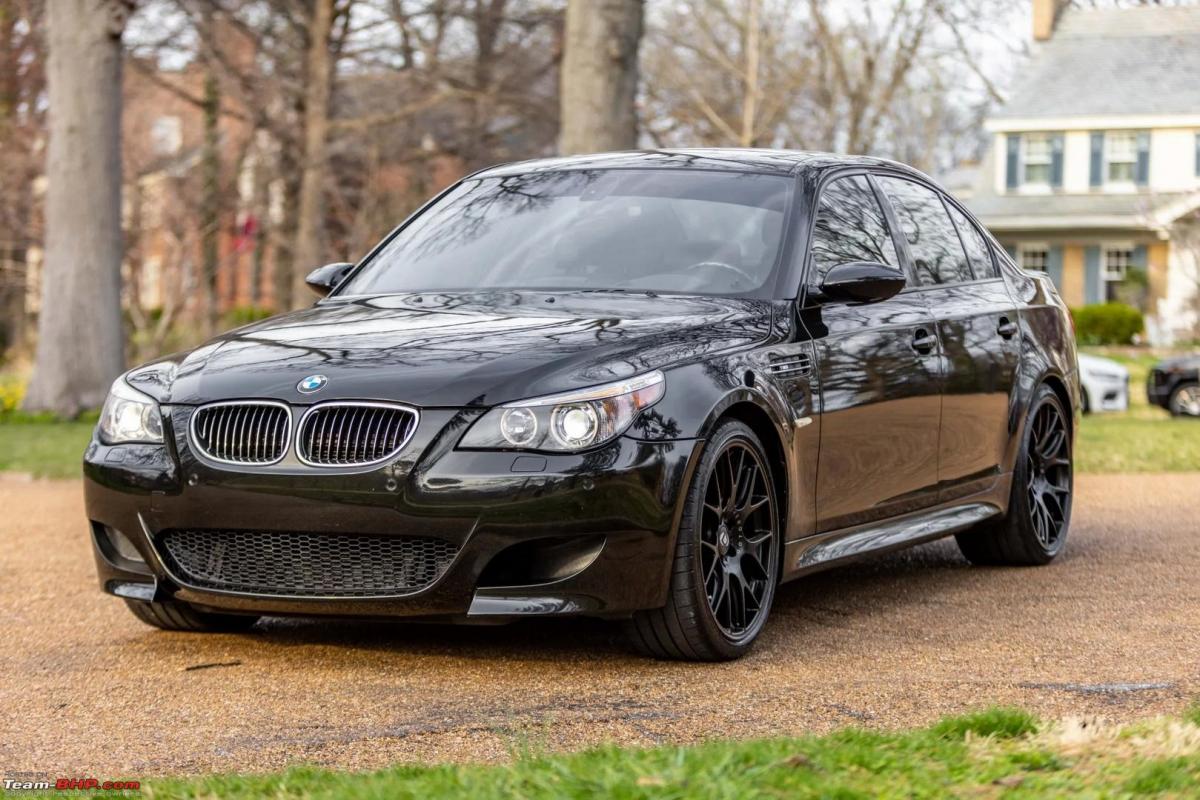 The next couple of cars that came to mind were related: either the F8X BMW M3/M4 or a Supra. It was very hard to find a low-mileage M3 and most were the non-competition version, so I dropped the idea. The Supra had long waits and I wanted a 5-seater, even if it was 2-door. I am not a big fan of muscle cars so I did not consider them seriously.
Enter the Alfa Romeo Giulia Quadrifoglio
I have owned this car now for almost a month and have covered around 600 miles in this car. I don't have a daily commute, and even then I find reasons to go out for a spin. It's just so much fun to drive.
Engine and transmission
The engine in the Giulia Quadrifoglio is a V6 variation of the Ferrari F154 V8. It displaces 2.9L and with the help of two turbos, it produces 505BHP and 600NM of torque.
It starts up with a nice rumble, especially during cold starts. There is a faint vibration that can be felt due to the uneven firing order of this 90-degree V6. In N or A mode, it feels like a normal car at city speeds. Power delivery is smooth, exhaust valves are closed below 3-4k rpm and there is a bit of lag. The car takes its own sweet time in both of these modes and only starts pushing above 4-4.5k rpm. Dynamic is similar with slightly sharper throttle response and a bit more power. There is a fair bit of road noise at speed, some of which may be due to the extreme tires.
Switching to Race mode and all hell breaks loose. The exhaust valves open to let you hear the deep and throaty rumble of the V6, the throttle becomes ultra-sensitive and the whole car just comes to life. The engine just wants to be revved hard. There is no traction control and all the power is unleashed unlike in other modes. It breaks traction till 3rd gear and the gearshifts become violent. The power keeps building till the redline, the transmission does not auto-upshift in manual mode and you can bounce off the rev limiter. Pops and burbles from the exhaust follow every upshift. You can find yourself at triple-digit speeds(mph) in seconds if you are not careful. I use this mode rarely as it can lead to terrifying moments.
Ride and handling
As expected from a car in this segment, it rides quite stiff even in the softest setting. I find the ride to be okayish over Seattle's broken roads but I baby it over the tiniest bumps. The previous owner got it lowered so I did scrape it a couple of times, I am still looking for alternatives to get a slightly higher ride height without going back to stock.
While driving at speed, the car has loads of grip and the front end is mind-blowing. You can turn-in any speed as the car has oodles of grip. The steering ratio is very quick and the slightest inputs are met with instant response.
The car was developed in a wind tunnel and has an active front splitter, that lowers at speeds for better front-end grip. I believe it is so good because of the high negative camber achieved with the after-market springs, the stock car barely has any camber. Part of the reason why I am reluctant to swap them out for standard ones. I haven't been as hard on the rear end due to worn tires, which are almost due for a change but the car puts down power well.
The steering is nice and the paddles are mounted on the column. The gauge cluster is analog and easy to read.
The stance looks superb as it is, but it might be a bit too low for bad roads.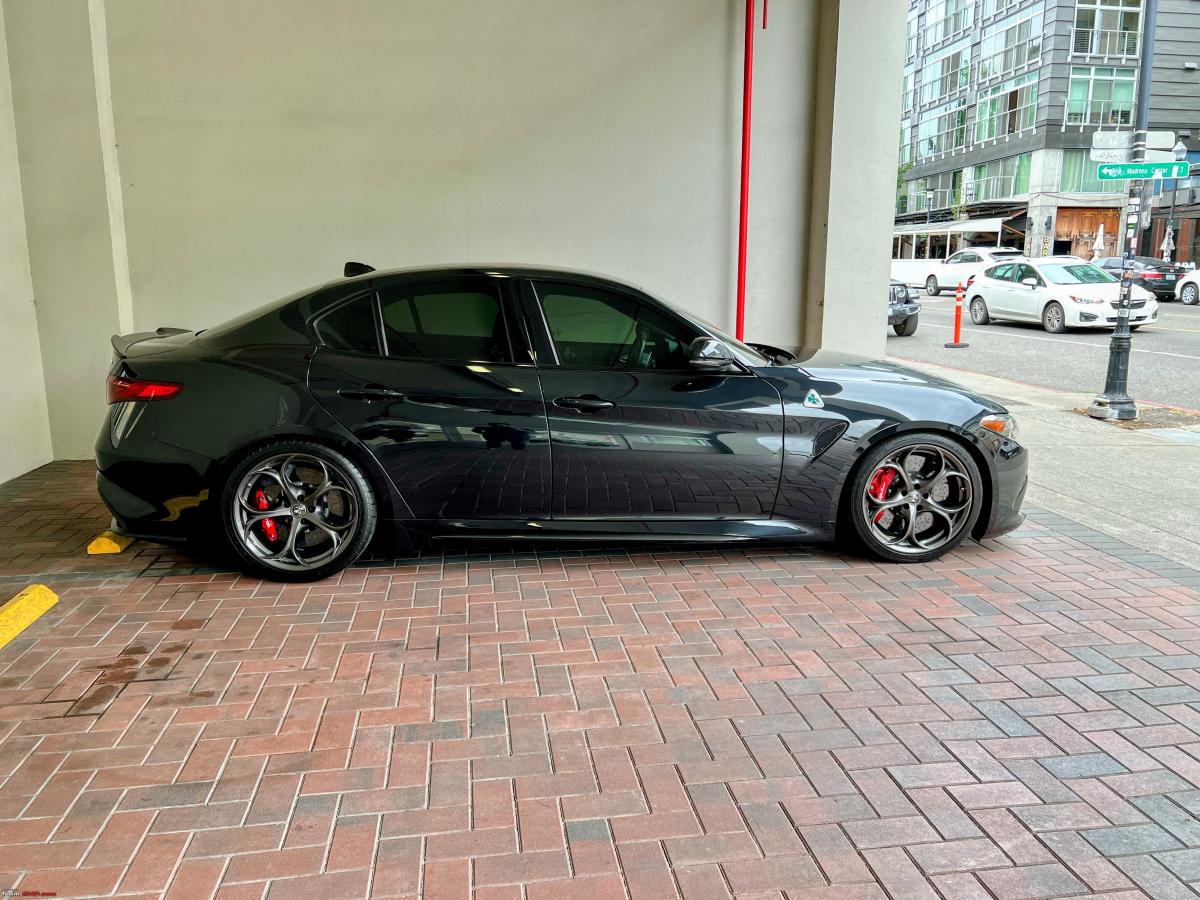 Quirks
Just like any Italian car, it has a lot of "character". When the tires are cold, they tend to hop/skip at full lock due to the anti-Ackerman geometry. Alfa Romeo responded to the complaints and changed it with the 2020 update but the car lost some of its razor-sharp turn-in as per owners.
There is an auto hill-hold feature built into the car which cannot be turned off. While it automatically engages when you stop on a slope and disengage when you get your foot on the throttle. But sometimes it can trigger on very slight slopes, such as my parking and the grabby brakes make it difficult to creep forward slowly, and instead, the car lurches forward a bit. All Giulias come standard with brake by wire. The pedal has little feel and the brakes feel grabby, this is compounded due to the Carbon Ceramics optioned on my car.
Also, a shoutout to Bhpian vj123 for helping me with the purchase process with his advice. I would've been finessed by car dealers, if I didn't have his guidance, due to my lack of experience.
Now, if anyone has any unused Ferrari badges lying around, I wouldn't mind taking them off your hands to add another 5-10 bhp to my car.
Here's what BHPian vj123 had to say about the matter:
Congrats on your purchase again and the buying experience deserves a separate thread.

Wish you happy miles and hope to see this awesome machine in person.
Here's what BHPian RedTerrano had to say about the matter:
She's an absolute looker! Many congratulations on the latest addition to your stable. If possible, please post more interior pics.

By the way, what is the recommended way of accessing that start/stop engine button? Through the steering wheel or from the side? The pic you posted has me confused.
Here's what BHPian Jeroen had to say about the matter:
Congrats with your purchase of this car. As the old Top Gear saying goes, you simply are not a petrolhead unless you have owned an Alfa.

Yours is a very interesting version. Although these days I would always take comfort over performance. Performance is fine on the race track, but not so great for any regular driving, anywhere in the world. But that is just personal preference.

It takes a brave man to buy this particular Alfa, enjoy it to the fullest!
Check out BHPian comments for more insights and information.
Source: Read Full Article