Going down memory lane to my biking days with two stroke motorcycles
Two strokes have an outright advantage over any four stroke motorcycles. More power from equal displacement, less weight and easier servicing due to less moving parts in the engine.
BHPian Gypsian recently shared this with other enthusiasts.
Each motorcyclist has his own story, for where their love story with the motorcycles began. For most motorcyclists it is that one particular motorcycle which would have lit the fuse for a life time of motorcycling. Old motorcycles have their own fascinating back stories and mine is no exception.
This thread is a recital of my two-stroke motorcycling days which was inclusive of commuting, touring, racing, tuning and whatnot. Reminiscing the early and the late 2000s, I am writing this tale with an hope that it will rekindle the old memories of motorcyclists , their machines, old roads, associates and more particularly the two stroke motorcycles and the fond memories of the bygone era.
We can all get nostalgic about certain aspects of automobiles from time to time, longing for the sentiment and wistfulness of the past, usually having to do with their characteristics and cherish them forever. IIRC back in the year 2004-2005 , I had been to my farm house in the outskirts of Bangalore, I came across a poster or a banner which stated that a race was being held on that particular day and out of curiosity I went ahead to watch the race and it turned out to be an autocross race. By the time I appeared there the racers were assembled at the start line, the flag went down and these participants with a power launch, zoomed into the first turn and cheers went up and the riders screwed it on and disappeared into the cloud of dust. That was love at first sight for me on the autocross sport.
Time passed by and after a couple of years I had purchased an RX – 135 after conducting hunger strikes at home, obviously which parent will incline to buy their son the Yamaha RX ?? Thanks to its notoriety that this motorcycle carried through out its life cycle.
The racing days:
The visits to the weekend autocross races became frequent and an idea to participate in one emerged stronger as days passed by. Meanwhile I had befriended one Mr Rajavardhan who was a part of the team by name power tuners who had induced me to practice along with their team at the outskirts of Bangalore. Raj was barely 45kgs at that point of time and those brutal ported 2 stroke machines wheeled almost every time they were launched and he got my motorcycles race tuned at his team's garage for my suitability. The tuning process and its technicality will be the last portion of this thread so later on that. Gradually I got some grip on how the autocross works and finally begun racing in the novice class and had subsequently moved on to the intermediate.
As an autocross racer I saw very little success, as after racing autocross for couple of years and after about 9 races I could bag a third place in the novice class. I never intended to reach great heights in racing at any point of time and only for the love of two strokes and autocross I had made it an hobby to participate. Next came the Nandhi Race to the clouds races which was an uphill race and the fastest racer to reach the hill top would win, where sole rider is allowed at a time to reach the peak. An amazing experience, but as the race started the rain god had arrived and I had a few close calls on the wet roads of Nandhi hills. ABS and traction controls were probably Moto GP terms for old school motorcyclists back then. The TVS racers as expected had taken up all the three positions as expected and IIRC I was placed 22nd out of the 80 total riders in my class.
Off late I had felt the need for low end torque for autocross races which could not be achieved with the two strokes for reasons which I would later explain as this post progresses. I had now joined a TVS Fiero to my stable with a tried and tested formula. i.e. 1mm faced ported head, Apache 180 crank case and bore, overbored barrel with Karizma piston and two stroke VM – 26 carburettor with a free flow exhaust, well again more on that as the last part of this pist is dedicated to ild school motorcycle tuning.Back then racers from TVS factory with their factory tuned motorcycles dominated the motorcycle racing scenario and it was no different in the local autocross races. As I aforesaid participation was my only goal and raced for the love of motorcycles. Guess what none of the participations were known to any of my family members for obvious reasons Well, these experiences enrich my memories of intermediate and undergraduate days. By 2011 me, Raj and our other associates were completely out of racing for various reasons and we decided to travel distances on our two stroke motorcycles.
Let the images do some talking now: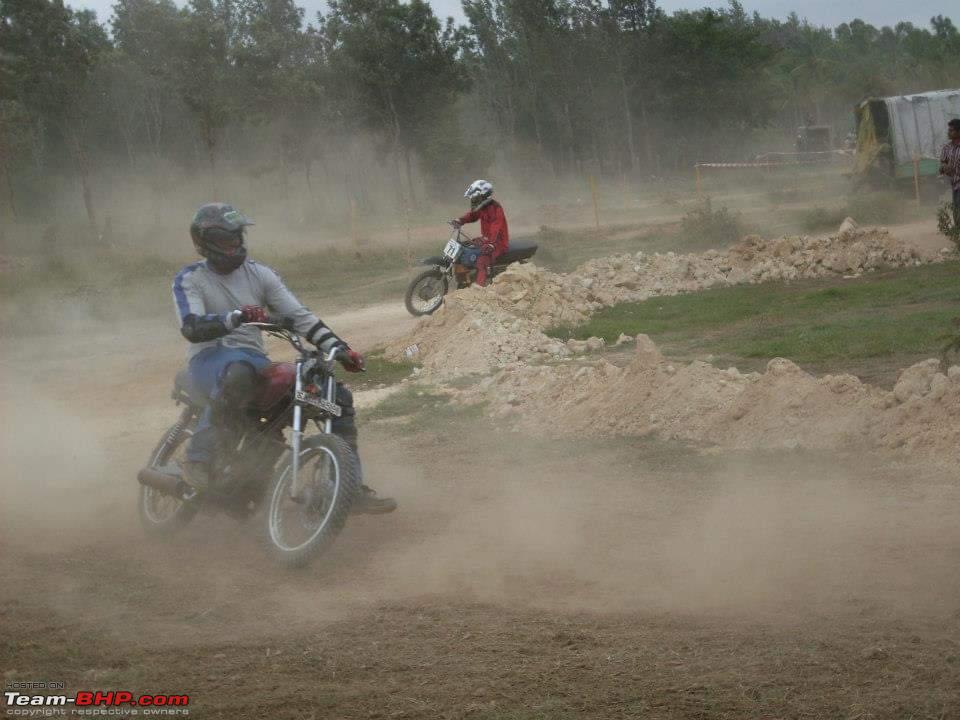 At an autocross event in the year 2009.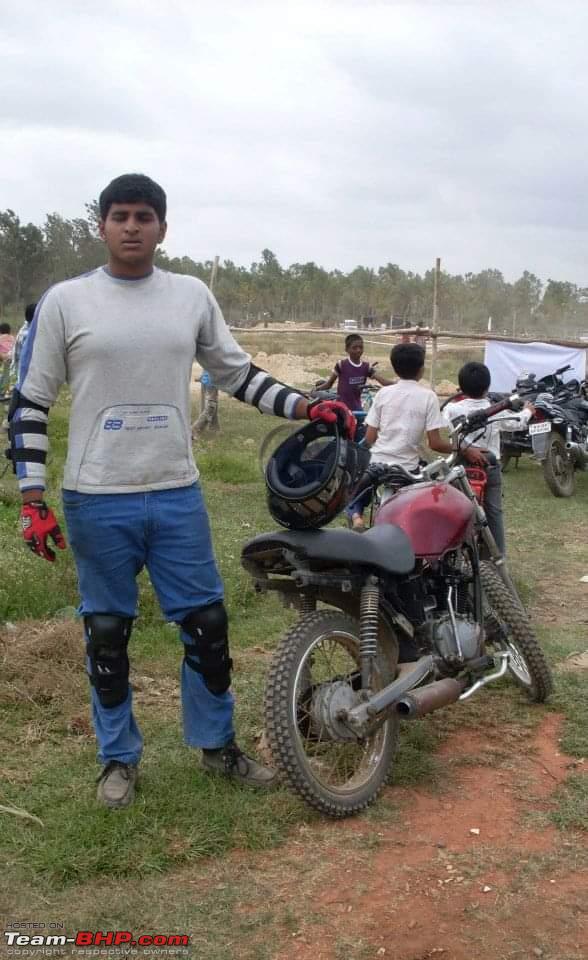 Me with my Fiero. Back then riding jackets and trousers were still at the nascent stage.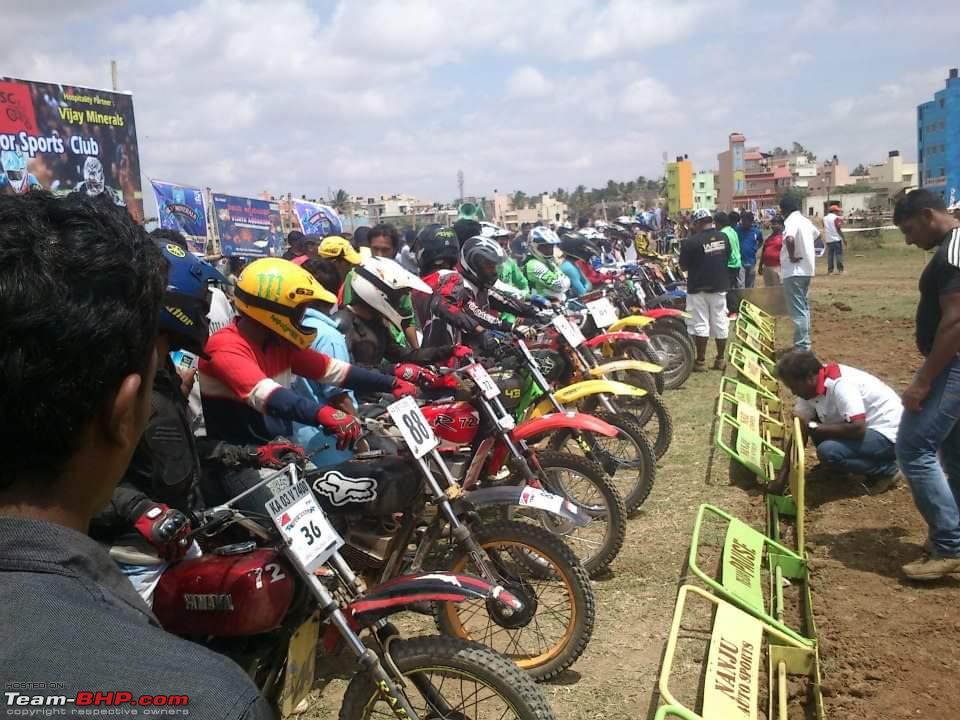 The start line.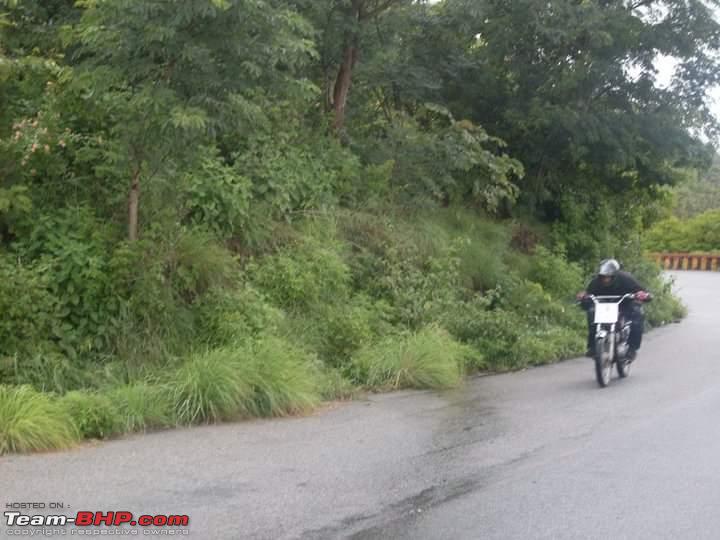 At the Nandhi race to the clouds event.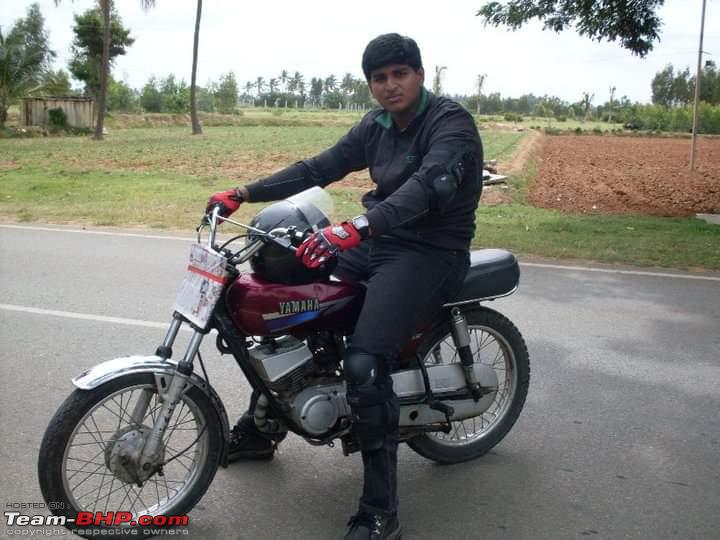 The humble and brutal RX-135 5 speed.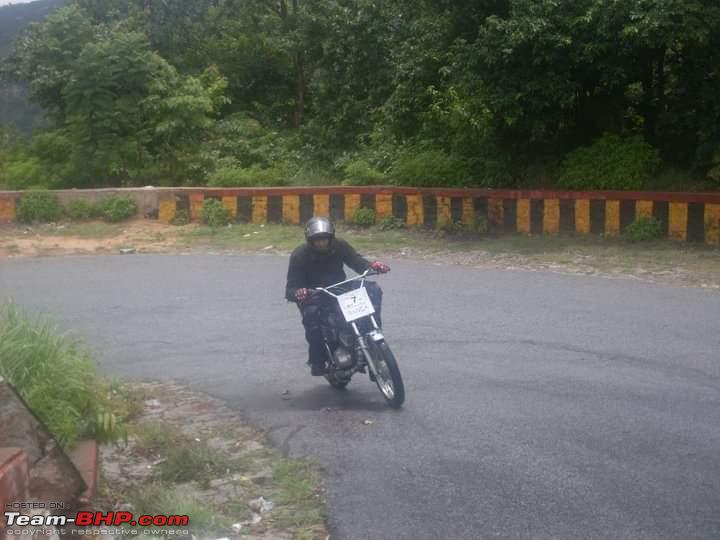 Thanks to rain Gods.
My partner in crime, the beloved 135.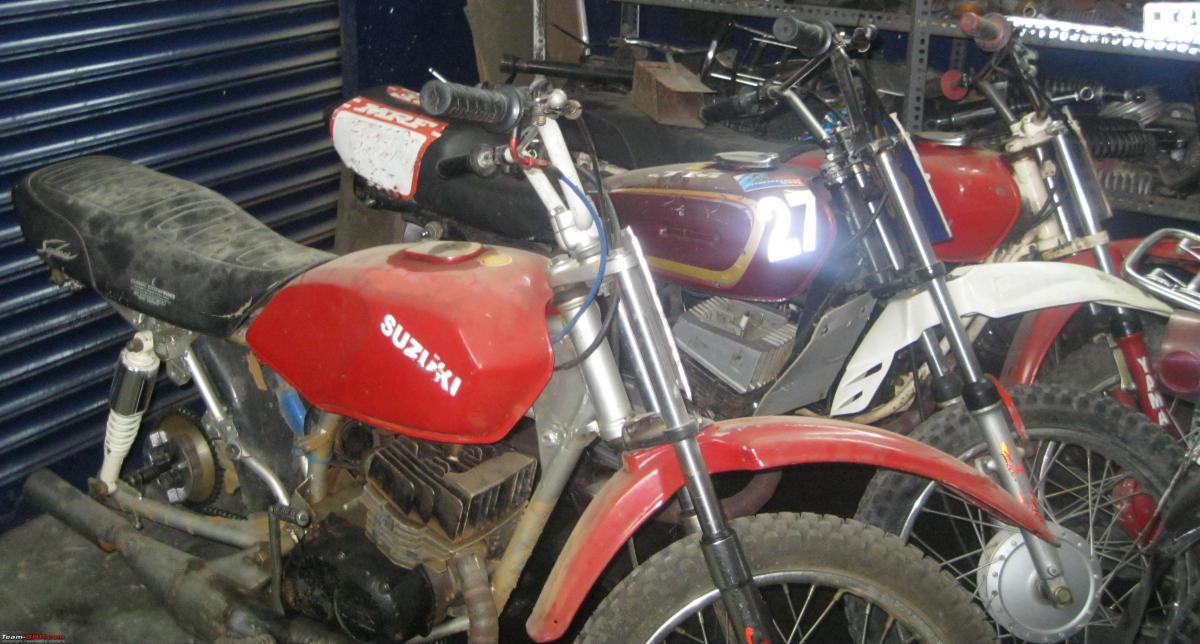 Heavily tuned dirt monsters at Power tuners garage. A 2007 pic. Sadly this garage is no longer in existence. Countless memories at this garage.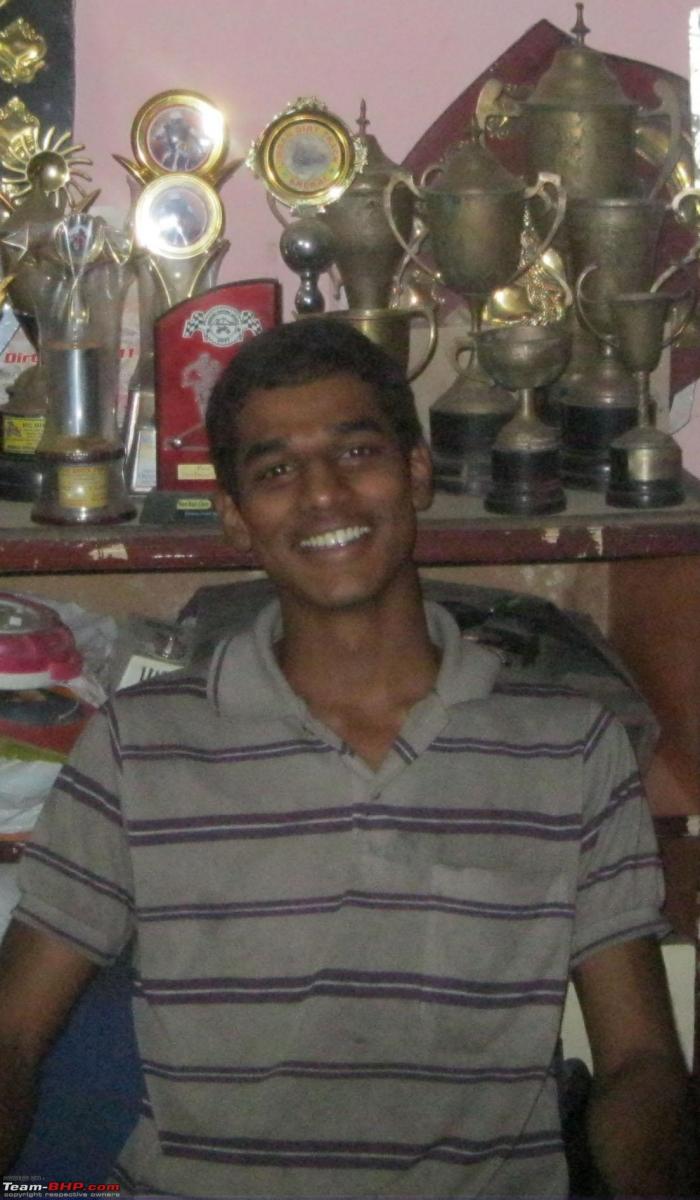 16 year old Raj in 2006. Who was a racer turned tuner and now a lawyer.
The two stroke touring synopsis:
In today's world of motorcycle touring, the word "two stroke" and touring don't go hand in hand for most motorcycle enthusiasts. Well a decade ago although there existed Karizma, Pulsar and Apache etc we two stroke fanatics never let go the two strokes for touring too. Two strokes have an outright advantage over any four stroke,more power from equal displacement, less weight and easier servicing due to less moving parts in the engine. On the other hand, their disadvantages include shorter service life, increased fuel consumption, terrible emissions and a nasty disposition because of their narrow power band.
After the race participation was completely halted by me and my associates we began touring and for the very purpose we had added RX – Zs to our stable. Basically it's the very same bike as the RX 135 other than the cosmetic changes. The cache here is all our touring RXs were installed with RX – KING engine parts, which I will explain in detail by the end of this post.
Countless number of tours, almost the whole of western ghats, 1000 kms long trips to Tamilnadu and Andhra Pradesh undertaken on two stroke 135cc motorcycles. Of course there were breakdowns, never major or engine related. IMHO the only formula to prevent engine seizure on two strokes is to mix 80ml of car engine ( not those 2t packets sold at fuel stations, proper contained car or bike engine oil ) oil per litre of petrol and your two stroke engine never fails no matter how much you abuse the engine but again smoke is the downside. In 2010 impressed by Dad's praises of the Yezdi motorcycle, I had restored an Yezdi classic, which accompanied me for the tours for a couple of years before parting ways.
Unfortunately there are no many photographs that have been shot during touring. Pre 2012 cameras were luxury items and only serious photographers possessed one. To whichever rides our associates with cameras had joined, only those trips are captured, rest of the trips were only riding , riding and riding and mind you selfie was still an alien term. Some photos are posted below for your perusal: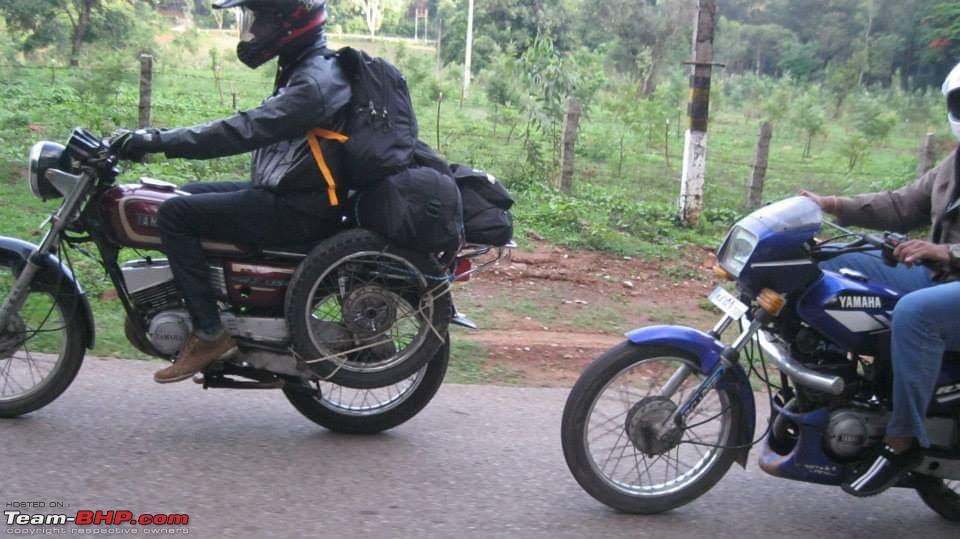 Carrying spare back tire was our norm while long distance touring. Thats the Stepney tied to Rajs RX – 135 (2010).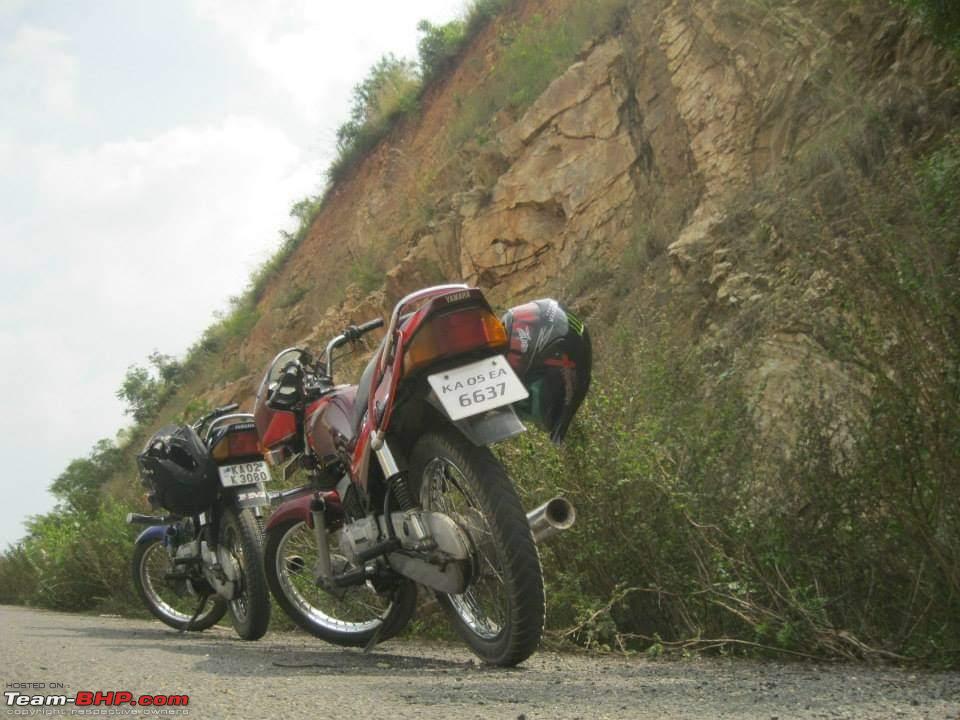 The timeless RX-Zs on their way to Horsley Hills (2011).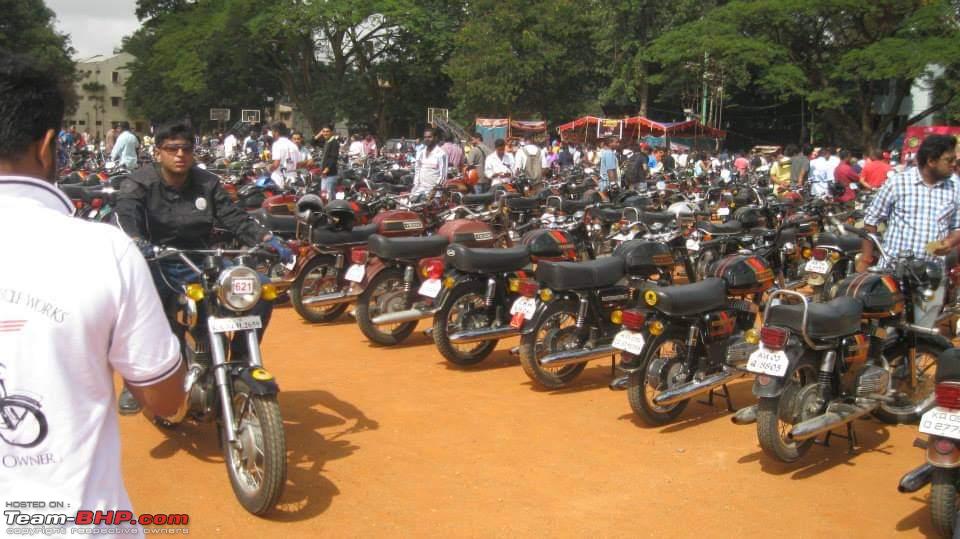 Arriving at the Jawa Yezdi meet.
At the amazing Agumbe.
My last ride on a Yezdi Classic.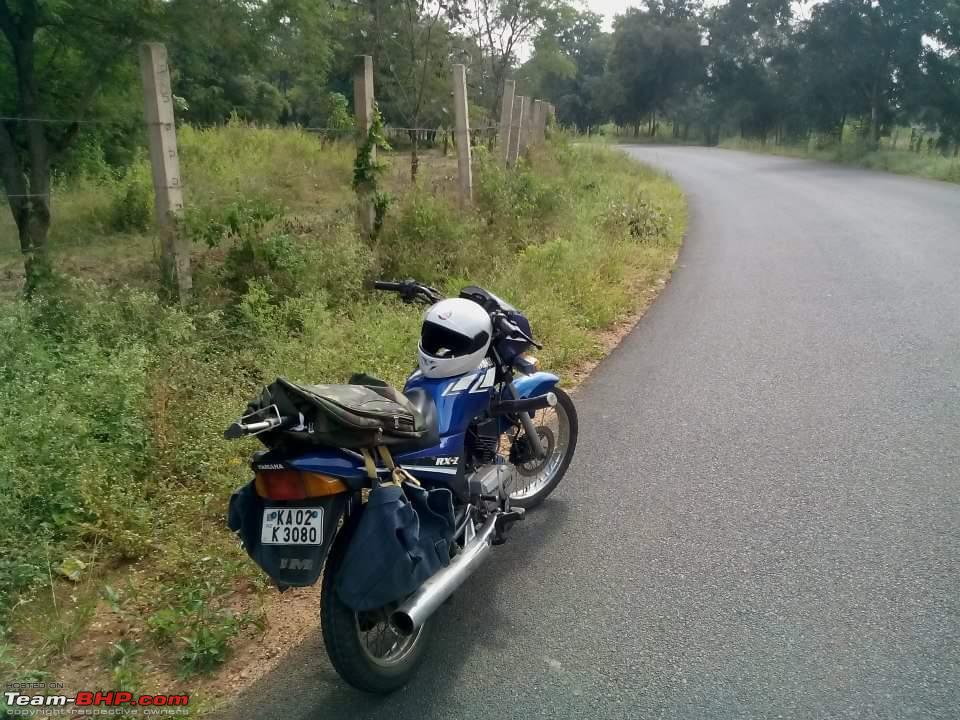 Enroute Shivamogha. Canvas bags were the saddle bags back then (2010).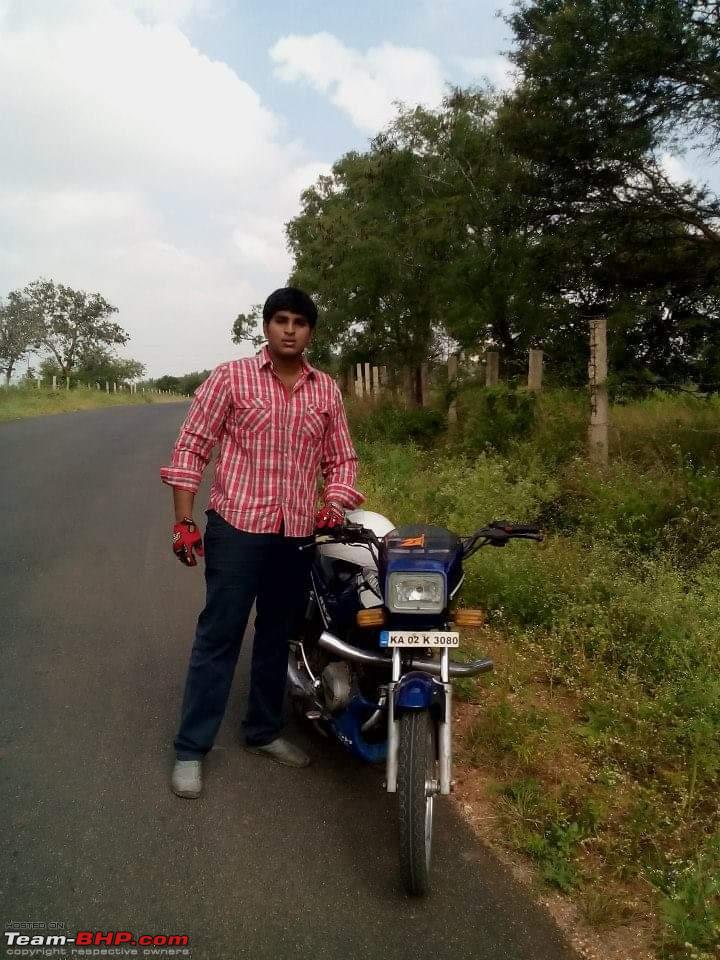 Posing with the beauty.
Enroute Chikkamaglur. Used DSLR for touring photography for the first time on this ride (2011).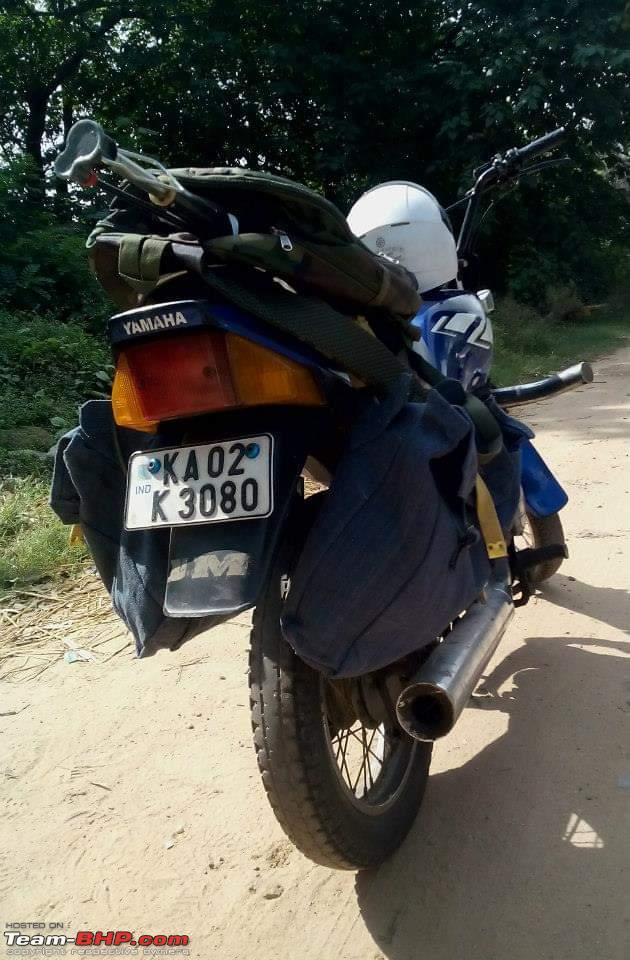 Another one from the Shivamogha trip.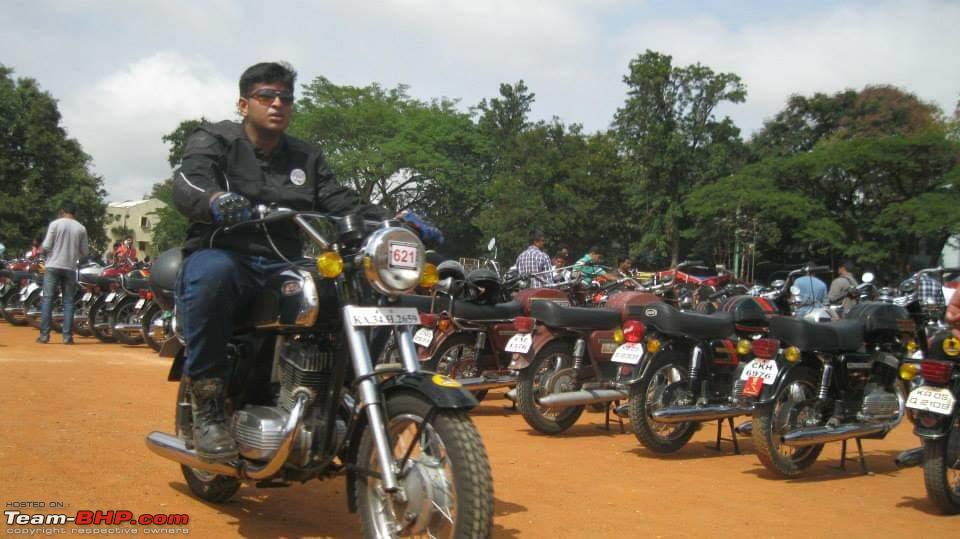 Jawa Yezdi Day.
The garage scenes:
The power tuners garage existed only until 2010 and once the racing practice was wound up, the shed was vacated by Raj and his other teammates as it served no purpose. Subsequently the touring setups were different from that of a autocross tuned motorcycles. For touring it was almost plug and play type tuning. IMHO in the autocross races its not about your engine being more powerful, its all about skill and sometimes hooliganism. For touring as I aforesaid, it was only plug and play of imported RX – KING parts which is way better than our Indian RX – 5 SPEED. The KING setup was by far the most reliable and powerful touring setup AFAIK. Unfortunately the King parts stopped coming into India post 2014 after which I never enquired regarding the same.
There was a lot which went into tuning the two strokes to make them as brutal as possible, but the biggest challenge in two stroke tuning is balancing lower end and top end performance, i.e. improving one can damage the other. Porting of transfer puts more often ended in disasters as porting done wrongly will set the bandwidth at higher rpms and it may take ages for the engine to get into the power band same applies to inlet and exhaust ports. Some modifications that were carried out in our autocross bikes were installation of Yamaha rx king head (imported),due to porting of inlet, exhaust and transfer port the low end would suffer and hence to compensate the same the RX -King head was used which had a smaller squish band volume which enhanced the compression ratio.The 4TL10 5 speed bore because of higher band width compared to 4 speed barrel and different port angle's and port timing which results in gas flow thereby resulting in higher rpm's. D -slide 28mm carburetors were commonly used for ported barrels to achieve the required vacuum pressure. The most important on the list is expansion chamber, the most imperative add on for 2 stroke race engine. The dimensions were calculated using software designed for the same. and fabricated according to desired dimensions. UNI or K and N filters were used along with race carb to suit the flat-slide and tuned accordingly. for the drag and street racing two stroke bikes ported RX – KING barrels were used along with imported CDI and fibre reed valves.
The aforesaid modifications are basic and there is still a lot more to it like the light weight magnetic coil. I incidentally found my old diary in which I had written down the aforesaid details as a drag motorcycle was being prepped back in 2010 and it came in handy for penning down this post.
Some photographs from the garage: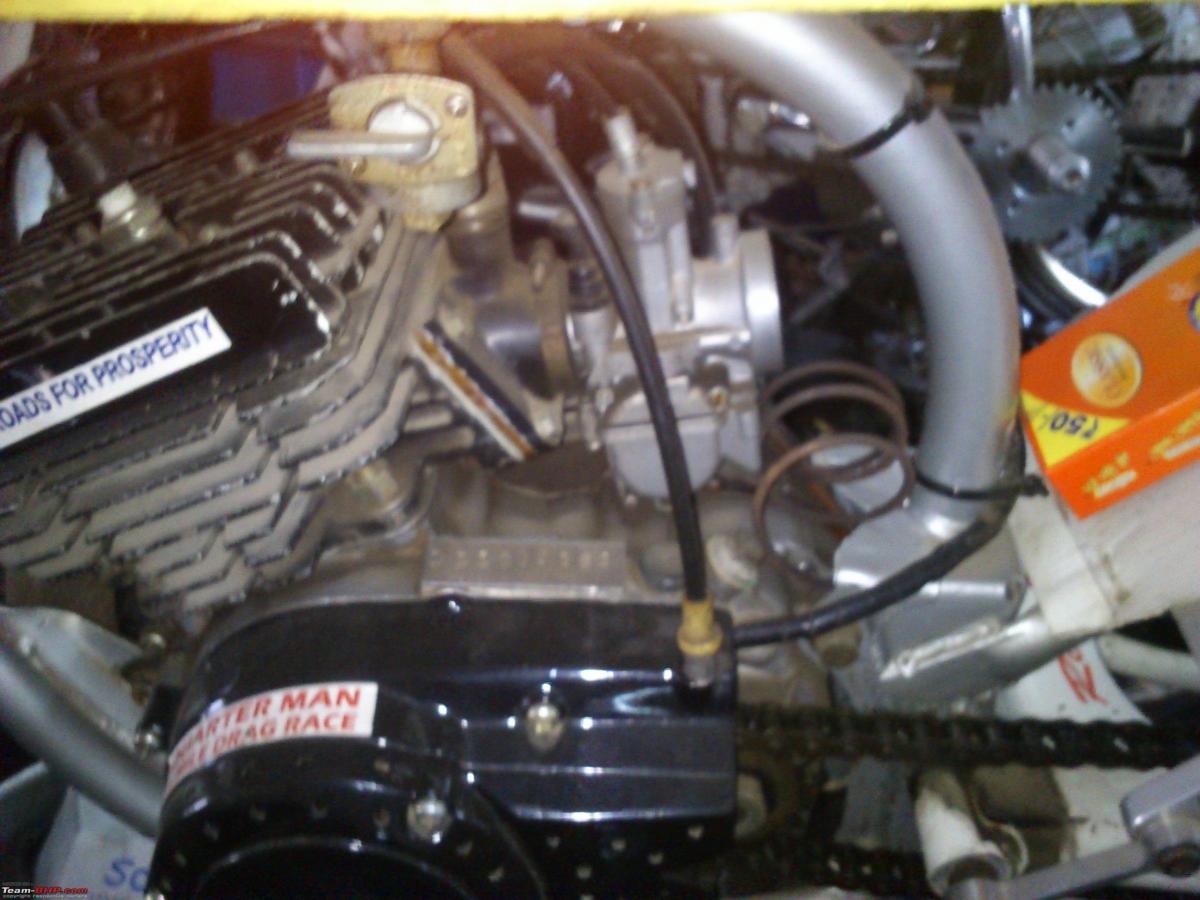 The drag built RS-135 engine.
The chassis that Raj prepared for the Deccan quarter mile drag, somehow didn't materialize.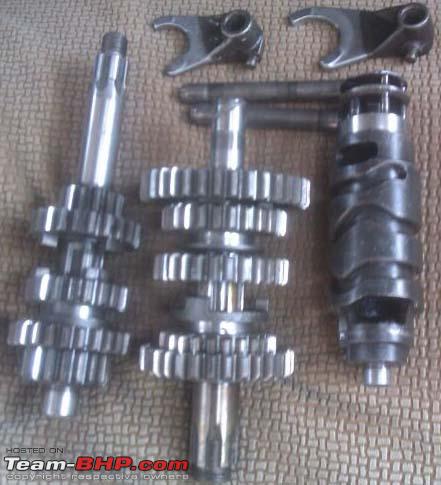 RX KING gear set.
The RX KING carburetor.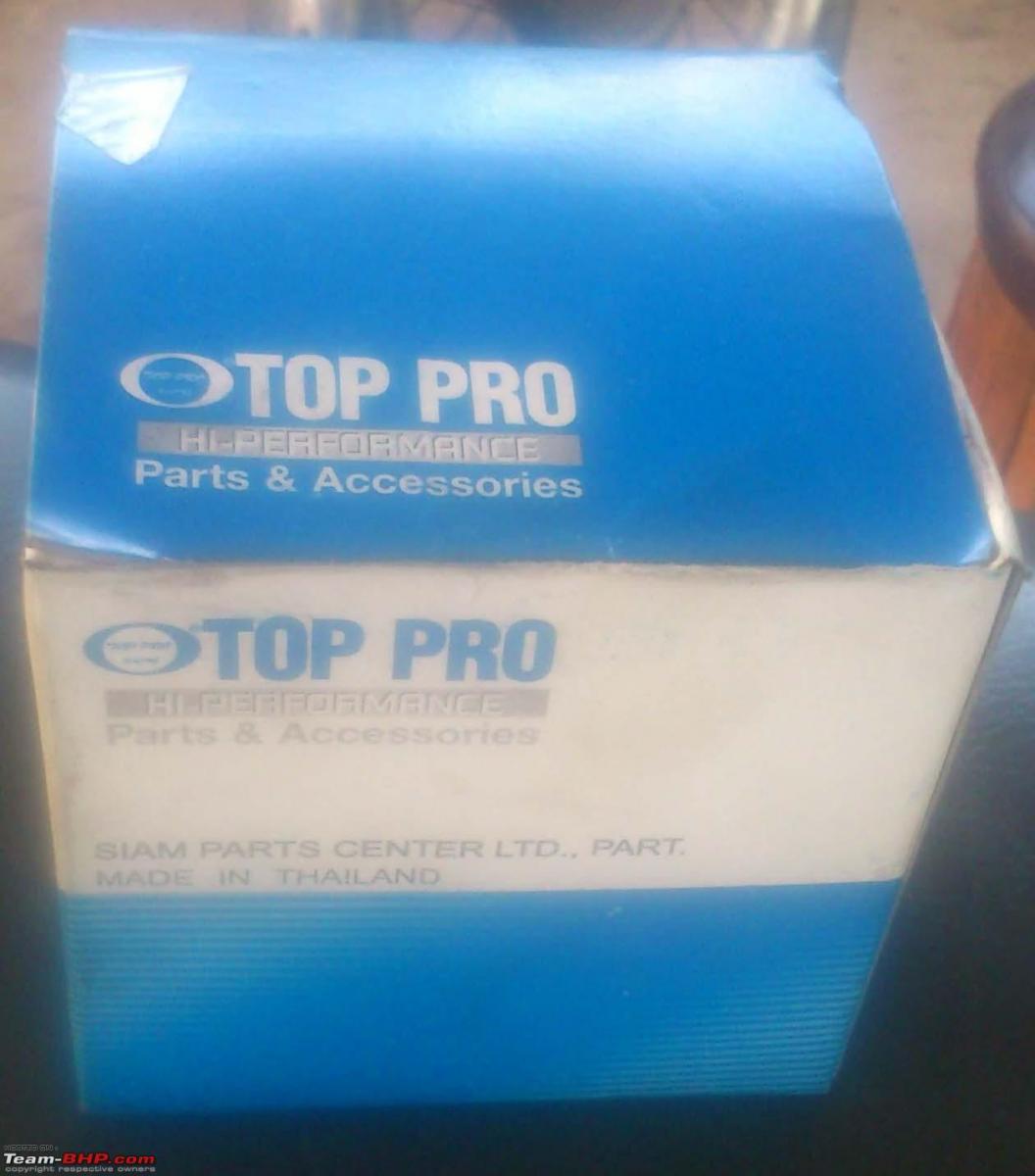 Top Pro piston used in RX KING barrels.
RX KING low squish head 1.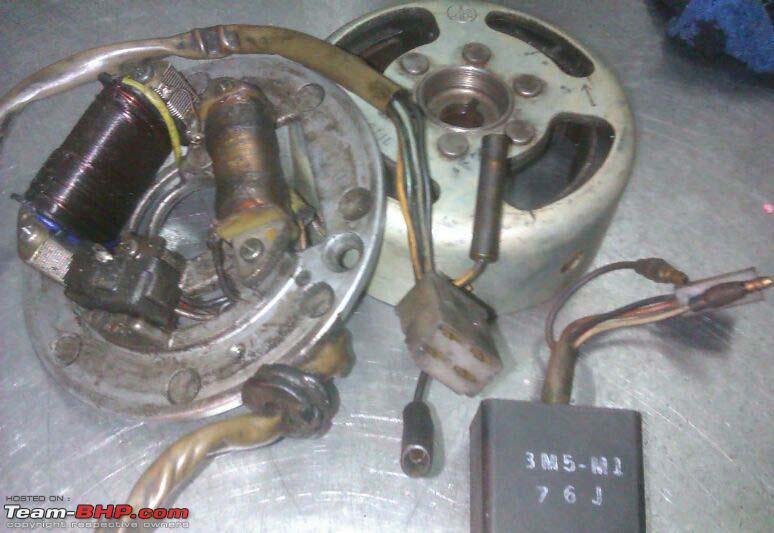 KING magnet coil along with CDI.
RX KING bore.
The code y2 itself speaks, in India Y1 bore for Yamaha RX 100 is the most wanted barrels.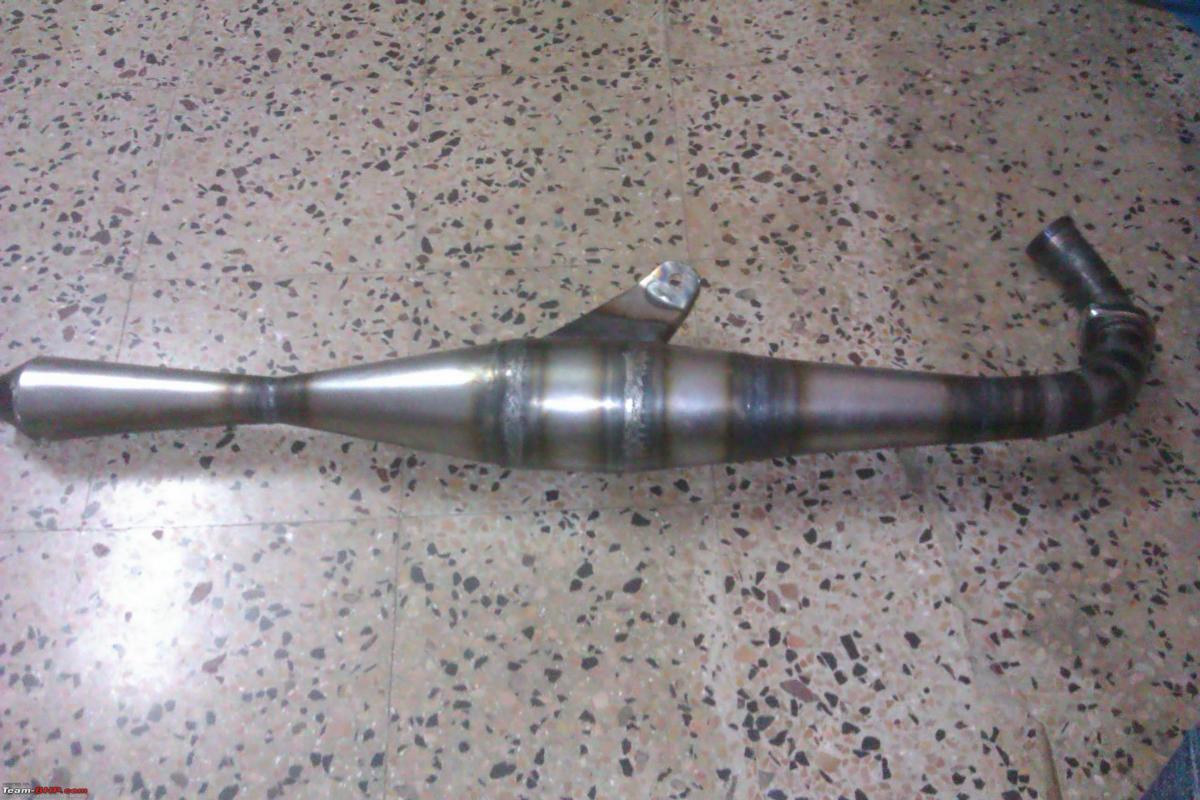 Drag setup chamber (Favours top end power band).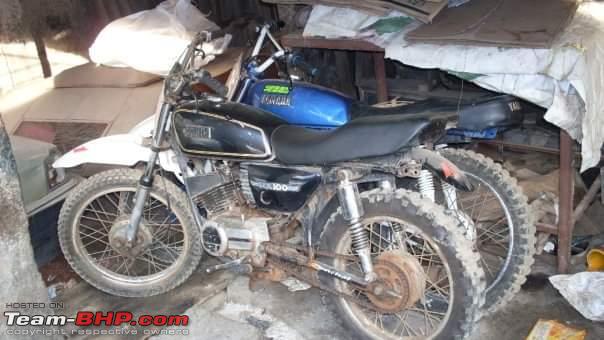 The little monsters.
What next?
I reached my 30 photos limit for this post, would post more pictures as the thread progresses. Admittedly we were no professional racing team and never intended to be one and all these aforesaid tasks were carried out for the love of two-strokes and the joy of racing them. I don't know whether this post does justice to my love towards two strokes, there are still numerous incidents and information that I would love to share with beloved members of the TBHP. In this thread I have missed out on our stint with the RD 350s. Coming to expansion chambers, I think for the complexity involved in designing a perfect one deserves a separate thread for itself.
Well, what next? Right now we have retained 2 RX-Zs and one RX – 135 5 speed in their stock form which are rested and unused for the past decade. I am now contemplating on importing RX – Z 6 SPEED engine parts, although not plug and play, there's some modification required to be done on the engine case of the Indian RX for the seating of bigger crankshaft of the RX – Z 6 SPEED. The RX – Z 6 SPEED is the fastest RX in the world and is a Duke 390 beater ( top speed ). Still a long way to go on that project and probably by the end of this year I will convert my RX – Z into RX – Z 6 SPEED if everything goes by as desired and give these machines a fresh life. Although the above said work is in progress, due to import restrictions, the build will get delayed.
Lastly I would thank all the teammates mechanics, gas welders, painters, Lathe workers, etc who have made this two – stroke journey a memorable one. The one man whom our entire team is thankful to is our fellow BHPian Venu Gopal who is a treasure of knowledge in anything related to automobiles. To give a small insight he was the man who had designed a V twin Fiero and a supercharged Fiero back in 2009. Our tuning work never went without his advice. Venu Gopal and his friend Late Srinivas Bhat ( head of technical division, TVS motors), it is from them, the team had learnt the ABCD of tuning. Sadly Mr Bhatt passed away after meeting with an accident while testing BMW 310 during its testing phase. Bhpian Venu Gopal being an Hydraulics engineer and an expert machinist, till date helps engineering students with their projects and other stuff, a very generous man who has helped throughout.
Further I urge all my beloved readers who ever intend to race or involve in any form of motor sport, touring or commuting kindly take all the possible necessary precautions , back then safety gear was not accessible or affordable but now its not the case anymore.
I know whatever it is, my two – stroke days will never return, as the harsh truth is gone are those days.
Check out BHPian comments for more insights and information.
Source: Read Full Article