Fuel pump failures in Hyundai & Kia vehicles with turbo petrol engines
No recall has been issued by Hyundai or Kia as of now though, which is baffling.
BHPian tanbeamer recently shared this with other enthusiasts.
In the past few days, there have been quite some instances of fuel pump failing on Hyundai vehicles with the 1.0 TGDi and 1.4 TGDi engines.
No recall has been issued by Hyundai or Kia as of now though, which is baffling.
With all these issues cropping up, my personal avoidance of cars from Hyundai and from its sister companies like Kia and Genesis has only become stronger.
A friend has sent the attached pictures: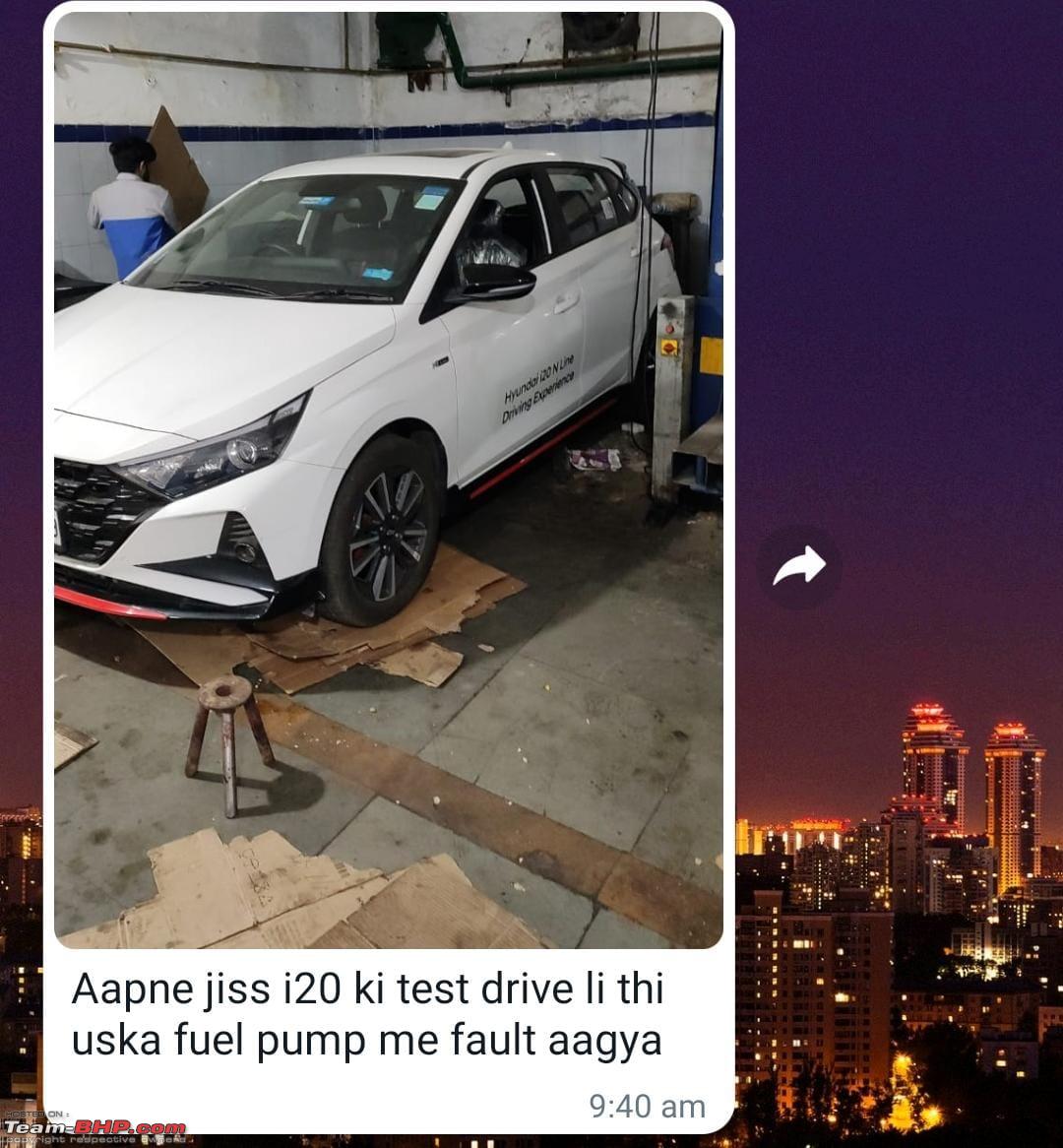 Here's what GTO had to say on the matter:
Very concerned with the complexity of these new engines & transmissions (Hyundai-Kia's dual-clutch AT is another topic altogether), and how they are going to fare in the longer run. Extended warranty is a must, yes. But that doesn't cover the gross inconvenience faced with a breakdown. And out of warranty, these turbo-petrol engine components & DCTs will cost a bomb to repair. It's why – if I were to buy a Creta or Seltos – I'd pick the Diesel AT. More robust engine, more robust transmission, good FE even if I drive hard (turbo-petrol FE sinks with throttle input).

Disappointing to see India's no.2 manufacturer grappling with quality issues since 3 – 4 years. Wasn't the case before.
Here's what BHPian Shreyans_Jain had to say on the matter:
Fuel pump failures, while certainly don't desirable, will be covered under warranty.

Direct injection turbo petrols are inherently extremely sensitive to fuel quality. Such instances will only worsen once ethanol blending becomes mandatory. Always buy maximum possible warranty for these new high tech cars.
Here's what BHPian sidindica had to say on the matter:
There is one more N line which broke down in TS owing to fuel pump failure. This cannot be a mere coincidence, this is on the way to become a widespread issue albeit slowly.

Some workshops are aware of this but not making statements in public. Recently an Alcazar too was affected in Delhi.

Seems like this is spreading across random petrol BS6 vehicles, probably due to adverse weather conditions with pumps overheating and not supplying enough fuel. In this case the vehicle needs to be parked for 30 mins to cool down and then see if it starts or not. If it starts, well and good, if it doesn't, the vehicle needs to be towed to HASS. In both cases the FIP needs to be replaced.
Here's what BHPian fhdowntheline had to say on the matter:
As far as I remember, the Hyundai Venue and the Grand I10 NIOS have had the 1.0 GDI engine for nearly 3 years now. Even the 1.4 GDI engine has been around for a bit over 2 years now. What has suddenly changed for it to have such issues? Is it manufacturing quality issues due to Covid ? Or is it some ethanol blend related issue which the engine is not able to cope with?

On the topic of the DCT, incidentally, just a couple of days ago I saw a Seltos DCT which had passed me earlier, get stuck in the quagmire of the Chandni Chowk flyover mess at Pune. We literally crawled 30 min or so over less than 500m. And just as we slowly got out of it, I saw that car standing over to the side, bonnet held up, occupants standing next to it all puzzled. I had no doubt it might have been a DCT overheating issue.
Check out BHPian comments for more insights and information.
Source: Read Full Article