Found paint damage on new Kia Seltos during 2nd PDI: What to do now?
All payments, including insurance, are completed but the registration is still pending.
BHPian CosmicGeneral recently shared this with other enthusiasts.
Hi Everyone,
To give a bit of background, I booked a Seltos HTX AT diesel & received an allocation. When I went for PDI initially, there were no scratches so had cleared all payments, however, the vehicle is yet to be registered.
As a precaution, I went in to check the vehicle once again before registration which was supposed to be this week. To my shock, now I'm noticing a scratch where paint has come off which previously wasn't there. As usual, the SA was downplaying it, saying it's just mud etc until I checked further & then said they will get it fixed asap. I'm not sure what they will do or how this type of issue is usually fixed.
I spoke to a few of my friends/detailers regarding this & they were of opinion that this isn't a minor scratch but will require paintwork.
I've since mailed their CRM/Manager regarding this problem & notified them to not go for registration until the issue is resolved, with me verifying the same.
Attached are the pictures, I'm unsure if this is just a small scratch that can be fixed.
As it stands
All payments completed
Registration pending
Insurance for the same engine/chassis has been completed & payment done
Apart from the scratch everything else looks fine with the vehicle
Questions
How are such issues fixed? Is it common?
Should I go ahead with this vehicle or what are the next steps that I should take in this type of case?
Requesting advice from fellow members here.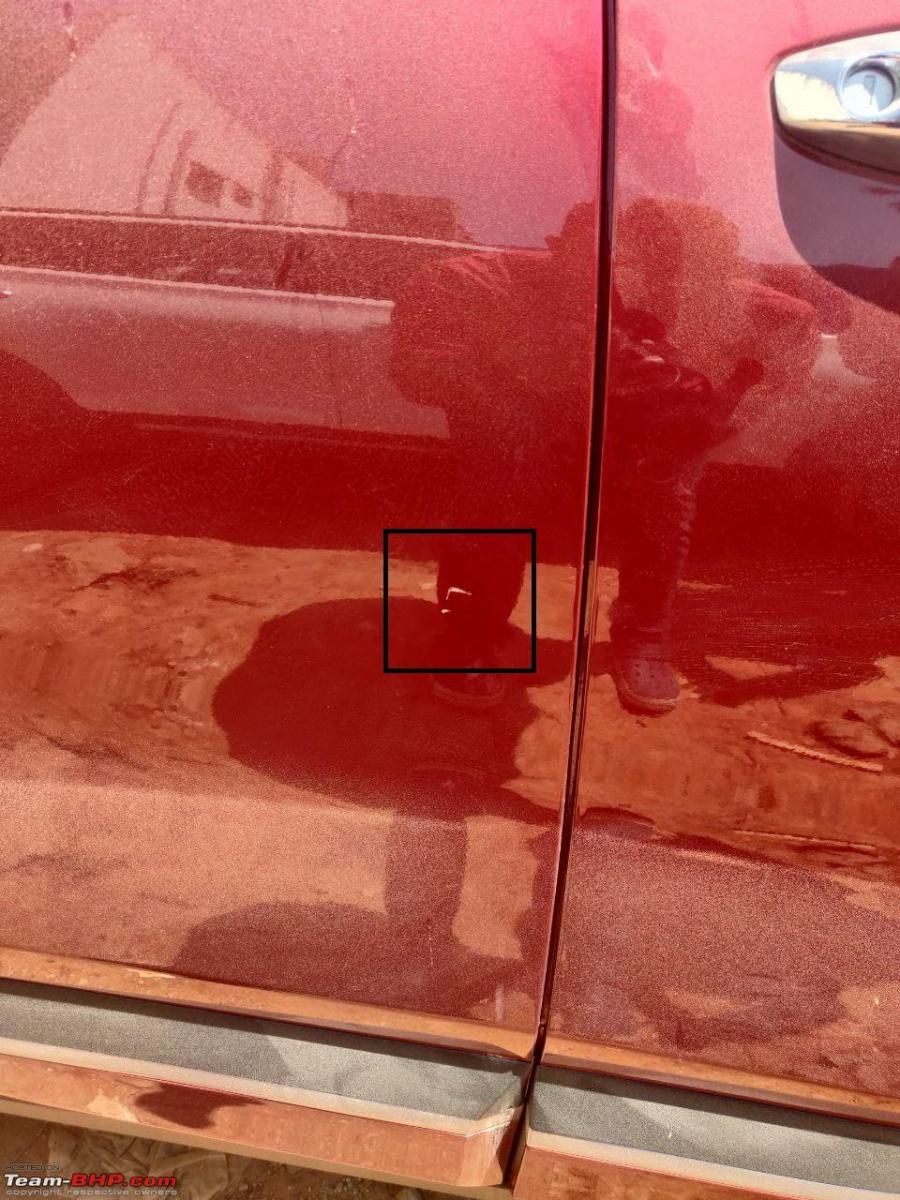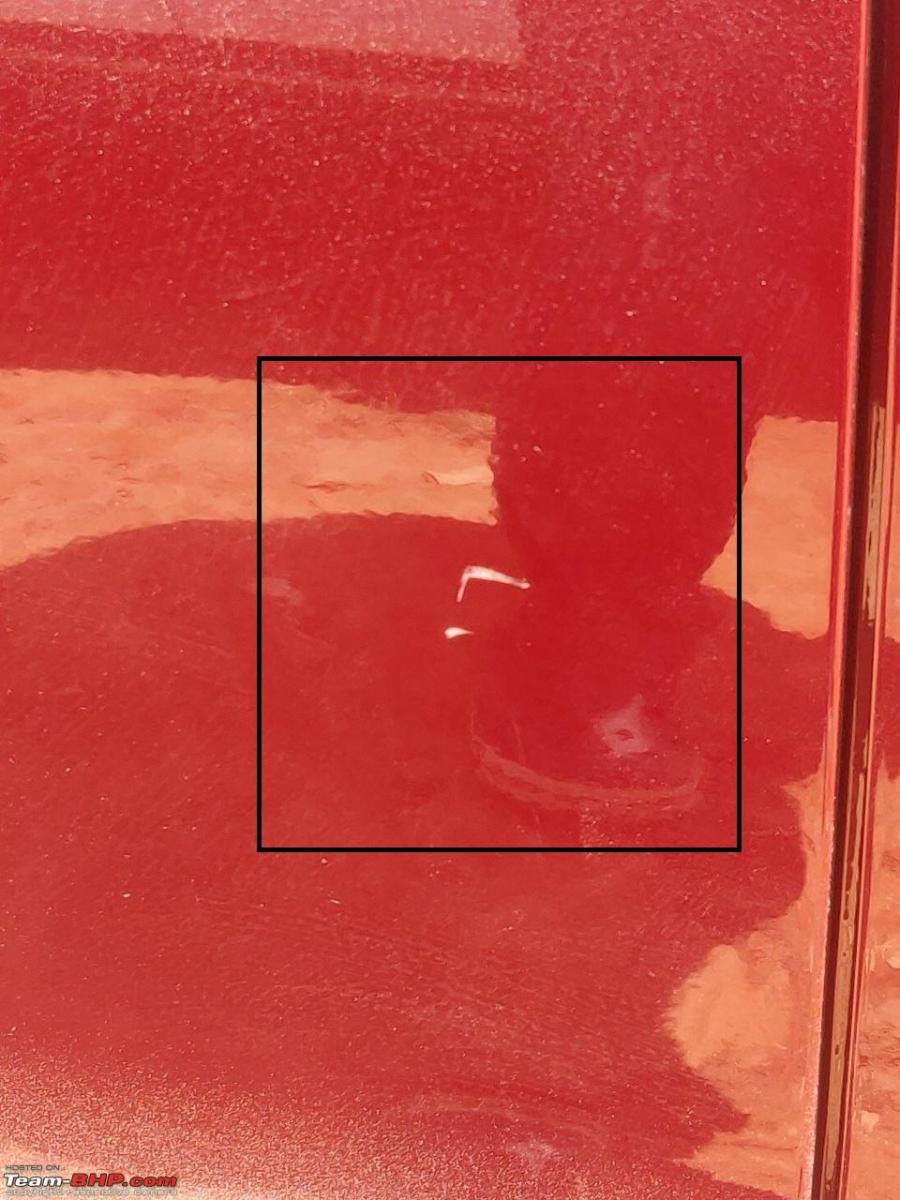 Here's what BHPian Anki_252hp had to say about the matter:
The scratch is deep so the whole door has to be painted. Since the registration is not done yet, you can refuse delivery & ask them to get a different vehicle allotted as no matter how good they do the paint job, it won't be as good as the factory paint.

Only issue can be your insurance but I am sure the dealer will find a way out as it's not your fault. They may get the insurance transferred to the person who will get this car or get the vehicle details changed for you.
Here's what BHPian Cresterk had to say about the matter:
That seems like a very small scratch. Why not just let them try to fix it and if the result is unnoticeable, take delivery? A new car is always precious to us owners but it is no collector's edition Ferrari where a slight fault in the paint will lead to it losing lakhs in value. Nor are we going to store it in some climate-controlled garage behind velvet ropes, waiting for it to appreciate in value. Considering how people drive here and the general lack of respect for other people's property, your car is going to be marked with a lot more scratches in a year.
Here's what BHPian Engine_Roars had to say about the matter:
That scratch is not worth the stress that you are taking especially when they are ready to fix. I reckon, allow them to fix their issue and see how it goes from there.
Here's what BHPian veedub89 had to say about the matter:
My suggestion would be to accept the car as it is and force the dealer to throw in some freebies like an extended warranty or free service incl. consumables or even some accessories that you might be keen on.

Don't let the dealer "try and fix" this scratch for you. They will most definitely make it worse.

On a side note, this could be your "nazar-battu". No need for a nimboo-mirchi to ward off evil.
Here's what BHPian AJ56 had to say about the matter:
I'll disagree with most above and tell you to push for a panel change from an existing car, no one here would accept a scratched phone, or a piece of clothing with a small rip in it or any other product we buy which comes damaged from the shop, our cars should be no exception. Dealers often have many cars in the exact same colour and changing doors is a perfect solution without losing the factory finish.

Do not let the dealer repaint anything, their body shops are terrible at masking and will cover the rest of the car with overspray, and you'll see the white compound residue in all the seams and panel gaps around the panel repainted. You will also lose the factory finish and instead of a small scratch, the entire door will look bad with all sorts of paint imperfections found in dealer bodywork.

Note: Do not let the dealer replace the panel with a new one, which is then painted to match your car's colour in their body shop, specifically request for another panel off another car in their inventory.

I had the exact same issue on my Amaze back when I bought it, front door had a small nick in it on delivery day, pushed them and they agreed to replace my front door with another black Amaze's door.
Check out BHPian comments for more insights and information.
Source: Read Full Article