Filed an RTI regarding ethanol-blended fuel: Some interesting responses
ARAI seems to suggest that E20 fuel is hardly an issue for E10-compliant vehicles.
BHPian Fiero recently shared this with other enthusiasts.
Filed RTIs with ARAI, MoPNG, PPAC (MoPNG) and OMCs (IOCL, HP, BP). Received the following responses.
Some of the responses are interesting:
ARAI seems to suggest that E20 is hardly an issue for E10-compliant vehicles.
PPAC has confirmed that we are at 11-12% ethanol blending in the majority of the states.
MoPNG has passed the buck onto OMCs completely (very disappointing).
OMCs say a joint study has been conducted by OMCs and OEMs, but surprise surprise, the report is confidential. BP gave a similar response but said I should go back and ask MoPNG for the report. IOCL has not responded.
Many questions (as expected) have not been responded to, or properly responded to.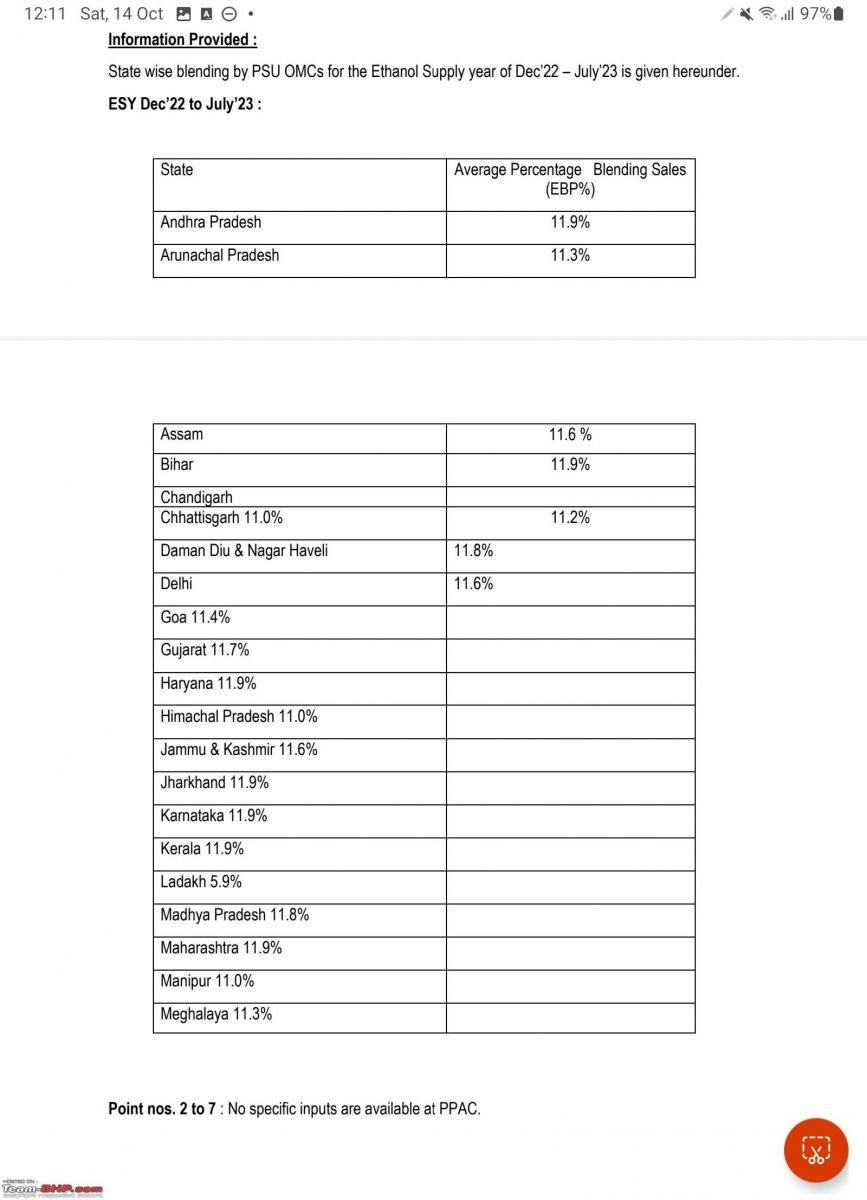 Here's what BHPian Nilesh5417 had to say about the matter:
This whole E10, E20 transition is completely opaque. The government doesn't care about millions of car owners and the manufacturers are probably happy that people will buy new cars, after sales may go up on older ones (esp those who go to A.S.S.).

What is even more irritating is the nomenclature- E10 isn't 10%. It's already higher and a range is used to describe its composition. X-Y% can be anything but 10%. What kind of standards are these?
Here's what BHPian AjayV had to say about the matter:
Technically, doesn't it increase pollution?

I mean, the dual benefits of lower forex spending and "going green" mantra are at the cost of damaged fuel tanks, lines and pumps which will be replaced (I'm not even going near the engine itself as modern engines are aluminium alloys built and will last with such fuels) – every few years depending on usage, all those rubber and plastic and metal parts go to the landfills at the end. The cost is being borne by the consumers and the others are whitewashing the policy and hiding behind the "going green" aspect knowing it is not right in the long term.

The solution is to make a total shift. Phased manner to either hydrogen/ethanol fuel by selling those vehicles alongside the regular vehicles. Just like what's happening with EVs now. The infrastructure is already in place, you're just replacing the fuel type.

The challenges here will be multiple like initial high costs of investment and also at a global level because auto makers would rather have a few products sold across markets vs making specific products for specific markets. Again, Nexon is a good example of one vehicle with multiple options like EV or fuel-based.

With proper planning and push, I'm sure it is a viable option unless OPEC decides to slash the crude prices and keep fossil fuel-based vehicle's cost of ownership interesting.

Apologies for the rant but I guess it is what it is.

I offer my appreciation for putting in the effort to question the government policies to make us more aware of them.
Here's what BHPian gauravdgr8 had to say about the matter:
This is a great effort. Thank you for taking the initiative for the betterment of the driving community.

Would it help if we also seek a reply from the office of Nitin Gadkari and let him know that you haven't received definite responses from all the above?
Here's what BHPian anjan_c2007 had to say about the matter:
Thanks for your initiatives in this direction. Really requires time, effort and lots of patience.

Please go for a first appeal with the First Appellate Authority at ARAI simply stating that the CPIO has provided an unverified and slip-shod reply that doesn't stand scrutiny in the field of automobile engineering. It also requires a second appeal if ARAI continues as such.
PPAC's reply I feel is non-committal and nevertheless doesn't call for a first appeal.
A first appeal with the First Appellate Authority in this Ministry is called for as it is the policy-making authority. In fact, Niti Aayog and MoPNG have formulated the Ethanol policy 2020-25 for the govt of India.
The OMCs stating that the report is confidential also calls for a first appeal with their respective First Appellate Authorities and thereafter a second appeal (can be done online) with the Chief Information Commissioner. PDF copies of documents have to be uploaded on the CIC portal. The second appeal takes about 10-12 months to come up for an audio hearing on our provided phone numbers. This delay is because there's a long queue of pending cases.

Whatever cannot be revealed in Parliament also cannot be revealed through RTI. But the OMC document can be asked for by any MP for discussion in either house of Parliament, as it does not involve any national security or defence-related matter.
Check out BHPian comments for more insights and information.
Source: Read Full Article