Did Triumph India really fix my Daytona that was spoiled by a dealer
The excuse for not sharing the list of parts replaced is that the plant does not have the required software.
BHPian accidental.doc recently shared this with other enthusiasts.
UPDATE 29//9/23
The bike arrived in Bangalore at the concerned dealership on 28/9/23 evening. I insisted on being there for the unboxing which was done in the pouring rain.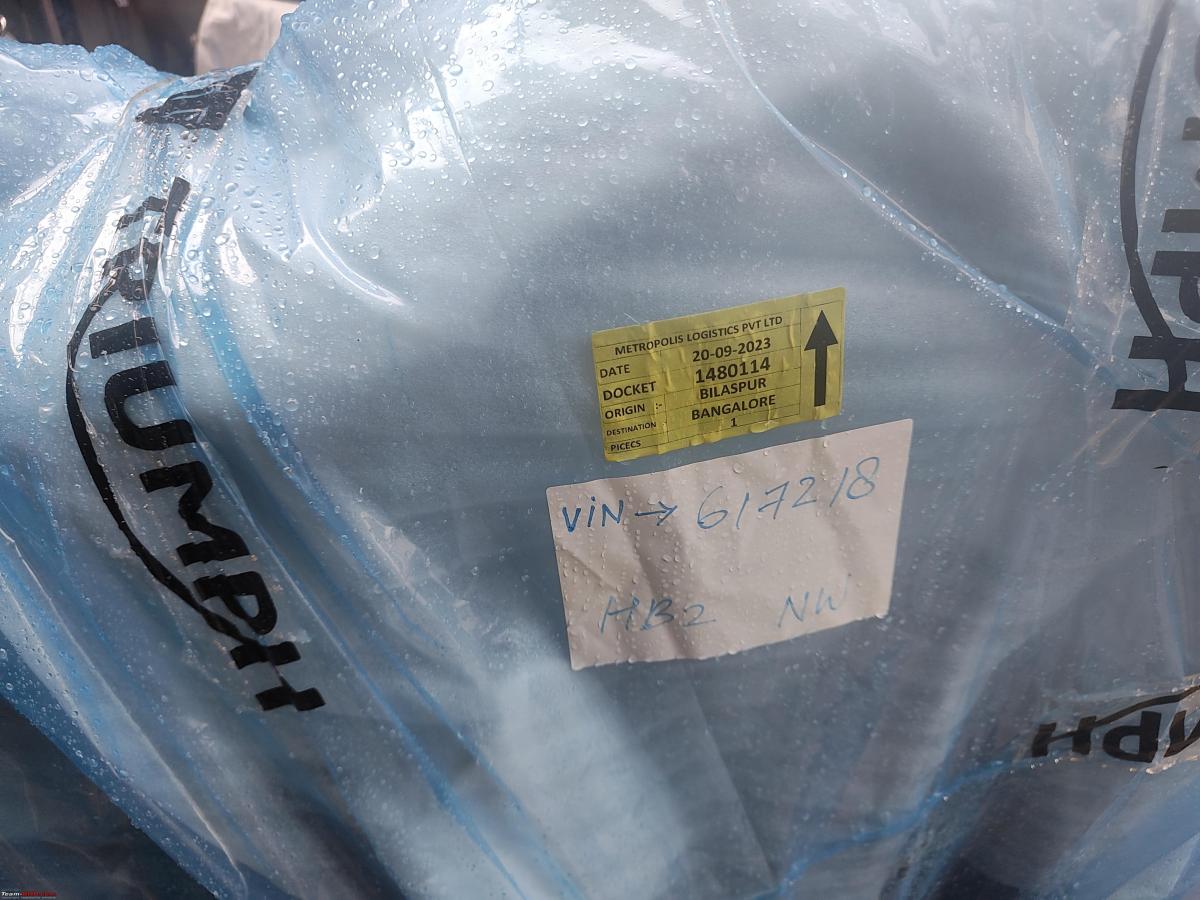 My observations
The tank has been repainted
LHS and RHS fairings have been repainted- the original crack is still visible as well as the scar under the paint especially on the LHS
BEFORE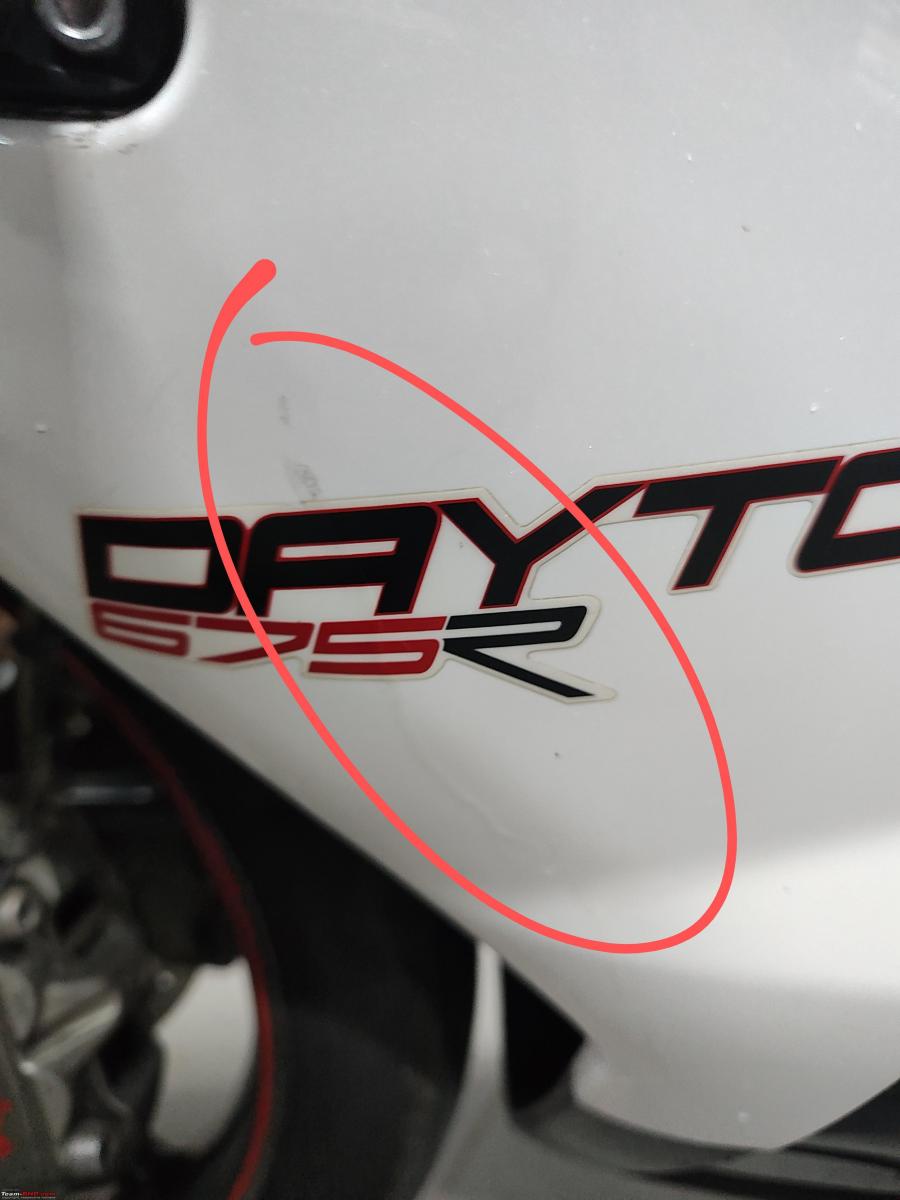 AFTER
The front seat has had a re-upholstery
The exhaust pipes have been scrubbed partially off the rust
The swingarm has been touched up
The only replacements done externally are the mirrors and the rear spools
There are some new injuries on both sides of the rear plastics, both sides of the red rear subframe, a deformed part of the lower black bikini fairing on the right side, a big dent in the CAT converter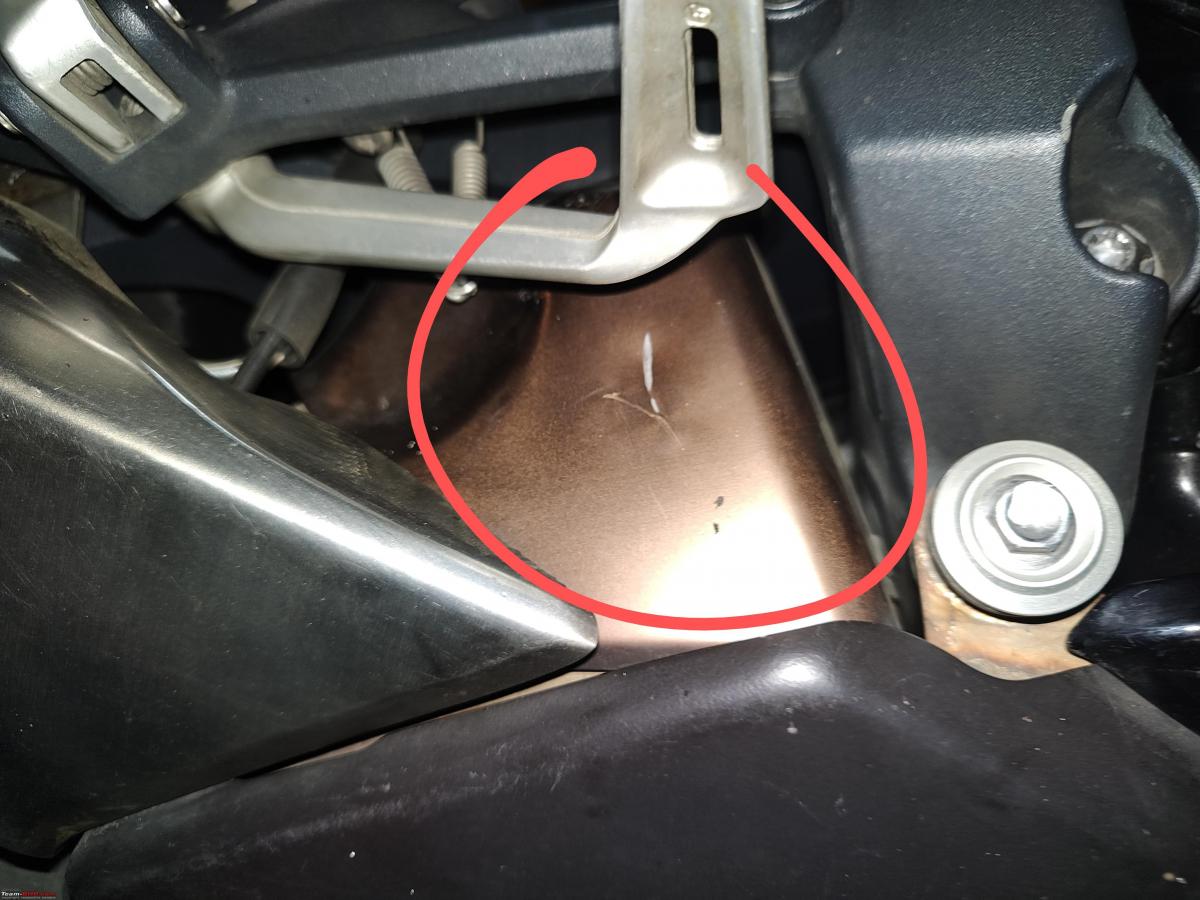 Lot of deep scratch marks all over the engine casing (seen without striping the fairings)
A battery was connected to the bike and the odometer read zero
The bike was started and the engine sound was okay at idling for a few minutes
They have lost the after-market radiator protector
I was told the bike is now in a run-in period for the next 1000km followed by service. I was asked to take a small test ride on the bike soon which I declined. The reason they are NOT sharing the list of the parts replaced is because they have replaced nothing except the spools and mirrors and they fraudulently claim to have replaced the tank, front seat, LHS / RHS fairing which they clearly haven't.
The engine work done is questionable and a query with no sharing of what was the work done or what parts were replaced. The excuse for NOT sharing the parts list is that the plant DOES NOT have the required software. And as usual for the 5th time Triumph India claims they have done everything that is required and as per my DEMANDS as this is a case of special interest to them.
SHAME on Triumph India
Here's what BHPian doga had to say about the matter:
I have been following this thread for a long time and cannot begin to imagine what you are going through. I am not able to understand why a fairly big company like Triumph does not just give you a brand-new engine and new fairings.

To me, it's a no-brainer. Any self-respecting brand would have done this ages ago. My guess is a new crank, cam, pistons, valves and crankcase with big ends, if you add up prices from a parts fiche on let's say, Fowler of Bristol website, would be roughly GBP 10k. Don't think both sides fairings would be more than GBP 1k combined? That's peanuts for them and this is the price you'd pay as an end customer.

For them, it's probably much cheaper. Is Triumph India's revenue/profits so lean that they can't cough up this much? Especially as they must be aware of the shoddy practices of this dealer.

I remember one of my riding friends from my time in the UK had bought a small adv/supermoto, then fairly new in the UK market, and was dailying it to work. The bike was holding up fine in the salt gritted winter roads but at the end of the winter season, he started having some oil leakages. He could simply walk into the dealership and basically return the bike claiming it was a lemon- no questions were asked.

I think we can also thank our toothless consumer protection laws for these kinds of horror stories.

I wish you good luck in your endeavour to get the bike back to its former glory.
Here's what BHPian gauravdgr8 had to say about the matter:
I was on the verge of finalizing a Tiger, and just then I read your thread. I ain't buying one when I cannot ensure future peace of mind.

Feels sad to see such a beauty in this shape. What was their reply when you countered with your observations?
Here's what BHPian Samarth 619 had to say about the matter:
Let me be honest.

I knew about this thread a long time ago, and I wished for the OP's problem to be solved at the earliest. And yet, here we are.

And a few days ago, I recommended Speed 400 (I admit it's no import/high capacity) to a member from this forum itself, because somehow in urgency, I forgot about this thread.

I don't think Triumph cares if a Tiger/Speed 1050 or two is sold less, because their Speed 400 is going to be their success, a success they definitely don't deserve after this episode.

And yet, here I am. Recommending Speed 400 on one thread, and dropping sympathy on another.

@accidental.doc Sincerely, sorry brother. No excuse can replace an apology where it's due.

Once again, I recommend Triumph to go with a solution that's customer-centric, not one suiting your situations. And you're free to make an ID and discuss this on the open forum, right here, if you disagree.

And I recommend everyone (& forgetful myself), (at least) not to recommend Triumph in any way until they've sorted this. You can choose to be neutral if you can't say negative, right?
Check out BHPian comments for more insights and information.
Source: Read Full Article