Did DIY ceramic coating on my new Tata Nexon: Results & my learnings
The final output was seen after five days, the real glow is visible with a mirror effect. The hydrophobic effect is great in the beginning and gradually loses its effectiveness.
BHPian Rhinox~Cnu recently shared this with other enthusiasts.
In May 2022, I brought a new Tata Nexon KZA diesel MT. On completing the post-delivery formalities, I wanted to experiment with ceramic coating on my new car. Since I got my first car in 2010, I was habituated to cleaning and polishing on my own, at least once in every quarter.
Meantime in the waiting period, I visited few detailing outlets to enquire about the ceramic coating. The quotes seem high ranging from 25K to 45K for a compact SUV, and we need to surrender the vehicle twice in a year for regular maintenance. The local authorized Tata dealership quoted 25K for Nexon with three post-visits for every six months.
After qualitative research on graphene coating products and their application, found the 10H is best and bit expensive but, more effective than 9H. The 10H ceramic offers high gloss, last long and can also be applied on windshield and other glass areas. I decided to go for Weiruixin 10H Ceramic Coating 3.0 offered with two years warranty. It is available on Amazon India, we need to submit our ID proof while placing the order and will take 2-3 weeks for shipment from New York.
Weiruixin 10H Ceramic Coat – Inside box: ceramic coating 50ml, applicator sponge, application clothes 5pcs, wiping towel, protective gloves, and user manual.

Preferred products:
Weiruixin 10H ceramic coat
Car shampoo
Scratch or swirl marks remover
Isopropyl alcohol (or) Clay bar
Car wax polish
Foam pad and microfiber cloths
First coat:
This is my first attempt, took two days to complete. First day spent for the whole cleaning process: Washed the car with shampoo, cleaned the surface with clay bar on wet and then wiped it with a dry microfiber cloth to remove water droplets on paint.
Applied scratch & swirl remover wherever needed and rubbed gently with a microfiber cloth to remove the swirl marks. The probability of swirl marks is less for a new car compared to an old one.
Polished the car with ceramic infused paste wax (not sure whether it really put up with ceramic properties or a marketing strategy) from Auto Bros and left it for complete dry. Note: Buff it with a microfiber cloth thoroughly till the wax is fully settled, leave it for min 3hrs to get absorbed and dry.
Next day, cleaned the scattered dust particles with a dry cloth and once again buffed the surface before applying the ceramic coat. First coated on the main paint elements – hood, fenders, doors, boot lid, and bumpers.
How to apply – Wrap the cloth over coating sponge and put 3-4 drops of coat liquid on the cloth. Starting with hood, spread the liquid on half portion of hood first by applying in straight lines horizontally and then vertically to cover the gaps. Then coat the second half of hood in similar style, meanwhile the first half will get dry (it takes 5min to dry) and buff the coated surface in circular motion using the wiping towel.
Always clean the surface with a dry cloth before applying the coat and change the applicator cloth when it becomes hard.
By repeating the above procedure, I completed coating the whole car including alloy wheels except the roof.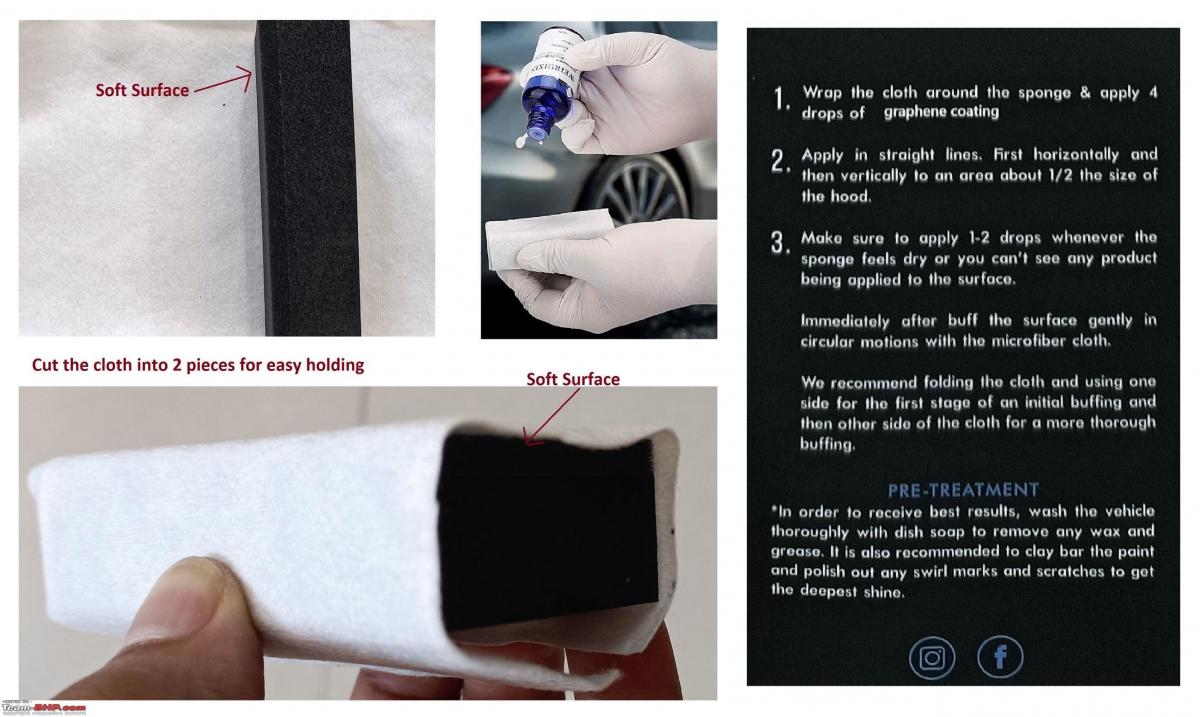 Second coat:
Planned after three months of first coat and was able to finish it in one day. This time I restricted the cleaning process, washed the car with shampoo and later cleaned the surface with isopropyl alcohol (mix isopropyl alcohol and water at 1:3 ratio in a spray bottle). Cleansed with water again and wiped with a dry microfiber cloth to remove water droplets on paint. Then polished the car with ceramic infused paste wax, pre-ordered from Auto Bros for long-term use. On confirming the wax is fully absorbed and the surface is totally dry, I started second layer of graphene coating. The application process is identical but, use a new microfiber towel for wiping the coat. This time I ended with coating the shiny interior parts.
Glass area:
I coated 3 layers on outside and 2 coats on inside of the windshield, sunroof, rear and on all window glass at three different intervals. This helped to enrich the looks of my car, kept cool inside under hot sun, and save money form sun films.
Provisions and outcome:
Prevent the car from dust and touching the coated surface for the first 2 days. Make sure not to wash/water/raining/wet the coated car for at least 1 week. The final output was seen after five days, the real glow is visible with a mirror effect. The hydrophobic effect is great in the beginning and gradually loses its effectiveness. For longevity, it is better to avoid pressure wash unless it is mandatory. The Weiruixin 10H 50ml bottle is sufficient for complete two coats excluding the roof area.
Product & price details:
Weiruixin 10H Ceramic Coating 3.0 High Gloss – from Amazon India – Cost: Rs. 4320 (include bank discount)
Isopropyl Alcohol (Surgical Spirit IP) – from local drug store – Cost: Rs. 60
Auto Bros 11Pcs Car Care Kit – from Auto Bros website – Cost: Rs. 1250
Kit includes – car shampoo, scratch & swirl remover, liquid wax polish & sealant, dashboard & leather conditioner, wind shield washer fluid, foam pad applicators (3 pcs) and microfiber cloths (2 Pcs)
Auto Bros Paste Wax Infused with Ceramic 100g – from Amazon India – Cost: Rs. 625 (include bank discount)
Auto Bros detailing kit & wax polish – procured for long-term maintenance of the car.
Second day after second coat:
Five months later second coat: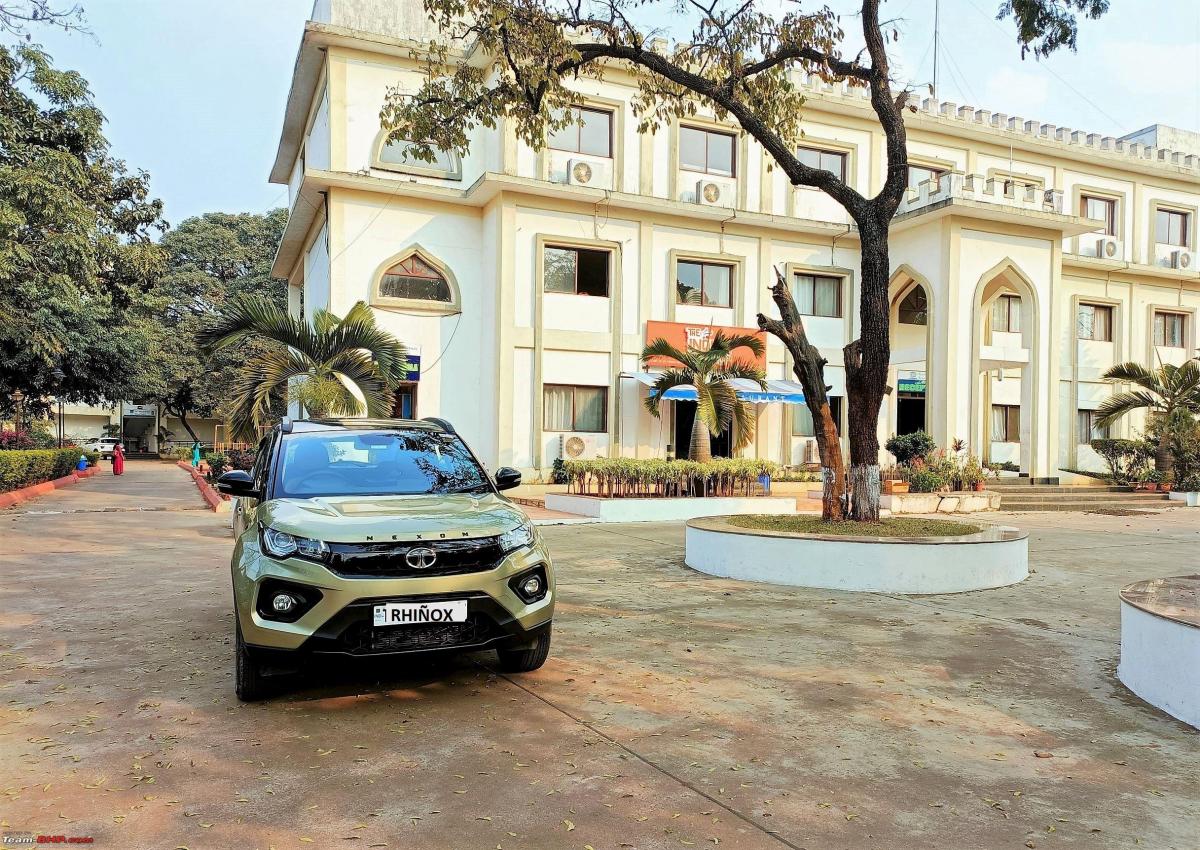 Was it worth it?
Overall, in nine months of observation, I felt it's worth it. The Weiruixin 10H ceramic coating does the job and cut the extra costs. It enhances the looks of car in glossy shine, prevents from direct sun rays, restrict light scratches, keeps cool inside, easy to clean and protects the paint.
Hope this may be helpful for someone fascinated on DIY culture. For more pictures of the car, you may refer to my initial ownership review.
Check out BHPian comments for more insights and information.
Source: Read Full Article