Brought home my first car; a Hyundai i20 N Line
I test drove the normal one with DCT, and the N Line. The N Line felt different. Whatever Hyundai did with the suspension and steering, they did it right.
BHPian icestrok recently shared this with other enthusiasts.
Had an amazing 2-3 weeks with the car. Here is a summary of my journey so far.
TL;DR -> Got my first car, I'm really happy.
I've never owned a car, I'm in my early 30s now and kept pushing back the decision. Used to stalk team-bhp and live vicariously though the experience of the folks here.
Technically I bought my first car a few years ago, a Creta for my dad, I only drove it a couple of times, I have a paranoia of using things that belong to others, even if its family.
Background:
Quite recently I was given an option to migrate to Europe, pre-covid I probably would have taken this up without a second thought, but I'm finally back home with my family after 14 years away from them and it hit me that my parents have gotten old. It didnt feel right at some level to move further away at this point, so I made the decision to turn down the offer and stay in India.
I wanted to reinforce my decision of "settling down" in India with something on my bucket list, my very own car. Every kid dreams of having their own car, I got my license at 18 but with a mix of not being home and not having my own car, i never really drove much unless I had to do it. This was my chance to take up the next big step in my life. So, I visited the bank the very next day of my earlier mentioned career decision and asked the manager about my options. The response was really good and a lot of options were opened up.
The Decision:
Which car? Which car? Oh my god, which car?
The very first day after running the numbers I settled on 2 options:
Jeep Compass Model S (O) 1.4 Petrol DCT.
MG ZS EV.
In addition to this, I did fleetingly consider an Audi but tracked back immediately. The one car I would have bought regardless of any situation was the Honda Civic but i saw that it was discontinued.
MG had to be taken out of the running because post Covid I may be commuting a lot between Bangalore and Kochi and my faith in EV is not there yet. So the option was Jeep, everything was perfect in my eyes.
The Change:
I have a little sister who means the world to me, her wedding is next year and I wanted it to ensure that there are no financial constraints. With the way the current stock market is dipping for tech, and Covid related uncertainties, an inner voice started to develop asking me if I really need an expensive car at this point in my life.
For reference, I am unmarried, this car is purely for me, we do have the Creta as a family car that my Dad/sister drive around.
The thought was reinforced when I realized that I have zero ideas about the running cost of a car, since I have never owned one, I didn't know what comes next.
With this thought process, I grudgingly told my bank that the Compass plan is dropped and I want something below 20L (They were not happy ) .
I was not interested in the Seltos or Creta or one of the sedans (City, Verna). I always held a soft spot for hatchbacks because of the sheer amount of fun I had just on the passenger seat of a Fabia almost a decade ago.
Now the option was clear, i20 N line Or Polo GT TSI.
To Polo or Nopolo:
No DSG anymore, 9 months waiting minimum, they seem to refuse to bring the new models here (Just wait, now that I bought a car, they will release the new one shortly).
i20 N Line:
I test drove the normal one with DCT, and the N Line. The N Line felt different. Whatever Hyundai did with the suspension and steering, they did it right. I had an absolute hoot driving it and confirmed it when the test drive was done.
The judgement:
I wanted to keep the news under wraps but it spread to my extended family, and the inevitable questions came with it:
Why spend 14L on a hatchback?
Why don't you get a Seltos like an adult?
You need a big car.
I responded with my mix of sarcastic humor and patented skill of avoiding any uncomfortable conversations. My immediate family, ie parents, sister, they were happy with the choice.
The colourful conundrum:
So the car is finalized, I wanted delivery 1 week before Christmas (more on why later), but what colour? I do wish they made a Piano Black N Line with blue accents but they don't. My first option was Titan Grey which was shot down by the dealer because it had a 2 month waiting period. Second option was White, fallback was Red.
When I went to see the white car in the compound I saw a Titan Grey there as well. I asked them if I can take that to which the sales person (SP) said No.
Me : Please.
SP : No.
Me : Seriously, Please.
SP : Let me check.
Turns out this one was already booked, but the prospective customer was having issues with the bank and was having trouble getting the payment. Hyundai had given a sort of ultimatum from what I understood.
Anyways, two days later I get a call that the Titan Grey is mine if I want it. Hell YES !
Colour conundrum solved. At this moment, my power level was OVER 9000!!!
The Delivery:
PDI done, waiting for delivery. The car was 10 minutes from my house but I could not get it because they don't allow temp registrations anymore. I went everyday to see the car.
Finally the number was ready and I could take delivery. Here come the pictures:
The delivery experience was smooth, but the first ride was anything but. For some reason, they forgot to reduce the tyre pressure. Here I am driving back home 50+ PSI on each tyre.
I could feel the road in my hands.
Got that fixed, I had 5 hours left that day and I went around with the car just having some fun and feeling like an absolute child (or chad).
1 week left for Christmas now, as I mentioned earlier, I needed the car a week before Christmas and this is why.
Bills, Bills & more BILLS.
Next day morning I drove to Autostarke to get some work done. The overall time frame for the work was 5 – 6 days. Here is a list of the work that was done:
Feynlab Ceramic Ultra Coating.
3M Under Body Coating.
7D Matt Black floor mats.
Changed the stock horn.
Two Roav dash cam C1.
Some more pictures.
This one is courtesy of Autostarke: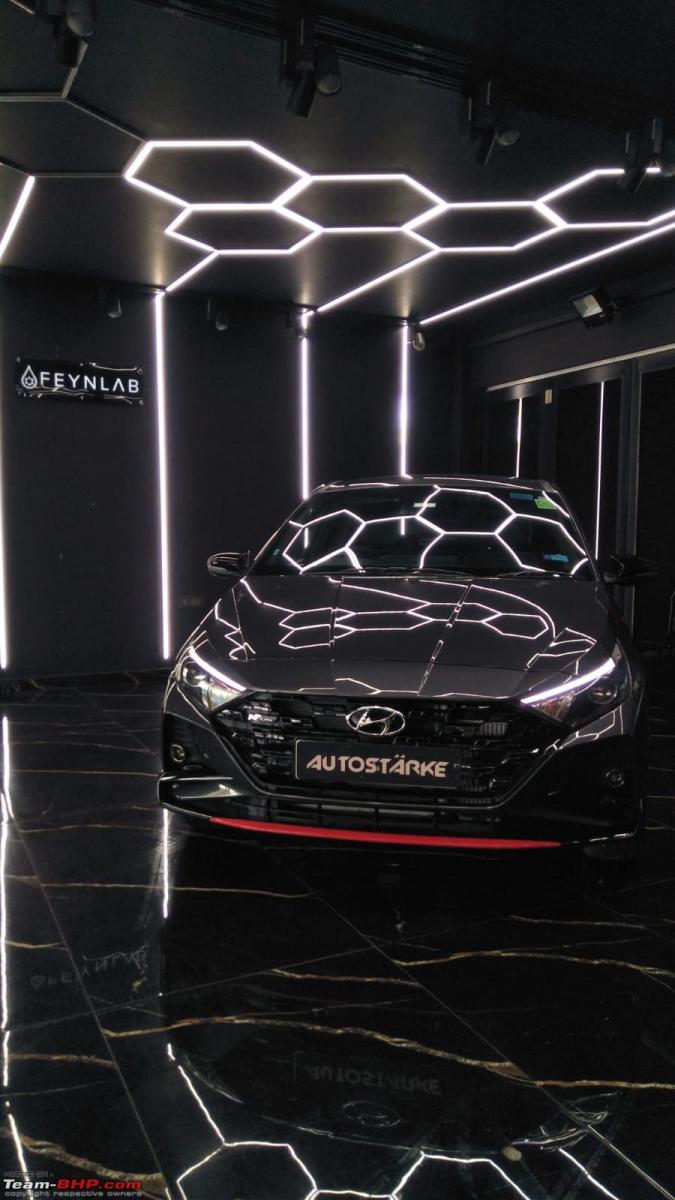 Took these once I got back home.
7D Mats:
New Tyres: On the way back from Autostarke, I had prepared for switching out the tyres. If you look past at my post history, you will see the sheer level of confusion I had. I finally settled for Michelin Pilot Sport 4 205/50.
Short Review on these (400km) -> Amazing. A lot of grip and feels so much better than the stock ones: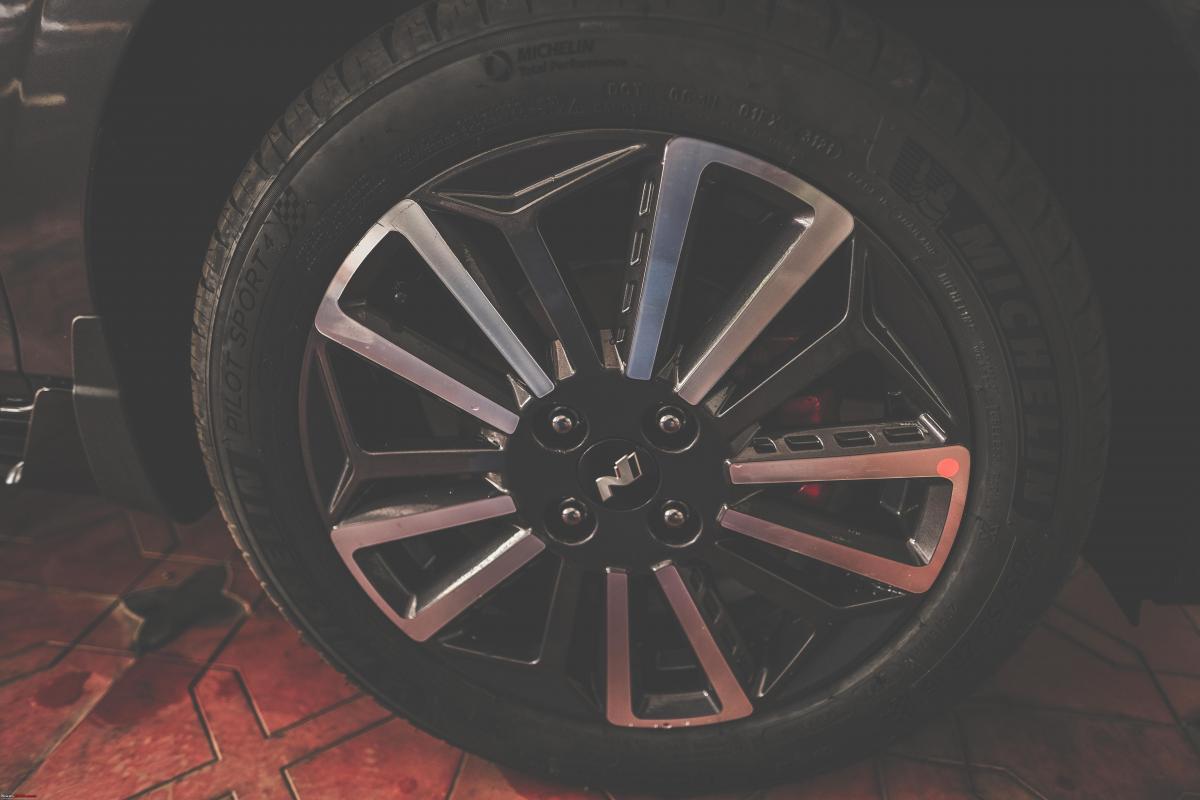 Drive Observations:
I'm almost at 600 kms now and I'm loving it. I absolutely love how compact the car feels, parking, city driving is a bliss. For a noob like me, the car offers plenty of power.
1-2 has a slight lag but that's about it.
Sport Mode with paddle shifters makes me feel like the Stig. The sheer amount of features is overwhelming. I printed out the manual and it is as big as my final year project documentation. Bluelink is a hit or miss in certain areas, but the one I'm most interested in is the car status and that works like a charm.
I got a neck rest, couple of ESR HaloLocks, a PD car charger. Been using XP95 from COCO so far.
I wish I could detail out how good it felt, but I am very new at this, all I can say is I feel good driving around and It kinda moves the way I want it to. Im eagerly waiting each day for the work to get over to go out for a 30 min drive.
Thank You for reading so far I hope to put some nice travelogues here as time passes by. I want to thank everyone here for giving me some valuable tips and advice. It has been fun, and I hope to continue the interaction.
One last pic:
Ciao.
Check out BHPian comments for more insights and information.
Source: Read Full Article