Brought home a Tiago EV for my wife: 4 pros & 2 cons after a month
My Electricity bill has increased only by about 500 Rupees for almost 800 Km of driving + charge taken by the Ola S1 pro Scooter.
BHPian Aceman82 recently shared this with other enthusiasts.
Got my Tiago EV Tech Lux pack last month for my better half. Wanted to spend a month with the car before penning my thoughts.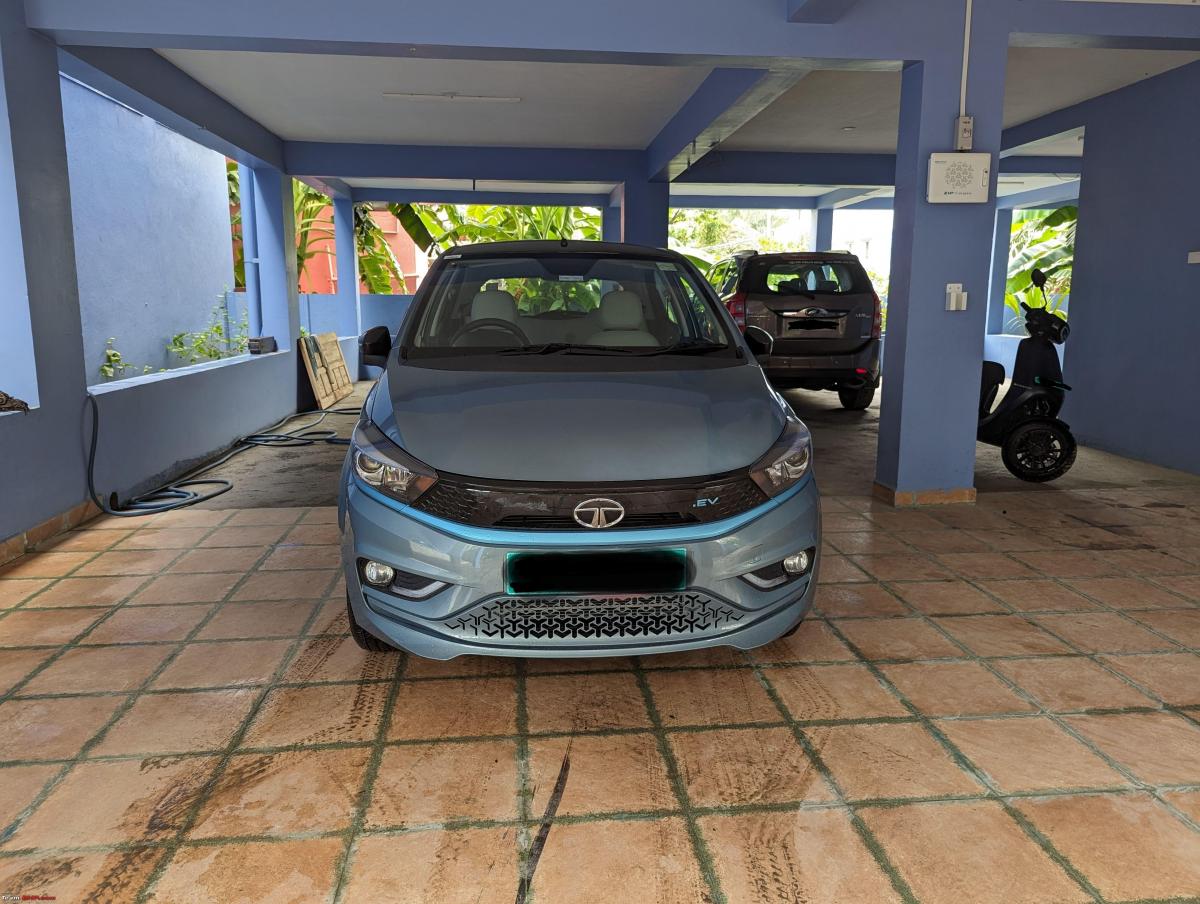 Pros:
Amazing NVH: Cannot being to describe how amazing the lack of noise (or) any vibrations feels in the car. Even luxury ICE engine cars cannot come close. I find the Tiago's NVH as good (or) beter than my sisters superb. Its now a pleasure to listen to Audiobooks with minimal volume and peacefully sit in traffic. Driving the XUV500 now feels like i am driving an industrial equipment (or) an tractor for that matter. XUV500 is now almost un-used and would be used only for really long drives.
If 'built to cost' EV car is this good, this gets me thinking on what USP will luxury brands have to differentiate ? It can only be software & bigger batteries as there is not much to differentiate on the core 'car' experience.
Use as portable AC unit: This is one of intangible benefits in running a EV car for which one needs to own an EV to experience. With the XUV500, there is always a question of "Should i come inside for shop just for AC and act interested in whats happening, or just give the credit card, let the car idle with AC and stay in the car". Now i can have small sleep with AC on without any worries (or) pestering my family on when shopping will be done. No amount of excel sheet calculation can capture these benefits .
Excellent torque: EV cars torque delivery is immediate. The ramp to my parking is a steep 4 feet incline (had over engineered this). My XUV500 cannot climb up the ramp in reverse and have to floor the throttle to climb up in the forward direction. With the Superb, one needs to be careful to not hit the front bumper overhang, and floor the throttle. With the Tiago EV, reverse climbing is not an issue (as you can see from the image), forward, side (or) any angle works with minimal throttle, and its able to climb up without a even a wheel spin. In city driving, the torque is just additive, almost like an go-kart.
Low cost of running: My EB bill has increased only by ~500 Rupees for almost 800 Km of driving + charge taken by the Ola S1 pro Scooter. Planning on keeping a 10-15 Kva Gird connected solar panel so that it will basically be zero cost to drive the car. This also has the added benefit of not worrying about E10/E20, emission norms, taxes, not buying oil sourced from conflict areas & indirectly play a part in perpetuating invasion (however miniscule) and its green for the environment.
Cons:
Poor QC from Tata: Considering that this is the 21st century, I have rigours requirements from a new car like the doors should open (or) close properly, fuel/charge lid will open/close when needed…etc.
Unfortunately, within one month of having this car, the 'right rear door' does not open properly from the outside, and the 'left rear door 'does not open properly from inside (7/10 times).
In-addition, the fuel/charge flap did not open. The car had 15% charge left, and wanted to charge but the flap was stuck. Had to run to a nearby Tata service centre with just 8% charge remaining, who first refused to touch the EV car since its a not 'EV' authorised service centre. After explaining that the car will literally run of battery before reaching the 'EV' centre, they finally relented and fixed the charger flap but no job card as they are not 'allowed' to work on Tiago EV.
Doors, i can live with it and fix in the first service, but the charge flap not opening in a brand new car which was less than a month is not cool. Almost half a day was wasted in waiting for a service centre to open, running with limited charge and finally fighting to fix the issue. This really shakes the confidence on the Tata brand and the kind of Quality assurance which is being done.
Had faced such issues the Indica which i had owned ~2 decades prior and assumed that Tata motors would have come a long way in QC since then.
Apollo tyres are terrible: I guess there are low friction tyres, but they seem to have no friction. They lose traction fast, got one puncture within the first month and its overall terrible (my first puncture on more than a decade, which included cross India trips in Xuv500, Linea and Skoda) . Would have loved to get the Tiago EV with 15inch Alloys and proper tyres.
Read BHPian comments for more insights and information.
Source: Read Full Article