Bought a used Suzuki Alto in Berlin: Ownership & driving experience
Every drive in it so far has offered new learning about German driving rules, Berlin's exceptions to those rules, and car ownership outside India.
BHPian vigneshg recently shared this with other enthusiasts.
A short story of how I bought my first car—a used Suzuki Alto (A-Star)—in Berlin:
Introduction
Like many of you, I'm a permanent fly on this massive wall that is Team-BHP. I love reading your reviews and travelogues. I don't contribute as much or as frequently as I'd like to, but I like to think I'm still every bit a BHPian. I love driving responsibly and sharing the joys and pains of car ownership with a community. The last time I wrote here was to report on the retrofitted LED daytime running lights of my Maruti Suzuki Estilo (LED Fog Lamps as DRLs). That was nearly a full decade ago, when I was still living in Bangalore, in college, and had the time to experiment. Since then, I've graduated twice, found (and lost) many jobs, married the love of my life, sold my dearest Estilo and moved to Berlin for work.
It took me the better part of a full year to convert my Indian driving licence to a German one because the conversion process is excruciatingly long and complex, but that's a story I'll save for another post. In fact, sharing my experience might help newcomers to Germany. For now, I'll share my experience of buying my first car in Germany.
Addressing the desire to buy a car
Berlin's public transportation network is vast, and you can get to most places within the large city without ever relying on a car. Besides, parking in the city centre is next to impossible, and of late there's been ample display of rage from climate activists. That's why 95% of my colleagues, friends, and neighbours dissuaded me from buying a car. Making the purchase less justifiable are the many easy car-sharing options (from Miles, Bolt, etc.), which allow you to rent a car from the city streets for something like €1–2 per kilometre. Logically speaking, you never need to buy a car.
But after selling my Estilo, I was itching to get behind the wheel of a suitable replacement. I wasn't looking for anything fancy: just a much shorter hatchback with a peppy motor and a manual gearbox. With cars quickly becoming increasingly digital and electric—rental ones especially, I wanted to spend my 30s still effortlessly clutching in and out and shifting swiftly through straights and bends. For all we know, my next car might not offer this mechanical thrill. So I decided to stand firm on my desire to buy my own car in Berlin.
Picking a car and dealer
I knew I wanted my first purchase to be a used car so I get enough practice driving the German way and spend less on insurance. For about three months I oscillated between models that fulfill driving pleasure and practicality. Every day I would spend my commuting hours browsing AutoScout24, mobile.de, and Kleinanzeigen (the classifieds). My heart warmed at the sight of a Volvo V40, BMW 118i, and the Suzuki SX4 hatchback. Meanwhile, my wallet preferred the likes of the Toyota Aygo (aka Peugeot 108 and Citroen C1), Kia Picanto, and Fiat Panda.
I was open to buying from both private sellers and used car dealers (Autohändler), but I was keenly aware of the risks of both. With private, you can be very right or very wrong, depending on how good a judge of character and car you are. If you're right, you drive away with a very good deal. With dealers, you pay up to €1500 more, but you rest assured that you get a 6-month guarantee on the motor and gearbox, even if it's mostly a placebo.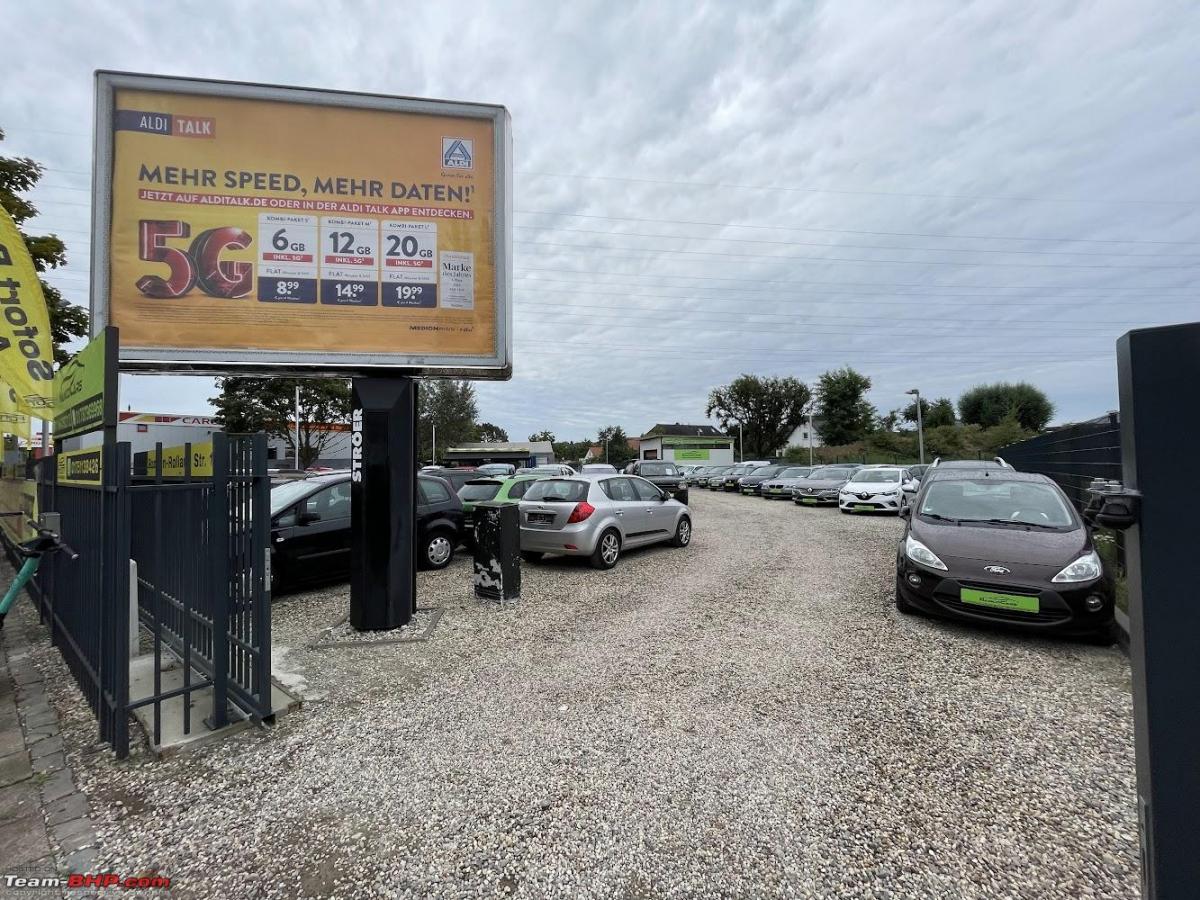 I came close to sealing the deal on a Ford Ka (private, 2004, 160,000km, €1400) and later a Subaru Justy—basically a Perodua Myvi with a bulletproof 1L Toyota motor—(dealer-sold, 2009, 100,000, €3890), but somehow I just couldn't bring myself to do it. I was really torn between the two types of sellers, and I just wasn't sure how reckless this transaction was. Some personal commitments also took priority, and the offers just slipped away. A week or two before my birthday in September, I grew tired of comparing offers and sellers, so I just went for the most sensible-looking option at that point: a Suzuki Alto, first registered in 2010 with 100,000 km on the clock.

Finding the Alto
The Suzuki Alto sold in Europe is basically the Maruti Suzuki A-Star with a beefed-up safety kit. Between 2008 and 2014, A-Stars were manufactured at Maruti's Manesar plant and shipped through the Mundra port to be sold in various European countries as the Suzuki Alto and Nissan Pixo. Having grown up around mostly Suzuki cars, I felt comfortable at the thought of making the Alto my first car in Germany. The car would carry me and my wife most of the time, so the poor rear legroom and small boot did not deter me. After my Estilo, I wanted a break from tallboy models, so I was happy the Alto wasn't one. However, I had to make my peace with the Alto's modest 1L K10B 3-cylinder motor. The consolation was the ~5L/100km (20km/l) fuel efficiency rating.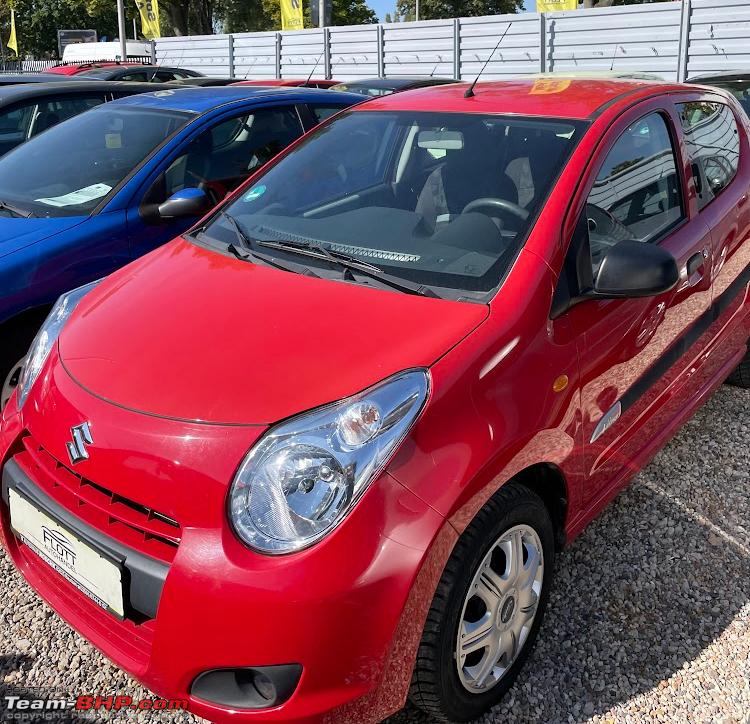 The dealer at Flott Autohandel was asking for €3900 for the A-Star. A busy man attending to tens of visiting customers, the dealer allowed me to take a test drive of the A-Star. After a quick spin, I came back mostly happy. I went through the car's service history book, and nothing seemed particularly off. That said, it had some repainting and scratches here and there. I informed him of a few glitches (faulty front left indicator, depleted battery on the key fob, etc.). He said he would need two weeks to prep the car and have his mechanic fix the niggles. He would give it a full inspection, change the engine oil, get the biannual fitness and emission tests (Hauptuntersuchung and Abgasuntersuchung) done, and register it in my name with a preferred number. His registration fee was €150. Mostly convinced with this offer, I said yes, and I signed the contract to buy the Alto. I paid €1000 as a deposit.
Collecting the Alto
Two weeks later, after wrapping up work early on a Friday, I went to pick up the Alto. I was both excited and nervous. Car deliveries in India make you feel special like you've really earned your wheels. I was slightly disappointed by the absence of any celebration or warmth. The dealer was busy with many other tasks. He had just about enough time and patience to walk me through the money transfer process for the remainder of the amount and to hand over the keys.
I know I can't expect much fuss over a used hatchback. Still, I'd have appreciated a little more attention and care from the dealer. Going by the way he behaved through the entire process I may as well have gone there to pick up a used vacuum cleaner. This is one cultural difference that's hard to ignore.
Fixing the Alto
The initial days with the Alto were a bit tense. I was somehow more concerned than happy. The battery seemed weak and the engine's idle speed felt low. I got a free battery check done from a nearby workshop chain, where they assured me the battery was fine. Another A-Star owner told me the idle speed was lowered for European emission norms. It was perhaps a matter of getting used to it. I also had to find a good insurance package. Luckily, the insurance broker the car dealer had referred me to gave me a good deal in the form of Allianz car insurance and ARAG legal protection insurance.
The front left indicator was still not working, and the battery on the key fob hadn't been replaced. Despite many heated phone calls to the dealer and a visit to his mechanic's workshop, I couldn't get them fixed. The CR1616 battery for the key fob wasn't easily available, and the dealer's mechanic said he'd have to call in an external electrician for the front left indicator. It was diagnosed as a case of damaged wiring. The dealer was ready to pay the electrician's bill if I could find an electrician myself.
Fortunately, both faults saw an easy resolution in good time. The key repairman near my home had the replacement battery for the key fob and charged me €5 for the replacement. After some research, I made a visit to Acit Autocenter (an unofficial Suzuki and Lada service partner), where a slightly elderly mechanic patiently attended to the wiring issue with the left indicator. He not only carefully soldered some broken wires but also didn't take any money for it. Given that Acit Autocenter has been my most positive experience with car service so far, I'm definitely returning to them for future repairs and regular services.
Living with the Alto
It's been a month since I eagerly (and trepidatiously) brought home the Alto. My wife and I have so far taken it around the city (weekly trips around the nearby areas of Treptow and Kreuzberg, to the Berlin-Brandenburg airport a few times, and to Wustermark). We also made a day trip to the nearby city of Cottbus. We have yet to plan a longer drive. Every drive in it so far has offered new learning about German driving rules, Berlin's exceptions to those rules, and car ownership outside India. There are still plenty of things that are new to me, including refueling the car and checking the tire pressure myself. With time, I'm sure I'll become habituated to these things. I hope to report again soon with updates on the Alto. Below are some pictures of the Alto. Cheers!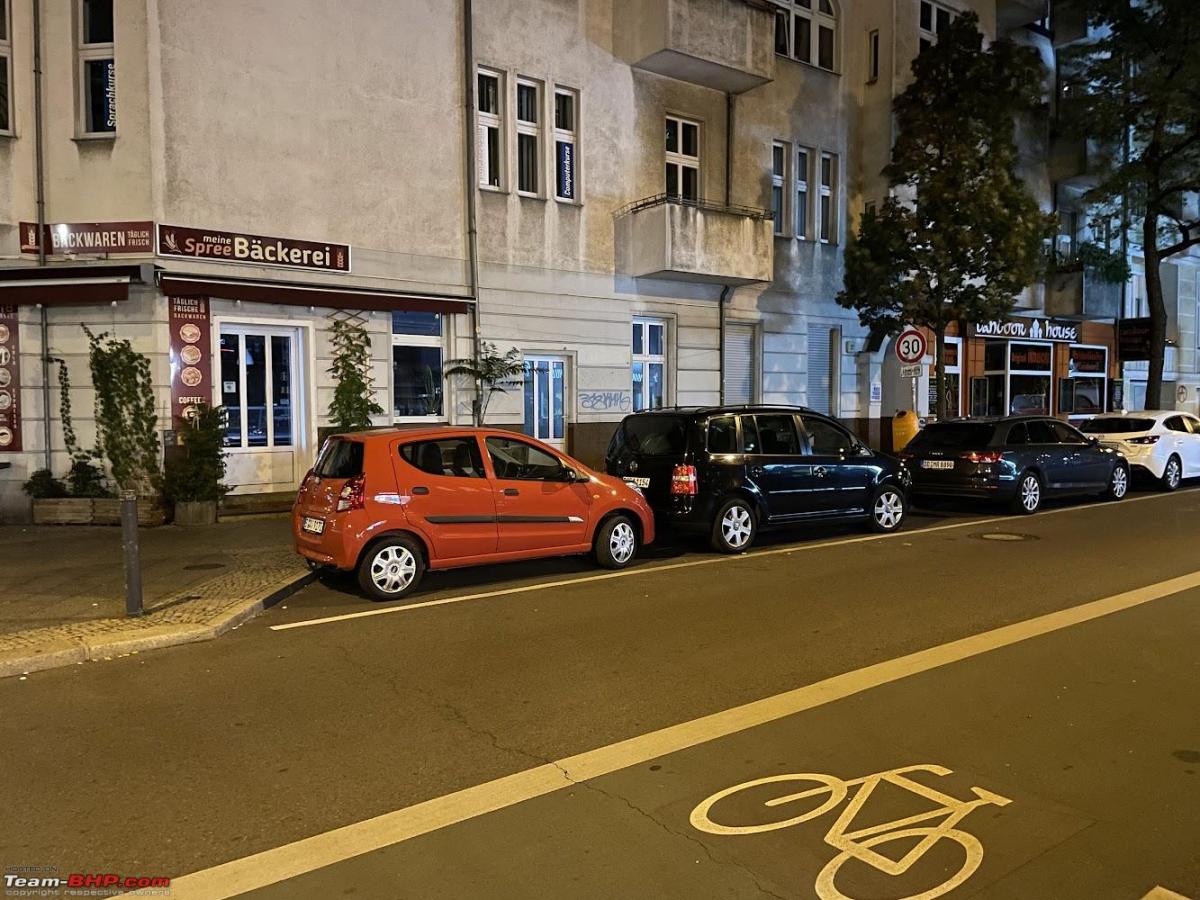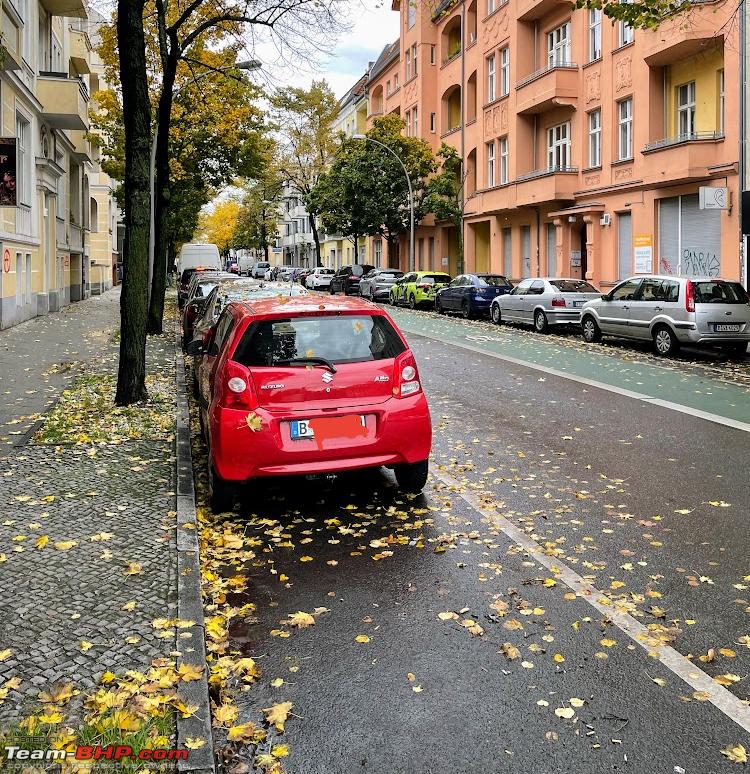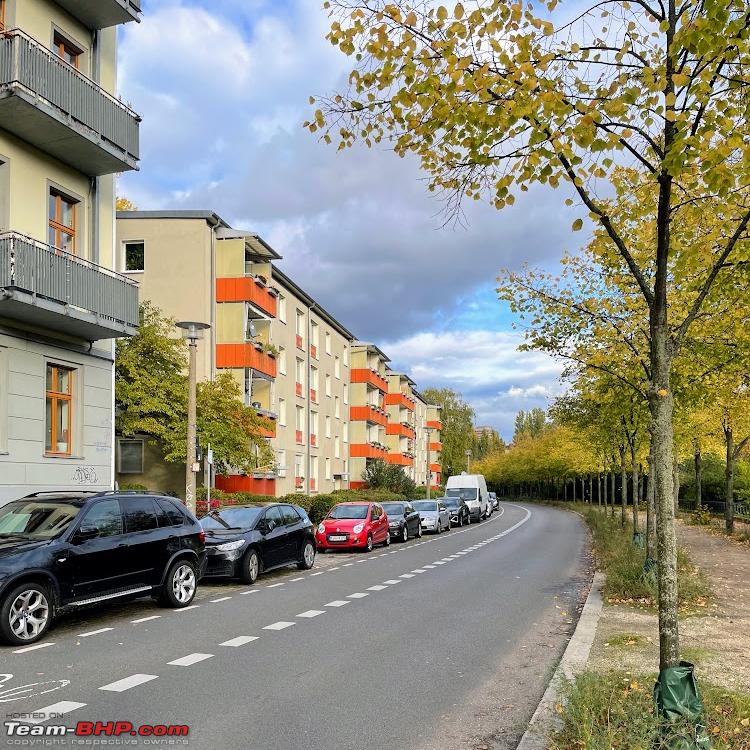 Check out BHPian comments for more insights and information.
Source: Read Full Article