Bought a used Kawasaki Ninja 650 as an upgrade to my BMW G 310 RR
I checked out multiple motorcycles online like the Royal Enfield Scram 411, Interceptor 650, Z900 and a few other Triumph and Honda models.
BHPian anandkumargb recently shared this with other enthusiasts.
Recently I sold my BMW 310 RR. I hardly used it for a year; rode less than 2k kms. It was a good bike, sans the clunky gear shifts but I soon developed an itch to upgrade. My work needs me to use a car all weekdays. I only get to ride on Sundays, that too for household chores.
I have been a biker in my younger days, riding Suzuki Shogun, Yamaha RX 100, Yezdi Classic. I have done some TSD rallies and some wheelies in my heydays. So, Ride or not, a bike has to be parked in the garage; that's been a non-negotiable thumb rule with me.
After selling the BMW, the big question was which bike to buy now.
Budget was flexible; options were plenty. I basically wanted to go the pre-owned route for the value it offers and started spending hours on OLX. My shortlists were Scram 411, Interceptor, Z900, Triumphs, Honda 650 CBRs. Basically, I had no clarity on which bike I wanted. Sad part is that I get this clarity as soon as I buy a bike. Buyer's remorse always! Including this buy.
Scram because it offers good suspension and Interceptor because it has 47 horses. Test drove both and both failed to impress me. Former was underpowered, and latter was too heavy.
Then test rode the Triumph Trident and Tiger 660. I was mighty impressed with both bikes. They were fast and lightweight. I believe only Triumph bikes offer this rare combination. Every other bike, if it is fast, it has to be heavy. Anyway, I wasn't mentally ready to spend 10 lakhs for a bike just yet, maybe a few years down the lane.
My requirements were, the bike needs to be powerful, lightweight, good suspension.
Stumbled upon this AD on OLX of Ninja 650 2018 Nov model, Single owner, done 3700 kms. Did some homework and found the bike to be genuine; bargained a bit and closed the deal at a fair price. I bought myself a 2018 Ninja 650 KRT edition. It has run just 3700 kms in the last 4 years. Pristine condition and all service records in place.
After riding it for a few days, I felt I made a mistake buying this bike (Buyer's remorse). The reason being, I ride only in the city and the bike scraps its belly on some road humps. Never thought that ground clearance would be an issue with Bikes. I always thought Civics, Ford Figos had this issue. Guess, I didn't research enough about this bike. Versys 650 is what I needed in retrospect.
So much power and no proper roads in the city to ride. I am not the kind of a guy who rides out of town just for the sake of riding (started now).
Even though it had run just 200 kms after the previous service, a year had passed. So, got it serviced from Kawasaki, paid 6.5k and got peace of mind.
Recently went for a solo breakfast ride to Swati Delicacy on Hassan Road, 100 kms from Bangalore. This is the most frequented road by superbikes and supercars on weekends. I got to experience the bike and all its strengths and glory. The bike has plenty of juice even at higher speeds. All this adventure wearing just a T-shirt, jeans and helmet. Came back home and immediately bought a Rynox Tornado jacket and gloves.
Here is my take on the bike:
Positives
Negatives
I got an almost new bike at half the sticker price; me happy!
But If I could go back in time, I would buy myself a Kawasaki Versys or Triumph Tiger 660.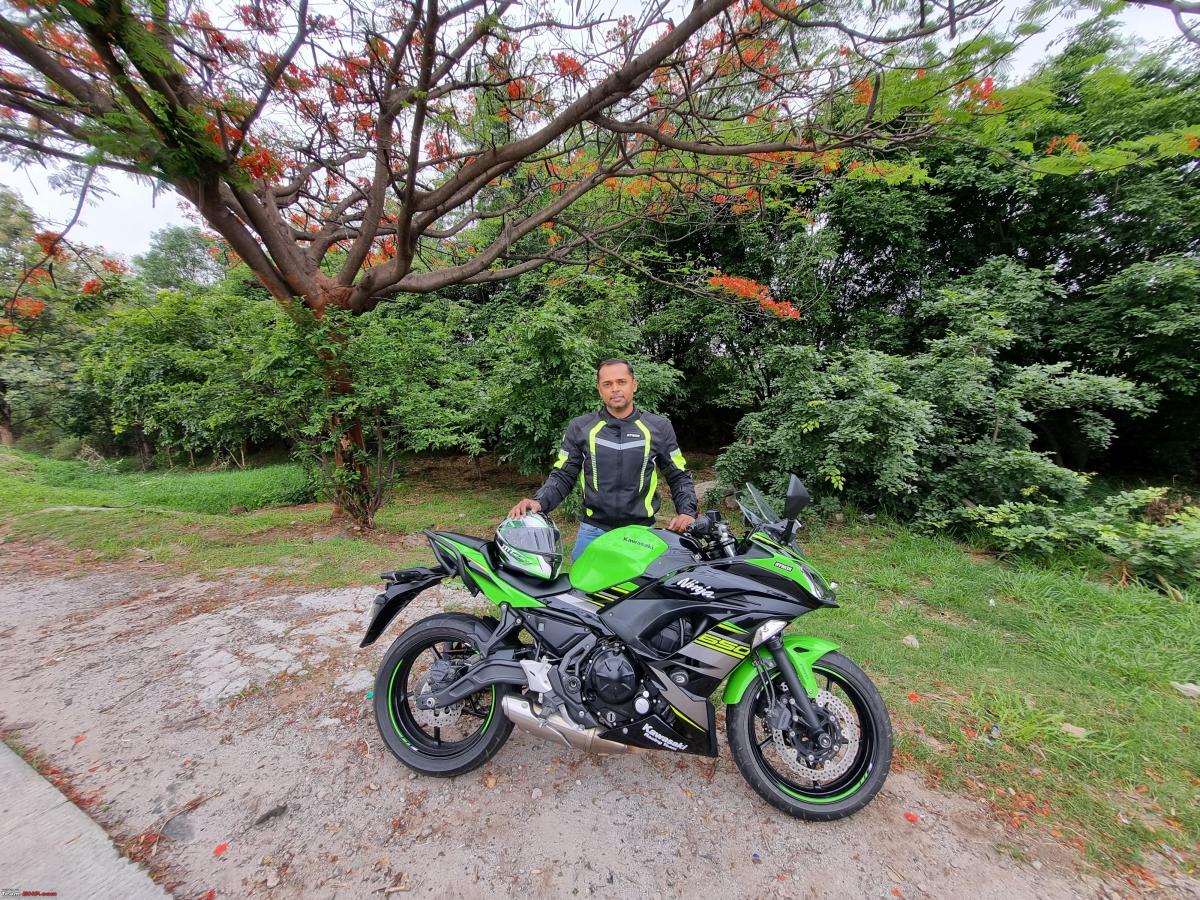 Check out BHPian comments for more insights and information.
Source: Read Full Article