BMW\u2019s iDrive 8 Offers a Customizable Experience\u2014and Talking Light Spheres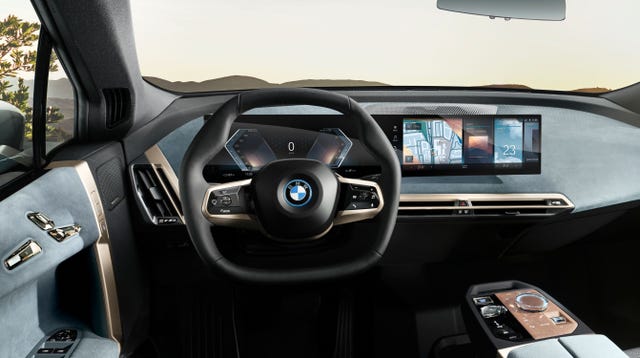 Twenty years ago, designer Chris Bangle introduced the very first BMW iDrive, the human-machine interface that lets you access all of your BMW's electronic and infotainment features through one handy medium.
"We had to do this," Bangle said. "Otherwise, the cabin would start to look like a Gemini spacecraft."
You know, with lots of switches and things all over the place. The problem was, and is, that modern cars have so many functions to control and parameters to set that you couldn't possibly make enough buttons to manage each one. So you route all those controls through a single, central screen that is itself controlled by a big, fat dial, or by touching points on the screen, or even by scrolling a roller on the steering wheel. You can even talk to it, "Hey BMW, play artist Mott the Hoople."
In the 20 years since the world first saw an iDrive, there have been eight versions of it, each, supposedly, getting better and easier to use. Does this one follow the trend? Is it better than the previous seven? Yes, mostly, but if you buy a Bimmer, be sure to spend at least an hour or maybe a day or two with your dealer's iDrive product expert learning how to use it, or at least setting it up to your liking, because it's not necessarily intuitive right off the bat. In fact, a lot of it doesn't seem to make any sense even when reading straight from the directions. Just like that time you had to transition from a typewriter to a laptop, then from one laptop to the next, then from whatever operating system had been deemed the best ever for that week to whatever some guy in IT said was the next great thing, the more you know about how it all works, the more likely you are to like it.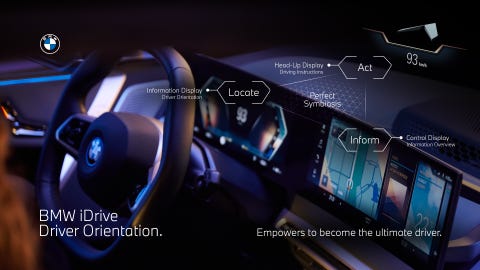 First, the screen: It is lovely, bending like a physics textbook drawing of curved, finite space, wrapping from the driver display with its various speedo and tach configurations, out to the infotainment that takes up the right half. You can set it all up to your liking, displaying whatever you think is most important, then it allows you to swipe right or left to access still more customized screens of data pleasantly laid out. The whole display is almost two and a half feet wide, 12.3 inches of which is the instrument cluster the driver sees through the steering wheel, and a meaty 14.9 inches of which is the infotainment off to the right.
This new elegance will be engaging drivers and passengers alike on all future BMWs, starting with the iX and i4 electric vehicles.
Just a note here to remind you that the MBUX screen in the coming Mercedes-Benz EQS sedan dwarfs the elegantly curved BMW iDrive screen: "…the all-new MBUX Hyperscreen stretches from the left to right A-pillars with three displays under a single 56-inch curved glass surface, (displaying) the latest generation of MBUX with Augmented Reality Navigation," Mercedes touted in a recent missive to us.
BMW's is not exactly pillar-to-pillar, but it's close. Then there's also the screen in the perpetually delayed Byton EV, which has a true pillar-to-shinning-pillar screen that looks like a portable automotive fish tank on the dash. We drove one of those and really liked it. Audi's MMI touch response system achieves basically the same thing as iDrive but with two more conventionally separated screens and has an easier-to-read digital gauge display. Cadillac's CUE and Lincoln's SYNC 3 are more or less conventional systems with standard-sized screens but serve to show that all competitors offer something like iDrive. Those are just examples of luxury competitors. Nowadays almost every car, truck, or SUV has some kind of big, honking infotainment interface and they all more or less work.
Now back to the Bimmer. To power all that infotainment, iDrive uses BMW's new Operating System 8, "…a new generation of displays, controls and software, and extremely powerful connectivity and data processing." The whole iDrive 8 system's new; it's not just a rehashed version of the iDrive before it.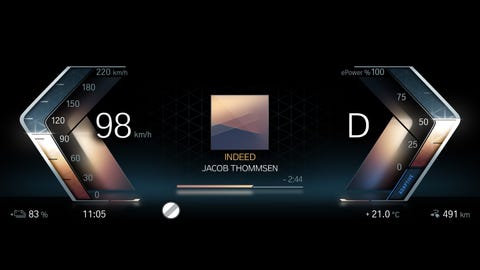 First let's have a look at the part of iDrive you see through the steering wheel. The left half of the screen, what would have been called an instrument cluster in ancient times, can be configured in a number of ways, all using fresh new graphics. You can get speedo on the left, tach on the right, and NAV in between, for instance. Or just speedo and tach. Or just speedo. The gauges are shaped like boomerangs mounted vertically on either side of the driver's display. Check out the pictures. Those were the gauges I was able to call up, maybe there are others available. But of the ones I saw, I didn't really like them, since maybe I'm used to round gauges with dials that have been on cars since time immemorial, even when mimicked in modern digital style. It didn't come across to me as "clear, aesthetically pleasing and rich in detail," as BMW promised it would. It was too much like some designer trying to win a design award rather than a simple gauge that told you in one quick glance what speed you were going. Or I might just be stuck in the 1950s.
There's more info available in that first screen. You can change the data shown on the lower right of the driver's display by scrolling the wheel mounted on the steering wheel. See something you like and click the wheel to have it on display while you drive. Look at the photos here on this page and see if you think it'll work for you.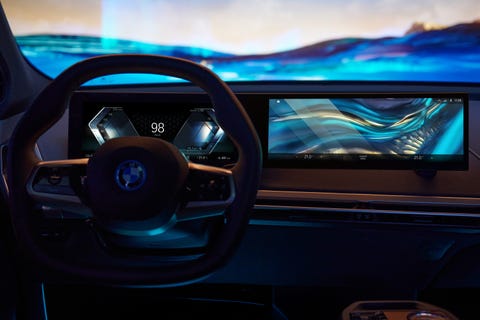 Then, off to the right half of the curved screen is the infotainment section. This side of the iDrive was a little better thought out. You could hit one button and suddenly all 14.9 inches of screen would be filled with the NAV map, which itself could be loaded with whatever detail you want. It can show where you're going, or where you're going plus gas stations, or charging stations, or Starbucks, or whatever you want it to show.
You can reduce the NAV to half the screen and then let these little cards stack up with whatever subject matter or infotainment items you want to have handy. As your drive evolves, you can swap those cards around to access different functions. It works quite well. Some of the "cards," as I called them, may be what BMW refers to as "My Modes." But even BMW doesn't seem to know what My Modes are or do.
"The new My Modes feature ensures an all-encompassing user experience geared towards the driver's personal preferences, creating unique moments for both the driver and their passengers."
What the hell does that mean? BMW says My Modes "combine up to ten parameters such as previous driving experience mode functions, drive system and transmission control, steering characteristics and chassis settings." And then does what with them? Is that like Eco, Sport, and Sport Plus? Who knows? At this point all we have is Teutonic hyperbole. Regardless, at launch, there will be three My Modes—Efficient, Sport, and Personal—with more Modes added later. Good luck!
The one thing that didn't seem to work for me and for at least two demos I saw from BMW engineers inside BMW factories was voice recognition. It took several tries for the people giving the demos to get the system to respond. When I was out driving a BMW iX (more on that car soon) I tried several times to get it to just play music. It did respond eventually and asked what kind of music. Apparently "rock and roll" is not something it recognizes. I figured that would be a fairly obvious genre. It's not like I asked it to play The Exhaust Tones. It did know "classical."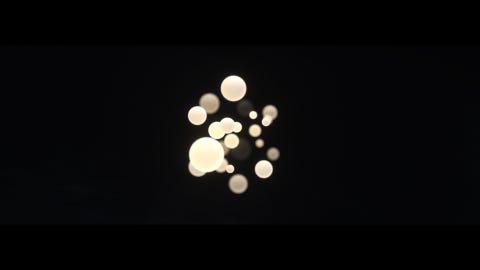 On top of that you can create your own little person inside the iDrive, known as a BMW Intelligent Personal Assistant. You can give him or her a name, which you use to summon him/her/it from the depths of the new Operating System 8, where it lurks. The Personal Assistant even appears before you (unto you?) as spheres of light, like those aliens on the original Star Trek. Thus summoned, it "can engage in natural dialogue with the driver and front passenger—similarly to a relationship between humans." Don't you just love the Germans?
"It has a trustworthy and appealing aura and displays the dynamism required to be able to express different emotions and states of mind non-verbally and in a human-like manner," BMW says. "Advances have also been made in the functionality of the BMW Intelligent Personal Assistant. An expanded pool of underlying data and information has not only made the digital assistant more intelligent, it has also enabled it to act according to context. It can take into account the situation in the vehicle and its surroundings when considering when and how it will communicate with those on board."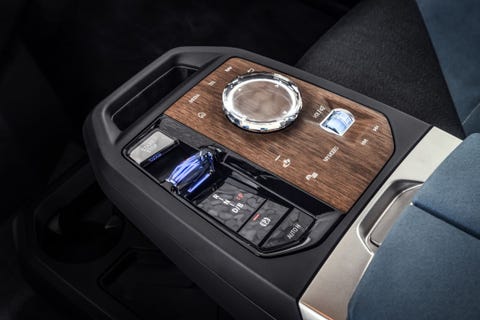 Included in iDrive is something called "Great Entrance Moments," which describes the little dance the car does as you approach. As you get nearer with your key or your registered phone, the lights inside and outside the car illuminate, casting brightness onto the ground by the door, while the door handles and even the trunk handle light up to welcome you.
"Once the driver moves to within one-and-a-half meters, the vehicle unlocks no matter whether they are carrying their UWB key or a smartphone with BMW Digital Key Plus. Opening a door activates the seat's entry assistance feature along with the surface and steering wheel heating. The entire BMW Curved Display is taken up by a BMW-style welcome animation that shows the system is starting up."
You may fall in love!
There's a lot more to iDrive, of course, and more time with the system will surely reveal the depth of its many wonders. But for now, if you're going to buy an iX or an i4, the first vehicles to get it, as I said, be sure you spend at least an hour with the product specialist at your dealer. Or better yet, read Kierkegaard or Kant to try and figure out what your iDrive is trying to tell you. Or maybe Faust, ha ha. Now, Gute Fahrt!
Source: Read Full Article