A dream come true: My XUV700 finally comes home after a year of waiting
Coming from a Renault Duster diesel, the Mahindra XUV700 felt like it was from a different world altogether.
BHPian GPJ_23 recently shared this with other enthusiasts.
And after a year of waiting, the day finally arrived when I got my hands on my very own XUV700 (AX7L P AT). I wanted to share my overall delivery experience and first drive impressions. But before all that, a note of thanks to all the Team-BHP friends on this thread. After following this thread extensively for over a year, the car felt familiar from the very first drive.
Allocation + PDI
As I was preparing for my vacation travel (wrapping up office work, we all know how stressful that is) I got the call that was for me the most awaited call of 2022, on 23rd Dec 2022. It was short and crisp. A customer had postponed taking delivery (presumably wanted to wait for more for a 2023 batch car), and I was asked if I will be able to pay before the end of the year for them to block the car in my name. I was confident of mobilizing the funds (to the extent of the invoice amount) and the SA said I will have some time for the remaining payments (RTO + Insurance + Accessories). On that already busy Friday, I asked them if I could do a PDI and they obliged.
Being on an office call and maxing out my multi-tasking abilities, I made it to the showroom. From there I was taken to their yard. We were made to wait near the gate and were told that the car will be brought out for me to inspect. After a few moments, a beautiful, fresh, brand-new XUV700 was brought out. Despite having the PDI checklist (shared earlier in this forum) I did not quite have the time to do a detailed run-through. So I kept it to the major points and found nothing out of place. It is possible that my vision (literally and figuratively) was slightly hazy due to the excitement, but everything seemed to be checked out. The VIN was of Dec 2022 manufacture, the same was confirmed by the SA as well. We returned to the showroom and discussed the payment.
Payment + Invoicing
On 23rd, after the PDI, I gave a post-dated check that would coincide with the loan disbursement date (the following Tuesday). After the 23rd, I was away from Bangalore on vacation but by Tuesday was able to coordinate everything over the phone. By the end of that week, I was able to sort out the insurance as well. I had earlier checked with the SA and he had assured me that whatever is the best quote I can get, they will either match it, or I will be allowed to take insurance on my own. I got a couple of quotations and the showroom was able to match them. So, the insurance was also obtained without a hassle. Throughout, the SA kept in touch with me and shared all relevant scans of docs, copies etc.
Registration + Accessories
I had told my SA the date on which I desired to take the delivery and he confirmed that it would be possible, provided I confirm and make RTO-related payments to him at least 5 days in advance. So we did the same and the registration process was pretty much standard. For the accessories, and this is where I went a bit overboard, I chose the following:
Mud Flaps
Infotainment Screen Guard
Memory Card
3D Floor Mats
Illuminated Scuff Plates
Tail Gate Scuff plate
Side Foot-Step
ABD Rear Guard
In addition to the above, I went ahead with Ceramic Coating (with 3 years warranty) from the showroom itself. I know for a fact that I could have got it cheaper outside, but the idea of taking delivery and parking the car for two more days elsewhere just didn't convince me. Anyway, we agreed on a figure for all the above in aggregate and got about a 10% discount after a little bit of back and forth.
Delivery
Taking delivery on a Friday evening sounded good, but it was a busy day at the showroom. Though the formalities only took about 20-25 minutes, the wait went on for about an hour and a half as there were a few deliveries lined up. The staff tried their best to keep us inside the showroom for a nice unveil kind of event, but our excitement was over the top and we ended up outside where my car was being prepped for delivery. Still we kept a slight distance and applauded patiently for the other deliveries. Most deliveries were of the XUV 700.
As a slight deviation from the topic, my XUV 700 was parked next to a Scorpion and it reminded me of that pic in which Dwayne "the Rock" Johnson looked small standing next to Sun Ming Ming, the basketball player from China.
Finally, our turn came, and in a blink-and-you-will-miss-it kind of speed, we did the routine for the cameras and moved slightly away from the limelight. Our SA checked with me if I needed a detailed introduction to ADAS specifically, and I asked if I could return the next day for the same as I had to head out to a temple for the pooja for the car. He kindly agreed. So in a busy Friday evening traffic, we headed out for a city runabout.
First drive and impressions
Coming from Duster diesel, the XUV 700 felt like from a different world altogether. Though the Duster is not exactly small, the proportions of the XUV 700 were something that kept me vigilant. The seating, the view, the screens, the engine, it all felt like a dream come true. As was told to me by friends in this forum, the excruciatingly long wait was forgotten within a few minutes behind the wheel and all this in basically bumper-to-bumper traffic for the majority of the night. I can hardly wait for a highway run!
Happy to report that so far I have not felt any unwanted noise from the suspension, no football in the boot, sound system sounded excellent and no major bugs noted. I am an android user and the android auto connectivity was seamless. Of course, there is room for improvement, but nothing that will really bother me in the first few months for sure. Apple Car Play is "coming soon" unfortunately and I did check with the SA that the software was up-to-date.
I have covered about 150kms in a day and a half with a quick run on the NICE road for ADAS familiarity. Must say that it will take some courage to test ADAS on a new car, but it works. I have them on and did not find it intrusive except for one moment where AEB made its presence felt while I was manoeuvring for a quick over-take. I will be going on a drive to Tirupathi next week and will hopefully get a better hang of it on open stretches of road.
In conclusion and at the cost of repeating myself, truly a dream come true. If you like to drive with family and that is your happy place, this particular happiness can be bought in the shape of an XUV 700! A few pics from the delivery day.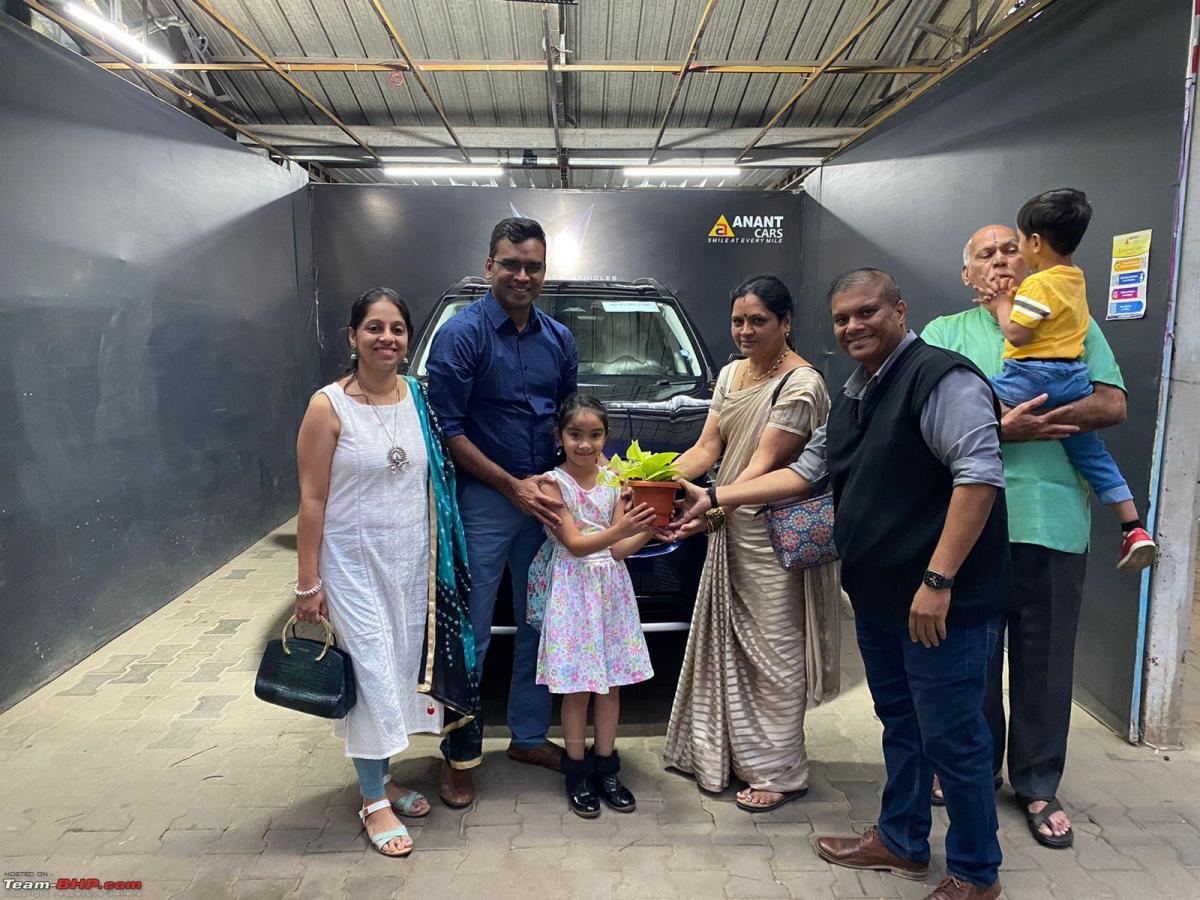 Check out BHPian comments for more insights and information.
Source: Read Full Article