21000 km up on my Kodiaq TSI: Updates on fuel efficiency & 2nd service
I saw some pretty decent fuel efficiency on a recent drive which was 85 kms one way upward ghat and return on the same route. It was a high speed drive but with minimal traffic at night.
BHPian adi_petrolhead recently shared this with other enthusiasts.
21000 kms update:
Last report: 12/01/23 @ 15000 kms
3 months: 6100 kms, Avg FE – 12.0 km/l
Second oil change service done @ 19485 Kms, cost: 13913/-
Issues reported: None
February and March being busiest work months for me the car saw little mileage. The car is a professional at munching miles and you don't realise when your odo has crossed several milestones until you turn off cruise control. Second service was completed 1 month ago and it was the usual affair of engine oil, oil filter, air filter and AC filter replacement. No other issues were reported or observed by technician. Sunroof guide was cleaned and lubricated, brake pad thickness measured and found ok on all four wheels. I had carried out wheel alignment and balancing about 3 months back and everything is fine on that front as well. I get it done at one of the reputed tyre shops who possess Hunter equipment. Although I feel the tyres are now starting to slip a bit. Have been prepared to switch to a new set around 35-40K kms.
I saw some pretty decent FE on a recent drive which was 85 kms one way upward ghat and return on the same route. It was a high speed drive but with minimal traffic at night. A lot depends on the FE one can achieve, the driving style, load, time of day, traffic, etc. But I feel the Kodiaq has always been more comfort oriented to drive, rather than being wrung by its neck!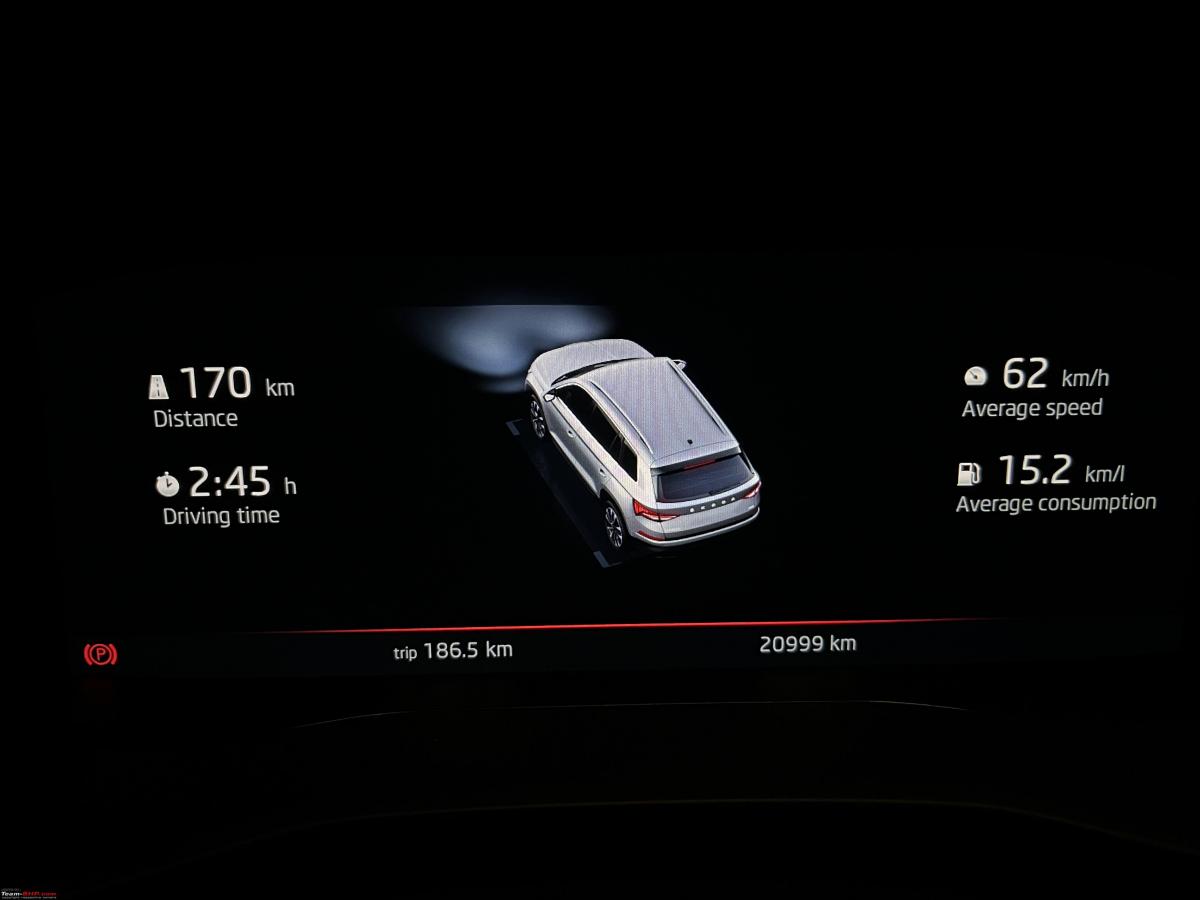 When you do press the accelerator all the way, use the paddles, the car is also fun to drive. I observe that the car has become more drivable as the odo is climbing. Not a kind of de-restriction of any sort, but I feel its more enjoyable as its ageing.
Haven't done any exterior / interior mods till now, no treatments, no coatings, zilch! I think thats one of the benefits of having a white car. Swirls and scratches don't show up so easily. Have booked an appointment to a basic compounding and claying next weekend. I just hope I resist temptation when the detailer upsells me a ceramic / graphene coating. Might get the mirrors and B pillars wrapped in PPF though.
Also waiting on 3D mats to arrive, finally placed the order after a long time. Normally all my cars receive the 3D mats even before delivery. But since the all weather mats were being given as part of accessory pack I did not order it earlier. Main reason to go for it was to have a full set of light weight and easy to clean mats and that important third row mat which the OEM pack doesn't contain.
Next report will be at 30K kms, after the 3rd service! Should be sometime in August I presume.
Check out BHPian comments for more insights and information.
Source: Read Full Article