2012 Skoda Laura VRS: Upgrades & preventive maintenance done at 1L km
The red top Audi R8 coil packs are the best upgrade carried out on the car in my opinion.
BHPian akki5069 recently shared this with other enthusiasts.
Thanks Viraat for the kind words and a special thanks for solving the light related issues (which I shall be covering later)
Also, a heartfelt thanks to everyone for the warm response to my first thread and apologies for a delay in posting further updates.
I would be further sharing my journey with the car around the following –
Back to Aug- Sep '20, Covid was ominously lurking on our heads making for extremely busy days at work while shops/ garages worked on roasters with limited supplies translating into inflated prices. By now, I had made lists related to parts, problems, key areas of work and divided it across phases. I could only be patient until Oct '20, went ahead to take up the phase 1, which included –
Tires – Existing set of Michelins had about 35% of life to them, fast tracking an inevitable decision, search for Michelin Primacy was undertaken. Since my 1st tire change in 2012 on my OHC, I have been a loyalist rather evangelist for Michelins. Times were different now (Covid), supply of Michelins were as murkier as Delhi air quality, deteriorating each day and expecting a fresh set was laugh worthy. A month-long frustrating quest shifted the choice to Continental MC5, which were available on fresh rubber.
I headed to Pallika Bhawan in Delhi, where Viraat Automotive's team would take care of the mechanical jobs while Nitish from Mahavir Tires will take it up in the evening for the fresh rubber. Came the evening and to my joy a new set of Michelins awaited the VRS, Nitish also helped courier a set to another BHPian, Vaibhav in Mumbai, a friend since Vtec days.
Location – Pallika Bhawan, Delhi (It is a car market & is different from Pallika Market of CP)
Dealer – Mahavir Tires
Price – Rs 8500/ Piece
Stock – Nov '20 stock
Profile – 205/55/16
Make – Michelin Pilot Sport 4 (PS4)
Special shout out to Nitish, Viraat, Arjun Shubrah, Aman Bangey, Rahul Taneja, Archit and many more enthusiasts who connected me with tire dealers across India in my quest for Michelins.
Next in the list was Suspension – This wasn't as simple as tire selection as I was to be introduced to a new range of makers – Sachs, Meyle, Borsehung, & likes affirming my transformation to a German. It took a few readings, discussions & a final confirmation from Viraat to make the final choice. Sachs dampers, OE Supplier to Skoda was the final choice.
Both Front and Rear Sets were changed – didn't want to change just the weak front ones
Fronts – 10,000 Rs/ piece ; Rears – 7000 Rs/ piece
Suspension Parts – Sub frame bush, Stabiliser Bush & Bush Kit were also changed
Additional Parts –
Coolant bottle cap (Febi) – (Rs 1100) – to fight the issue of dropping coolant levels
Gear knob & Upholstery leather replacement –Fantastic job replacing only damaged section (Total cost – Rs 2100)
Wiper Blades (Bosch) – Rs 1500
Few touch ups around the body line for a better finish (small chips)
Fresh Gear Oil – Motul (SAE 75W90)
AC Blower motor cleaning
As I zip zapped through the market, Sun had bid us an early bye, but the work continued under lights until 8-30 pm in the cold of the night. While this day was spent to boost up the car mechanically, tidy leather works inside the cabin brought a lot of peace. Coming back to addressing the elephant in the room –
Minute Clicks & Bangs of the suspension were gone
Side Profile – Car felt straighter/ flatter in profile against a front loaded incline
Rear Bounciness – Rears felt planted against their bouncy predecessors, but still a tad bouncy
Drivability – Car drove better as a single unit & driving through bad patches was improved against the car smashing down (a bit of exaggeration here)
Tires 
Although suspension overhaul did bring joy & satisfaction but not as much as Michelins –
Looks – beautifully complimented the VRS alloys
Ride Quality – Multi fold improvement with a softer ride as if a sponge was placed between the road & tires
Tire Noise – Reduced from an already low level
Grip & Braking – Grip could be felt immediately & to the extent that the car demanded bigger brakes as the tires had gone way ahead of the already fine braking system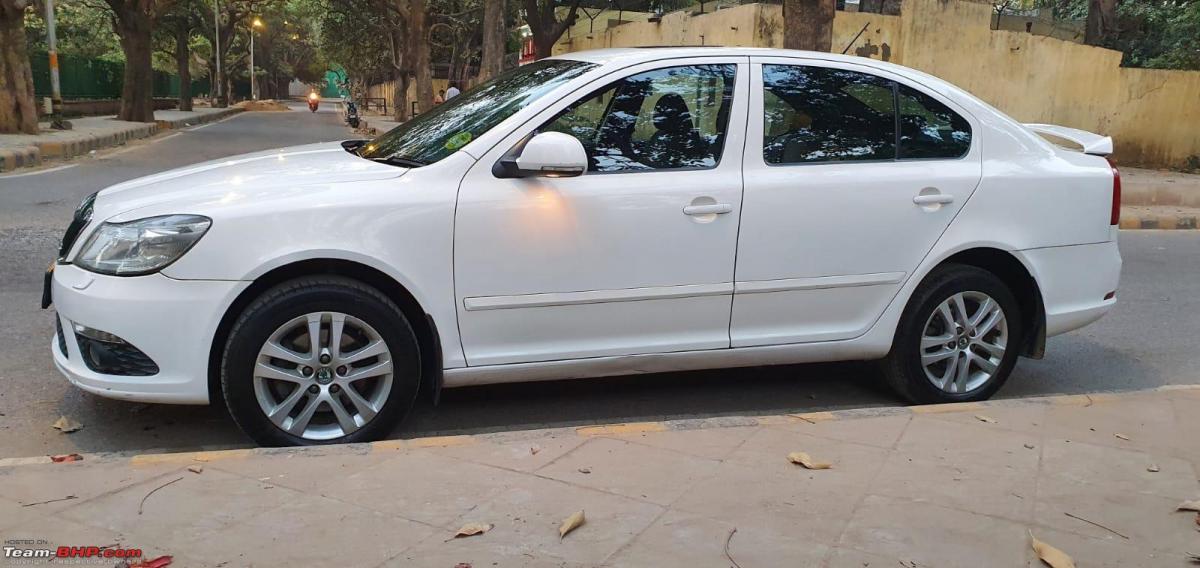 A flatter stance thanks to Sachs Dampers, with brand new Michelin PS4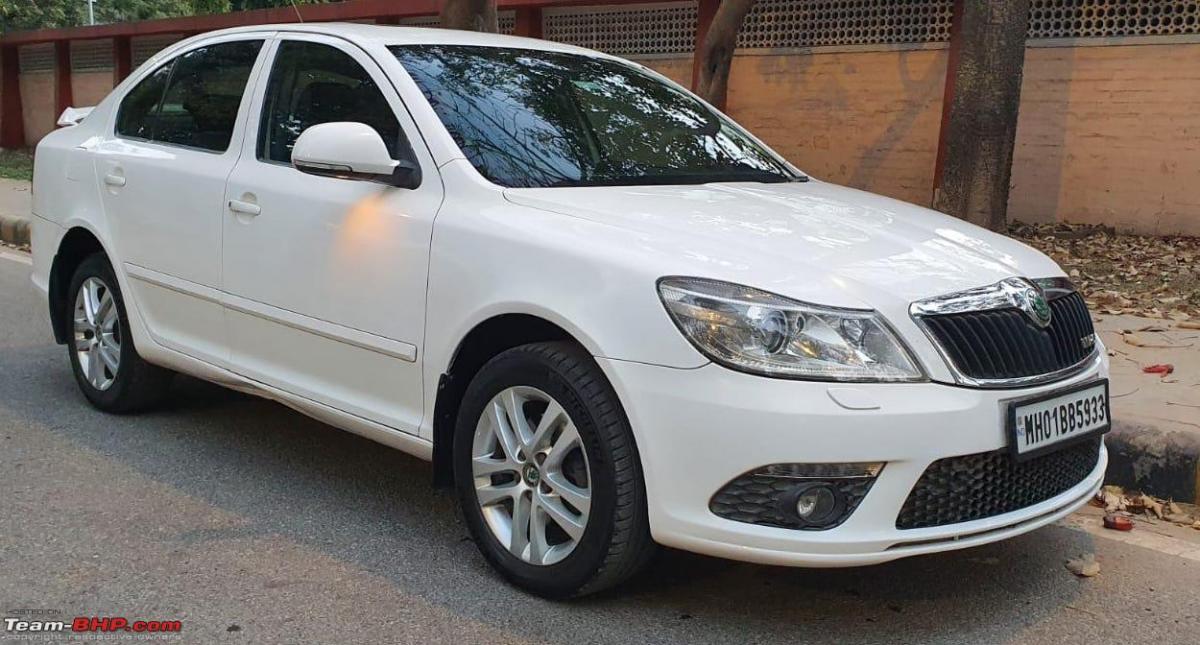 The tread design of Michelins completed the looks of the alloys very well
Stock coolant bottle cap replaced to prevent leaks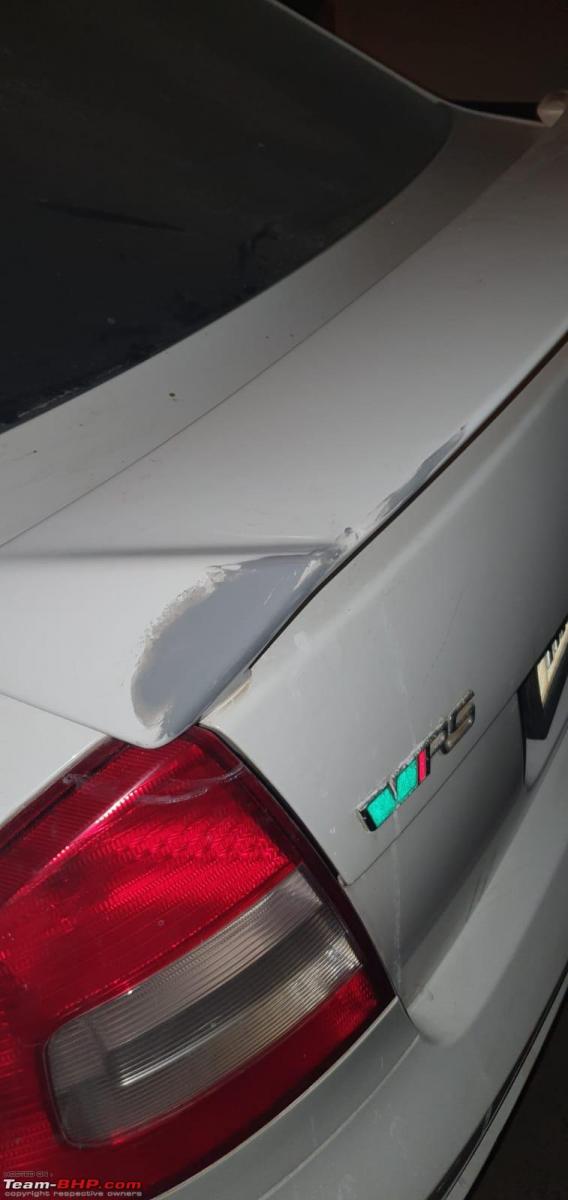 A few chips / peel off were taken care of, like this one – a small paint chip on the rear spoiler
New setup demanded good roads much supported by finer temperatures of November, and a few days later the German Adult was on its way to the royalty of Rajasthan. Oh yes, it made complete sense to invest on a depreciating asset followed by fuel for a road trip . Find below some pictures from the Jaisalmer – Jodhpur Trip (1600 Kms round trip). The stretches offered fantastic smooth drives and a memory etched in my heart – "the dark black strip (road) turning darker under the setting Sun, our only alibi, piercing through the shimmering golden sand, while meeting the orange sky at a far distance.
Drive was made pleasant and comfortable by these although narrow but exceptionally smooth roads with minimal traffic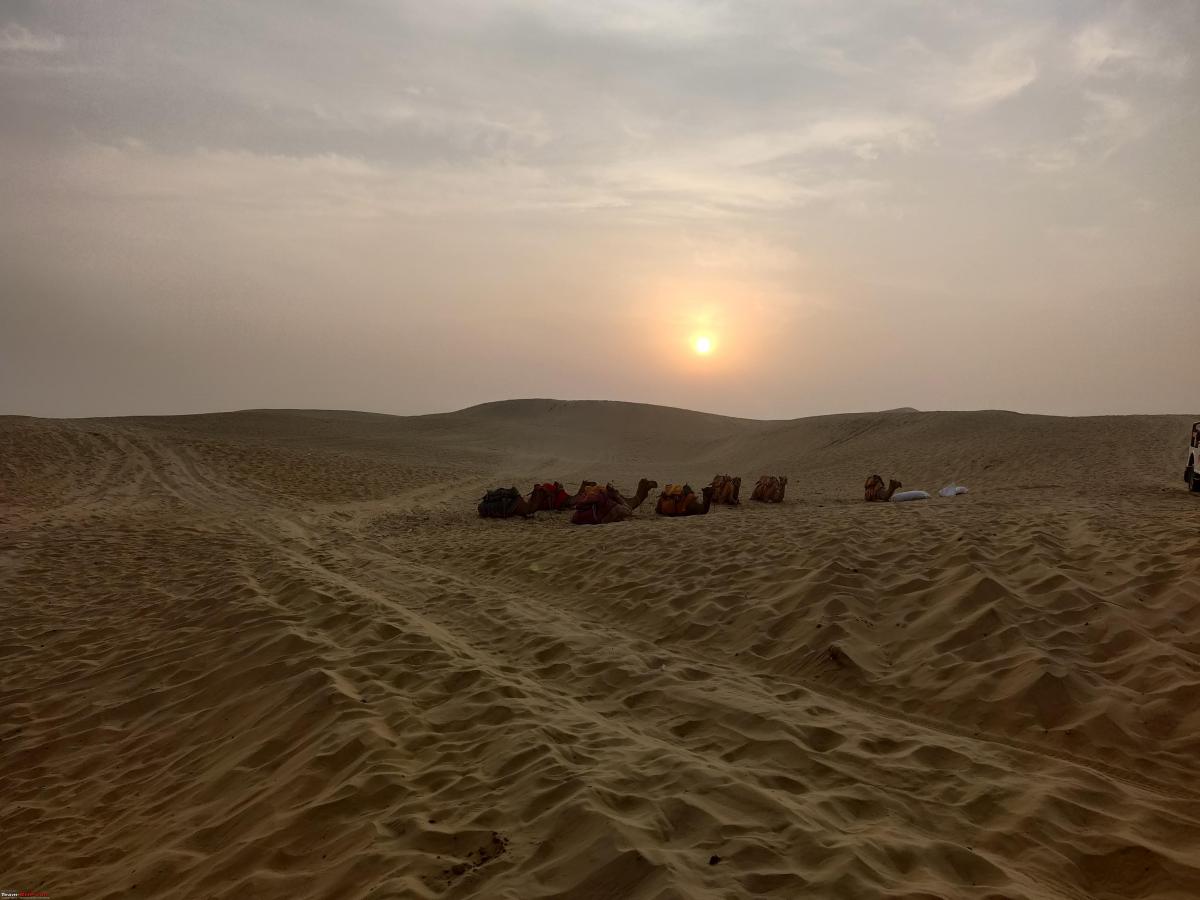 Sam Dune, Jaisalmer – It is this moment that you wait the entire day as the setting Sun would turn the sky into a mix of beautiful orange shades while the sand underneath & beyond would glow to royal tones and calm itself to pleasing temperatures.
Blurry Image, profound memory
Took a separate drive into the dunes next evening without the guide
Ignition Coil Pack & Arush (Autopsyche) –
By Feb '21, Laura had covered a short trip to Hrishikesh and two rounds of Lucknow – Kanpur belt. Hrishikesh marked for pathetic roads while boring long stretches of Agra Expressway with constant humming resounding from the concrete roads marked the Lucknow-Kanpur trips.
One not so fine evening, I took the car to NH 48 for a late-night run and as I downshifted to 2nd gear VRS juddered to a halt flashing the ominous check engine warning light. Another attempt yielded the same result and I brought the hesitating engine back home with a lot of shaking & juddering. Many of you would have guessed it by now, one of the ignition coils had shot. I was convinced that I would be changing all instead of 1, choices were – Skoda Part – around 4k a piece and Audi R8 red top coil pack – about 5-6k for a piece.
A short discussion with my dear friend Sam in Nagpur and the decision was made, he got me connected with Arush from Autopsyche (Delhi) for the R8 coil pack. I know Sam since years, he is the authorized Code 6 partner in Nagpur, and he is the one who found, procured, and shipped the black Cedia all the way to me. I spoke with Arush and a few days later car was at Autopsyche. As his staff installed the coils, Arush walked down from his cabin excited to see a VRS while I smirked in pride. We took the car out on patchy roads of Ghitorni where Arush spoke about the capability of the 1.8 TSI Motor and probable performance boosts that could be planned. As we returned, I couldn't help notice a black Laura parked on the side with a beautiful stance, Arush invited me to have a closer look at the open hood exposing the completely transformed engine bay and proudly opened the doors to show the VRS upholstery. While I was primarily fixated and impressed by the lowered flat stance imagining its effectiveness in countering body roll apart from gorgeous looks.
As I decided to bid goodbye, it was beyond my imagination that a fellow of his stature would walk me to my car, waving back from the car seemed so bloody rude. Minutes later, I rang Sam speaking less of the product but more of the humble fellow I had met. Months later, I heard the sad news of Arush's demise, very saddening.
Feedback – The engine felt crispier or rather the firing, the throttle response was sharper. Till date, I find this as the most productive investment on the car.
Red top Audi R8 Coil packs – installed at Autopsyche (Delhi) – what a great upgrade !
It was around Apr 2021, Skoda seemed to be working fine, returning good fuel economy (better than Cedia & Vtec) while there was a new problem. I had only one covered car park and that was permanently occupied by Vtec while Cedia & Laura found space along the service lane right outside my society besides a huge park. Days later the inevitable happened, as I stepped down to drive to work I could notice a small chip/ crack on the windscreen which would only get bigger and scarier under Delhi's heat.
The sunblock film created a greenish tinge hiding it from outside viewers but it had started to bother me
I ended up selling my Civic earlier and later my Cedia since parents didn't like to travel in a car with exhaust while I was driving the Laura primarily. I convinced my parents on the pretext of fresh air, and relocated my house entirely to a new locality with ample basement parking on the outskirts of Gurgaon. Windscreen change had to wait since the RC still bore the previous owner name as the seller mistakenly generated NOC for the wrong RTO and a process that could have lasted a few days with minimal effort, took almost 7-8 months to conclude. In the meantime, while I was searching for a Civic for my family, Vaibhav shared a listing of a clean Cedia in Mumbai and immediately it made it back to my Garage.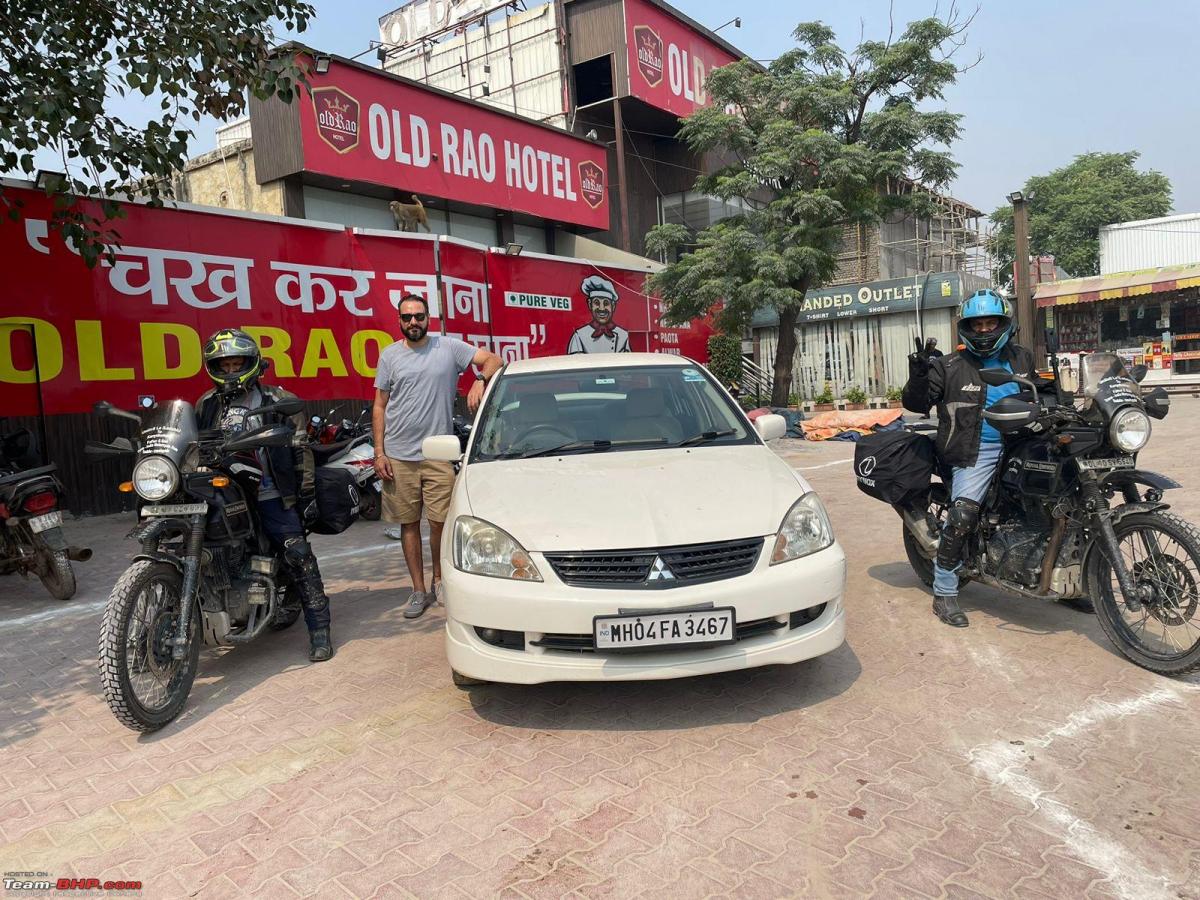 Welcome the newest member to the family of black and whites!
Here, one of my friends from college and his father met me on their journey across the length of the country (Leh to Kanyakumari).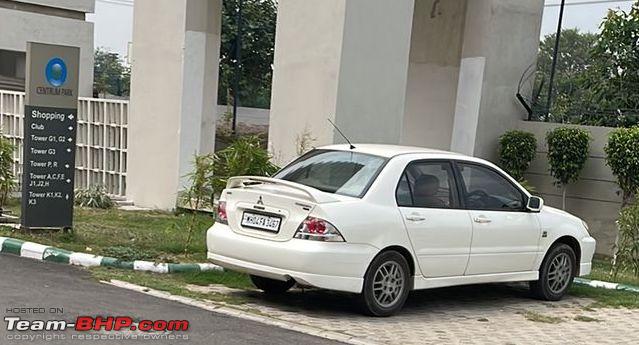 Fantastic car with fantastic handling, brilliant ac and comfortable ride making it a good drive for parents whenever needed, I could get hold of it over weekends only. Although I still feel Civic was a better choice but I got myself a better weekender.
By Aug '21 – around 10,000 kms done, we undertook another trip to Kasol – Tosh- Jibhi in Himachal Pradesh. It was a pleasant drive well complimented by fine roads and breathtaking views. Although driving in hills for long gets overbearing with the constant effort of negotiating turns and reckless drivers one after another. I believe the views of hills & valleys could only be better admired with the car parked on the side. Find below a few images from the trip and elsewhere to end this post, the next post shall be up soon with details of major set of work done at Skoda & Gt Tunerz.
On the way to Kasol, as we ate and hoped for traffic to settle down
A rare image of the car while on our way to Jibhi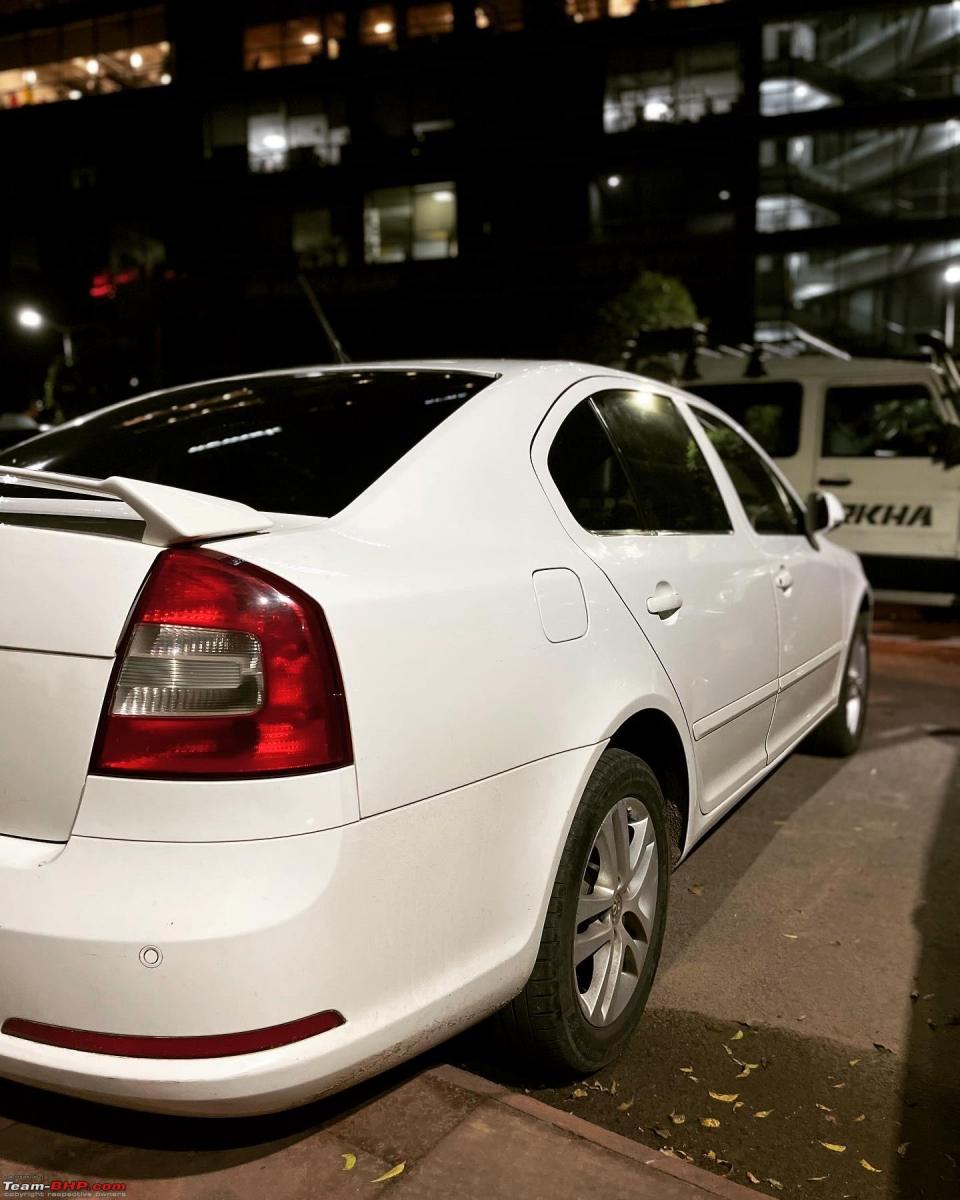 From the only cars & coffee meet that I went to
That awkward moment when your love and crush are standing side by side
Read BHPian comments for more insights and information.
Source: Read Full Article