20-day road trip in my Audi A3: Drove for 70 hours & covered 3000 km
We travel a lot but road trips are special. There are so many special moments & places we would not see otherwise.
BHPian Dracoon recently shared this with other enthusiasts.
Hi Friends,
Wanted to share my recent road trip experience in my Audi A3. While I had done road trips previously but never this long. I planned it for months and am glad to say it went exactly as planned or even better.
Itinerary
Pune – Goa – Gokarna – Mangalore – Calicut – Kochi – Thekkady – Kodaikanal – Ooty – Chikamangalur – Hampi – Fratelli vineyard – Pune
Time – 20 days
Driving – ~70 hours
Distance covered – 3008 Km+
Mileage – ~19 kmpl
The driving experience overall was quite good. While we encountered some bit of rough patches, I must say the roads in South India are quite good. Here is how we did it.
Day 1
Pune to Goa – The longest I have driven in a single day (422 kms). Originally we had planned to go to Mahabaleshwar and then to Goa but had to change plans. But the roads are great (though also the maximum toll). We started around 9 and reached 5, only took a break for lunch in Kolhapur.
Day 2
Goa to Gokarna – We initially planned to say in Goa for 2-3 days but again had to cut some days. We have also lived in Goa for 1.5 years so were more keen to drive south. Goa to Gokarna drive is excellent. I found the roads in Karnataka the best. It was the first time I drove on a road which is just beside the sea. Stayed in Gokarna for a couple of days in a nice jungle resort. Visited the pristine Om beach and Mahabaleshwar temple.
Day 4
Gokarna to Mangalore (Detour to Yana Caves) – We had to drive to Mangalore which was only a 5-hour drive so we had some time. We decided to take a detour to Yana Caves which is one of its kind rock formation. It was magnificent but did involve a lot of stair climbing. But it was so worth it.
Day 5
Mangalore to Calicut – Ok so this was probably the most testing driving condition. The highways are all 2 lanes, they are being expanded to 4/6 lanes but for now, it's only 2 lanes everywhere. The buses drive like crazy in Kerala (especially the pink ones). I have studied in Kerala to had already warned my wife. Anyways coming to the fun part, I told my wife I'll take her to a beach which is one of a kind in India. She gave a reaction "mehh… whatever…" then when we reached Muzhappilangad, she was like where is the parking… where are you going… and then she realized we are going to drive on the beach. Mind blown! Wow that was fun. It is a must-do for all car enthusiasts. It was so much fun.
Day 6
In Calicut – I studied in Calicut so went to college, some old places.
Day 7
Calicut to Kochi – Stayed for 3 days in Kochi. Did a backwater tour, explored Kochi fort city, some shopping. Met some friends. Spend good quality time.
Day 10
Kochi to Thekkady – Halfway through the trip we were a little tired, and rested for a day. Then next day planned to do Periyar wildlife sanctuary but did not get a ticket as it was the new year rush. We did a safari which took us to a spice plantation, some offroading, boating, tea plantation etc. It was nice.
Day 12
Thekkady to Kodaikanal – It was a short drive. Good roads, driving on hills is another kind of experience. We spent the new year in Kodai. Visited all the famous spots, but it was misty so didn't see much.
Day 14
Kodaikanal to Ooty – It was a long and windy road journey but we did it with a few small breaks in between. We like Ooty better than Kodai, maybe the new year rush had passed, but it had a more rustic charm.
Day 16
Ooty to Chikamangalur – We didn't actually see Chikamangalur, it was again a pit stop. But the Gateway Taj property is amazing. It was totally worth it, would again come here for sure.
Day 17
Chikamangalur to Hampi – Hampi had been on our list for a long time. It is an amazing place, with history oozing from everywhere.
Day 19
Hampi to Fratelli vineyard – Amazing find again. Must experience for those who like wines.
Day 20
Back to Pune.
We travel a lot, but road trips are special, there are so many special moments. Places we would not see otherwise.
To end a few quotes from my wife during the trip which I found funny:
"Why do people drive like snakes in India" – In the context of overtaking trucks who are driving left and some right side.
"These are not speed breakers, they are car breakers" – We should standardize how speed breakers are built, some of them are outright dangerous.
Ciao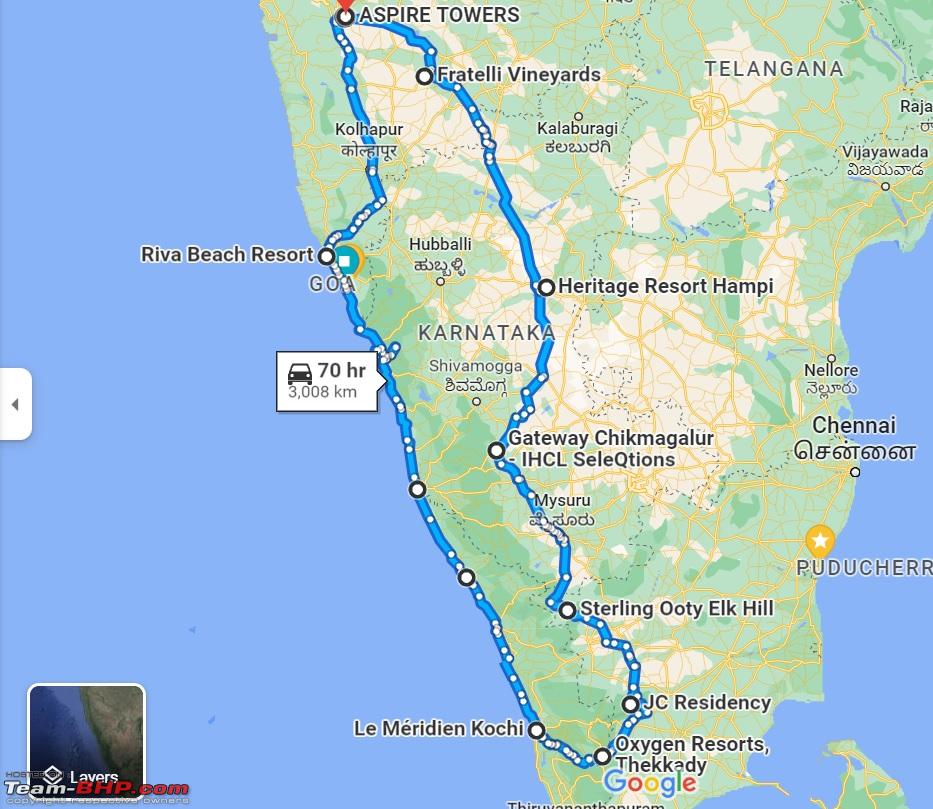 Check out BHPian comments for more insights and information.
Source: Read Full Article