1500 km in a Tata Tigor EV: Route planning, charging & drive experience
Is the Tigor EV suitable for doing something like this? Is it primarily a city car considering the lower range?
BHPian dreamliner17 recently shared this with other enthusiasts.
Introduction
I had the wonderful opportunity of driving the TATA Tigor EV from Mumbai to Pondicherry, covering a distance of approximately 1500 km in less than 4 days!
While many would feel extremely nervous doing this in an EV, let alone in an EV with a comparatively small battery size when compared to the Hyundai Kona or the MG ZS EV, I decided to put the Tigor EV to the test.
Is the Tigor EV suitable for doing something like this? Is it primarily a city car considering the lower range? Are there sufficient charging stations en route? Is it really worth putting money into an EV? These are some of the most widely talked about, discussed and debated topics about EVs today.
Will the Tigor EV actually deliver as anticipated?? I was itching to find out!
The 'mock test' before the journey
We decided to do a week-long 'mock test' to simulate the various issues that can surface during the long drive. To a certain extent, this may equip us to overcome the most common issues that are likely to arise during the drive. Since this is a friend's EV and I would be doing my first long-distance drive in an EV, I wanted to see what could be the potential events that can catch us by surprise. My own housing society had no provision for EV charging and we were solely dependent on the public charging infrastructure. This proved to be a boon since I got to use the AC fast and DC fast chargers (primarily on the TATA Power charging network while in Mumbai) and got a real taste of their charging network. More on that later.
The CAR
I spent about a week driving it in Mumbai to get an idea of the energy consumption. I drove it extensively in and around the city – in peak hour traffic and on the highways. The energy consumption in sport mode was around 130-140 Wh/kM compared to 110-120 Wh/km in eco mode. I was expecting a wider gap in both modes, but I was pleasantly surprised that it wasn't! In the city, sport mode gives you a nice 'thrust' to close in on the gaps. The eco mode feels just about adequate and the acceleration is smooth and linear. I received feedback from the other occupants in the car that they felt much more comfortable when the car was driven in eco mode. The sport mode spoils you with the instant torque and I once ended up in a shrieking wheelspin when I floored the accelerator when the signal turned green in Bandra!
The route
In the preliminary research on plugshare.com, we found out that the Mumbai-Bangalore route already has a large presence of fast chargers. This was also the obvious choice since the Mumbai-Bangalore route has been the most popular route to travel to the South. I was also looking at alternative options via Solapur and through Andhra Pradesh but couldn't find many charging points there, so the route was dropped.
We marked most of the fast chargers on google maps before the journey
The strategy
The plan was to stop for a quick 1-hour charge every 150 KM. Although I had read from various sources that the car can easily do 200 KM in a single charge, I wanted to be safe and not push it to the limit. It will be a tricky situation to end up with a non-functioning charger and finding an alternative at the last minute with not much charge to spare will be extremely challenging. Plugshare.com was extremely useful in helping us plan the charging stops. It aggregates and displays the charging points from all service providers (installed + upcoming) on their webpage. The best part was, the users that have previously used the charging stations can write a review on the charging points and you almost get real-time data on the condition of the charger and its working status.
Types of 'anxiety'
The best outcome of the mock test was that I was able to identify two types of anxiety, thanks to the TATA chargers:
Range anxiety is all about whether the car will make it to the next charging point or not.
Charger anxiety is what you get after you have 'successfully' located a charger but don't know whether it will work or not
You can overcome Range anxiety by locating charging points on Google Maps and then hoping that your car makes the distance.
How do you overcome Charger anxiety?? We didn't really have an answer.
So to overcome this anxiety, we tried to locate as many different charging stations which are installed close to each other, at the same time adhering to our 150 km charging rule. In case charger 'A' doesn't work, we could quickly move to charger 'B' and so on. It was like a revision of the topic 'Set theory' that we studied in school. Grouping all the charging points located nearby in one set!
The drive
We allocated 4 days for the drive and the idea was to reach Pondicherry within this time. The energy consumption with or without AC was found to be almost the same in the mock test and we decided to use the AC only when required. Also, the entire journey was done in Eco mode.
Day 1: Mumbai to Pune
Charging at HP Sajgaon. The attendant mentioned that 5-6 Tigor EVs had to be towed away since they charged to 100% SoC and their vehicles got 'locked'. Don't know whether it's true but we nevertheless decided to not charge to 100% anywhere in the trip using DC Fast chargers
Day 2: Pune to Belgaum
Charging at Croma, Aundh at an awkwardly placed charger
Charging at a TATA charger at Aamrai resort. Surprisingly, the charger location was not awkward this time!
Charging at Vijaya power
Day 3: Belgaum to Bengaluru
Our first 'home charge' to 100% SoC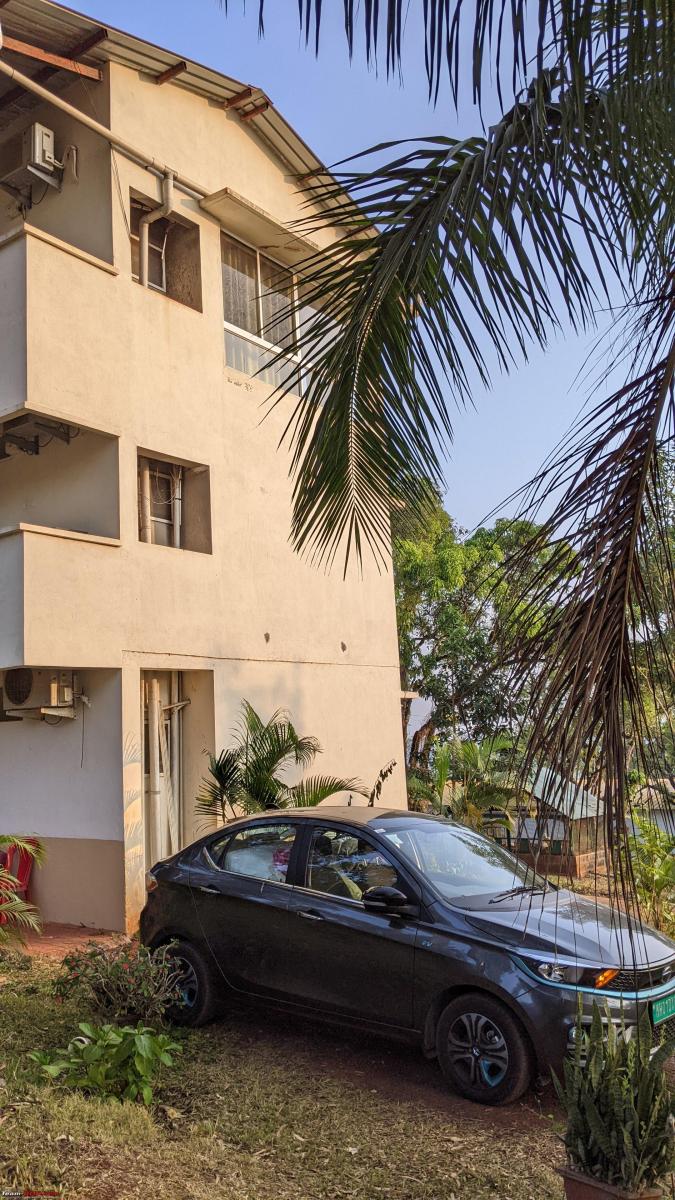 At TML Manickbag, attending to the first snag of the trip
The locking mechanism for the charging gun got stuck and did not auto-release. There is a manual release via a button on the dashboard but it didn't work either. The EV had to be ultimately taken to TML Manickbag and the service technician 'flicked' the release switch manually using his fingers. Although the issue could be resolved easily, the entire ordeal added stress and 2 hrs to the journey.
Charging at Jio-BP Pulse. We met a group of people heading from Goa to Tirupati in their Nexon. It was a sort of 'relay race' with them since we would meet them at the same charging points en route. Their Nexon EV delivered an efficiency of 130 Wh/km and subsequently 113 Wh/km which was similar to our Tigor EV. This proved that small EV = more efficiency is not always true!
Charging at a ZEON charging point. This was also the spot where the KSRTC busses halted.
Charging at another ZEON charging point
Day 4: Bengaluru to Auroville (Pondicherry)
The 25kW and 50kW Zeon twins alongside my two lovelies!
50 kW charger
At the destination!
Time for the report card!
The Public Charging Experience
Most of the service providers need you to install an app on your phone and add a non-refundable amount to start charging. They also ask you to maintain a minimum balance. Although TATA has the largest charging infrastructure in place as of today, their chargers have the most amount of niggles too.
TATA Power
They are the undisputed winner in terms of widespread reach and the variety of slow + fast chargers spread across the length and breadth of the country. It's not very difficult to locate a TATA public charger near you. However, TATA also wins in another category – 'Lack of Reliability'- having the most amount of niggles, snags, and errors and being the least maintained charging point amongst all! It also has the most awkwardly located chargers and accessing many of their points is mostly 'tricky'.
My first experience in charging at a public charging point was at an awkwardly located TATA charger at an IOCL pump in Prabhadevi. It is placed just beside the puncture repair shop and if you do not park properly, you end up blocking access
At a TATA charger in Mira Road, located at one of the TATA dealerships, you have to drive the car over the footpath and then reach the charger installed on the wall of the dealership building. I suppose this charger was installed keeping only the Nexon in mind! After 3-4 failed attempts to start charging thanks to communication issues, you are on cloud 9 after the charging finally starts.
At Vikhroli (E) the charging point is located at a TATA power substation, on the service road, near the EEH. The best part of charging here is that you have a range of chargers available at your disposal. Will any of them work depending on your luck?
In Bhandup (W), again located at a substation, the emergency switch is left hanging and you need to have knowledge of how industrial emergency switches work to switch it ON. And will it charge or not, it's again luck.
In Bhandup (E), a 25 kW DC fast charger is located right at the train station exit! You can't dream of taking your car there during the day, let alone parking in that small space! I decided to go there at 1 am since I live not very far from it. Oh, I forgot to mention that you first have to clear the bikes parked in front of it and also clear up the garbage thrown in that area too (if you are willing) and then you have finally made access to reach the charging gun. And you guessed it right, the icing on the cake is when the charger doesn't work. All your hard work of making 'space' goes in vain. The only satisfaction you get is that you actively contributed to making a portion of the city clean!
'The comedy of errors captured in the charger.
Zeon
Used them multiple times. They are strategically located at all major eateries and have the best experience so far! No communication issues, dedicated parking space, charging station is easy to spot, and the charger displays the power at which the battery is being charged as well. Typically, the charging power was 22kW at the beginning of the charging session and reached 4kW once the battery approached 90%. It is also the most expensive service provider. The Zeon app also keeps sending updates regarding the most recently installed chargers, which is a good feature.
The Zeon and Relux have a strong presence mainly in Kerala and TN, compared to the ubiquitous TATA Power chargers
E-Fill
This is a Haryana-based service provider. Charged only once at this charging point near Kolhapur. Charger was located on the wall of a shop with just a board saying that it was a charging point. If not for plugshare, I wouldn't have found this charger. I faced communication issues that cost me around 20-30 mins before the charger started working. However, their customer service was helpful and all the snags were resolved. This charging point was crucial since the nearby TATA charger was under maintenance that day. Another issue that I faced – I added Rs 150 to the wallet, and it erroneously let me charge Rs 195!
Jio BP-Pulse
Charged only once at this charging point in Chitradurga. They have their charging points at the Reliance fuel outlets. The amenities on the Reliance fuel outlets are a hit or a miss since many pumps appear to be shutting down or relocating, which is probably also why the restaurants located at the pumps are also shutting down or relocating. Faced a communication issue once but it was resolved soon.
HP-Magenta Chargegrid
Charged only once at this charging point. Located at a massive HP pump on the Mumbai-Pune Expressway just before the climb to the Lonavala ghat starts. Charger worked well and had good amenities. While I didn't face any problems with the charging process, a ZS EV owner constantly faced an error saying that the phone is not near the charging station and the charging would not get initiated. Don't know if it was a problem with his phone or with the app.
E-fill is mainly present in the north, Jio-BP Pulse is infrequently spread out and Magenta-Chargegrid has presence in many states.
The service providers that I wasn't able to try:
Summary
It was a pleasant and largely uneventful drive across all 4 days. The drive was silent, vibration-free and enjoyable. The instant torque from the electric motor is very easy to fall in love with. On the highway, it drives just as well as any other ICE car, rather fares better than it!
Different ranges are predicted at the same SoC. It's better to keep the SoC as a reference and not the predicted range.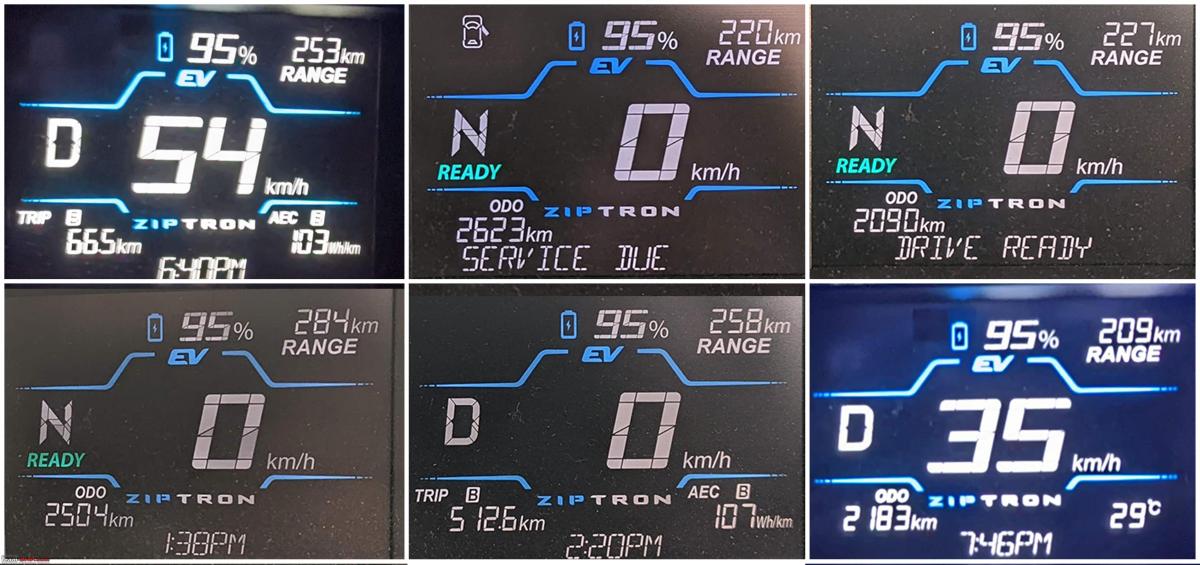 I find it unfair to compare an EV with an ICE car. Although their battle is the hottest topic right now, it is like comparing apples to oranges. An EV is an EV and an ICE is an ICE! While we enjoy comparing it on running costs and coming up with all sorts of break-even points and ownership and ROI calculation, I simply wouldn't want to do that. It is better to see it (and appreciate it) for what it offers. After this drive, I don't feel like going back to driving an ICE car. The ease of use, the ability to just plug it in at home for charging (and not visit a fuel station at all!), no changing gears, no tailpipe emissions, and the silent and torquey drive, all add to a comfortable and enjoyable drive and make strong points for one to own an EV. In fact, nothing about the car made me feel that I'm driving something 'less' than a conventional car. The AC, music system and other electronics worked exactly like a conventional car. The ABS worked well and saved us at a time when it was needed. At that point, you can actually forget that you are sitting in an EV! But yes, it comes with its share of cons in the form of snags, glitches and stressful moments. In the case of long-distance travel, you may need to have much more spare time at hand to reach the destination. It's best while going on a leisure trip or a holiday drive when you are not pressed for time. Also, in the event of travel during an emergency, you may not be able to use your EV in case it's not readily charged. While TATA's lineup of EVsis extremely well-engineered, TATA's charging points have a lot of scope for improvement. Their network is the most widely spread and has relatively lower charging costs. The new service providers in the EV charging space are helping expand the EV charging infrastructure at a fast pace.
Signing off.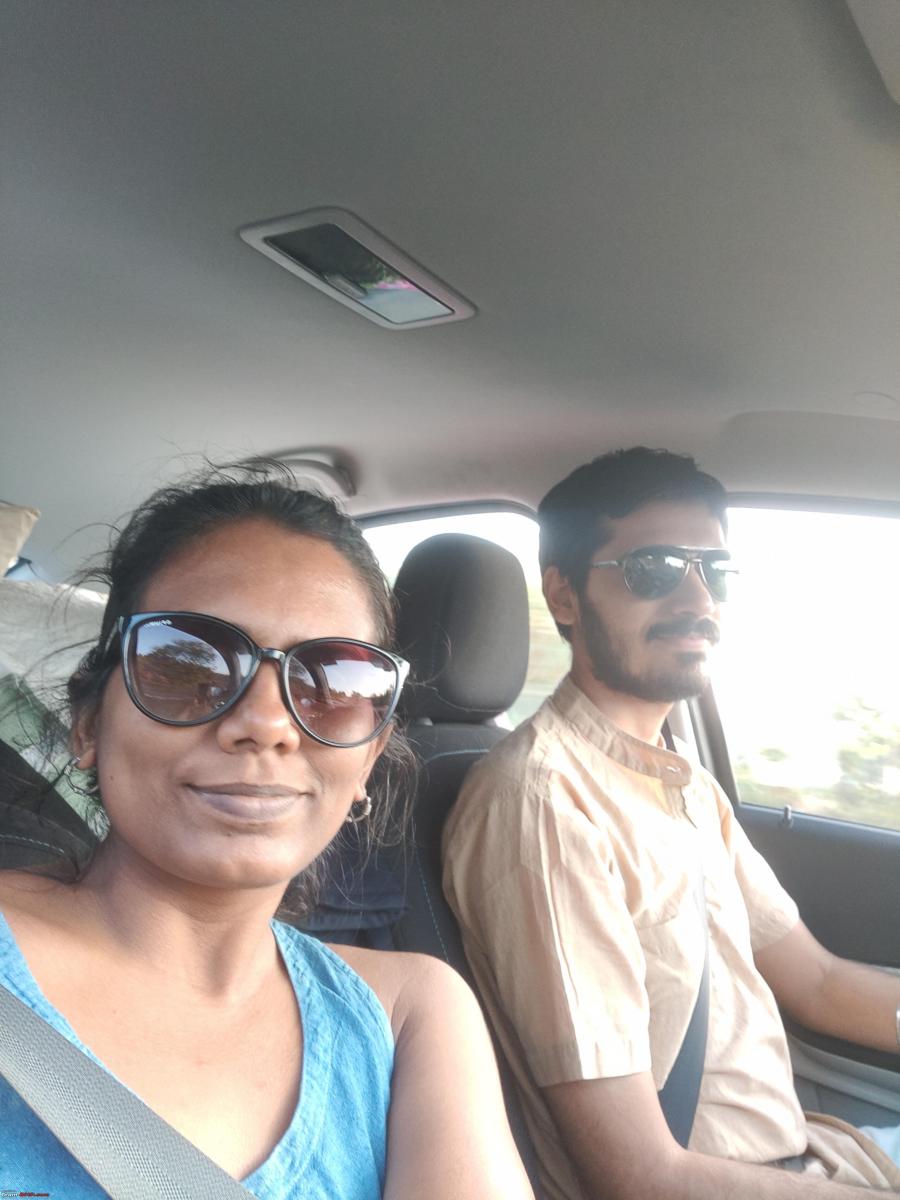 Check out BHPian comments for more insights and information.
Source: Read Full Article