13 Best Vehicles for Tackling the Apocalypse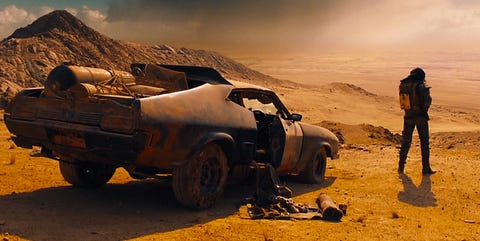 2020 did not get off to a great start. We lost Kobe Bryant, General Motors killed its Holden brand, and most people were told to work from home. In that order. And here we are, a year later. It would be wise to use what we've learned over the last 12 months to prepare for the worst—some might even say the inevitable (as if it hasn't been bad enough). We'll save you the trouble from researching bulletproof cars or trucks good for zombie hunting. It's all here folks. Depending on what finally causes civilization's collapse, some choices will be more useful than others. Choose wisely. And good luck out there!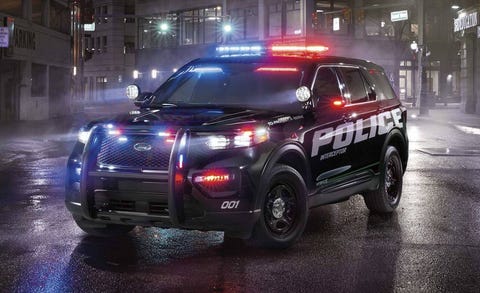 Event: Alien Invasion
Strategy: Ack, ack, ack, meet wee-woo-wee-woo.
Howdy Partner. Aliens have attacked, and you've just been deputized. You'll need the help of bright spotlights and a sturdy bash-bar for an emergency getaway. If Hollywood predicted it right, aliens are going to be tiny little fellas, but they're gonna be fast. The 2020 Ford Explorer marks another generation of the Ford tradition, and it also comes with a new special police model. One that uses a hybrid drivetrain to save fuel, and boost horsepower output. The three-row SUV has loads of room for supplies or friends you might rescue along the way. The FPIU has been engineered to safely soak-up a 75-mph rear-impact, just in case Aliens try to ack you from the back.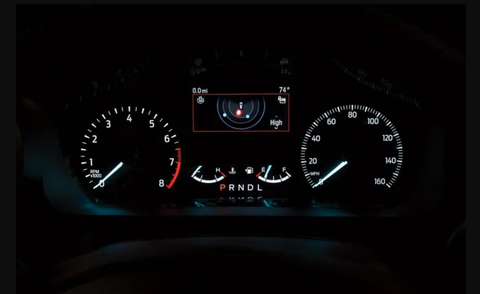 The intergalactic bandits won't fight fairly, but the FPIU has you covered. Police Perimeter Alert uses the Explorers blind spot monitoring system to alert you when someone is sneaking around. If an object is determined to be a threat, the windows will automatically roll up, the door locks will activate, and footage from the rear view camera appears on the infotainment display. That should give you ample time to escape, considering hybrid models have a combined power output of 318 horsepower and a quicker zero-to-60-mph time than any other police SUV, ever.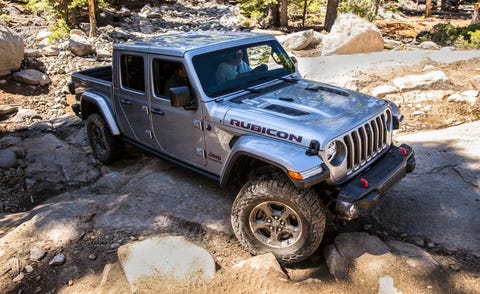 Event: Zombie Apocalypse
Strategy: Clean the place up.
Look, you don't call something a "Gladiator" unless it has those sorts of ambitions. Consider the new Jeep pickup's standard equipment (in Rubicon guise): Fox shocks, skid plates, beefy Dana 44 axles, locking front and rear differentials, and rock rails. The Jeep is big but not too big, and its off-road capability and toughness are assets to leverage when you'll be mowing down the undead and clambering around off the grid trying to evade spawning sites—um, we mean, former population centers.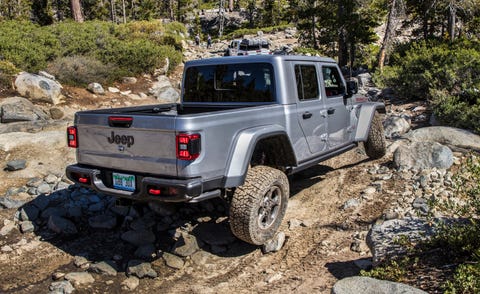 You're probably asking, "But why choose the Gladiator pickup, when your stuff could be protected in the closed confines of the four-door Wrangler Unlimited?" Our easy answer? That the Gladiator represents the "on the offensive" option, both in name and layout. It's ready to fight, and its open pickup bed and removable roof panels make for excellent sharpshooter perches from which to fend off bands of groaning zombies. With the nation's finest armaments left abandoned by the now-overrun military and useless to the undead, it wouldn't be hard to utilize the Gladiator's 1190-pound payload and stick a .50-caliber rotating machine gun in the bed.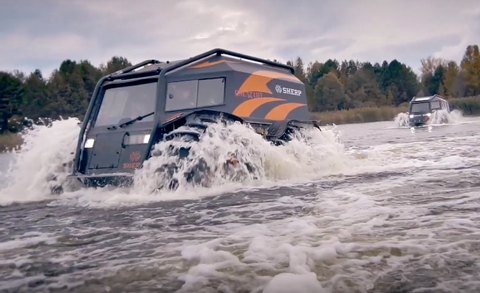 Event: Cthulhu Awakens
Strategy: Swim quickly, and carefully back to safety.
We're not sure what Cthulhu looks like–yet. Legends tell of an enormous octopus with big armored scales and tentacles strong enough to lift cruise ships. Whatever sleeping medication Cthulhu takes, it's working, because the beast hasn't revealed itself in over 15,000 million years. When that day comes, choose the Sherp. The 43-hp ATV wears giant 63-inch tires that can climb logs, rocks, ice, snow, but most impressively, travel on water at 3.7 mph. Okay, that's not very quick, considering your typical fishing boat has a top speed of 11 mph, but the Sherp doesn't stop when it hits the shore.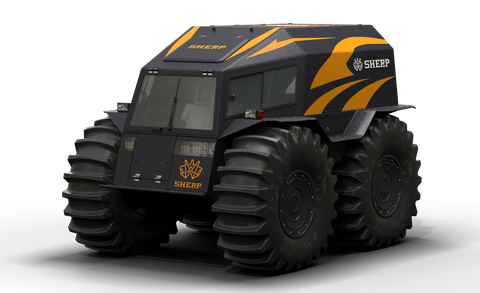 Assuming Cthulhu can't fit a pair of Healys at the end of its bus-size tentacles, getting onto shore to escape seems like a good plan. That is of course unless you believe it to have wings. The Sherp has 23 inches of clearance, but only a max speed of 24.5 mph. However, the planet would be full of debris and rough terrain if such an event occurred, so its 35 degrees of grade-ability could come in handy. It's also capable of storing extra fuel within the wheels, expanding its maximum fuel capacity to 76 gallons. Crap, we almost forgot to mention Cthulhu might be immortal. Ugh, you just can't win!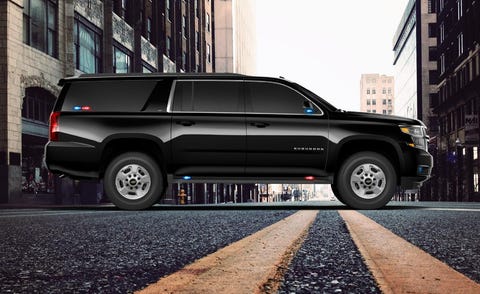 Event: State-Sanctioned Lockdown
Strategy: Sneak out in plain sight.
Pre-apocalyptic sorts of tensions take a while to play out into full-on lockdowns, so you've had time to equip your black Chevrolet Suburban HD (today available only to fleets, but you can get around that snafu, right?) with the requisite "secret service" treatment. That means lights, antennae, tinted windows, and the like.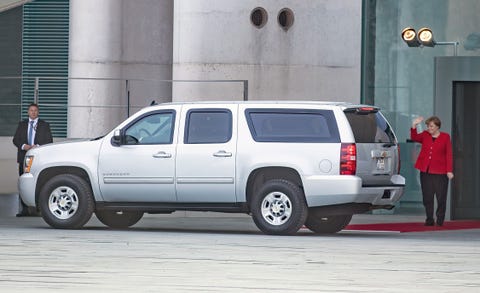 Shown here in government guise, the Suburban HD is the smart survivalist's one-up on the swaths of doomsday planners clamoring for a bestickered squad car. No uniformed police or military will dare second-guess you when you glide through checkpoints with a one-handed confident wave. You're above their pay grade, or at least appear to be, and so you're probably doing something important. Bonus effort: Talk three of your friends into snapping up armored Suburbans of their own to create a convincing convoy. If it all goes wrong, the Delta Force says the Suburban can take a hit or two.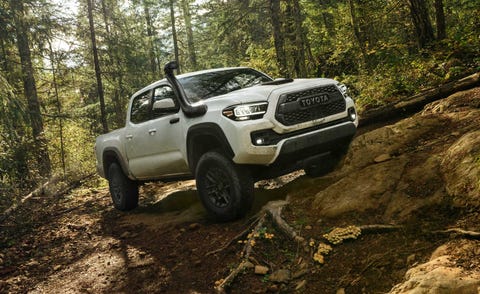 Event: Enemy Invasion
Strategy: Off the road and on the run.
The Toyota Tacoma is a little long in the tooth, you say? Could be. But you're not going to be looking to impress the Joneses when the Russians are landing on both coasts. You're going to need something you can pack up, pack in, and take off in without even an errant concern over its reliability. The hardcore, off-road-ready TRD Pro version ensures you won't have a pang of unease over the Tacoma's capability, either.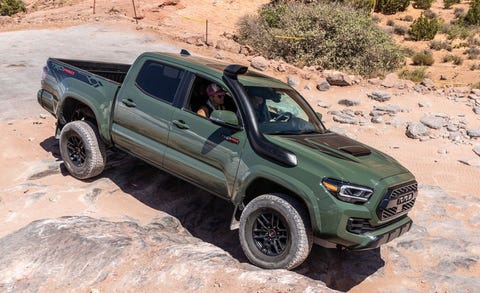 The 2020 Tacoma TRD Pro adds an incredible (and appropriate) Army Green paint option. (Don't worry, you'll be spray painting "Wolverines" before the enemy knew what hit them.) As a bonus, the TRD Pro model can be paired with a dependable six-speed manual transmission, which these days doubles as a better anti-theft system than the most state-of-the-art car alarm you can buy.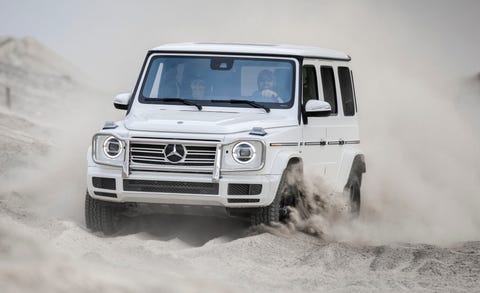 Event: Civil War
Strategy: When your fellow citizens war, get yourself something civil.
It's a shame Mercedes-Benz has yet to resurrect the towering G550 4×4 Squared model in the redesigned G-class lineup. It'd be perfect for when the world goes to hell in a handbasket. Plus, a 4×4 Squared based on the new G-class sure would be sweet to show off to your soon-to-be-doomed fellow citizens. While you could always find one on the used market, new is always better; if that new-car smell is something you want to hang onto post-apocalypse, the regular G-wagen is worthy—if not quite as tall as the discontinued 4×4 Squared.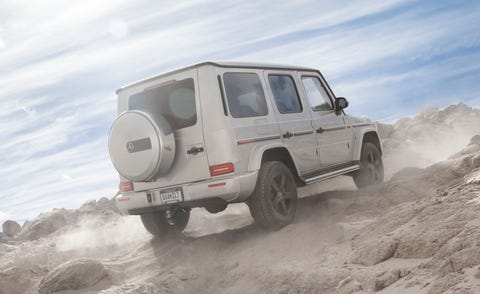 While everyone else dukes it out Mad Max–style for dwindling resources after a national meltdown of epic proportions, you're not ready to give up on those luxuries that make the difference between surviving, and surviving well. And if you conspicuously consumed before, why stop now that the world is burning? The G550 not only is a luxury box to rival the best, but it's an off-road billy goat and comes with a nice, high-mounted brush bar masking its front end from random, post-apocalyptic debris or mobs or zombies. The quicker, more powerful G63 model has a less heavy-duty brush bar, and it's mounted low on the bumper—we won't get gruesome, but you can do the math there on its usefulness on the out-of-control crowds or zombies. So, use the $23,000 in savings you'll have left over from buying the G550 instead of the G63, and use it to pay for uparmoring and auxilliary lighting.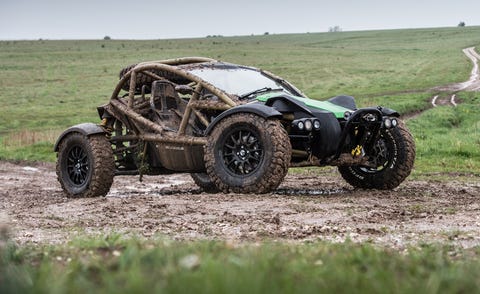 Event: Enemy Attack
Strategy: Go, go, go!
Offering absolutely no defensive protection, the Ariel Nomad should be your pick if your number one concern is the only concern: getting out of dodge, right f$#@ing now. It's essentially an Ariel Atom that's been over-engineered to move quickly through practically any terrain. Focus on that, not the fact that the buggy has barely enough room inside for a backpack.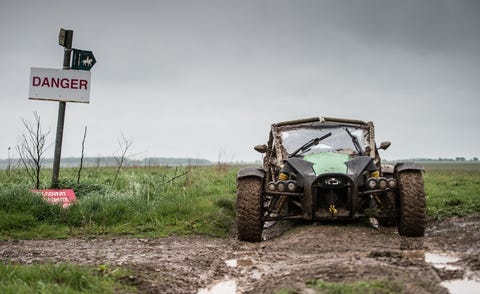 What the Nomad does have is a supercharged Honda K24 engine pumping out 300 horsepower, BF Goodrich Mud Terrain tires, an adjustable heavy-duty suspension, and a feathery 1750-pound weight. Picture this: You live in a dense downtown area and learn warheads are inbound. There isn't much time. Forget your suvival strategy, rations, close friends and relatives—your only option is to beat the masses clogging the roads out of town. And so, sidewalks, alleys, stairs, trails, bike paths, and aqueducts become your paths to safety beyond the blast radius. The Nomad is the vehicle that will make it so in a hurry; trust us, we've practiced it.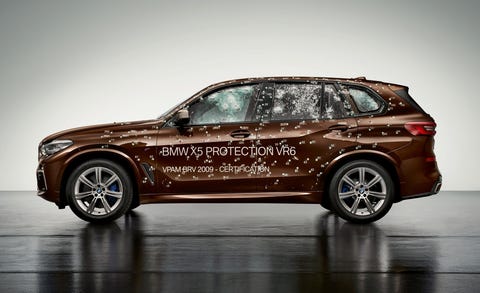 Event: Bullet Tsunami
Strategy: Bring this X5 to a gunfight.
Typically when someone describes a car as being bulletproof they're speaking in terms of reliability. In the BMW X5 Protection VR6's case however, it's a far more literal description. The underbody, cargo area, firewall, and door jams are all overlapped with high-strength armor plating that can take blasts of up to 15 kilograms of explosives from a distance of 13 feet. Thanks to Post Blast Protective Technology, the windows don't completely shatter and remain firmly in place. Seeing through them however, well that's a different story.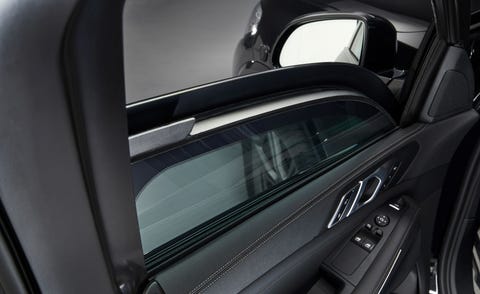 If the local forecast calls for cloudy with a chance of bullets, the several layers of protection offered in this X5 will keep you from drowning in lead. Windows, door gaps, and even an optional reinforced roof to prevent drone attacks are all part of this shelter on wheels. The right pedal activates a 523-hp 4.4-liter twin-turbo V-8 for quick escapes while your attackers pop another clip into their AK-47s. Run-flat tires and extra guarding around the gas tank are both in place to keep things moving.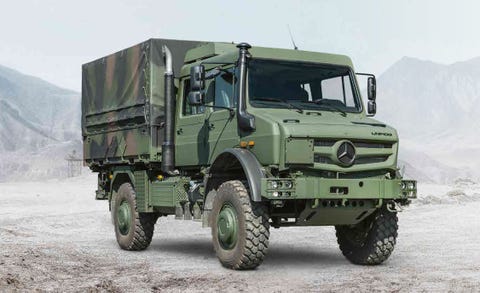 Event: A Handmaid's Hell
Strategy: Women and children first.
What if A Handmaid's Tale actually happens? There is no better way to save the women and children from some horrific dystopian reality that enslaves and reassigns them than with a new four-door Unimog Crew Cab from Mercedes-Benz's "Defense" line. You can build these rigs aimed at military service pretty much any way you want, but in this scenario we'd suggest upgrading to the armored troop carrier. It's assuredly better for when society is crumbling around you than the less-armored, cloth-sided troop carrier pictured here. Either way, there's room for everyone! Or at least you and your large family.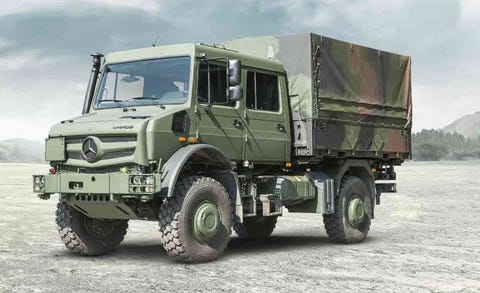 Sure, this massive Benz is not cheap, but can you really put a price on the survival of your nation as you know it? With eight forward and six reverse gears, the ability to ford water up to 50 inches deep, and portal axles for insane ground clearance, the Unimog isn't likely to encounter a situation that stumps it, apocalypse or not.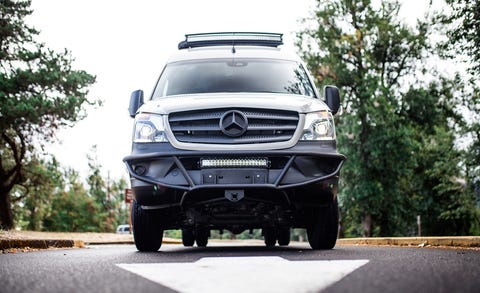 Event: Civil Unrest
Strategy: Head for the woods and hole up.
Tensions are rising, the riots are happening a lot more often, the mail hasn't been coming, and the power has been iffy at best. You can feel it in your bones: It's only a matter of days before the entire country goes Tango Uniform. That's why you should consider an upfitted Mercedes-Benz Sprinter from Outside Van. Take the family on a fun overlanding trip today, and be super-prepared for an uncertain tomorrow.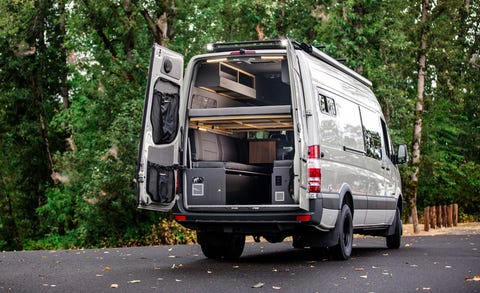 If you are anything like us, you wisely opted for the 170-inch "Amp" Sprinter dualie model, with 200 watts of solar array up top, a queen-size bed, shower, rainwater collection, and induction cooktop. With factory all-wheel drive, a suspension lift kit, and some serious off-road rubber, you and your family are headed for the hills to sit this one out for as long as it takes for those riots to die down in the city.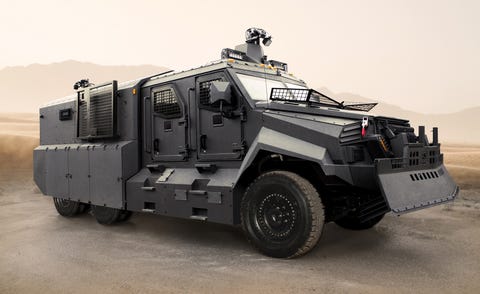 Event: Heavy Rioting
Strategy: Pacify the masses.
Put the kybosh on civil disobedience and you could be running a town or greaseball militia before you know it, and stability and protection is powerful social currency in post-apocalyptic times. So, why not pacify the masses on your way to your new station by using the 250-psi water cannons mounted atop Inkas' very aptly named Riot Control Vehicle will pretty much tone down any anxious crowd you could imagine.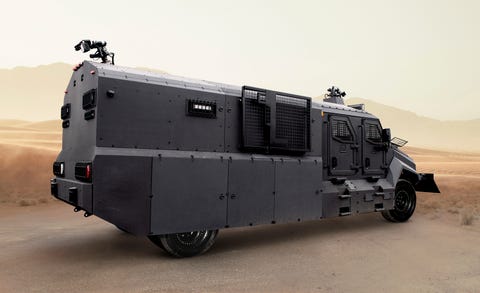 If the hordes get too fighty, don't worry: The Riot Control Vehicle can withstand multiple high-velocity rounds as well as shrapnel from explosions. If the blaze keeps burning, no worries there either—the RCV has a fire suppression system that protects the perimeter of the vehicle. And, yes, that is essentially a giant shovel mounted to the front. Your getaways (or breaches) should be pretty easy, no matter what's in your way.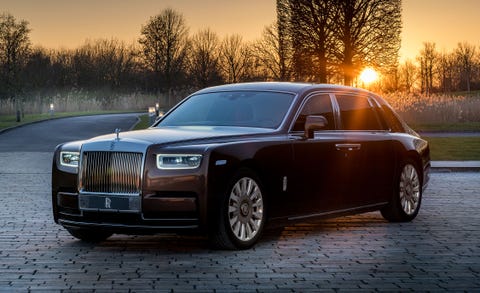 Event: Global Quarantine
Strategy: There is no hope—but there is booze in this Rolls.
Whatever you did in the normal world to afford the $500,000-plus Phantom Extended Wheelbase, we'll assume you'll be crafty enough to instantly do the math when the antibiotic-resistant super-virus outbreak hits. Even if you can get out of range for a few days, or even weeks, there is no beating a force of nature like this. Earth is done with us and is hitting "reset," and only the germs will survive. It's against this bleak, hopeless backdrop that we suggest the Rolls. Unlike some of the other vehicles on this list, it isn't going to beat the odds and carry you to a post-human earthly existence. No, it's here for those keen on measuring out their remaining days one drink at a time in comfort and style.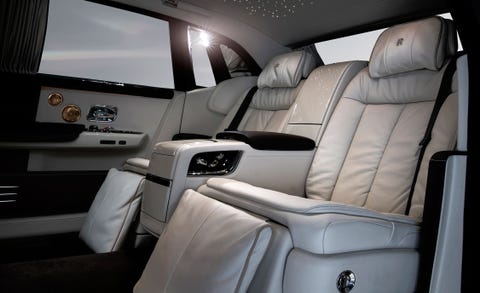 Outside, the airborne pathogen has people dropping like flies around the world. But in your Rolls-Royce, you've got deep-pile carpeting, a refrigerator with a decanter (drink up!), and your favorite commissioned artwork in the glass dashboard. Perhaps you'll cast a wistful glance at that art while decompressing in the back seat. Maybe you won't. But more importantly though, you've got silence. You can scarcely hear the screaming and decaying hordes around you as you sip on the Veuve from 1841 that you've been saving for just this day.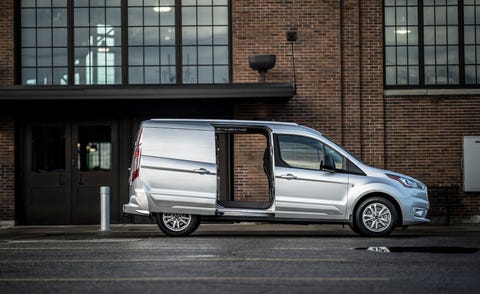 Event: Global Currency Collapse
Strategy: Barter system.
It's not difficult to imagine a scenario in which the same geniuses who brought you the mortgage crisis, credit crisis, and a few stock market collapses could botch the entire financial system, sending us all back to the stone age overnight. There would be roving gangs, sure, but for the most part people just want to survive—you included, we bet. So, get yourself a Ford Transit Connect cargo van. It's small, affordable, and useful even before the economy melts down.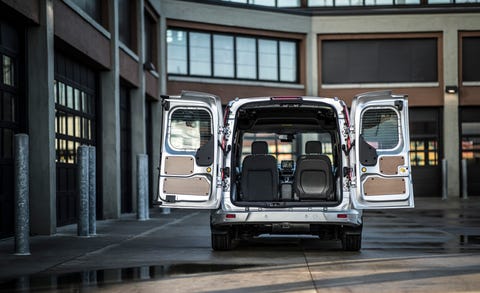 Imagine, you could barter your way across the nation like a dystopian version of Jon Favreau in Chef, cooking up food for the masses in exchange for raw ingredients, shelter, warmth, or fuel. If business is booming, you can tow a 2000-lb smoker behind you. You'll get far on a tank in this little-ish Ford van, which is EPA-estimated to get 27 mpg highway, and the efficiency of modern solar panels (of which many can fit on the Ford's boxy body) will help with extended stays well off the grid—or what's left of it.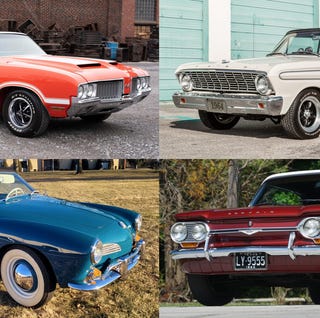 From: Car and Driver
Source: Read Full Article