1 year with my Tata Altroz Turbo: Performance, fuel efficiency & more
There's ample space in the cabin for all the passengers and the air conditioning is superb.
BHPian SavoyWalrus recently shared this with other enthusiasts.
The iTurbo has completed a year and exactly 10,000 kilometres since I bought it in December 2021. The car has served me well and I haven't encountered any issues thus far.
It has primarily been used on the highway (I work from home, so no commutes for me) and has been fantastic for long-distance drives (quite a few 8-10+ hour journeys). The suspension works well at high speeds, the seats are pretty comfortable, ample space for all passengers, superb AC, plenty of cubby holes, huge door pockets, and a spacious glove box (can easily store three 1-litre bottles and the cooling is excellent), and decent power to keep it in triple-digit speeds.
The engine, as mentioned by most owners and reviewers, is sort of a weak point; it could've been a brilliant package with a little more torque. There's ample power to chug along on the highway, but you'll have to change gears quite a bit on the hills. There's also the very annoying momentary hesitation down low in the rev range.
Fuel economy has been pretty consistent — 13-14 in the city and 15-16 on the highway. I run the car with AC almost all the time so I'm happy with these figures.
I haven't done any modifications to the car (this is the top-spec XZ+) apart from underbody rust protection, Michelin Primacy 4 tyres, and swapped the stock wheels for Momo Revenge wheels.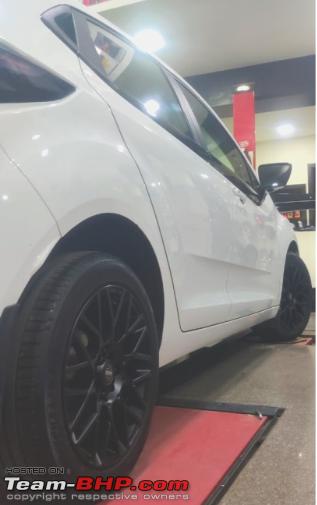 There was a little bit of rattling from the roof liner at triple-digit speeds which was rectified during service. The gearbox was a little clunky in the first few months of ownership, but that was mostly sorted out during one of the services and I've kind of gotten used to working around the clunkiness.
I have a few mods planned for the car which I'll probably do in the next year or so.
Sound deadening to reduce the engine noise in the cabin.
Dechrome some bits up front
Get sportier pedals; these make an annoying squeaky noise at times
Remap (after the warranty expires)
A sportier end can (like the ones in the JTP)
I'm in two minds about getting lowering springs — Bangalore roads are terrible and the Altroz is already lower than most hatchbacks, but it would give it a nice stance and improve handling a little.
Will probably get a downpipe later down the road.
Happy with the car so far and hope to put on more kilometres in the next few months!
Check out BHPian comments for more insights and information.
Source: Read Full Article