1 year & 10,000 km with my used Suzuki Gixxer SF250: Ownership review
With my Yamaha FZ, overtaking bigger vehicles needed a bit of planning but that is not the case with the SF250.
BHPian ITZ_Zeta recently shared this with other enthusiasts.
Hello Team-bhp!
It's Zeta here and welcome to my ownership review of the pre-owned Suzuki Gixxer SF250 BS4. I'll be penning down my thoughts about the bike after spending almost a year covering almost 10000 km.
Things I like about the SF250
Linear power delivery
Comfortable ergonomics
Looks awesome
Good handling dynamics
Manageable weight
Good heat management
Bright and effective headlight
Fuel efficiency
Smart-looking dash
Wide mirrors
Dual channel ABS
Things I don't like about the SF250
Vibrations after crossing 6000 km on the odometer
Questionable spare parts availability
Stock tires are a letdown for enthusiastic riding
Small visor doesn't offer any wind blast protection
Not-so-smooth gear shift at lower rpm range
Lack of feel on the front brake levers
Paint quality in metal parts
Puny Horn
Suzuki ASC is a miss
Linear power delivery
Comfortable ergonomics
Looks awesome
Good handling dynamics
Manageable weight
Good heat management
Bright and effective headlight
Fuel efficiency
Smart-looking dash
Wide mirrors
Dual channel ABS
Prelude
My first bike ever was a 2014 Yamaha FZS, which currently stands at 62000 km. The bike served me well the past 8 years without a single trouble and took me to different places in Kerala. The FZ is a smooth and reliable machine, but as time went on, the touring on the bike increased and the desire for a bit more power was growing in me.
So last year, decided to go for an upgrade with the following criteria in mind:
Criteria
Faired motorcycle
Refined engine
Good ergonomics
Better cruising speed
Good fuel efficiency
ABS
Exclusivity
Manageable weight
I decided to go the Pre-owned route and find myself well-maintained examples to get maximum bang for buck proposition. The budget I set for this purchase was 1.5 lakh.
Alternative Considered
Honda CBR 250R
When I decided to upgrade, my first choice was the CBR 250R. Many of my riding buddies have / used to have one and almost everyone praises it for being a reliable and smooth sports tourer. But I was subjected to a harsh reality check when I started actively looking for good pre-owned examples in Kerala. Most of the CBR250R was Non-ABS with shoddy maintenance records and was overpriced. ABS models were rare. The reasonably priced ones were sold out in hours. At one point I even saw a seller 'auctioning' an HRC edition CBR250 ABS in the OLX. Also, the spare availability was slowly becoming a question mark with honda, especially for a discontinued model.
Kawasaki Ninja 250R
Another alternative I looked for was the Ninja 250R. I knew 4 people who are familiar with this bike, and one of them even clocked a lakh km in his machine. What they said to me was that the Ninja 250R is a very reliable and good machine, but the maintenance cost will be higher and if something should go bad, you'll be looking at an expensive paperweight. I almost got my hands on one properly pampered example in my circle but didn't go for it since it clocked more than 40,000km in the odometer. Then there was another Ninja which was a sort of a 'barn find' and that too didn't materialise due to paperwork issues. This thread would've been a lot different if that happened.
Also considered Ninja 300, but couldn't find one for my budget.
TVS RR310
RR310 was another alternative I briefly considered. I was on the lookout for a Gen 2 TVS RR310 i.e the slipper clutch model without the TFT display, which was launched as an update sometime in 2019. The bike looked awesome and had a bigger presence. But I wasn't able to find that specific model in the pre-owned market for my budget. Most of them on sale were the Gen1 models without the slipper clutch, which was reported to have few niggles like vibrations, rattles etc.
Suzuki Gixxer SF250
This bike wasn't even on my radar up until the end. While I was sitting at home frustrated at the fact that the 'barn find ninja' deal fell through, another friend of mine suggested to me the SF250. Started looking up the bike and felt it was a good alternative to my initial goal, the CBR250R. But this was a bike I hadn't got an opportunity to test ride. Olx had many good examples to offer, that too in mostly good condition and within my budget. Narrowed down two examples. Both of them were 2019 Silver Gixxer SF 250, one was in Calicut and the other was in Thrissur. Decided to check out the one located in Thrissur first. Contacted the owner, asked for all the preliminary details, photos etc and after reviewing the info, decided to check the bike personally. Some day in February 2022, I rode to Thrissur with my trusted FZ to check out the bike.
So the bike in question was a 2019 manufactured, 2020 registered BS4 Gixxer SF250, which belonged to the first batch of the lot, had 4700km on the odometer and had few accessories like an aftermarket visor, and flush mount indicators. The bike was very well maintained, always serviced at ASC and the records matched the Odometer. The owner was selling it off because he was moving abroad.
I decided that I will test ride the bike first to understand the machine a bit better and then think about purchasing it or not. I was riding the SF250 for the first time ever and this one just clicked. My first thought while riding was 'Hey, this is what I wanted in my FZ in the first place'. The ergonomics were spot on, the power was linear and available at the rpm range where I needed it. Weight is less, no unwanted clatter from the engine. The bike had the right amount of usable power ideal for the roads in Kerala and I loved it. The bike pulled clean when I gave it the beans and I was enjoying it.
After an extended test ride, I thoroughly inspected the bike once again and offered my price to the seller. After a bit of negotiation, the seller agreed to my price and the bike was mine. Left my FZ at a friend's place in Thrissur and rode back Home on the SF250 that day itself. The return journey of almost 200 km back home in the night proved to me that the choice of my purchase was just right for me. I was enjoying it way too much and this was the first time I actually enjoyed riding at night. My Family was surprised when I showed up on a silver bike late at night.
Design and Styling
The bike is quite a looker in my eyes, especially in the silver paint scheme. It grabs just the right amount of attention on the road. People will give a second look, but they aren't motivated enough to climb on the parked bike for a picture, nor it doesn't trigger the squids on the road. Most of them assume it's an r15 v3 when coming from a distance until they see it near. Personally, the rear quarter angle is the best view of the bike.
When compared with other bikes like RR310, the SF250 might feel a bit smaller due to its compact bodywork. Most of the fairing and related parts are shared with the SF150 as well and one might assume it is an SF150 if they didn't see the '250' lettering on the side and the different alloy wheel design. The front visor is the only thing that I feel is a letdown. It's too small and doesn't do much against the windblast. When I got the bike, it already had a double bubble visor, which did improve protection against the windblast, but not so on the looks front for me. Currently, I have fitted the Visor for Ninja 300. Yet to finalise the mounting position for the same.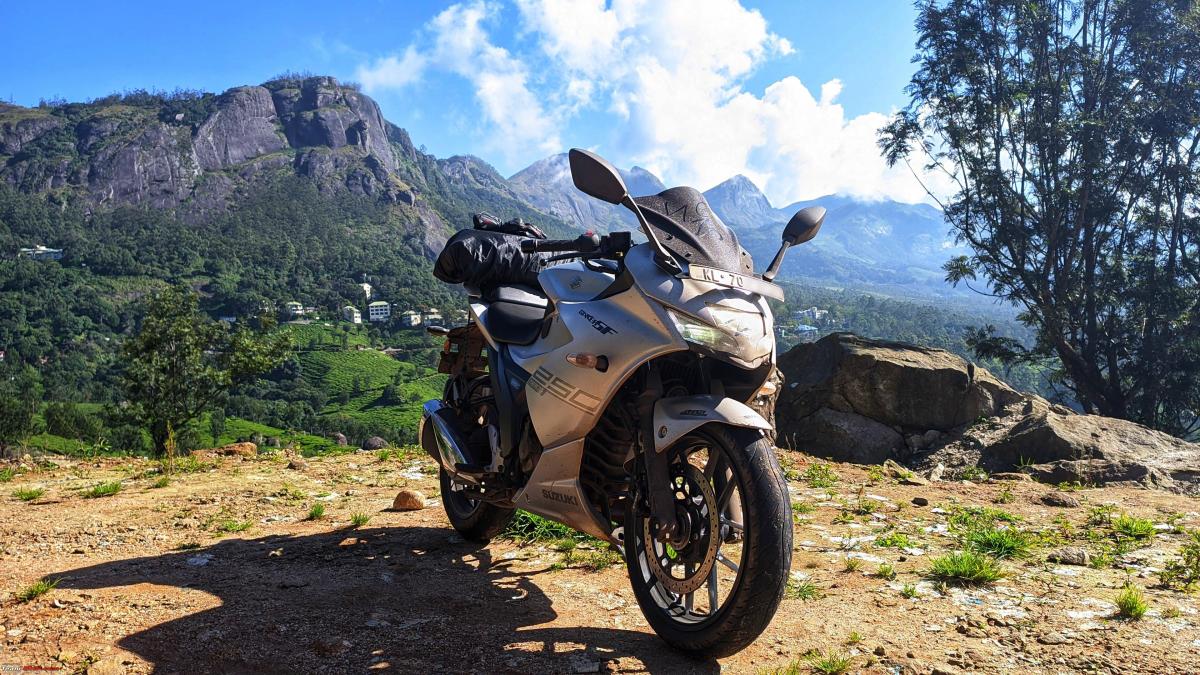 Engine and Transmission
The engine is a 249cc purely oil-cooled SOHC single-cylinder engine with a rated power of 26.5 PS and torque of 22.6 Nm. The specification is almost similar to the Honda CBR250R, the difference being the power delivery. The bit I like about this engine is that the power delivery is linear and predictable. The mid-range is an awesome place to be and the gearing is spot on. The power is available from 3000 rpm all the way to the redline. 3rd and 4th gear will be your best friend in city riding conditions.
The engine has a good amount of tractability that you can roam around in the city with minimal gear shifts. And for quick overtakes, simply twist the throttle and you can see the bike climb speeds rather quickly, even in higher gears. With my FZ, overtaking bigger vehicles needed a bit of planning and that was not the case with the SF250. The SF has a six-speed gearbox which is geared rather nicely. Although the shift is accurate, it is not as smooth as one expects in the lower rev range. Shifting does become smooth when you're high in the rev range. I do find the clutch to be a bit harder when compared to my FZ, but again, it's not so hard that it causes any pain in your palms when city riding.
The engine is purely oil cooled with a dedicated oil cooler and fan for cooling the oil and I must say, it's very effective. To date, I haven't heard the fan kick in and I haven't felt any sort of heat in my legs or any other parts of my body, even in peak traffic. The heat management is just excellent.
Since it's purely oil-cooled, you have to keep a keen eye on what oil you put in the engine. I recommend going with fully synthetic engine oil. Currently, I have tried Ecstar, Shell and Castrol and found Ecstar and Castrol to do a fine job. Planning on experimenting with Motul next.
Build quality
The bike is well put together and I haven't to date heard any sort of rattle or any weird noises from the panels or anywhere in the bike. I am not a big fan of matt finish paint, but the Matt Silver in the Gixxer is rather good. All the plastic parts have a nice quality to them.
The paint quality on the metal components is a different story. One pressure wash and the paint started peeling off from various metal parts such as the engine case, chassis and brake calliper. Not cool Suzuki! But I do hear that this particular issue is limited to the initial batch of 250s. Even still, I'll advise the potential owners to keep an eye on it.
Switchgear is of good quality and looks the same as that of my FZ, except for the absence of a headlight switch. Backlit switchgear would've been nice to have, though.
The Ride / Suspension
The SF250 gets a conventional 41mm non-adjustable telescopic suspension up in front and a 7-step preload adjustable monoshock at the back. I felt the overall suspension is very slightly on the firmer side which might annoy you a bit on very rough roads, but this makes the bike a rather brilliant handling machine. You can take corners with confidence and the bike remains stable throughout. The bike is very responsive handling wise and it follows thru rightly where you want it to be. The ground clearance on offer is very good and clears most bad roads and humps with ease. The kerb weight is 161 kg on paper, which is less compared to the competition and it makes the bike very manageable in tight spots in traffic and parking.
Ergonomics is spot on for me with this bike. The reach to the handlebar is comfortable and one can say the riding position is almost upright. The seat is rightly padded and doesn't cause any annoyance in your buttock region. The seat has plenty of space to move around. You can move slightly towards the back to get into a sporty riding stance if you want. I can spend a long time in the saddle without any issues with this bike. The foot pegs are located right below the seats and are not rear set and high so that again adds more points to the comfort levels.
Tyres
The bike comes with MRF RevZ-c 150/60 r17 radial at the back and MRF RevZ-fc 110/70 r17 radial at the front which has a sufficient grip for normal use. But leaves a lot to be desired when you're riding enthusiastically in the ghats and corners. Many owners have swapped with shoes from Apollo/Michelin and all of them say the new tires have definitely added a few more points to an already good-handling bike. I am still running on the stock pair and will upgrade to a better tyre once these tyres' life is over.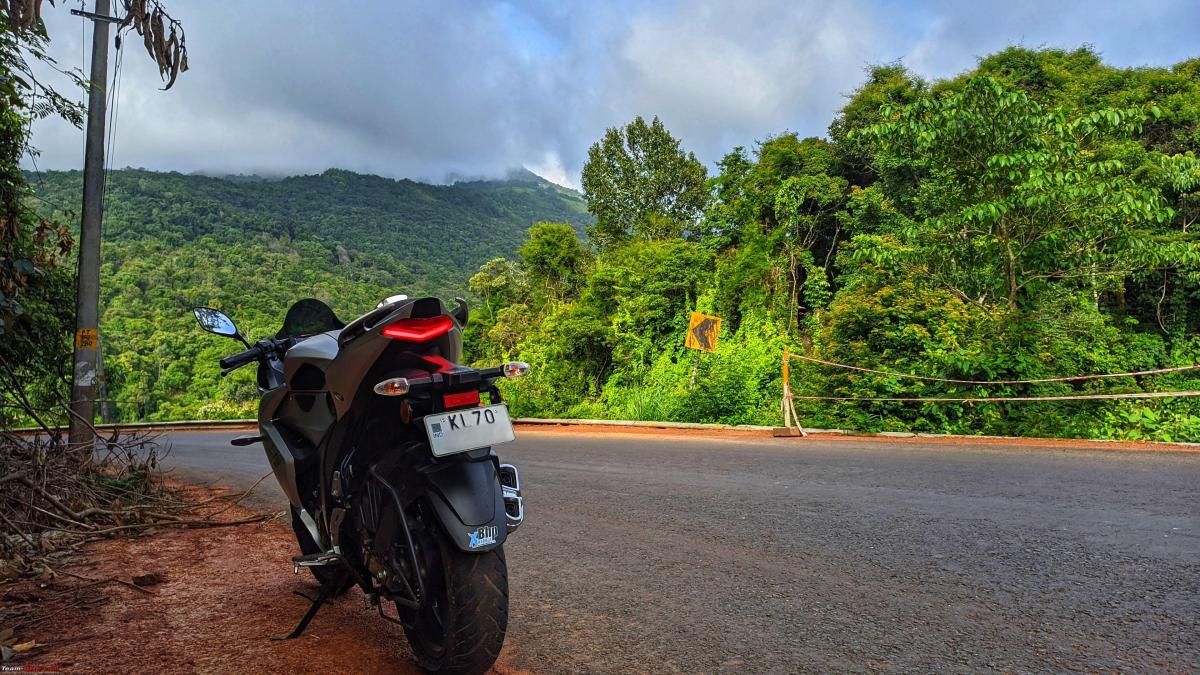 Brakes
The front brake leaves a lot to be desired. The lack of feedback on the front brake lever is very prominent and it takes out a bit of your confidence when doing braking manoeuvres like emergency braking or trail braking into corners. The stock front brake pads do provide sufficient bite, but the sponge feel of the lever makes it vague. I had to change the front brake pad at around 8000 km, which in my books is a very short life for brake pads. The brake fluid was changed at around 12000 km, which slightly improved the feel, but not enough. Currently planning on using a different front brake MC set from different bikes like KTM or a Nissin unit from Honda.
The rear brake however is very good. The bite and feedback are so good that now I mainly started to rely on the rear brake rather than the front. The rear brake pads still have plenty of life in them at 15000 km.
The bike gets a dual-channel ABS as well which is very useful during emergency braking situations and it works really well.
Fuel Efficiency
Now, this is the part most people will like. I am a rather sedate rider who tends to upshift early and keeps the speed between 60-90kmph. With the SF250, I was able to attain an average mileage of 40 kmpl on riding through mixed conditions here in Kerala. My FZ barely gave me 43 kmpl and it brings tears of happiness to my eyes that a bike with twice the power can dish out almost the same mileage as an old 153cc bike.
The bike has a 12L tank which gives enough touring range, but still I wish the tank was a bit more larger. As I always say, mileage depends on one's riding style and the environment. The highest I got was 41 kmpl, on an open road in Karnataka at a cruising speed of 75 kmph. The lowest I have seen is 29 kmpl, during aggressive uphill riding to Kodaikanal with an under-inflated rear tire.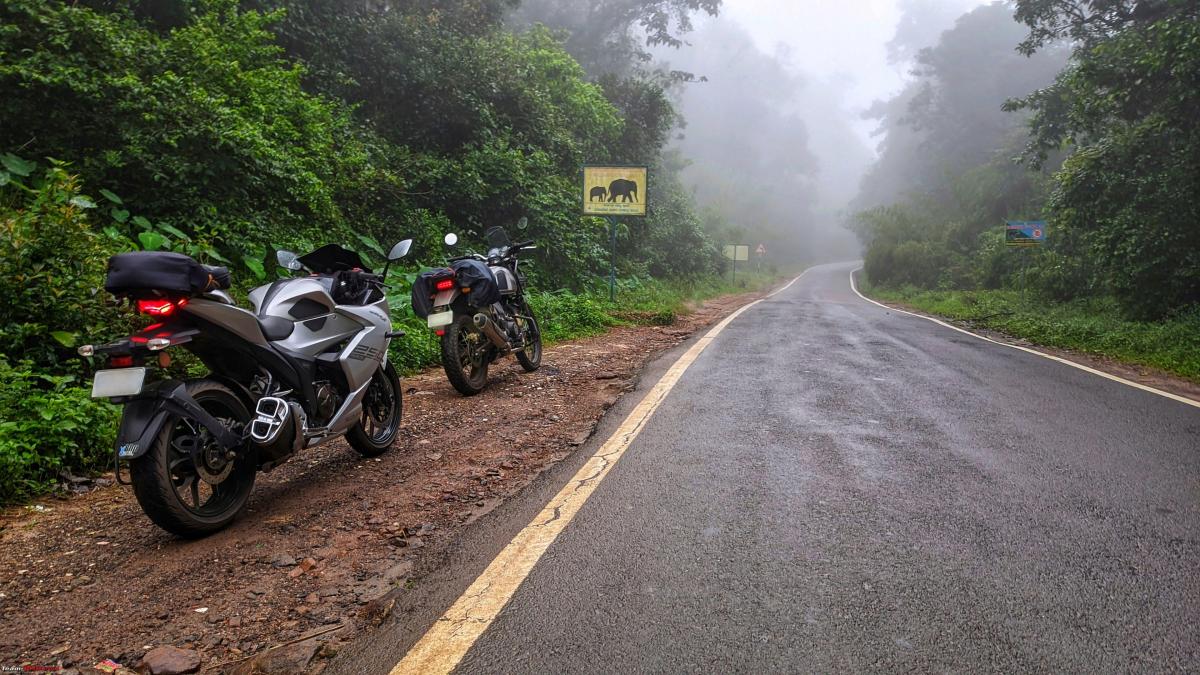 Lights and instrumentation
The SF250 has a LED headlight which I found to do a great job at night. The throw and spread are very good and I found it to be very useful while riding on highways. You know the headlight is effective when you flash at an oncoming KSRTC bus and they actually dip their high beam. Since the headlight is white LEDs, I do find it a bit lacking during foggy situations here in Wayanad. On dark roads with no oncoming traffic, the lights are just awesome. But when there is oncoming traffic, the intensity of the light does tend to take a hit. When compared with the halogen setup in my FZ, this unit is just brilliant and has improved my confidence for night riding tremendously.
The indicators are of halogen type and it would be better if they provided LED indicators there as well, since it's mainstream nowadays. The previous owner fitted flush mount LED indicators upfront which I did like, but reverted to stock halogens when I found one of the flush mount indicators showing water mist inside the lens.
The tail lamp is also an LED unit and does provide a distinct character to the bike when looked at from behind.
The instrumentation on the SF250 is pretty basic which provides all the necessary information to the rider. It's a negative display speedo console, and I had my reservation about its operations during very sunny days. But I am happy to report that the display is very effective even on the sunniest of days. It also has a programmable shift light which can either flash at you or stays lit when a particular rpm is reached. I have currently set it at 6000 rpm, which translates to 90 kmph in 6th gear, so in a sense, it notifies me when I exceed the speed limit. The speedo also has an oil change reminder, which again is useful to keep up with timely oil changes. There is also no Bluetooth connectivity and related gimmicks which I find to be useless in real 'Indian' riding scenarios. I do wish the console had a real-time fuel efficiency indication.
Continue reading ITZ_Zeta's ownership experience for BHPian comments, insights and more information.
Source: Read Full Article