Volkswagen\u2019s ID Vizzion Concept Is Heading to Production
Volkswagen's fifth ID EV, a production version of the ID Vizzion concept, will go on sale in Europe late in 2023 according to the UK magazine Autocar, quoting Frank Welsch, VW's research and development boss.
Autocar reports the BMW i4 and Mercedes-Benz EQE fighter will offer up to a 435-mile range and will come as a sedan and wagon. The exterior dimensions are equivalent to the Passat but Autocar says interior room is comparable to the much larger discontinued Phaeton.
VW of America officials wouldn't comment on whether the car is coming here, but we wouldn't be surprised if it's at least being investigated. After all if VW is going to become an EV maker wouldn't it need something to replace, say, the Passat?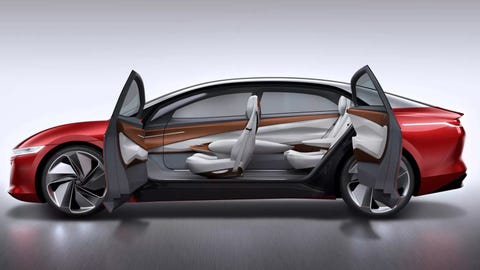 The ID.6 is built on the Volkswagen Group's EV-specific MEB platform. It follows to the market the ID.3 hatch, the recently revealed ID.4 crossover and the ID.5 coupe crossover due next year. VW is also planning the ID Buzz MPV, due here in 2023 or 2024.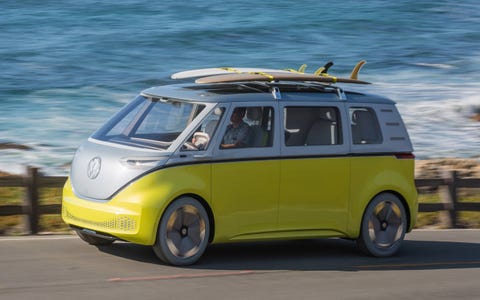 Autocar says ID.6 title isn't official yet but the number six has connotations of well being in China, Volkswagen's biggest market, and the company expects the car to be particularly popular there.
The magazine says the ID 6 will be offered with one motor for rear-wheel drive or two motors for four-wheel drive, the latter also underpinning a GTX performance model, which Welsch said can hit 62 mph from rest in around 5.6 seconds, the single-motor model will take 8.5 seconds.
As with other ID models the ID.6 is set to be sold with a choice of battery sizes. Welsch says the largest battery is an 84kWh pack mounted in the flat floor and able to provide the car with a 431-mile range. Welsch the car's impressive range is thanks to improved lithium battery cell efficiency, a reduction in rolling resistance and new aerodynamic developments. The car is also planned to support charging at a rate of up to 200kW, allowing around 143 miles of range to be added in just 10 minutes from a DC rapid charger.
Production is set to take place at Volkswagen's Emden plant in Germany starting in 2023, Autocar reports. The ID.4 and ID 5. in 2022 are the first ID models to be produced at Emden. The ID.6 is also going to be produced in China through VW's Chinese joint-venture partners, SAIC and FAW, starting in 2024.
Sign in to the comments and let us know if you think VW should bring the ID.6 here!
Source: Read Full Article