The 10 Most Expensive Cars Sold at Auction This Past Year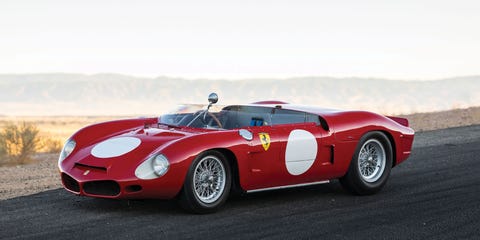 An auction can be the most accurate means of determining a car's value at any given moment in time. Values change over the years, of course. If you look back at Autoweek's classifieds in the years before the internet, and before prices "went crazy," you'll see just how much those prices changed. In the early '70s you couldn't give away Shelby Cobras. Likewise, Ferrari GTOs were once sold in the thousands of dollars instead of the tens of millions. If only we'd bought more cars then. Of course, we didn't have any money then, either.
Every year for 26 years the Classic Car Auction Yearbook tracks thousands of cars as they cross the block at auctions around the world. The season officially runs from Sept. 1, 2020 to August 31, 2021, encompassing all the big sales in that timeframe, including the Scottsdale auctions in January and the Monterey auctions in August. Browsing through the book is fascinating and also helpful if you're trying to sell a 250 SWB or a Lancia Appia.
In the last 12 months there were 192 sales of classic cars that topped $1 million, which has to be some kind of record. Here are the top 10 highest selling cars for the most recent auction year. Read on to see what you should have bought back when it cost next to nothing.
ALSO CHECK OUT THE MOST EXPENSIVE CARS TO SELL AT AUCTION EVER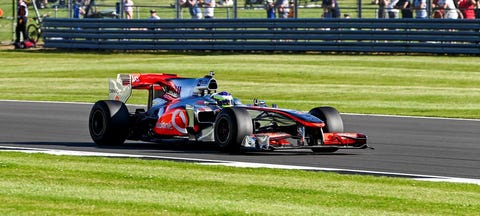 Hammer price: $6,477,735
This is the car Lewis Hamilton drove to victory in the Turkish Grand Prix in 2010. It's the first Hamilton race car and GP-winning car ever offered at Auction, according to RMSotheby's.
"The unique sale, conducted at the race circuit immediately after F1's first-ever sprint qualifying race for the Formula 1 Pirelli British Grand Prix 2021, saw the car perform demonstration laps in front of approximately 140,000 spectators, while Sotheby's European Chairman, Oliver Barker, conducted proceedings from the winners' podium," RMSotheby's said. "No Lewis Hamilton F1 car has ever been offered for public sale, making the auction a unique event in an even more unique setting, and which saw the car achieve a near-record price for an F1 car at auction, second only to the previous Sotheby's record for Michael Schumacher's 2001 F2001 which sold for £5,449,607.43 ($7,296,070) in 2017."
2010 MCLAREN MP4-25 F1 RESULT

Hammer price: $7,705,000
When Lotus and Cooper switched to mid-engine placements in their race cars, Ferrari had to follow suit. It did so with this car, putting a DOHC V6 designed by the great Vittorio Jano (and credited to Dino Ferrari) into two cars, this being one of them. The chassis was based on the 156 F1 car, so imagine how much fun it'll be for the new owner to drive. While the engineering was one thing, the look of the car is stunning.
"The most dramatic aspect of the SP was surely its breathtaking spider coachwork by Fantuzzi," RMSotheby's said in the catalog for its Monterey auction this year. "A complete departure from prior Maranello styling, the new open design featured a low-rise windscreen, delicately curved rear fenders, and the innovative sharp spoiler at the edge of the tail. These cues would become instrumental to seminal Ferrari racers like the 250 P and 330 P, and even influenced Scaglietti-built berlinettas like the 250 LM. Fantuzzi's bodywork was punctuated with an aerodynamic protruding nose featuring a twin-nostril grille, similar to that of the Ferrari 156 Formula 1 driven by Phil Hill in the World Championship in 1961."
1962 FERRARI 268 SP RESULT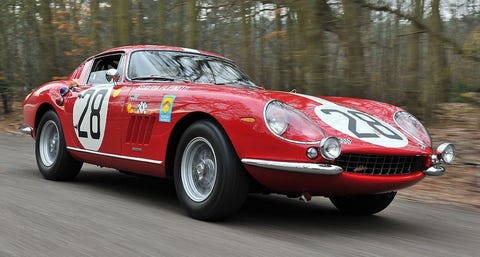 Hammer price: $7,705,000
The 275 GTB/C was the last of the factory competition grand tourers. When the FIA told Ferrari that its 250 LM race car bore no resemblance whatsoever to the production car, Ferrari took its 275, which was a production car, and made it into a race car.After Mario Andretti dismissed it as a "museum piece," the car won its class at Le Mans in 1967, and won its class at Spa and Imola 1968.Another beautiful Ferrari with solid racing pedigree.
1966 FERRARI 275 GTB COMPETIZIONE RESULT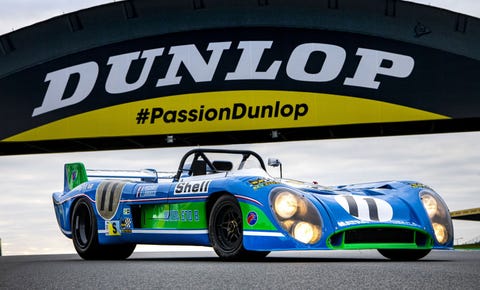 Hammer price: $8,276,898
Whenever any racing discussion gets around to the subject of which engine sounds the best at full song, the Matra is always the winner. Find a Matra video on YouTube and listen for yourself.
In 1972, Matra showed up at Le Mans with four cars and 120 team members. The glory of France weighed heavily on its shoulders… and on its shock absorbers. Even President of the Republic Georges Pompidou showed up, and took a lap in his presidential Citroën SM Chapron.
After a race that saw rain, sun, and a long overnight of darkness, two Matras were still not only in the running, but leading the race. This one, driven by Englishman Graham Hill and French racing hero Henri Pescarolo, crossed the line in first. The other remaining Matra finished second. French fans went nuts, massing on the track and hoisting the winning drivers in the air. Beautiful car, great race, and glory retuned to France, all well -worth the $8 million paid for the car at the Artcurial auction May 2 in Paris.
1972 MATRA MS670 RESULT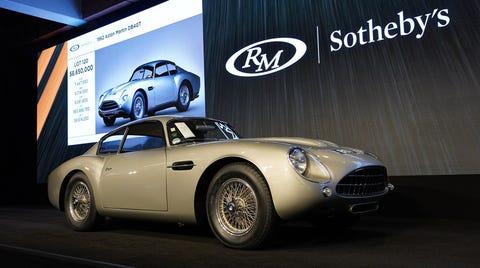 Hammer price: $9,520,000
At its Monterey auction in August, RMSotheby's called this "Aston's GTO:"
"Aston Martin turned to Carrozzeria Zagato to build what would be, for all intents and purposes, not only the ultimate DB4GT but the ultimate expression of what could be created on its platform—a DB to end all DBs. Zagato, in typical form, delivered with what is now considered to be their finest masterpiece, deftly combining design cues from both Aston Martins and earlier Zagato designs into a single harmonious shape," reads the catalog entry.
This car, DB4GT/0190/L, was driven by Roy Salvadori to a first in class and second overall behind—of course—a Ferrari 250 GTO driven by Innes Ireland at the BRSCC race at Brands Hatch.
"If the 250 GTO represented the final statement from Ferrari in beauty and performance for its time, the DB4GT Zagato stood for the same from its archrival. It is the definitive road-and-track Aston Martin of the company's golden era, and thus acquisition of one of the 19 DB4GT Zagatos is the ultimate achievement for an Aston Martin enthusiast."
ASTON MARTIN DB4 GT ZAGATO RESULT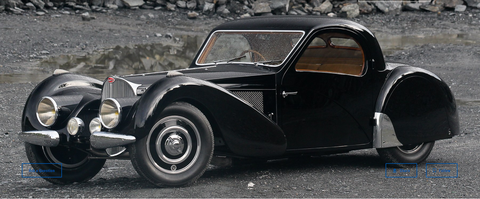 Hammer price: $10,413,374
The Type 57S debuted in 1936 with the S standing for "surbaisse," or lowered. The car was lighter, faster, and more technically advanced than the plain old base model Type 57 (just kidding about "base model," don't send hate mail). By switching the 3.3-liter twin-cam straight eight to dry sump, Bugatti was able to lower the engine even more. Only 42 of these were ever made between 1936 and 1938. This was one of just 17 of those that had Jean Bugatti's "Atalante" coachwork. This one was made for the race car driver and president of the Bugatti Owners' Club, Earl Howe, who debuted it to the public at the Eastbourne Concours. He never raced it, as far as we know, but did crash it in 1945. It sat disassembled in pieces until 2008 and was restored to glory shortly thereafter. The sale took place at Gooding & Co.'s London auction last year.
1937 BUGATTI TYPE 57S ATALANTE RESULT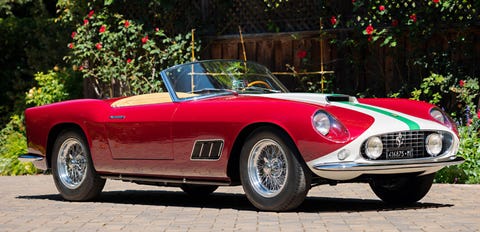 Hammer price: $10,840,000
This car was built for an Italian doctor and amateur racer named Ottavio Randaccio. It is as close to a factory hot rod as Ferrari had at the time. The tipo 128D engine got Hi-Lift tipo 130 camshafts, high compression 9.3:1 Borgo pistons, and three 36 DCL3 Weber carbs topped with a cold air intake box and open velocity stacks. This resulted in dyno pulls of 253 hp at 7200 rpm, 20 to 30 more than most LWB California Spiders. It also got a competition gearbox, limited-slip diff, Abarth exhaust, and a relatively massive 36-gallon gas tank. Randaccio raced in "circuit races and hill climbs," taking class wins in his first two outings. It was brought to the U.S. in 1995 and has since run events like the Colorado Grand. The livery in which it was sold last August at Gooding & Co. Pebble Beach was the original look in which Dr. Randaccio drove it. Caio Bella!
1959 FERRARI 250 GT SPIDER CALIFORNIA LWB RESULT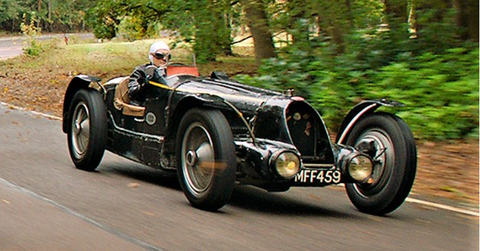 Hammer price: $12,640,550
This car has a compelling motorsports history stretching from GP wins by Rene Dreyfus to ownership by King Leopold III of Belgium. During its racing years, this Type 59 was fitted with a variety of engines and drivetrain components. The supercharged "Voiture Moteur No. 5" started out in the 1934 Monaco GP, where it was driven to a third-place podium finish by Dreyfus. The engine displacement went from 2.8 to 3.3 liters and it won the 1935 Belgian GP again with Dreyfus at the wheel. With a driver named Robert Benoist driving it took first at the Picardy GP. Bugatti removed the supercharger, adjusted the bodywork and added a small windscreen for the driver. Thus equipped it won at Pau, Montlhery, Algeria, and Reims in 1937, driven by Jean-Pierre Wimille. In 1938 it got its supercharger back and was sold to the King of Belgium, who held on to it all the way up until 1964, when it started a journey through the hands of many buyers, who campaigned it in all the right historic races. The sale took place last year at Gooding & Co.'s London auction.
1934 BUGATTI TYPE 59 SPORT RESULT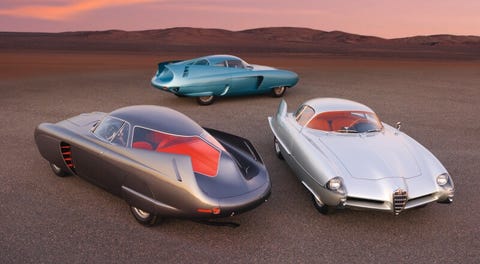 Hammer price: $14,840,000
B.A.T. stands for Berlina Aerodinamica Tecnica, a series by Franco Scaglione and built by Bertone. The cars debuted in separate years and were owned by separate owners for almost four decades until, seeing all three united at Pebble Beach in 1989, a private collector made an offer to all three owners and brought the collection together.
"Whether considered the ultimate three-movement concerto of automobile design or the only true automotive triptych ever produced, few will contest the greatness of the Alfa Romeo B.A.T. concepts," wrote Sotheby's in the catalog for this auction, held October 10, 2020, in New York. "These masterworks, penned by Franco Scaglione and executed by Turin, Italy's Carrozzeria Bertone, pioneered automotive aerodynamics while reasserting the primacy of Italian industrial design in the wake of World War II.
ALFA ROMEO B.A.T. RESULT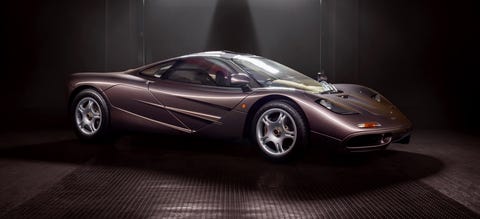 Hammer price: $20,465,000
The McLaren F1 is, in many ways, the Ferrari GTO of the modern era, a car beloved by Silicon Valley tech billionaires as much as it is drooled over by leering schoolboys. It is genius designer Gordon Murray's road-going masterpiece, the precursor to his current T50. Jay Leno owns one, Mr. Bean owns and has crashed one, even Ron Dennis had a spin in one. The center-seated, V12-powered supercar is said to have the best balance and feel of any street car ever made, and as tales of its pure perfect handling evolve, its legend grows on until this one finally sold for 20 mill.
This is surely the finest McLaren F1 extant, with just 390 km (242 miles) on the odo. Chassis 029 was garaged for 17 years by its original owner, in Japan, then garaged again by its second owner, also in Japan. It came into the U.S. in 2013, with just 316 km (196 miles). Throughout its various ownerships, it was maintained according to exacting factory specifications, including starting it once a month and changing all appropriate fluids as required. So whoever bought it at Gooding & Co. at Pebble Beach this year should have a like-new example.
1995 MCLAREN F1 RESULT
Source: Read Full Article