The 10 Coolest Corvettes Coming to Barrett-Jackson Las Vegas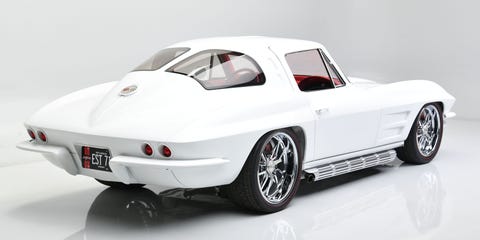 The Corvette is such an all-American road hero that you almost want to stand up and salute as it drives by. Instead, you can go to Las Vegas and buy one for yourself. The Barrett-Jackson Las Vegas auction runs June 17-21 at the brand-new West Hall of the Las Vegas Convention Center. In those five days, 500 or so cars are on the docket, and of those, 28 are Corvettes. That's as of a week or so before the show—more will certainly arrive as hammer time nears. Rather than sort through them yourself—you're a busy business tycoon after all, you don't have time for this!—we did it for you.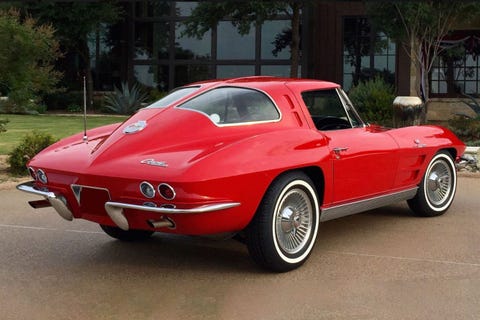 Is there a more iconic Corvette than the '63 Split Window? The catalog says this one has had a frame-off restoration. It is powered by a matching-numbers L84 fuel-injected 327/360 V8 mated to a BorgWarner T10 4-speed manual. Of the more-than 10,000 made, this is one of fewer than 3,000 with the L84. Your chance to own an American icon.
LOT #753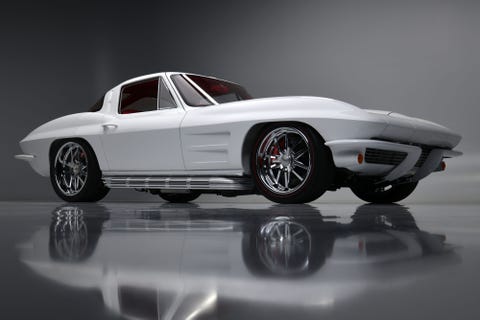 It's not clear from the lengthy description how much of the original '63 is left, but it is stated that over 4,000 hours of work went into creating this Custom Coupe. The rotisserie restoration included a complete custom interior – tastefully done, it appears – and the installation of a 525-hp GM LS3 V8. It actually looks pretty nice.
LOT #763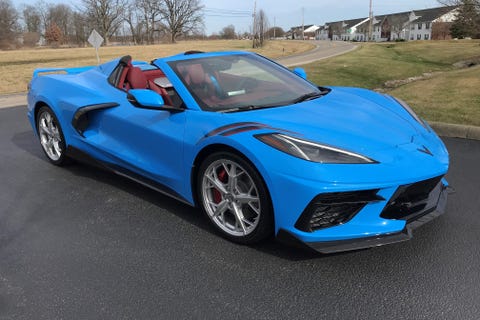 The new mid-engine Corvette's introduction last February was the high-point of that whole year. Granted, the year itself was otherwise pretty awful, but the C8's debut would have been the high point of any year, terrible or otherwise. The C8 is a blast to drive, both on the track, at the autocross and on the open road, and it''s even a comfortable cruiser at more city-slow speeds. While it's a great car, actually getting hold of one has not been easy. First there was a labor strike, then COVID hit, and at the end of March of this year dealers stopped taking orders because there just weren't any cars available. So that makes this hardtop convertible with the Z51 package all the more desirable.
LOT #721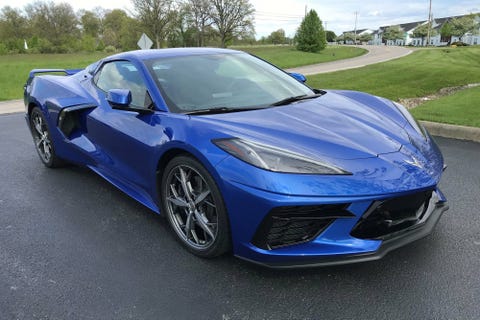 If you prefer a darker blue, there's also this 2020-model C8 hardtop convertible finished in Elkhart Lake Blue Metallic. It also has the Z51 performance package but only 424 miles on the odometer.
LOT #710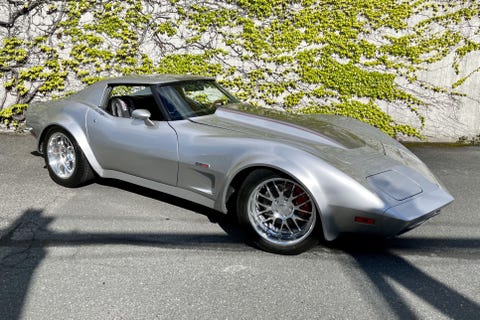 Custom can be a good thing or a bad thing, totally depends on how you see it. If you like what the owner has done to this '73 C3, then it's a good thing. In addition to custom bodywork, that includes flared fenders and a giant hood bulge, under which is a 485-hp 5.7-liter LS1 V8 engine bolted to a 4L60E 4-speed automatic. Custom suspension guarantees "tight sports-car handling." If you like it, bid!
LOT #423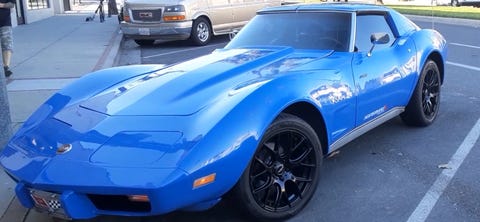 Nothing says '70s better than T-Tops. The 350-cubic inch V8 even has chromed valve covers. Plus, there's an Edelbrock 4-barrel performer series carburetor (with electric choke!) and stainless-steel exhausts. It has such a wide torque band it only needs a three-speed automatic. This could be the fun, bargain Corvette of the auction.
LOT #45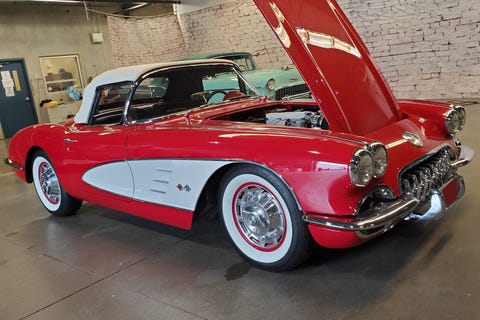 Sounds like this one got a pretty thorough restoration just 5,000 miles ago. The work started with a Progressive Automotive 10-gauge sheet steel boxed frame. "Unlike the original Chevrolet frame, our street rod frames and chassis incorporate our designed tubular crossmember," Progressive says. "Not only does this create a stronger frame, but it allows room for modern transmissions." In this case that means a 700R4 automatic mated to a 350 cid V8 GM crate engine, with a 9-inch Ford posi-traction rear end. All-new disc brakes and rack & pinion steering promise control at all times. Could be modern fun in an original classic body.
LOT #794.1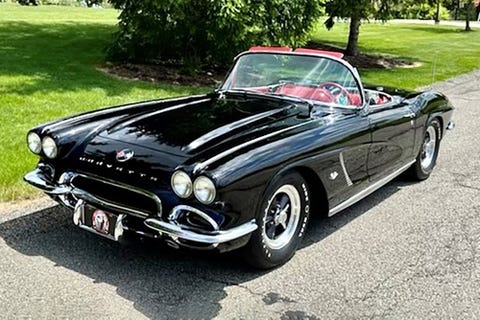 A few things are new on this car but most are original, and the original old stuff is included in the sale if you ever want to put it back together again. The only non-matching number is the transmission, which the seller points out is nonetheless a "remanufactured date-code-correct four-speed close-ratio synchromesh." The rest is original, from the 327 to the 4.11 posi-traction rear end. The original wheels are included, but check out the "period-correct" American Racing wheels!
LOT #449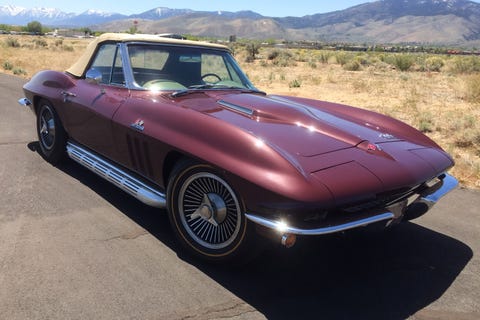 This could be another great buy. The numbers don't match because the V8 underhood is a factory warrantied 1968 placed in this 1966, which suggests that somebody missed a shift back in about 1967. Who knows? It doesn't say. But since it's not a matching-numbers car means it might – might – be more affordable. The car underwent a frame-off rotisserie restoration eight years ago, too. "It has been driven little since and was stored in the owner's climate-controlled aircraft hangar in the high and dry desert of Carson City, NV." Overall, could be a fun car at what might turn out to be a reasonable price.
LOT #446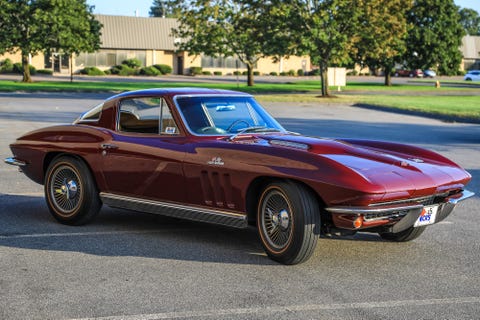 B-J says this is "a two-owner, unrestored California survivor and a great example of an original car." That's two owners before the current owner, which will make you the fourth owner. But that's not too many owners after 55 years on the road. Total mileage is shown as 42,000, which is also remarkable. It didn't get a frame-off restoration like that split window above, and you can see when you look at all the photos that it has lived a long and happy life yet remains in great condition. And while it's unrestored, it is also one of the first Corvettes to get the original L36 427 big-block. This is opportunity knocking, or revving.
LOT #686
Source: Read Full Article