1957 Chevrolet One-Fifty Sedan Is Junkyard Treasure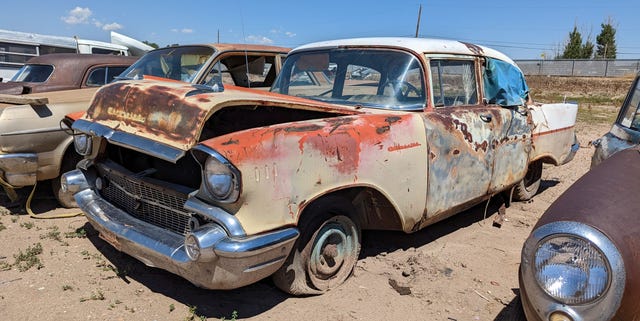 GM sold more than 1.5 million 1957 Chevrolet cars, mostly unassuming six-cylinder sedans, but today you'd get the impression that they were all gorgeous (and V8-powered) Bel Air hardtops or Nomads. Today's Junkyard Treasure is one of those forgotten cheap '57 Chevy sedans, found in an excellent self-service yard in Cheyenne, Wyoming.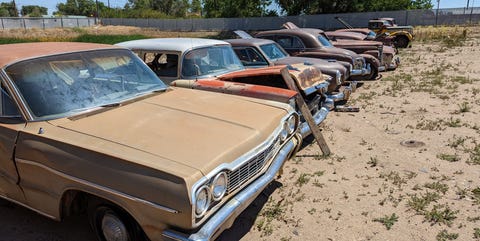 Most of this yard's inventory is from our current century, but they have a couple of sections full of very old Detroit machinery (including tractors).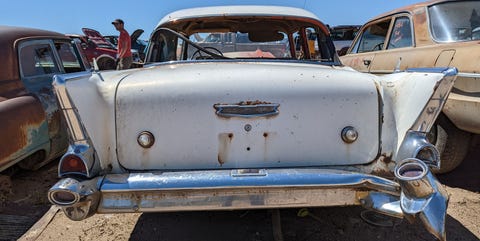 This is an example of the One-Fifty four-door sedan, which at $2048 (about $21,985 in 2022 dollars) was the cheapest four-door new Chevrolet you could buy in 1957. The more upscale Two-Ten and Bel Air post sedans started at $2174 and $2290, respectively ($23,340 and $24,585 today). If you wanted a high-zoot Bel Air convertible with V8 engine, the MSRP was a daunting $2611 ($27,915 now). Later on, the Bel Air name came to designate cheaper Chevrolets, but in 1957 it carried as much prestige as its namesake neighborhood. The very cheapest new '57 Chevy (not counting pickups) was the One-Fifty Utility Sedan, a two-door post car with no back seat and a price tag of just $1885 ($20,235 today).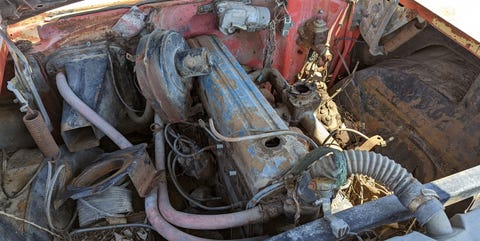 I don't have production figures on how many of each engine type went into 1957 Chevrolets, but I'd be willing to bet that most of these cars got the 235-cubic-inch (3.9-liter) Blue Flame straight-six you see here. This overhead-valve engine family has a history stretching back to the late 1920s and was very reliable, but the new-for-1955 small-block V8 (available at extra cost with 265 or 283 cubic inches for 1957) got all the press, then and now.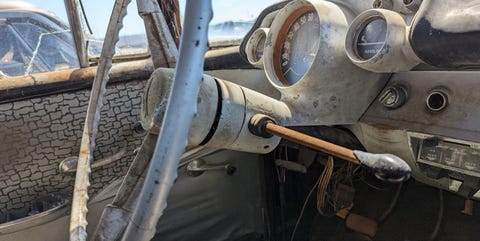 The transmission in this car is the most mainstream type you could get in 1957: a three-on-the-tree column-shift manual. A Turboglide semi-continuously-variable automatic was available for an extra 231 bucks ($2480 today), while the longer-lived two-speed Powerglide could be had for $188 ($2020 after inflation). Allegedly, your Chevrolet dealer would sell you a four-speed manual, but you had to install it yourself.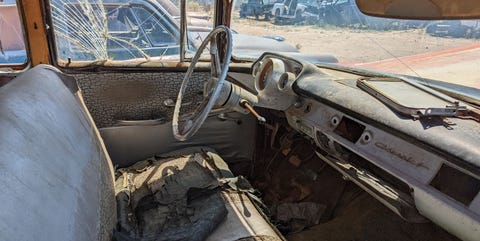 My mother owned a then-nine-year-old 1957 Chevrolet One-Fifty with 235/three-speed powertrain when I was born, so I have some early childhood experience with this type of car. Unfortunately, her '57 had spent its entire life in Minnesota. It broke in half due to rust when I was a few months old, and I have no memories of it. The fuel-filler neck had rusted away by the time she bought the car (for $25), so a flashlight wrapped in a rag was used to plug the hole in the gas tank where the filler once lived; the only way to fill the tank was to crawl under the car with the gas nozzle.
Now with fuel-injected engines!



Source: Read Full Article