10 Coolest Rides of Speedway Motors Performance Parts Employees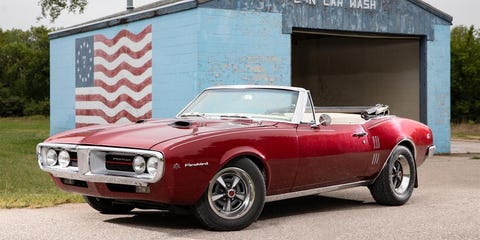 You have to be an expert to work at a speed shop, right? Someone who really knows their hot rods, right? So what hot rods, muscle cars, and rat rods do the experts behind the counter actually own? Take a gander at the personal cars of the staff at Speedway Motors in Lincoln, Nebraska. Nice rides, and maybe you'll get an idea or two for your own project. Here are real Speedway Motors employees telling their stories in their own words.
"The heart of this story is not just about another old car getting put back on the road or the sequence of events that made it possible. Yes, it takes passion, hard work, and dedication, but throughout life, you meet a lot of friends, and in the process, you figure out how to hold on to the good ones. Every part of this car will always be a token of that positivity.
What truly put this car back on the road is having a support system willing to help get it there. I don't just mean buddies willing to help bolt parts together in the wee hours of the night. Zach Raddatz not only fronted me half the money to buy the car and engine components, he blueprinted and assembled a reliable 400-hp small block Chevy. Derek Turner, one of the most talented enthusiast builders I know, sold me the car, he turned around and showed me how to build it every step of the way.
The point is, I have never been involved in something that has the same power to connect people. Project cars carry on memories forever, they will also reinforce your relationships, and teach you how to value hard work."
(Jordan grew up in a muscle car family, right down to his mom's '85 Trans Am, one of which he finally found.)
"There it was, after being patient for a while, identical to my mom's old car. 1985 Trans Am hard top, dark blue and silver, with a 400 small block and a load of aftermarket suspension for a price that I could afford. We took our $1700 and drove it a couple hours home where I would do a series of engine, transmission, and rear-end swaps over the rest of my teenage years. From the time that I picked it up to now, it has seen six different engine swaps, four transmissions, and three rear ends. They weren't always a result of broken parts, such as the rear ends, but a few of the cases were just basic upgrades.
This car has always been put together with used, free, discounted, or budget parts from the time that I've owned it. Sometimes there's more effort involved, but if we could make it work, we did."
"I wasn't born into a car family, I married into one (See Jordan, above). I wanted something a little more unique than your typical Mustang or Camaro that you don't see every day but would still be able to find parts for. That's when we stumbled on a 1972 Vega GT that a family friend was looking to get rid of. It's an original 70,000-mile car with nearly perfect interior that was in a low-speed front-end collision and parked until it went to auction. Unfortunately, it was parked yet again, only this time in a field as another hopeful project. I've had the car for just a little over two years while slowly collecting parts to get it together. I have since put together a 5.3 LS with a Sloppy Stage 2 cam and have sourced a transmission for it as well. I may not have an extensive history yet with this car, but I'm looking forward to what the future will bring and the lessons this car will teach me along the way."
"Like many car people, I grew up around cars and racing. My dad and uncle were drag racing locally when I was a toddler, dad with a 1965 Impala SS and my uncle with a 1964 Olds Holiday Coupe. They then graduated to a 1956 Chevy. When they were finished racing, dad purchased a 1955 Chevy Nomad, I believe in 1969. That car has been a member of the family ever since. My love of Tri-Fives and especially the Nomad were cemented over my youth.
(He bought this Nomad from long-time friends from the Nomad Club.) The Nomad is still basically the way I bought it from them and is really what I was looking for, a good quality driver. It has a 1974 Nova subframe with a 400 SBC and TH-400 with a later model 10-bolt rear. On top of the engine is a tune port injection from a late 80s Z28. All the work was done by Dale (previous owner) before there were really any kits. Covering the engine is the part that probably gets the most attention, the 224 holes in the hood. I cannot imagine the time and effort it took to put that many louvers in a 1956 Chevy hood."
"I always remembered a couple old pictures that my father treasured and kept of his vehicles growing up. One was his orange 1940 Ford pickup and the other was a maroon 1949/'50 Chevy Fleetline four-door. I still have those pictures to this day hanging on my cubicle wall at work. That big bubble fender Chevy stuck in my head my entire life. Fast forward to about 15 years ago I came across this '54 Chevy Bel Air four-door on Craigslist here locally and struck a deal with the owner. Midwest hospitality being what it is he even delivered it right to my driveway, since it didn't run, at no extra charge! I finally had my bubble fender. My plan started out as a restoration rebuilding the 235 six myself in the garage and laying underneath the car will a hand drill and 3m scuff ball stripping years of surface rust and gravel road debris from the car. Then painting it all black with what seemed like 100 rattle cans of paint. After putting the rebuilt engine back in and the undercarriage all fresh and clean that is where, like many of you, my project came to a halt. Life gets busy, but I swore to myself I would never get rid of this car and try to do all the work to it myself.
About 10 years later I started working at Speedway Motors as a street rod/muscle car tech on the phones. Of course, being back in my element of hot rod culture it didn't take long before the plan for the '54 was changed. The car received a 454 BBC with rectangle port aluminum heads and air gap intake running about 10.5:1 compression and a healthy hydraulic flat tappet camshaft backed by a TH400 with Lokar shifter. The rear sports a TCI rear leaf open drive conversion and a GM 10 bolt 8.5" posi to handle that big block power. Disc brakes at all four corners helps to rain in all the ponies. I also converted it to fuel injection with a FiTech Easy Street 600 throttle body and Tanks Inc. EFI fuel tank. Of course, other modifications such as a double pass cross flow radiator, Speedway 2-1/2" exhaust and chambered mufflers with electric cutouts and a line lock to assist with those smokey burnouts to name just a few. Currently I am working on redoing the interior myself. I have built new front and rear door panels so far and will tackle the sewing of new seat covers soon. There is nothing more satisfying then driving a car you brought back to life and doing all the work yourself. Is it all done right or perfect? Heck no. But learning along the way is also what it is all about."
"This car kind of found me. I had a '66 GTO when I was 13 but it needed too much work. So for some time I've been hunting another Pontiac to add to the stable that could bypass the body shop and get on the road immediately. I love to work on the mechanical pieces of the car but lack a lot of the patience or facilities to tackle my own body work. An opportunity came up when a friend reached out about their 1967 Firebird. It had been restored in the '90s and was a very nice car the last I had seen it, it had been disassembled and a wrecked 2006 GTO was under the knife to donate its 6.0 LS2 engine and T56 transmission. Unfortunately, the project never got a chance to be completed and the car sat in pieces for 5 years. They were interested in selling the car but didn't know anyone that would be interested in tackling the project and reached out to me for any ideas.
Hesitantly, I came up to help them gather up all the pieces and see if there was enough to reassemble a complete Firebird again. The car was stripped from the firewall forward, subframe, engine, suspension, and body. After taking an inventory and estimating the time in labor, I decided that I was reckless enough to take on a basket case of this scale. We struck a deal and I came back a few weeks later to trailer the car home.
I spent the fall of 2019 in my garage and driveway blowing the car apart even further to paint, repair, and upgrade the Firebird and breath new life back into it. It has a 1972 Pontiac 350 in it that has been rebuilt at some point. I verified it ran and power-washed the flaking engine paint off. I regasketed the oil pan and valve covers and painted a fresh coat of Pontiac metallic blue from Bill Hirsch engine enamels. I added drilled and slotted disc brakes, power booster/master cylinder, and replaced all of the tie rod ends and ball joints on the suspension. Next, I rebuilt an old Holley 4160 I had laying around and replaced the Edelbrock that was on the engine, mainly my preference is based on my familiarity with the Holley platform. A new Hays clutch, Tuff Stuff alternator, and new power steering pump were installed to help ensure reliability for years to come. One of seemingly the best upgrades I made was an aluminum three-row frostbite radiator; the engine hardly ever breaks a sweat even stop light to stop light in 90-plus degree weather. The car has been complete for most of the summer and I have probably already put 2000 miles on it driving nowhere in particular and loving every minute of it."
"This coupe build means hours and hours of shop time with my dad. And shop time has qualities all its own. It's planning and making lists, laughing, yelling, and sometimes learning a new cuss word. It's mockups, little successes, measuring twice, screwing up, it's looking for that stupid wrench I just had in my hand a minute ago! It's working together to problem-solve, learning how to take direction and listening to the '60s on 6 with the Big Bopper and Roy Orbison. It's hearing car stories from friends that stop by to check on progress and end up lending a hand.
I have a different understanding of it all now. I wasn't a kid then, not really. We dropped the calico-colored body from the attic the year I turned 21. And the build went on until I was 28 or 29. So not a kid at all, only in the way that you feel like a kid in comparison to your parents.
I marvel at his energy, his drive and passion. Life was hectic then. He juggled a full-time job, a Bonneville land speed streamliner and team, multiple house projects for his kids, the coupe build, and maintenance of the daily drivers and acreage. It was as if he moved effortlessly through the world, steady and strong. However slow or minimal the progress on the coupe, it was still progress. And over the years, life propelled us forward and gave us momentum. Little reminders that we only control so much, so dang it, get this hot rod on the road already.
And every so often, my dad will drive the coupe and I'll sit shotgun. A reverse role for me so it feels odd, but right somehow. Some memories are embedded in the tangible. And they are things I'll always carry with me. Sooooo what does this car mean to me? It means the world to me. Just like my dad."
"I bought the body with my first paycheck after graduating from college 14 years ago. Since this project started, I've lived in four states, gotten married, earned a second college degree, had kids, bought a house…you get the idea. But I've lugged this car and this dream with me through it all.
The body is a 1930 Model A Tudor that was found in a field. The lower cowl and door bottoms were rusty and have been replaced on both sides. It's been channeled, chopped six inches, and the A-pillars were laid back until it looked right. A chopped '32 Ford windshield frame will be fit and I'm planning to fabricate all the surrounding metal to resemble '32 parts. Right now, the chop is just tacked together and there are big scary holes where the windshield header and surrounding metal should be.
Power comes from a '55 Chevy 265 that was remanufactured in early 70s. It will breathe through an Edelbrock 3×2 intake manifold and Speedway Motors 9 super 7 carburetors. The transmission is a '63 Chevy Muncie three-speed.
It's taken a long time to get to this point, but I'm starting to see light at the end of the tunnel. When I started this project, I could never have guessed how long it would take or how much life I would live before it was finished. Now, I'm thrilled that I get to share the struggles and the triumphs with a supporting and patient wife and two little girls who can't wait to go for a ride. Through it all, I've learned that things don't always turn out just the way we've planned, but often they end up way better than we could have dreamed."
(Pat likes all cars, "from an Acura NSX to a '70s muscle car," he says.)
My father ran across a 1964 Impala that was in need of a complete restoration. The car had once lived its life as a drag car. The car had a Big Block Chevy and a 9" Ford rear end with 4.86 gears. Now this was a car! It only took an hour to realize this car was to be mine. I purchased the car and slowly worked on tearing the car down to bare metal in it's first year. The following 10 years it sat in primer, as I acquire the funds necessary to get it painted and source all the parts for final assembly.
Ten years ago, I envisioned having a clean cruiser that I could hit the streets with on a Friday night. I was fortunate enough to have friends and family help me make that vision come true. I'm proud to say that I've built the car just the way I wanted. In fact, the car has come out better than I could have ever imagined.
This 1964 Impala is dressed in Cadillac Diamond white paint, powered down the road by a 6.0 LS engine, 4L60E transmission, cooled by Vintage Air and rides on air suspension. It's truly a blessing to work with so many knowledgeable people that have helped me along the way.
This is an introduction to "Looney Tunes", a '46 Ford Sedan Delivery that started life as an old fishin' truck, stove pipe through the roof and all!
My dad bought the delivery in early 1980 from a guy in Kansas. It had been used as a "fishin' truck" by the previous owners. They would park on the lakeshore and situate themselves on the roof with lawn chairs. When the nights got a little chilly, they had a solution to that, too. A small pot-bellied stove in the rear would radiate heat through the roof skin to keep the fishermen warm, in addition to giving them a place to cook the days catch. Seriously.
Once the major issues had been sorted out and upgrades done, it made a pretty bulletproof street rod. Of course, this happened in an era of junkyard sourced parts and lots of home-made ingenuity. Hence, the plethora of repurposed OE parts. In fact, before I started monkeying with it, there were no parts on it later than 1970. Mainstay stuff like a Corvair front converted to Chevelle Spindles, brakes (drum), and steering. Not to mention the power Strato buckets and '67 olds 98 armrests. Oh, and the obligatory '70 350 with double-hump heads and early TH350. The paint was redone in 1982 with the addition of airbrushed murals by Jack Leesly.
Between 1980 and 1982 my dad built it into a car that we all enjoyed as a family. We took a California vacation in it when I was five. It also gained some national attention through a feature in Street Rodder magazine and took an ISCA International Class Championship in '84. My fondest memories of street rodding took place in and around this old blue Ford. Then, we sold it.
The following fall my dad was gone too. I was only 8 years old when we lost dad but I have very vivid memories of the time we spent together at "The Old Car Company" during the days before I started in school and the couple of summers after. I also remember that the delivery was almost always around, no matter how many other rods came and went.
That fall, my wife Jenny and I brought Elmer (as the then-owners called it) home from Weirton, West Virginia on our honeymoon. After nearly three decades, it all came back to me. It sounded the same, rode the same, the interior even still smelled the same as it did when I was a kid. A combination of off-gassing poly-foam and velour with a hint of gasoline. Just like it should be. It was an amazing experience being able to share the experience of driving cross-country in a street rod with my new wife. We made the 1,200-mile trip home with not so much as a hiccup. I've since subjected my own children to a California vacation and many rod runs in hopes of passing down the same kind of memories I have of that old blue Ford.
Source: Read Full Article