Winter tyres test 2021: best tyre brands and UK prices
For the ultimate in driving safety, you need tyres to suit the season. Our test reveals the best for the British winter

Introduction
Bridgestone Blizzak LM005
Hankook Winter i*cept RS2
Michelin Alpin 6
Pirelli Cinturato Winter
Goodyear UltraGrip Performance +
Falken Eurowinter HS01
Dunlop Winter Sport 5
Nokian WR Snowproof
N/A. Continental WinterContact TS 870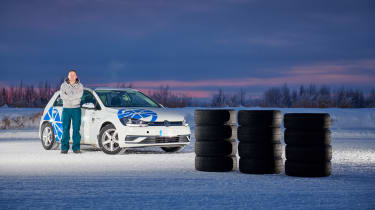 Extreme changes in weather mean it's more crucial than ever to have the right tyres for every situation, and the ultimate solution is to change tyres according to the season.
While all-season tyres have grown in popularity, we continue to test winter versions for the driver who wants the best performance from their vehicle when the temperatures drop.
How to drive in snow: top tips
The world is starting to return to a sort of normal but when we started this test, strict travel restrictions were still in force. As a result we asked Hankook to complete snow braking and traction tests at its facility in Ivalo, Finland. Continental then carried out the wet and dry objective tests, plus rolling resistance, in Germany. Fortunately, restrictions were eased just in time for
us to travel to the firm's Contidrom facility for our wet and dry handling tests. 
Our focus this time was on the popular 225/45 R17 size found on many hatchbacks and family cars. Manufacturers supplied the samples on the understanding that the top finishers would be compared with versions bought in the market, and our top two matched those we bought.
So which tyres provide the ultimate winter performance? We tried eight to find out.
What we tested
There's a mix of old and new among our test tyres. Dunlop, Goodyear, Hankook and Michelin have returned with the tyres that they submitted the last time we tested this size in 2019, while Continental has a new design and Maxxis, Bridgestone and Avon are newcomers to the test. We've listed the speed and weight ratings (right) plus the EU label gradings. "A" is the top grade for wet grip (WG) and fuel economy (RR), while the lower the noise (N) figure, the better.
Winter tyres
Avon WV7 Snow 94 V ratings RR: E WG: B N: 70
Bridgestone Blizzak LM005 94 V ratings RR: C WG: A N: 71
Continental WinterContact TS 870 94 H ratings RR: C WG: B N: 70
Dunlop Winter Sport 5 91 H ratings RR: E WG: C N: 72
Goodyear UltraGrip Performance + 91 H ratings RR: E WG: B N: 72
Hankook Winter i*cept RS2 91 H ratings RR: E WG: B N: 72
Maxxis Premitra Snow WP6 94 V ratings RR: E WG: B N: 70
Michelin Alpin 6 94 V ratings RR: C WG: B N: 69
How we tested
Snow
Our winter tyre test always starts with performance on snow. Travel restrictions meant we couldn't complete snow handling at Hankook's Ivalo proving ground, but its testers were able to assess the key braking and traction performance. The tests were done three times at different sub-zero temperatures measuring the distance to slow from 40-5kph (25-3mph), then the time taken to accelerate between the same speeds.
Wet
While we were waiting for travel restrictions to lift, Continental completed the wet and dry objective tests. Wet braking measured the distance taken to stop from 50mph using the Contidrom rail system, which ensures that the same piece of tarmac is used for every test for consistency. 
The rail was also used for straight aquaplaning, where one wheel is placed in the water while the car is accelerated, and the speed when it's spinning 15 per cent faster than the one in the dry is measured. 
To assess how a tread fares when it is distorted through cornering, a large tarmac circle with a flooded section is employed. To get a result, the car is driven around the circle at ever higher speeds with the lateral grip measured until it is lost. 
On a smaller 58-metre circle, pure lateral grip was assessed in wet cornering, with lap times measured while maintaining a tight line around the inner circle. 
When travel restrictions were lifted, we wasted no time in heading for Hanover to complete the handling tests at the Contidrom. Lap times gave us a result around the 1,823-metre wet circuit.
Dry
We timed a 1,650-metre section of the handling track, which combined long sweeps and fast direction changes to get our result. For braking, we measured the distance needed to stop from 62mph. 
In all tests, multiple runs were made, outlier results removed and then an average taken to get the result.
Noise
Unlike the EU label rating's pass-by assessment, we measure noise from inside the cabin. Our test recorded interior noise at 100kph (62mph) on smooth asphalt.
Rolling resistance
A tyre which rolls with little resistance requires less power and fuel, which is key to saving money. Our test is conducted to industry standards and measures the force required to turn a loaded tyre. As a rough rule of thumb, a five-per cent change in rolling resistance equates to a one-per cent shift in fuel consumption.
Price
We believe tyres should be chosen on performance not price, so this plays a small part in our ranking. Our prices are from our online tyre retailer test winner Blackcircles, and are what it charged at the time of writing. If a tyre isn't part of its range, the figure is what it would charge.
Finding a winner
All results are converted to percentages to accurately reflect relative performances. These are then weighted in the overall ranking, to equalise tests with a wide performance spread with those that are closer. We also prioritise braking, handling and fuel economy. In each review, results are compared with the test winner's.
Continue Reading
1Introduction – currently readingFor the ultimate in driving safety, you need tyres to suit the season. Our test reveals the best for the British winter
2Bridgestone Blizzak LM005A debut success for the Blizzak LM005 and a first win for Japanese giant Bridgestone in our tyre tests. 
3Hankook Winter i*cept RS2The Hankook i*cept RS2 puts in a strong performance – a great all-rounder, although slightly noisy
4Michelin Alpin 6A well deserved second podium for the French producer, although the gap over the following three tyres is tiny. 
5Pirelli Cinturato WinterThe Pirelli Cinturato Winter tyre is the most capable on the snow and has closed the gap on top spot
6Goodyear UltraGrip Performance +Great on the snow, but the Goodyear UltraGrip Performance + can't compete with rivals in the wet and dry conditions
7Falken Eurowinter HS01This is third time we've tested the Eurowinter HS01, and each time it gets a little closer to the leaders. 
8Dunlop Winter Sport 5A reasonable performance, but the Dunlop range is beginning to show its age.
9Nokian WR SnowproofAlthough helping to provide improved fuel economy, the Nokian WR Snowproof isn't the best choice for a capable winter tyre
10N/A. Continental WinterContact TS 870Although not yet on sale, the Continental WinterContact TS 870 is potentially a champion in waiting
Source: Read Full Article