What's the future of car headlights?
Audi seeks to revolutionise car safety and personalisation with its advanced digital matrix lighting tech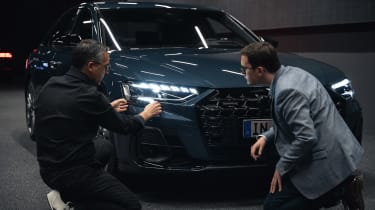 At the cutting edge of lighting tech are digital matrix headlights – and they're about more than simply lighting the road ahead. We snapped up an invite to Audi's usually top-secret lighting development room at the company's headquarters in Ingolstadt, Germany.
The venue is an almost pitch-black aircraft hangar, but that doesn't stop Audi blanking off our phone cameras with stickers, to stop us snapping any of the hi-tech projects inside. Instead, we're directed to the centre of the room, where Audi's new A8 is showing off its latest lighting units.
What are LED headlights and how do they work?
But what exactly are digital headlights? In essence, they work by shining an LED bulb on to a 'digital micromirror' chip. This houses a staggering 1.2 million miniature mirrors that can individually tilt to either reflect or deflect light.
The light is then bounced out through a projector lens and on to the road, with an image created by the light and shadow from the mirrors. How on Earth are they able to fit this many components into such a tiny chip? As lighting development boss Dr Michael Hamm told us: "Magic" – and for the average consumer, it may as well be.
So what's it like in practice? The first thing you'll notice out on the road in the new A8 is the aptly named 'light carpet', which projects a carpet of light on to the lane in front of you. This is accented by a pair of chevrons, indicating your direction of travel to other road users. Want to change lanes? Simply indicate and the carpet is rolled out further to the next lane, pulsing in tandem with the car's dynamic indicators. Audi claims that this not only shows the driver's intent to fellow motorists, but also reminds the driver that their indicator is on, so they can keep their eyes on the road.
Another obvious safety benefit is a warning triangle that is projected in front of the driver whenever the car's cloud-based infotainment system is alerted to a hazard ahead.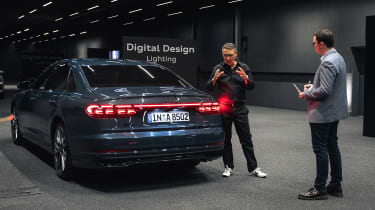 On a country lane, the Digital Matrix units further stretch their technical muscles as all of the internal LEDs switch on, creating an effect similar to curtains opening at the start of a show. The micromirrors inside the headlamp can adjust their position 5,000 times per second and shut off in groups to avoid dazzling oncoming vehicles.
But fanfare aside, are they worth it? It's hard to say at this stage. A lot of the Digital Matrix tech is reliant on clear and precise road markings, which can be few and far between on UK roads. Some people may also be disappointed by the slightly fuzzy appearance of whatever the headlights project. This is intentional, however; the Digital Matrix lights are a 1,800 Euro (£1,520) option in Germany, with a replacement unit most likely to cost significantly more. The hazy effect eliminates the need to replace the headlamp if several of the micromirrors fail, similar to the way a dead pixel can ruin the image on your television.
All of this seems a tad sci-fi, yet Audi already has plans to further improve its cars' lighting – this time at the rear. The A8 currently uses a set of OLED tail-lights, which utilise a light signature that has six individual organic LED (OLED) elements. These can be customised via a selection of presets in the car's infotainment screen, allowing drivers to personalise the look of their car.
Audi told us the next step is to increase the number of OLED elements in this unit by a factor of 10, resulting in 60 tiny OLEDs per cluster. As seen in the Audi A6 e-tron concept, this will allow for greater creative flexibility in what the light engineers can program the car to display.
Continuing the emphasis on safety, Audi plans to eventually display warning signals through the rear light signatures to alert drivers behind the car of hazards. Images would be used in favour of text to overcome language barriers; however, getting this kind of feature homologated will take years of negotiation with authorities.
The world's most expensive games console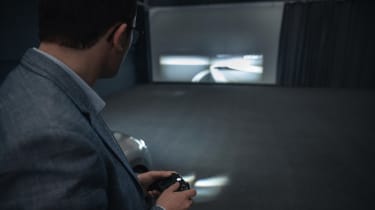 The Audi A8 will soon receive an update that allows you to play video games using the car's lights as a projector.
Using a traditional gaming controller or even your phone, you can control and race a paper aeroplane around a virtual track, shaped like the brand's four-ring emblem. This is great fun, and while gaming in a Tesla is a more polished experience with its novel steering wheel controller, it doesn't have the same wow-factor as the 'drive-in cinema' effect that Audi has planned.
The feature is due to arrive via an over-the-air update and we expect it to come in some form later this year, or in early 2023.
Source: Read Full Article