The latest Ford cars are fitted with SYNC 3, but what does that mean?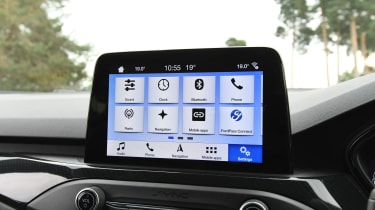 The SYNC system from Ford has been around since 2007, and these initial systems enabled drivers to link their mobile phone to the car via Bluetooth, using the vehicle controls to operate certain functions, such as navigation, phone calls and even sending text messages. Since then the infotainment system has evolved, and at present Ford offers SYNC 1 and 2 alongside the range-topping SYNC 3 version. 
You'll find SYNC 3 on Ford models from the Fiesta and Focus right through to the Kuga, Edge, Mondeo and S-MAX MPV. Even the Mustang and the Ranger pick-up feature the tech.
Connected cars: Ford partners with Google for built-in Android Automotive
All the Ford SYNC systems offer the same basic functionality that connects your smartphone to the car via Bluetooth or USB (depending on your mobile phone) and allows you to operate certain apps via voice control or the steering wheel controls. SYNC 3 has a number of additional functions that make it easier to use and give an increased number of features.
Fords fitted with SYNC 3 have an 8-inch touchscreen with the ability to pinch and zoom, making maps easier to navigate on the screen. In addition, SYNC 3 includes Apple CarPlay and Android Auto as standard, while the AppLink function allows you to use additional navigation apps from your phone through the vehicle. If you have an iPhone you can link it to the car with AppLink and then use the Apple digital assistant Siri, either by selecting it through the touchscreen or through voice command. As well as the bigger screen, SYNC 3 uses a more advanced operating system than the Windows-based SYNC 1 and 2, which delivers better performance.
As with all Ford SYNC versions, voice commands are a big part of its functionality, but SYNC 3 can respond to over 60 commands, and in a similar manner to digital assistants from Google and Amazon it can interpret variations of commands rather than requiring an exact repetition of a phrase in order to understand what you need. Similarly, it can respond to more generic requests; say 'I'm hungry' and SYNC 3 will draw up a list of nearby restaurants and cafes before directing you to one through the navigation. Voice control can also be used to set the temperature of the air conditioning as well as selecting or changing audio tracks and audio sources among other features.
Finally, SYNC 3 can receive automatic over-the-air updates if you connect it to wifi, either at home or using your mobile phone as a wireless hotspot.
From 2023, all Ford models will receive a new infotainment system co-developed with Google. It'll feature Google Assistant, Google Maps and Google Play apps all built in. This new update will take the place of Ford's Sync system. 
Have you ever used Ford's SYNC 3 system? Let us know what you think of it in the comments below… 
Source: Read Full Article