Online used car sales site BuyaCar offers a vast array of cars that can be bought from the comfort of your home and delivered to your door.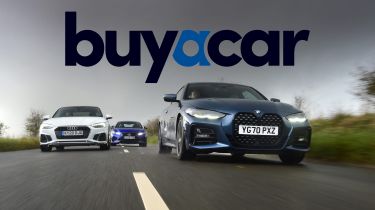 In the past, purchasing a used car meant thumbing through classified ads then traipsing around showrooms or visiting private sellers in an attempt to find a car that matched your needs and budget. Now, however, you can browse through thousands of used cars from home, order online and have your next car delivered to your door.
One of the original companies selling used cars online is BuyaCar, which was launched in 2002. The company has sold more than 24,000 cars worth around £300 million in that time, focusing on enabling drivers to buy used cars – from a distance – with confidence.
Used car finance deals 2021
How BuyaCar works
BuyaCar customers can purchase cars with cash or using finance, with APR charges starting at 6.9%. As BuyaCar partners with dealers from across the country, the company typically has more than 50,000 used cars available to order at any one time, ensuring that customers have plenty of choice.
Models available range from £4,000 city cars to high-end luxury cars and sports cars up to £300,000 and beyond. Customers can choose between everything from 'pre-registered' cars – those that are effectively brand new but have been registered, so anyone buying one would count as the second owner – to seven-year-old models with up to 70,000 miles on the clock.
The company offers a haggle-free sales process with the support of UK-based sales staff available on the phone or via email. Cars are typically delivered within five to 10 working days from confirming your order – regardless of whether the vehicle is located in Newquay or Newcastle.
All of the cars sold by BuyaCar come with a 14-day money back guarantee and a minimum of a 30-day warranty, with extensive vehicle checks being carried out ahead of delivery, to make sure that cars meet the required standard.
The BuyaCar website
BuyaCar.co.uk is designed to be easy to navigate and is built around car search functionality that offers filters for narrowing down the car selection. Users can filter by make, model and body style, along with age and mileage, fuel type, cash cost, monthly payment and other factors including fuel economy and insurance group.
The filter-based search enables users to focus their search down on to the elements that are most important to them in their next car. It's also possible to search by keyword, to pick from cars with specific features such as panoramic sunroofs, parking sensors, a reversing camera or heated seats, for instance.
Each individual car can be paid for with cash or financed, with PCP finance and Hire Purchase options available . Potential customers can carry out a 'soft credit check' online, to gauge their likelihood of being approved for finance, with the UK-based sales team available to guide drivers through the purchase process. In the near future, motorists will be able to complete their entire purchase online, should they wish.
About BuyaCar
BuyaCar has been operating since 2002 and is part of Autovia, the company behind leading automotive media names such as Auto Express, Carbuyer, evo, Car Throttle, Octane and Driving Electric.
Check out our best deals on new cars here…
Source: Read Full Article