'We're witnessing the start of a transport revolution – courtesy of the Citroen Ami'
Mike Rutherford thinks the all-electric Citroen Ami will be a huge success in the UK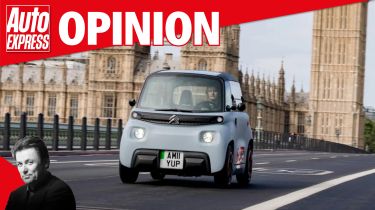 Now, this is my idea of wrong place, wrong time. I'm in rural suburbia, it's early morning, I have a busy day ahead and my car is parked up, in town, 20 miles away. But there's a train station about three miles from me, and I must head for it – despite the threat of more strikes from railway workers. There's little evidence of buses (also affected by strikes) or taxis (for those who can afford their fares). So I have to walk to the shabby station, wearing out my shoe leather and losing an hour of my day.
I languish on the platform for 20 miserable minutes. Miraculously, the train shows up for my 45-minute ride. After that, 25 mins of walking, waiting for, and being hauled by bus. Yuck!
New Citroen Ami 2022 review
My circa-20-mile trip therefore robbed me of almost three hours of my life and cost around £20. Actually, make that six hours and £40 if – heaven forbid – some poor sod has to endure this sort of slow, soul-destroying schlep as a daily commute from home to work and back again. During a typical five-day working week, that's equivalent to nearly 30 hours of punishing travel and waiting time, plus £200 on train and bus fares. No wonder millions of employees now work from home.
Coincidentally, a few days earlier, in and around a famously busy town, I drove Britain's cheapest (£7,995), slowest (28mph) EV. And genuinely, I've never driven anything (not even VW's £100k XL1) that's more appropriate, usable or satisfying on increasingly tight inner-urban streets and parking spaces. I'm 100 per cent convinced that if I'd had a Citroen Ami about my person on the morning of my time-sapping commute from rural suburbia, my journey would've been massively quicker, cheaper, cleaner and happier.
Forget three hours of walking and waiting, and two modes of lousy, subsidised public transport collectively resulting in a pathetic door-to-door journey time averaging 7mph. The unsubsidised Ami is purpose-designed for exactly this type and length of trip; travelling for about an hour, at an average speed closer to 20mph. That's not, and isn't supposed to be, particularly quick. But it's fast enough – and perfectly reasonable during rush hour, which is when and where this runt of an electric car thrives – although it'll also happily plod 24/7 in all weathers, unlike trains, buses, blistered feet or skinny tyres on pushbikes.
I don't think Citroen, drivers of all ages and incomes, politicians or ailing public-transport bosses and unions have yet fully appreciated the significance of and huge potential for the Ami. Leasing starts at a stupidly low £19.99 per month (admittedly after stumping up a sizeable deposit). Alternatively, put down next to nothing before paying £100 monthly and you can buy/own one outright. Such prices render rural taxis (if you can find one), commuter trains (assuming they can be bothered to turn up), and buses (ditto) almost – but not entirely – redundant. What we're witnessing here is the beginning of a (transport) revolution – courtesy of (who else but) the French.
Click here for our list of the cheapest cars on sale…
Source: Read Full Article