'We aren't building enough cars to satisfy global demand'
Mike Rutherford points out the dramatic changes happening in the world's top car producing nations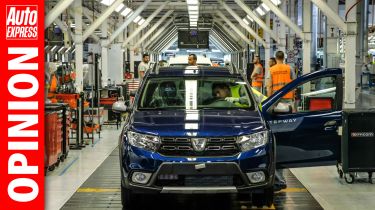 I haven't spoken to all of 'em, but I know that many or most of the world's eight billion people quite like to travel in cars – preferably their own. So are we building enough to satisfy the global interest from adult drivers and child passengers? Er, no.       
It took until the end of March for twitchy statisticians to confirm how many cars the world built last year. Based on data from the International Organization of Motor Vehicle Manufacturers, it was 55,834,456. But we're kidding ourselves if we think that's enough for thousands of millions of citizens, untold numbers of them with recently acquired wealth, expectations and desires. People of the modern world don't grow up aspiring to use the bikes or buses, trams or trains their poorer elders were lumbered with. It's 24/7 cars they now crave. Why wouldn't they? They're not daft.   
Best-selling cars of 2021
Global car production dropped by 16.9 per cent in 2020 (vs 2019). Not good, but not as bad as I expected in a pandemic-ravaged year. Of the major car-making nations, each one produced fewer cars. China fared least worst with a 6.5 per cent drop in production. France was baddest of the bad with a painful 44.3 per cent plummet. It's one thing for France's factories, workers and national pride to hurt. But it's quite another for the country to descend further and faster than any other Top 20 car-making country.
Last year's Top 10 were China (19.99m cars), Japan (6.96m), Germany (3.51m), South Korea (3.21m), India (2.85m), USA (1.92m), Spain (1.81m), Brazil (1.6m), Russia (1.26m) and the Czech Republic (1.15m). Asia is – by a huge margin – the dominant global champ. Just three North- Asian countries – China, Japan and South Korea – build more than half of the world's cars.
Germany remains Europe's best, but is still a mere thorn in the side of Asia. The USA is a shadow of its former car-making self, and must prepare to be overtaken by underdog Spain or near neighbour Brazil – or both. As for France, the UK and Italy, I'm not sure if it's over-confidence or misguided reliance on past glories, but I know that this trio of car-making nations is being badly beaten by 'less prestigious' Spaniards, Czechs and Russians. Bravely battling for a place in that global Top 10 is tiny Slovakia (985,000), which is already ahead of Mexico (967,479) and France (927,718). 
Where's the UK? Disappointingly, dipping to 14th in the global Top 20 (920,928 cars built in 2020). Turkey (855,043) and Iran (826,210) are now not far behind, with Indonesia (551,400), Thailand (537,633), and Malaysia (457,775) in the chasing pack. Britain's depressed, but Italy (451,826) is heartbroken now that Romania (438,107) seems likely to surpass the Italians in a year or two; Dacia and sugar daddy Renault can be thanked for that. Due to no-nonsense petrol, diesel and LPG cars blessed with prices that can rarely, if ever, be beaten, I already consider Dacia to be THE real-world brand of the early 2020s. And that's before the imminent arrival of its allegedly cheap-as-shoe-leather EVs.
Flailing France, bruised Britain, indecisive Italy… You all know what you've got to do – in part at least, follow the fine example set by rampant Romania.
UK car production falls 14 per cent – find out why here…
Source: Read Full Article