VW ID.2all small affordable EV concept to launch tonight
VW CEO Thomas Schafer says new small EV will be "a genuine people's car"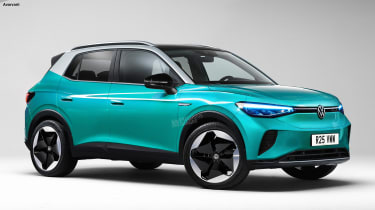 Volkswagen CEO Thomas Schafer has confirmed that the German firm will reveal its new ID.2all small, affordable EV concept tonight, outlining that the new vehicle will be "a genuine people's car", referencing the brand's heritage by bringing electric mobility to all at an affordable price.
Speaking at the VW brand's annual media conference, Schafer also once again outlined that the production version of the ID.2all – which is set to go on sale in 2025 – is set to come in at less than 25,000 Euros. Asked about the cost pressures VW faced in 2022 and if VW's 25,000-Euro target was still realistic, Schafer said "It's true, it's not an easy game at all to offer a vehicle at a price tag of below 25,000 Euros. Therefore you don't see many of those out there in the market.
"We can do a lot in terms of economies of scale. In our volume brand group we're using the small platform that can get four vehicles together with Cupra and Skoda, so that volume will help us to bring prices down to be competitive but also still make money on that."
Best electric cars to buy 2023
Schafer also added that "The first step will be shown today – an uncompromising vehicle – we don't want to compromise on safety or by offering unrealistic driving ranges that make no sense just to put it in the specifications. No, we're going to show a great vehicle, a true people's car with top notch technology. At the same time, we're also working on vehicles below 20,000 Euros, which will be an even bigger challenge, but I think it's also part of our DNA as Volkswagen. In the next few months we will be reporting on this."
As the name suggests, the ID.2all will sit below the recently revised ID.3, but it'll fulfil a different brief as a small car. The ID.2 will eventually be accompanied by the entry-level ID.1 supermini (referenced above by Schafer), which has already been previewed by an official teaser image.
Our ID. 2 exclusive image shows what a crossover version of the car could look like, thought to be the fourth model unaccounted for in Schafer's quotes above. Our spy photographers have also caught the ID.2 test mule undergoing development in wintry conditions. Based on an ID.3, this test mule has much smaller wheels and a larger wheel arch gap, suggesting a raised ride height.
VW has been working on a more affordable version of the all-electric MEB platform that underpins the likes of the ID.3 and Skoda Enyaq for more than three years. The project, codenamed MEB Entry, will spawn at least four new models for the VW Group, as outlined by Schafer, including a baby SUV from Skoda, by the middle of the decade. 
The eventual production version of the ID.2all will aim to maximise the benefits of a bespoke all-electric platform with short overhangs at the front and rear, enabling a longer wheelbase. The car should be about the same length as the T-Cross, at just over four metres long, while cabin space is likely to be comparable to that of the larger T-Roc.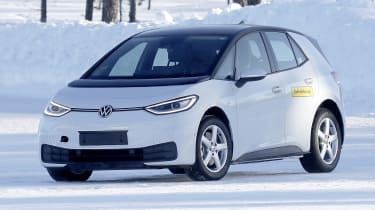 The ID.2 will incorporate other ID elements, almost certainly featuring a flush front grille area and a black tailgate, while in the cabin, expect VW to harness the power of economies of scale to use features such as the existing ID.3's digital dashboard and 'rocker switch' drive selector.
It seems likely that the ID.2, and all MEB Entry models, will be offered with a choice of battery sizes to suit different budgets. However, with VW's previous small EV concept, the ID. Life, offering around 200 miles of range from a 57kWh battery, it's likely that the ID.2all will offer a similar maximum range. However, it's not known if this model will come in under VW's 25,000-Euro target, which will could apply to a smaller-battery model.
The lengthy nature of the budget EV project – it could end up taking almost eight years to get its vehicles to market – shows just how big a challenge it is to deliver sensible range while getting the price down to the much talked about figure..
For context, Peugeot's e-2008 – roughly the same size as the proposed ID.2 – has a 45kWh usable battery capacity for a WLTP range of 214 miles, but its list price starts at £35,900.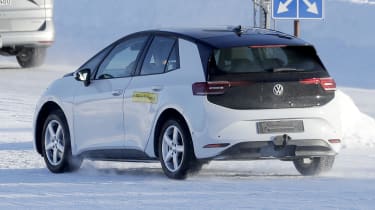 The main factor in the price, of course, is battery cell technology. In 2022, VW announced plans for a 'unified cell' platform that could deliver cost savings of up to 50 per cent. But the company's head of battery tech, Frank Blome, has conceded that while a standardised battery-housing design will be part of the process, there is scope for vehicles at different prices to use different chemistries within cells of the same size.
The upcoming ID.2 and its stablemates could well use lithium iron-phosphate (LFP) technology. Previously seen as giving poor energy density compared with the more commonly used nickel-cobalt-manganese and nickel-cobalt-aluminium mixes, LFP has gained popularity recently after Tesla began using it more to avoid rising nickel prices. "These cells are cheap and robust," Blome said. "They can withstand many charging cycles and this makes them very promising for vehicles with short ranges."
The ID.2 is all but certain to be produced alongside sister vehicles from SEAT and Skoda in a Spanish factory, probably Barcelona. VW confirmed last month that Spain will be the base for the third of the company's six planned battery cell factories. And while the plant could yet be based near the VW facility in Navarra, which makes the Polo and T-Cross, it's more likely to be sited close to the huge site in Catalonia that's currently the home to four SEAT vehicles, as well as Audi's Q3 and A1.
SEAT President Wayne Griffiths said in 2022, "We want to make 500,000 urban EVs per year in Martorell, starting in 2025. The urban electric car would be a huge project in terms of potential volume for Spain."
New Volkswagen ID.7 debut nears as interior is revealed
Indeed, SEAT is likely to be the first of the VW Group brands to launch a car on MEB Entry. Griffiths said that a small pure-electric SEAT SUV "will be the first car for an entry platform for different brands of the Group". This vehicle, a small SUV, remains the only confirmed pure-electric model in the pipeline for SEAT, because all other EV projects coming out of Barcelona are attached to the more premium Cupra brand.
The ID.2 may still be a few years away from reaching VW showrooms, but we should get a strong official hint soon on how it will look. Speaking to our German sister title Auto Bild recently, VW boss Ralf Brandstätter suggested that the new model could appear, albeit in concept form, as early as next month's Munich Motor Show. "Our [Munich] trade fair star could be a vision for an electric car that does not yet exist," he said. "Around 20,000 Euros, compact, with features that you would not expect in this class."
Now check out the latest on the upcoming Volkswagen ID.1 electric supermini…
Source: Read Full Article