Volvo XC40 T5 Recharge R-Design: long-term test review
First report: the plug-in hybrid Volvo XC40 T5 Recharge has got off to a strong start, thanks to life under lockdown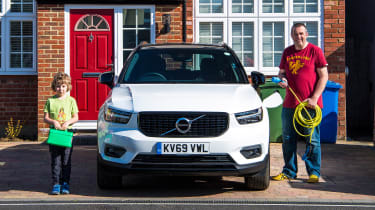 4.0 out of 5
Verdict
Our Volvo XC40 Recharge is well suited to life in lockdown, coping easily with pure-electric weekly shopping runs. The real test will come when we're able to start mixing electric power with hybrid running on longer drives.
The world might seem like it's being held in a freeze-frame at the moment, but when we do all emerge from lockdown, blinking into the sunlight, we'll find the car industry in a period of real transition. We keep being told we're going to have to go pure electric. But are we all ready for that?
Advertisement – Article continues below
The answer, of course, is no. And that, in theory, is where cars such as the latest arrival on our fleet come in. Because while I have plenty of experience running EVs, I've never tried an extended period in the 'halfway house' that's supposed to help us move from petrol and diesel to that more advanced powertrain: a plug-in hybrid.
Best plug-in hybrids 2020

So here it is, the catchily named Volvo XC40 Recharge Plug-in Hybrid T5 FWD R-Design. A brief look at the specs shows the car's tech is nearly as complex as its name.

The Volvo has a 1.5-litre three-cylinder petrol engine that produces 177bhp and 265Nm of torque. Then there's also an electric motor, which contributes 81bhp, and a 10.7kWh battery that can, in theory, power the car for up to 28 miles of zero-emissions running. It's all transferred to the road via a seven-speed automatic gearbox and front-wheel drive.

More reviews for XC40

Car group tests

Audi Q3 vs Range Rover Evoque vs Volvo XC40
Range Rover Evoque vs Volvo XC40
Audi Q3 vs Volvo XC40 vs Mazda CX-5
DS 7 Crossback vs Volvo XC40

In-depth reviews

Road tests

New Volvo XC40 Recharge T5 2020 review
New Volvo XC40 T4 2019 review
New Volvo XC40 T3 2018 review

Volvo is certainly on a roll at the moment, but on paper at least the XC40 looks ambitiously priced. The range starts from £25k, which is reasonable for such a funky premium SUV. But the Recharge carries a premium of £15,000 over the entry-level car. Our car's options – a trio of bundles, plus a rear parking camera, a powered driving seat, the dramatic Lava Orange carpet and premium metallic paint – take that figure to a fairly eye-watering £44,840.

I've been a slave to fashion with the carpet and paint, I'll admit (the floor lining was stunning on the original show cars from Volvo, so I've always wanted to put it to the test on an everyday basis). And I chose the Winter pack because the car was originally scheduled to turn up in February. But there are a couple of features that I've had to tick options boxes for that I think should come as standard.

The first is smartphone integration. Volvo's portrait-layout infotainment system is decent enough (although no longer standout brilliant in a fast-moving market), but I'll rely heavily on Android Auto to navigate the worst traffic when my regular commute to London restarts. In this day and age, on a car costing £40k, it's laughable that Volvo charges £300 for this functionality (it comes as a pack with Apple CarPlay as well).

The second feature is powered child locks. To my mind at least, Volvo is still a brand with safety at its heart – so I'm surprised that this sort of family-friendly tech comes with an £85 charge. It's small change amid the overall figure, though, and probably wouldn't make a big difference on monthly payments or company car bills.

And the second of those ownership methods is, of course, this XC40's star turn. Here's a £40,000 car that will cost 20 per cent tax-payers just £3,186 over three years as a company car – or barely £90 a month. And even 40-per centers will pay an average of just £177 a month.

But all of this only makes sense – and delivers low running costs to the actual user beyond their company car tax bill – if you plug in the XC40 wherever possible. So that's what I've been doing during lockdown, rendering the combustion engine completely irrelevant as we force the car into its EV mode for the weekly trip to the shops to pick up essential groceries. This has the added benefit of keeping me away from petrol pumps.

I have an Octopus Go tariff – a bit like Economy 7 but for cars – and if I chuck a full battery's-worth of electricity in overnight, I have more than enough for all of my local journeys for just 53 pence.

On that basis, the XC40 is already working well, and the electric motor has just about enough shove to cope with the car's increased weight when pulling away from traffic lights and junctions.

Of course, I'm keen for the lockdown restrictions to be lifted so I can start experimenting with the Volvo's abilities over longer journeys – playing with the different modes to see which gives me the best efficiency over my commute. It can't come quickly enough, in so many ways.

| | |
| --- | --- |
| Model: | Volvo XC40 Recharge Plug-in Hybrid T5 FWD R-Design |
| On fleet since: | March 2020 |
| Price new: | £40,905 |
| Engine: | 1.5-litre petrol plus e-motor, 177+81bhp |
| CO2/tax: | 48g/km/£465 |
| Options*: | Lava Orange carpet (£175), child locks (£85), power driver's seat (£450), reversing camera (£375), smartphone integration (£300), Metallic paint (£850), Convenience Pack (£600), Winter Pack (£500), Intellisafe Surround (£600) |
| Insurance**: | Group: 29/Quote: £480 |
| Mileage/mpg: | N/A |
| Any problems? | None so far |

*Available options/packs have altered since we ordered our car.

**From AA (0800 107 0680) for a 42-year-old in Banbury, with three points.

Source: Read Full Article