Volvo issues seatbelt recall that "removes" safety component
Pretensioners are replaced with fixed anchorage points in a recall affecting 2.2m Volvo cars worldwide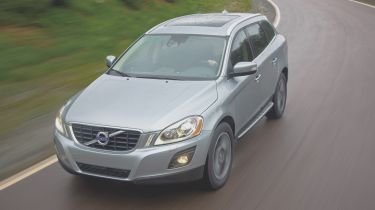 A vast global recall is seeing an "important safety component" removed from up to 2.2m Volvos. The firm launched the recall in July 2020 because a steel cable in the front seatbelts may fatigue over time.
Affected cars were built from 2006 to 2018, and include the previous-generation XC60, V70, XC70 and S80. Roughly 170,000 UK cars have been impacted by the recall, although no current models are affected.
Auto Express has learned, however, that the remedy for this potential defect sees front seatbelt lap pretensioners replaced with fixed anchorage points. This would amount to "the removal of an important safety component", according to the founder of Euro NCAP, Professor Adrian Hobbs CBE.
He explained: "The lap-belt pretensioner removes any slack in the lap belt, reduces the risk of belt loading to the abdomen, and ensures the lap-belt loads are taken through the pelvis. It helps prevent 'submarining' under the lap belt, and reduces forward movement of the pelvis and lower limbs."
Professor Hobbs' own car is affected by the recall, and he was concerned to learn how it would be repaired, telling us: "The resolution was 'to replace any seatbelt fastenings' with 'an improved version'.
"In practice this involves replacing the lap-belt pretensioner with a fixed anchorage," he continued. "Volvo claims that with the fixed anchorage cars meet 'the approval standard', and this has been accepted by the Driver and Vehicle Standards Agency (DVSA). However, the approval standard isn't very demanding and most makers, including Volvo, aim to achieve a good performance in the more stringent Euro NCAP assessment." Hobbs added: "Rather than remove a potentially faulty safety component, it would be normal to replace it with an improved version."
He concluded: "If Volvo wishes to retain its reputation for safety, it should carry out a further recall and replace the fixed anchorages with effective pretensioners."
Auto Express asked Volvo if affected cars would be left with no seatbelt pretensioner. The firm told us: "No, this is not a correct assertion. The main primary pretensioner located in the B-pillar remains. What is being replaced is a secondary lap-pretensioner.
"[This] is being replaced by a solution that we have verified, in testing, as being as safe, which is what is conveyed to customers."
When asked whether pretensioners are important to safety, and why they were not being replaced with improved versions, the firm said: "Volvo agrees that pretensioners can be an important part of the overall safety set-up in a vehicle." The firm said it did not expect amended models to get a lower Euro NCAP score if retested. We asked if the recall contradicted Volvo's safety commitment. The firm said: "No, this is not contradicting our ambitions. The solution [is] verified, in testing, as being as safe." 
Volvo declined to share its testing data, or confirm explicitly if 2.2m pretensioners were being replaced with fixed anchorages. Volvo would not say whether Euro NCAP had confirmed affected cars would be ranked the same if retested, nor would Volvo explain why pretensioners were fitted in the first place if removing them did not affect safety.
The DVSA said it had worked with Volvo "to ensure this safety defect is dealt with swiftly and in the best way possible to ensure it meets safety approval requirements."
Has your car been affected by a recall? Tells about it in the comments…
Source: Read Full Article