Volkswagen lays out new plans for electrified future
Volkswagen has revealed plans for its current lineup along with its range of ID-branded electric cars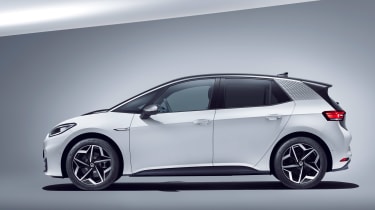 Volkswagen says it now expects that 70 per cent of its sales in Europe will be pure-electric vehicles by 2030 – but the company has confirmed that its supermini-sized, entry-level EV has been pushed back by a couple of years.
Presenting a new business strategy 'Accelerate', VW passenger cars boss Ralf Brandstatter said that the past 12 months had been a "successful breakthrough for e-mobility". He confirmed that the ID.Buzz minibus will reach production in 2022, and said that the recently announced flagship EV, 'Trinity', will feature a simplified product line-up whereby many hardware features will be standardised and then activated and deactivated by customers when required.
Best electric cars to buy 2021
VW plans to develop a "neural network" of its vehicles, pooling their data to assist with future autonomous driving features. The ID.3 and ID.4 will be the first cars to contribute to this, with around half a million examples expected to be on the road within the next two years, but the process will really kick in from 2026, as VW introduces new versions of key conventionally powered vehicles that can also supply data to its cloud system. "They will communicate and exchange data, on traffic and obstacles," Brandstatter said. "It will be a self-learning system of millions of cars."
As part of this, Brandstatter revealed that several "core" models – Golf, Tiguan, Passat and T-Roc – will all get successors to their current generations, each featuring at least mild-hybrid powertrains and some offering plug-in hybrids with up to 60 miles of pure-electric range. He acknowledged that VW's current people-carrier, the Touran, is unlikely to continue beyond its current lifecycle, however, and was coy on the medium-term future of the Arteon.
VW's plans for a smaller all-electric model, based on an adapted platform called MEB Entry, appear to be in turmoil. In a statement, VW said, "Plans for an electric car under the ID.3 – with an entry-level price starting at €20,000 (£17,300) – are pushed up by two years to 2025." No reason for the delay of the new model – likely to be called ID.1 –  was given, but VW is said to have been struggling with battery chemistry and achieving a sensible profit margin on the vehicle.
Not quite ready for a fully-electric vehicle? Check out our list of the best plug-in hybrids here…
Source: Read Full Article