'Vauxhall and the UK are incredibly important to the Stellantis group'
Editor-in-chief Steve Fowler thinks the sun is starting to shine on many of Stellantis's brands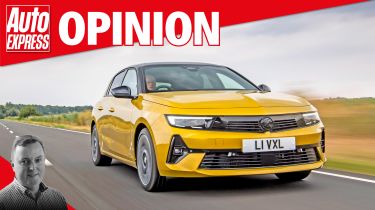 Vauxhall's new Astra has been a long time coming but, according to Associate editor Sean Carson, it's well worth the wait – it's a very good car. "Very Golf-like," were Sean's words. High praise, indeed.
The Astra may not be what it once was in terms of sales (and it's no longer built in Britain) but the class it competes in remains mightily important to all those who are in it – and that's still pretty much every single maker.
New Vauxhall Astra 2022 review
With the Corsa dominating the UK sales charts, things are looking rather good for Vauxhall. Especially when you delve into the latest results for parent company Stellantis and see how important Vauxhall and the UK are to the group. We recently spoke to Stellantis UK boss Paul Willcox, and he revealed that Vauxhall accounts for over 40 per cent of all Stellantis business in the UK. Plus, it has important factories in Luton and Ellesmere Port.
But what about other arms of the Stellantis empire in the UK? Willcox will be pleased to see the result of this week's test of the new DS 4. The upmarket upstart has been targeting Audi ever since the French brand's creation back in 2015, so it only seemed right to put its newest car up against the Audi A3 – with a shock result.
Stellantis has learned much from the Volkswagen Group. So just as the A3 shares much with the Golf, the DS 4 shares plenty with the Astra and the Peugeot 308. What's worked well for Volkswagen seems to be doing just fine for Stellantis, too, although the customer is the ultimate judge, and time will tell on that one.
We're also admirers of the latest 308, and new Peugeot UK boss Julie David recently gave us an insight into more changes there, too. She told us of her plans to "rejuvenate the brand", telling us that Peugeot should be more famous in the UK than it is. A focus on allure – the attraction of the brand – and on customer service is key. On the latter, a third place for the brand's dealers in our Driver Power survey is a good step in the right direction.
Click here for our list of the best family hatchbacks on sale right now…
Source: Read Full Article