Used Vauxhall Corsa review
A full used buyer's guide on the Vauxhall Corsa covering the Corsa Mk4 (2014-2020)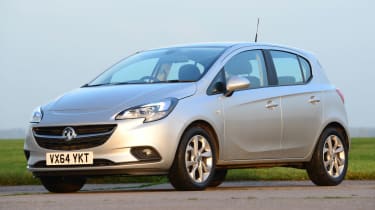 Verdict
It's easy to see why the Corsa sells so well as a new car, and the ravages of depreciation tend to make it an even better buy as used model. With so many to choose from and such a wide model range, there's a Corsa for everyone. There's no point buying anything towards the bottom of the range; most of the cars for sale are further up the scale than this anyway. However, buy a Corsa that's too lavishly equipped and build quality and reliability glitches may creep in. The Corsa never does especially well in our Driver Power surveys, while the owner reviews on sister title Carbuyer.co.uk are either one star or five, with an even split between the two, indicating the Corsa is a car that you'll either love or hate.
Small, front-wheel-drive hatchbacks have been popular since the late sixties but didn't really gain momentum until the seventies, when cars such as the Volkswagen Polo, Ford Fiesta and Renault 5 arrived.
Vauxhall was a bit behind when, in 1980, it introduced the Nova, sold in mainland Europe as the Corsa, before the UK followed suit and adopted the Corsa name in 1993 with the arrival of the second generation.
More reviews for Hatchback
Car group tests
Vauxhall Corsa vs Renault Clio vs Volkswagen Polo
Vauxhall Corsa vs Peugeot 208 vs Audi A1
In-depth reviews
Vauxhall Corsa review
Vauxhall Corsa (2014–2019) review
Road tests
New Vauxhall Corsa-e 2020 review
New Vauxhall Corsa 2019 review
New Vauxhall Corsa 1.2 Elite Nav 2019 review
New Vauxhall Corsa prototype review
Switching names hasn't done this evergreen supermini much harm, because the Corsa has been a staple of the top 10 biggest-selling cars in the UK for years.
Models covered
Vauxhall Corsa Mk4 (2014-2020) – Vauxhall's Fiesta rival might not be as good to drive as the Ford, but it still makes a decent used buy.
History
The Mk4 Corsa landed in UK showrooms in October 2014, with a choice of 69bhp 1.2-litre, 89bhp 1.4-litre, 99bhp 1.4-litre Turbo, or 89bhp/114bhp 1.0 turbo petrol engines. There was also a 1.3-litre CDTi diesel in 74bhp or 94bhp forms; only the 89bhp petrol could be paired with an automatic gearbox, dubbed Easytronic.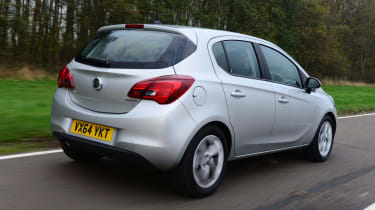 Vauxhall turned up the wick in May 2015 with the 202bhp Corsa VXR. The GSi joined a slimmed-down range in summer 2018, featuring the VXR's chassis, 17-inch alloys and a 148bhp turbocharged 1.4-litre petrol engine. That simplified line-up featured seven trims and a cleaner 1.4-litre engine. In October 2018 Vauxhall added the £11,695 1.4-litre Corsa Griffin to mark 25 years of Corsa sales in the UK.
Vauxhall Corsa reviews
Vauxhall Corsa in-depth review
Vauxhall Corsa 1.0 Excite review
Vauxhall Corsa 1.4 SRi review
Vauxhall Corsa 1.4 Red Edition review
Vauxhall Corsa GSi review
Vauxhall Corsa VXR review
Which one should I buy?
The turbocharged 1.0 and 1.4-litre petrol engines are the ones to go for, because both offer plenty of zip with decent economy, while the diesel engine is worth considering if you do a lot of driving on the motorway – although the Easytronic transmission isn't well liked and it's less reliable than the manual.
The entry-level (and rare) Corsa Life came with a heated windscreen, electric front windows, remote locking and electrically adjustable door mirrors; Sting added cruise control and 16-inch alloys; Sting R got sportier trim; and Excite added air-con, Bluetooth, an infotainment system plus DAB radio, along with heated front seats and a heated steering wheel. The Limited Edition came with 17-inch alloys, privacy glass and sports suspension, while the SRi got sports seats, and the SE came with front and rear parking sensors.
Alternatives to Vauxhall Corsa
The Corsa's biggest problem is the Ford Fiesta, which comes with a huge array of engines and trims, plus it's good value and generally well made. The Ford is much better to drive than the Vauxhall – in fact the Fiesta sets the benchmark for supermini handling.
The refined Renault Clio is good value and fun to drive, and tends to be well equipped. The Peugeot 208 comes with efficient engines and is also well appointed, but it's dynamically disappointing.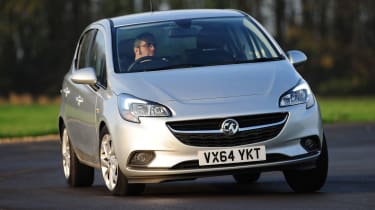 The multi-talented Volkswagen Polo is well made, good to drive and comes with some efficient engines, but you'll pay a premium for one. Both the SEAT Ibiza and Skoda Fabia sit on the same platform as the VW and cost less to buy. Don't overlook Toyota's reliable Yaris, nor the dependable, well equipped and good-value Hyundai i20 and its cousin, the Kia Rio, either.
What to look for
Rear seats
All Corsas have three rear seatbelts, but some get only two head restrains in the back, so watch out for this if you often travel five up.
Wheel sizes
Whereas the entry-level Corsa Life came with 14-inch steel wheels in petrol form, the diesel got 15-inch wheels.
Infotainment
Some owners have had problems streaming music from their phones via a USB cable; Bluetooth is reportedly more reliable.
Interior
While entry-level Corsas can feel rather low-rent, higher trims bring about a significant difference to the quality of the materials used. As well as feeling cheap in places, lowlier Corsas also do without a split-folding rear seat or height adjustment for the driver's seat, but at least all Corsas get plenty of rear-seat legroom – although access to the back is naturally rather awkward in three-door models.
Boot space is average for the class, with three-door cars having 280 litres with the seats up and 1,090 litres with them dropped. Those capacity figures extend slightly, to 285 and 1,120 litres, for five-door Corsas.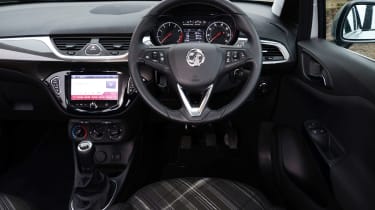 Recalls
This generation of Corsa has been recalled seven times. Faulty steering racks led to the first campaign in August 2015; further steering issues led to a second recall in December 2015, this time for a faulty joint between the steering and suspension. The third recall, in February 2017, was for poorly made steering racks.
Faulty curtain airbags caused the fourth recall, in March 2017, while handbrake failures led to another action in the same month; in some cases, the handbrake lever was fitted with a faulty ratchet. The bonnet opening during driving was the reason for the sixth recall, in October 2018, then in April 2019 came the most recent campaign, which saw almost 54,000 cars recalled because of a faulty lambda sensor, resulting in increased exhaust emissions.
Running costs
All Corsas need to be serviced every 12 months or 20,000 miles, whichever comes soonest, and there are three levels of service. These are interim, main and major, which are priced at £160, £265 and £305 respectively for petrol-engined models. For diesel Corsas the equivalent costs are £170, £295 and £335.
While the interim service is merely an oil and filter change, along with a check of the car's key functions, the extra items covered in a main service include a new key fob battery, a fresh pollen filter and replacing the brake fluid and drive belt, plus the service takes in an inspection of the car. The major service adds a new fuel filter, fresh spark plugs and a replacement air filter.
All Corsa engines are chain-driven so there are no cambelts to replace, while there's no set schedule to replace the coolant; it's replaced only when necessary.
Driver Power owner satisfaction
The Corsa hasn't featured in our Driver Power surveys for some time. The last time it appeared in a new cars survey was in 2017, when it came finished 67th out of 75. Back then the Corsa didn't score highly in any area – the low running costs were a relative high point, with a 43rd placing. On Carbuyer.co.uk, owners give the Corsa an average rating of just 2.9 out of five, which is disappointing.
Source: Read Full Article